How to Schedule Posts in WordPress? (With & Without Plugin)
Publishing posts to your WordPress blog on a regular basis is essential. However, there are challenges associated with consistent and optimized publishing, such as full workload, trouble to post during high-traffic periods, or even time off from work. Fortunately, if you build your website with WordPress, there are a number of ways you can schedule your posts ahead of time. Scheduling the posts enables you to put fresh content up on your site at regular intervals without having to actually log in each time. In this article, we'll explain how to schedule posts in WordPress along with the advantages it brings in. Let's dive in!
Why Schedule Posts in WordPress?
Unless you're tight on deadlines, I recommend not to publish till you finish up the article. This is because, in my mind, there are five main advantages to scheduling content in advance. Let's run through them in turn.
Get Into Consistent Publishing Routine
Any expert blogger will tell you that publishing consistently is way more important than the volume of content you publish.
If you can only commit to one post per week, that's no problem. However, make sure your weekly post gets published on the same day each week to fulfill your audience's expectations.
Schedule Content For Peak Traffic
Website traffic is rarely consistent, and it's highly likely that traffic to your blog fluctuates depending on your user's convenience.
New content is usually of most interest to your audience. So, we highly recommend that you publish your content during one of the peak periods. You can use Google Analytics to monitor traffic cycles.
Of course, once you know your high traffic points, scheduling the posts is easy. It also guarantees that your content is published in time for peak demand. Scheduling posts in advance can help your new WordPress content rank faster in search engine results.
Take Time Off From Your Website
Stress is endemic in modern life. Even when we're "off work," we usually find time to do something work-related.
It can do you a world of good to step away from your website for a week or two so that you can properly unwind and enjoy a good vacation or my time. Scheduling posts gives you the peace of mind that your blog will continue to function without your day-to-day involvement.
Stock Up on Content
Even if your blog publishes content like clockwork, it's unlikely that you can create content consistently – we all have bad days when the words just don't seem to flow.
By committing to creating a content schedule, you can create a backlog of ready-to-go articles that will get you through any lean period. It also means you can write as much content as you want when inspiration is flowing.
Additionally, you can also look at what content is outdated and update the date of it, and can schedule it for the future to increase your SERP rating. To know more, check out our guide on how to back date WordPress posts and update them.
Big Picture View
When you plan your content strategy in advance, it makes it easier to analyze your content's strengths and weaknesses. For example, when scheduling you might spot that your blog is relatively light on one particular topic.
Realizing this in advance gives you plenty of time to proactively craft the content you need, which you can shuffle forward in your schedule. This can make your content strategy more insightful and also more balanced.
How To Schedule Posts In WordPress Manually?
Okay, so we've covered the many benefits of scheduling posts in WordPress. Now, let's discuss how to schedule them.
WordPress comes with built-in scheduling functionality, which allows you to schedule posts in advance in just seconds. Tip: you can follow the same steps to schedule pages, too.
To schedule upcoming posts in WordPress, log in to the dashboard, then make your way to the text editor. You should only schedule completed posts, but if you want to see the process involved, simply navigate to Posts / Add New.
To the right of the editor, at the top of the screen, look for the Publish button.

By default, WordPress is configured to publish posts immediately. You can change this by clicking on the Edit button.
Now you'll be able to adjust the date, right down to the minute the post is published. When you're happy, click the OK button to save.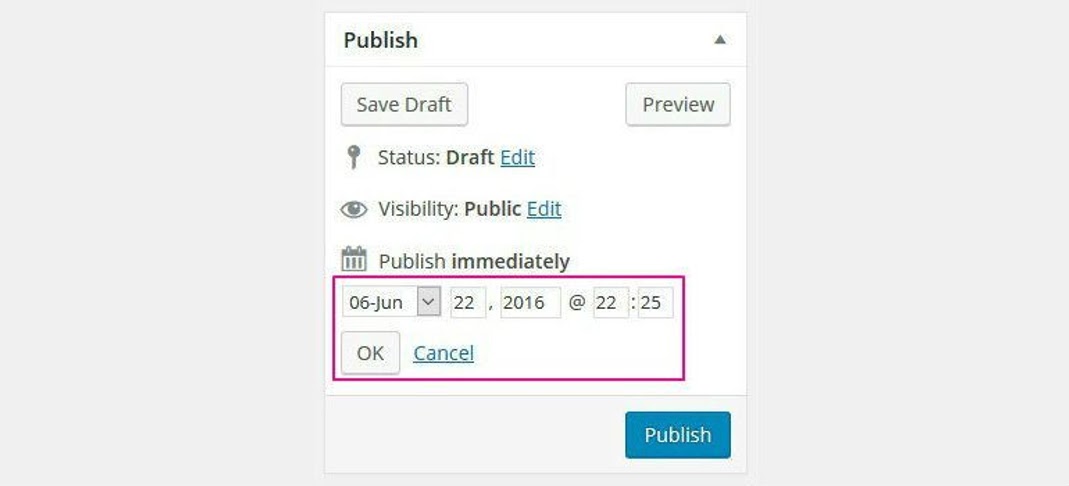 If you've selected a future date, this will replace the blue Publish button with the word Schedule. The final step is to click this Schedule button.
And that's all there is to it!
For the record, your scheduled date isn't set in stone. If you wish to change the time or date, you can simply access the post, then edit the date and time of the post.
How To Schedule Posts In WordPress With Plugin?
Scheduling posts using plugins is much easier than the manual method. Additionally, you get a lot of add-on features when using plugins for scheduling posts in WordPress. There are many plugins that will help you schedule posts and one of the many plugins is SchedulePress Pro. Utilizing schedule calendars, social media scheduling, and much more, SchedulePress is a comprehensive WordPress publishing solution. To know more about this plugin, check out our guide on how to Create Publishing Schedule With SchedulePress Pro.
In this guide, we will use Editorial Calendar plugin as an example, available for free from the official plugin directory.
Editorial Calendar

Earlier in this post, I mentioned that one of the benefits of scheduling your posts was that it made it easier to see the big picture. Editorial Calendar is the ideal plugin for big picture thinking, as you get to see a calendar overview of post scheduling. This calendar view looks something like this:
To use Editorial Calendar to schedule upcoming posts in WordPress,
We first have to install the plugin. From your WordPress dashboard, navigate to Plugins / Add New, then search for "Editorial Calendar." Install the first plugin returned – it's the one by Colin Vernon – by clicking Install Now, then Activate Plugin.
Now, Editorial Calendar's most useful feature lets you quickly schedule any draft posts, so that you can instantly plug the gaps in your schedule.
Start by accessing the calendar by clicking Posts / Calendar. In the top-right, click the Show Unscheduled Drafts button. This will list all unscheduled posts – be warned: this includes the posts that aren't ready to be published.
Find the post you want to schedule, then simply drag and drop it onto your preferred date. The plugin will automatically schedule it for this date.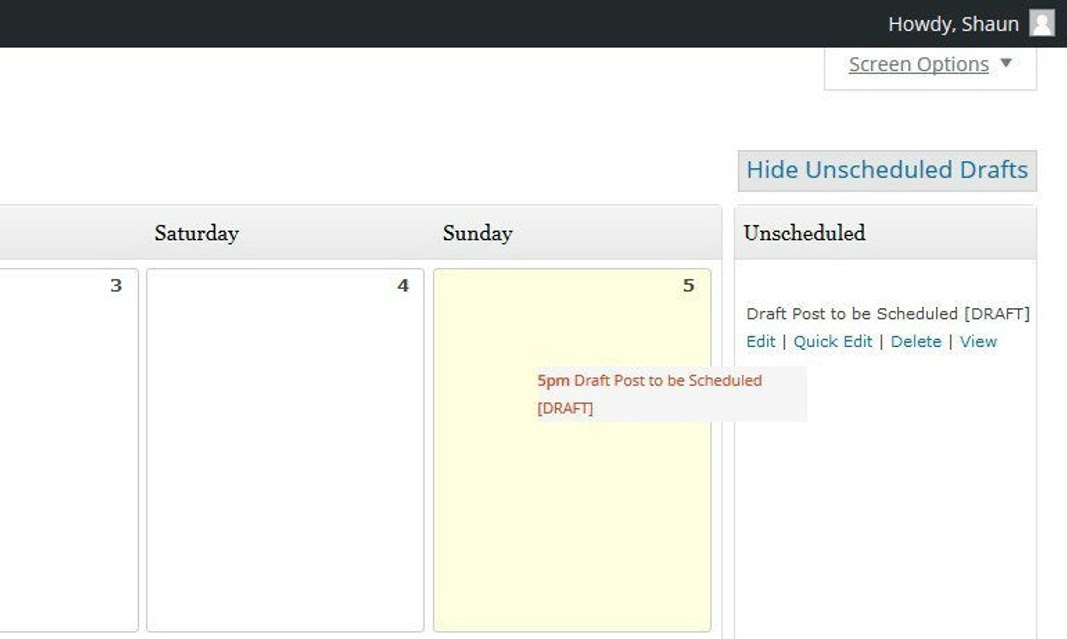 You can also use the plugin to make changes to your content, without ever clicking through to the WordPress editor screen – just click the Quick Edit button.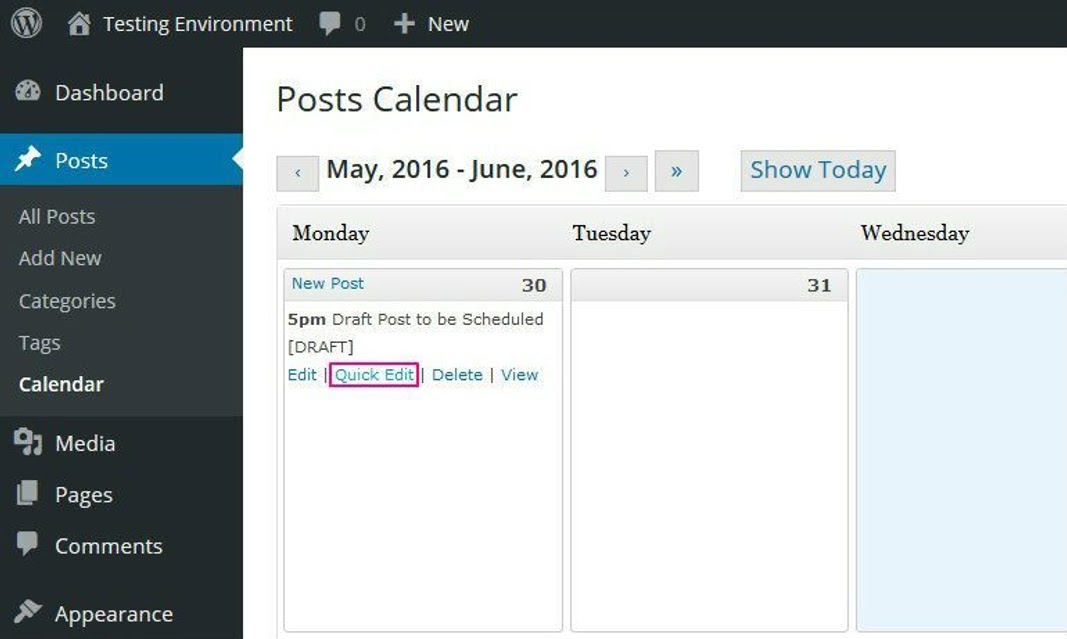 This brings up a simple pop-up that you can use to change your content title, edit the body content, and swap the scheduled time – this last one is especially important as the drag-and-drop calendar can only be used to schedule the date, not the time.
You can also use the plugin's drag-and-drop functionality to reschedule your posts. To do this, find the content you want to reschedule, then drag it from one date to another in the calendar view. The plugin will automatically update the scheduled date.
Schedule Posts in WordPress
In this tutorial, we've learned two easy ways to schedule posts in WordPress, which include:
Using inbuilt WordPress publishing tools;
Setting up a plugin from the official repository to auto publish WordPress posts.
Scheduling posts in WordPress is super-easy – anyone can learn how to do it in just a few short minutes by following along with today's tutorial.
If you want to enhance your content planning, though, I recommend the Editorial Calendar plugin – the visual calendar overview helps you to identify content gaps, plus the plugin's drag-and-drop lets you schedule/reschedule content in seconds. And because everything in the Editorial Calendar is so quick and easy to do, the plugin can save you serious amounts of time and frustration!