How to Rank New WordPress Content Faster? (6 Useful Tips)
Now that you've launched a WordPress website, you must be eager to generate organic traffic on it. But let me break it to you that it is not easy task. This is the reason I have come up with the guide on how to rank new WordPress content faster on the search engines easily.
Often search engines take weeks to index new content. This, in return, will generate no organic traffic to your website for a long time. Sure you can use other channels such as social media, email marketing, and even paid promotion to boost your traffic initially. But we're talking about organic traffic here that comes free of cost and periodic efforts for campaigning.
Luckily, there are some easy to deploy WordPress practices available that can rank your new content quickly. So, let's scroll down and look at how to rank your WordPress new content faster.
Get All in One SEO (AIOSEO) Plugin
We know that SEO optimized content index better on search engines. Therefore, you need to install an SEO optimization plugin on your site to produce SEO-rich content.
There are many SEO plugins available on WordPress to optimize your content. But I use and recommend the All in SEO plugin to rank my content on search engines.
AIOSEO is the best and powerful WordPress SEO plugin that offers:
SEO custom user roles
Local SEO
Rich snippets schema
RSS content
XML sitemaps and more.
There is a free version of the WordPress AIOSEO plugin available that you can try today to rank new content faster. But if you want to unlock AIOSEO's full potential, get a paid version starting at $99.0/month. You can check our semper plugin coupon codes and get 50% OFF on SEO plugins and toolkits.
It is simple to activate AIOSEO on WordPress – go to the Plugins > Add New > Search for AIOSEO > Install > Activate.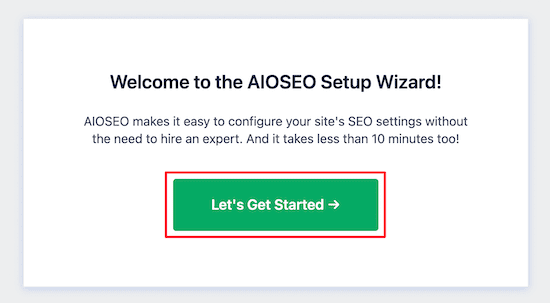 Once the plugin is activated, follow the on-screen instructions to set it up. The plugin will automatically perform vital SEO operations on your site, like adding SEO titles or descriptions.
Setup Your Website on Google Search Console
Google Search Console is a free tool that will help you monitor crawling rates, identifying crawling errors and other website performance metrics.
This will notify you when Google is unable to rank or crawl your web pages. When you publish new content on your WordPress website, Google will get notifications via a sitemap and try to rank it faster.
Here's how to add your website to Google Search Console:
Open the Google Search Console website and click on the start now button.
Add your website URL and click on the continue button.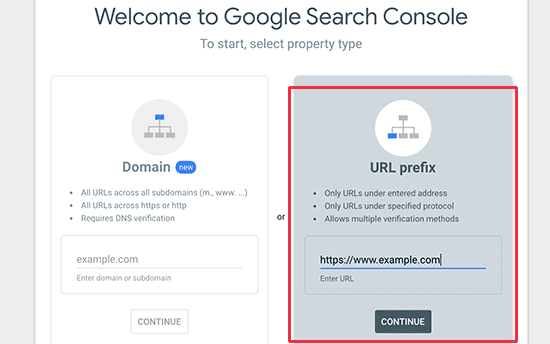 Now, you have to verify ownership of your site. There are several ways to do that, but I will demonstrate the HTML tag method because it is the simplest one. Just copy the HTML code from the Google Search Console site.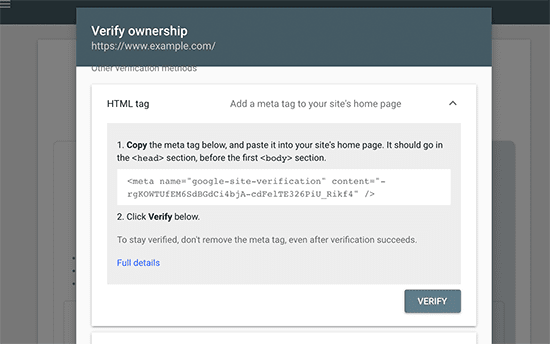 Go to the All in One SEO > General Settings > Webmaster tools page > paste HTML verification code in the Google Search Console box.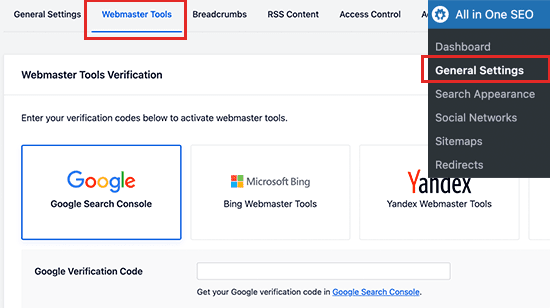 Save the changes and switch to the Google Search Console tab to hit the Verify button.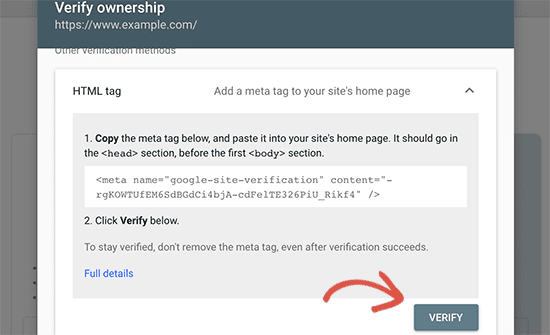 You can also check out our detailed guide on how to add your website to Google Search Console.
Add XML Sitemaps
An XML sitemap is a file that contains a list of all your WordPress website content that helps search engines quickly discover and rank your content faster than other methods. It helps submit your website to search engines.
Basically, WordPress has its own XML sitemaps. You can simply click on the Open Sitemap button to access your sitemap.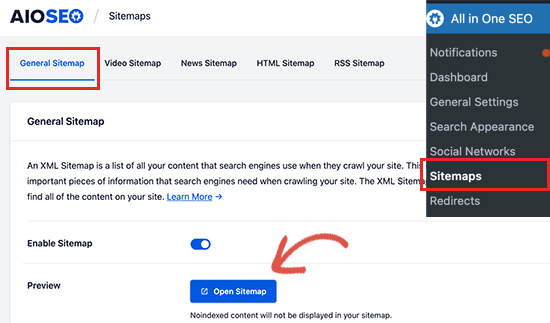 After that, log in to your Google Search Console account and open the Sitemaps menu. Then, add 'sitemap.xml' in the 'Add a New Sitemap' field and click on the Submit button to continue.
How to Add RSS Sitemap to Google Search Console?
If you want to add RSS sitemaps on your site to provide regular updates to your users, AIOSEO can help you with that.
Search engines recommend adding a Rich Site Summary sitemap to rank your new content faster.
To do so, go to All in One SEO > Sitemaps and move to the RSS Sitemap tab. Then, enable the RSS sitemap option.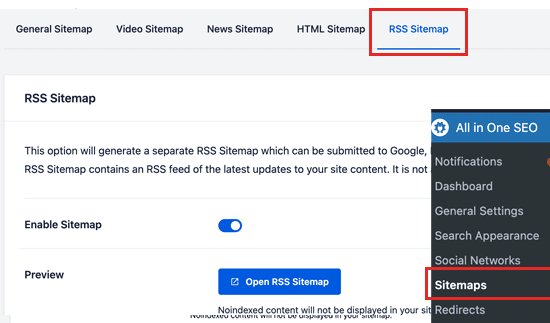 The RSS sitemap URL will insert sitemap.rss to your domain name. You have to open the Google Search Console dashboard and click on the Sitemaps menu. Now, you simply have to add 'sitemap,rss' in the Add a New Sitemap option and submit it to rank your new content.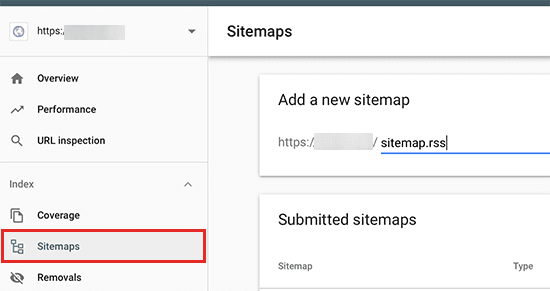 Optimize Your New Content
The first three steps will help search engines quickly find your new WordPress content, but to rank it faster, let's understand how to better optimize your content.
Once AIOSEO is active on your website, adding a meta title and description to every post and page is easy.
You can also add the Focus Keyphrase on which you want to rank your post or page. AIOSEO will analyze your content for those keywords and provide suggestions to improve keyword optimization.
You can now see your content's overall SEO score and actionable tips to improve it. Just follow the tips and aim for a 90+ SEO score to quickly index your new content.
Focus on Internal Links
Internal linking other pages on your own website can improve your SEO score dramatically. When you internal link pages or posts on other posts/pages, it will direct search engine crawlers and users to your older content.
However, you need to select the right anchor text to add internal links. You can link your main keyphrases to improve your SEO score.
WordPress allows users to add four types of links to content:
The nofollow link doesn't boost PageRank or help a page's placement in the SERPs.
Sponsored link helps to collaborate with other bloggers or experts in the industry.
Many websites add User Generated Content to the website, and for this, WordPress has a UGC link option.
When you want a link to open in a new tab, move toggle next to the option. This feature helps to reduce a web page bounce rate.
Start Sharing Your Content
The best and quick way to rank your new content is to promote it on social media platforms like Facebook, Pinterest, Instagram, and others. Social sharing will increase traffic on your website. Follow our guide and learn how to improve website traffic by using multiple content marketing strategies.
Once again, AIOSEO can help with it. This plugin will control how your content will look on different social networks. You can even add Open Graph meta to use proper thumbnail images for each post on your website.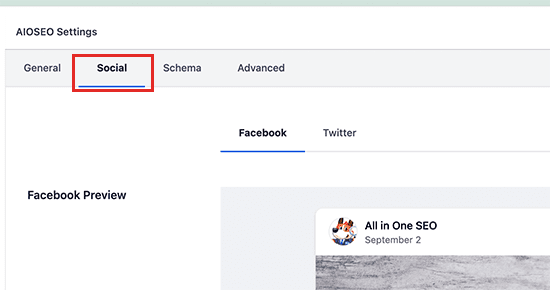 Besides this, consistently post on social media, engage with your followers and stay active to boost your social media and SEO ranking.
Rank New WordPress Content Faster
Yes, you are now ready to rank your new content faster on search engines. You know how to install the AIOSEO plugin, add your site to Google Search Console, generate Sitemaps, and optimize your pages to rank higher for search queries.
So, you can now start indexing your content as soon as you publish it. However, I would like to add a bonus tip here – track and monitor your website traffic.
For constant growth, it is important to monitor your user's interests and behavior. This will help you produce content that can grab your users' attention faster. Keep an eye on monthly users, monthly page sessions, the bounce rate of your website, and sources of your traffic. This will help you strategize your content marketing plans better and towards a targeted set of audiences.
Also, for WordPress users tracking website traffic isn't hard today by using MonsterInsights. It will help to monitor website traffic on different parameters like user behavior, SEO ranking, eCommerce reports, etc.