How to Start Podcast on WordPress Website? (9 Easy Steps)
Do you want to become a popular podcaster like Elise Hu (TED Talks Daily) or Joe Rogan (The Joe Rogan Experience)? Then, it is super easy to start your podcast today. Just follow this ultimate guide on how to start podcast on WordPress and become a popular podcaster in no time.
Before Starting Podcast…
Podcasting is one of the most lucrative ways to make money online after blogging and vlogging. As per an estimate, a podcast episode can generate money around $500-$900. Wow!
Before setting up your WordPress podcast, you have to determine the following things:
Find Your Niche
The domain about which you want to talk is the first thing that you should decide before setting up your podcast. Nowadays, podcasts are created in different niches like art, music, news, self-improvement, etc.
You should do proper market research to find the topics on which people often search for podcasts. Secondly, you can use your skills and knowledge as your podcast niche. For example, if you are a financial advisor, you can start podcast on wordpress in a financial niche on WordPress.
Targeted Audience
Once you have selected your podcast niche, specify your audience.
For example, a financial podcast audience base will include people who want to invest money or have minimal financial knowledge. Knowing your audience will help you create the right content targeting their pain points.
Podcasting Equipment
Never compromise with your podcast's quality. Often new podcasters make the mistake of not investing in high-quality equipment, which can ruin their user experience.
The basic podcasting equipment that you need to get are:
Microphone
Headphones
Microphone stand
Pop filter
Acoustic treatments
Recording and editing software, etc.
Podcast Editing & Marketing Skills
You have to also learn to edit and promote your podcasts for better reach. For editing purposes, you can find many great podcast tools such as Pro Tools, Adobe Audition, Logic Pro X, Reaper, and many more. There are some best video editing software too that can help you build a clear podcast file.
For marketing, you can use social media, on-site SEO, digital ads, and online methods.
9 Steps to Start Podcast on WordPress Website
To start your career as a professional podcaster, you have to get a Website to publish your podcasts, the best quality podcast Equipment, and so much more. Below, I am explaining all the steps that can help you start podcast on WordPress.
Setup Your Website
Since you are on this blog, you must have already decided to create a WordPress website. You can get help from our exclusive guide and learn how to create WordPress website in 5 minutes. That's an excellent choice because WordPress is free, easy-to-use, and offers various customizable plugins/themes.
Now, all you need is a domain name and web hosting to setup your podcast website. A domain name is the address of your website on the web like www.google.com, www.reviewsnguides.com, etc.
Web hosting is the home of your website on the internet. This is where all your website databases are stored. Web hosting is responsible for your website speed; therefore, always use a reliable web hosting company.
There are many web hosting service providers available to buy a hosting and domain name for your website. But I recommend Bluehost because it's WordPress' official web hosting provider.
It is simple to setup a WordPress website after purchasing Bluehost for around $11.99/month.
Get Media Hosting
For a regular website, Bluehost hosting is sufficient. But to host hefty audio files on your WordPress site, you should get special media hosting.
For the fast-loading podcast website, I suggest Blubrry. This media hosting service is fully optimized for WordPress podcast websites. Blubrry offers various features to better host your media files like iTunes optimization, ID3 tagging, automatic media artwork management, etc. There are many more options available such as Podbean, Buzzsprout, Libsyn, and more.
Plan Your Podcast Episodes
Before you sit down to start and record your first podcast episode on WordPress, you have to make some important decisions, such as:
Draft content structure for your first few podcasts.
Decide tone for your podcasts like conversational, formal, or something else.
The duration of your podcast episodes depends upon your content's size. Usually, podcasts' length is between 20 minutes to one hour.
Write down a script before recording the podcast.
Get supporting media items like background noises, intro music, etc.
Your First Podcast Episode on WordPress
You will need recording software to record and edit your first podcast episode. Once again, you will find numerous recording and editing software to create the first podcast episode.
However, most podcasters use Audacity to record and edit podcasts. It is a free and cross-platform software that can record studio-quality level podcasts.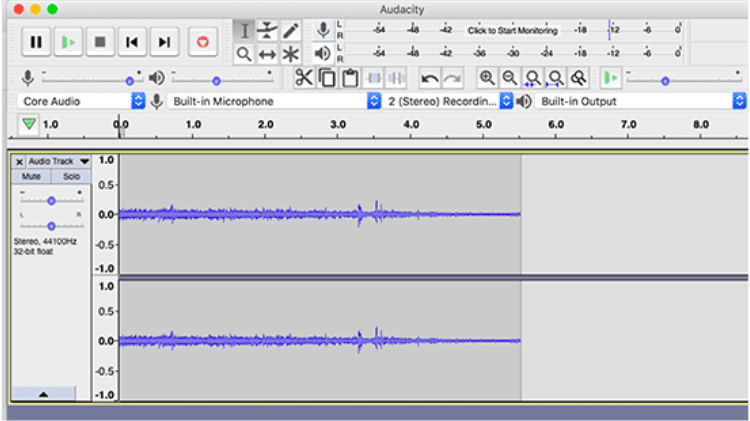 You simply have to download the software on your computer, launch it and click on the record button to record your podcasts. Audacity can also edit your podcasts, add music files, and export audio files into different formats.
Publish Your Podcasts
Once you have created a few podcast episodes, upload them to your website. For this, log in to the WordPress website and download the Blubrry PowerPress Podcasting plugin.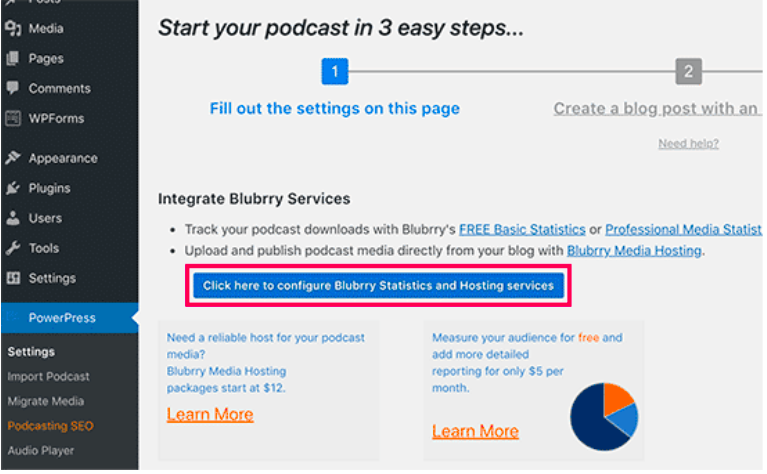 Go to Plugins > Add New > Blubrry PowerPress Podcasting and activate the plugin on your website. After that, open the plugin and configure your Blubrry statistics and hosting services.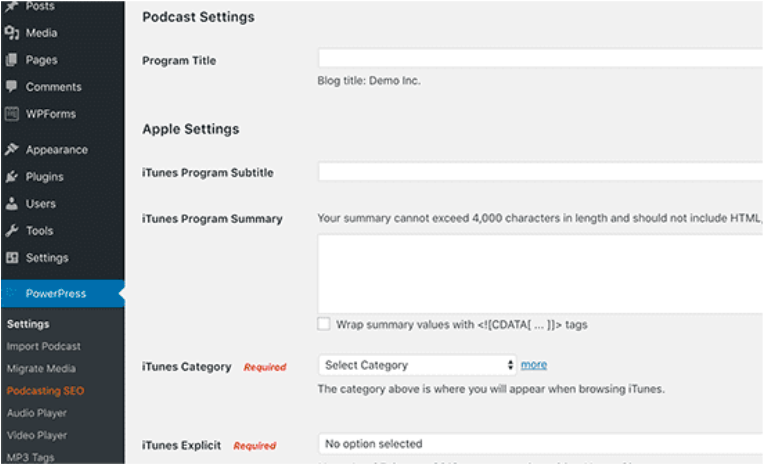 You will need to enter your Blubrry account and password details. On the next screen, you have to fill out the rest of the information on your page, like title, description, category, subtitle, etc. This information will be used in your podcast's RSS fields that iTunes will consider placing your podcast in their directory.
Upload Podcast Files to Blubrry
You need to next upload the podcast file to your Blubrry account. To do so, log in to your Blubrry hosting account and open the Podcaster dashboard.
Click on the "Upload New Media Files" link located under the hosting podcast section.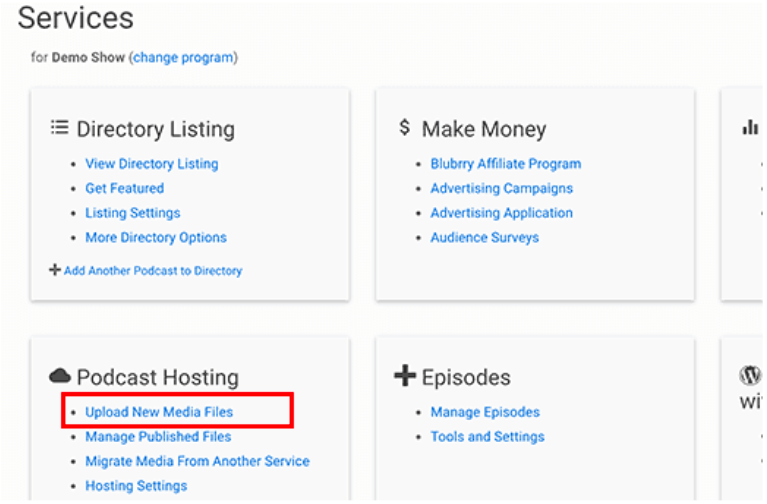 This action will take you to another page, click on the Upload New Media button and upload all your podcast files. After this, you can use them on your WordPress site.
Setup Smart Podcast Player
Usually, podcasters use WordPress plugins to display a podcast player. But I'll recommend not using plugins to display a podcast player on your website.
The problem with most WordPress podcast player plugins is a poor user experience that's bad for your podcast's success.
But thankfully, the Smart Podcast Player has solved this issue. This program will allow you to customize podcast players to play, share and download podcasts on your WordPress website.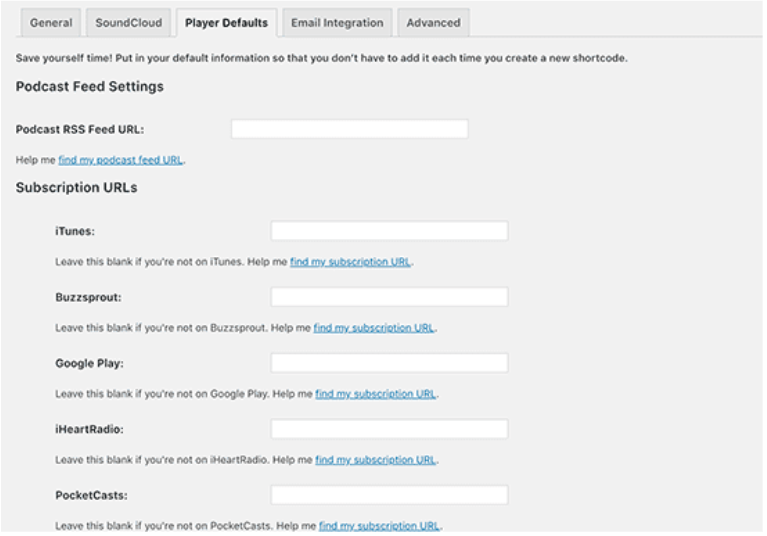 It is a paid WordPress plugin that will cost you around $15.83 per month.
You have to first install and activate the plugin on your site. After that, go to Settings > Smart Podcast Player and enter your license key.
Click on the Player Default tab to setup plugin settings. You have to provide your podcast URL feed, iTunes subscription link, and other details.
Smart Podcast Player offers a wide range of design templates that you can select matching your WordPress theme.
Once the podcast player is ready, go to PowerPress > Settings > the Blog posts and pages. Under the Display Media & Links option, select the Disable to display the podcast player on your website.
Add Your Podcast
Once everything is in order, in WordPress, go to Posts > Add New page to start your own podcast episode.
It is recommended to create separate categories for your different podcasts. Now, scroll down to the Podcast Episode box. Blubrry hosting users should click on the folder icon and select podcast files from the Blubrry media gallery.
Other users can paste their media file URL link. After that, provide a proper title and description to your blog post.
You can now see two buttons labeled SPP and STP in the WordPress editor. These are Smart Podcast Player buttons that will add and play your podcasts.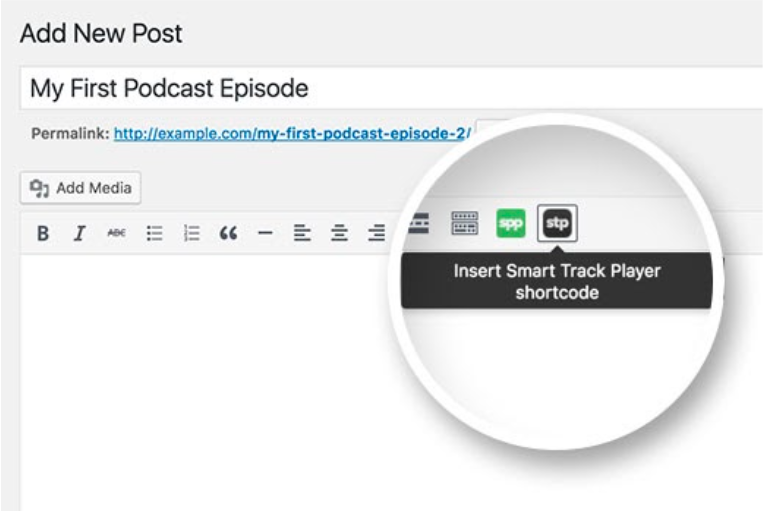 Click on the STP or Smart Track Player button. Choose the 'Play a specific episode of your podcast' and provide the media file URL of the podcast you want to play.
After that, click on the build shortcode button. You will see a shortcode in the post editor, and you are done. Your own podcast is ready to go live on your website.
Preview & Submit Your Podcast to iTunes
Once you start publishing your own podcasts on your WordPress website, start submitting them to iTunes. Before submitting your podcast to iTunes, preview it.
To do this, open iTunes and go to Files > Subscribe to Podcast and enter your feed URL. You can now see how your podcast will appear on iTunes.
To submit your podcast to iTunes, download and install the latest iTunes software on your computer. Open it and click on the iTunes Store button.
Go to the Podcast menu > Podcast Quick Link > Click on the Submit a podcast link. You need to use your Apple ID to submit your iTunes directory. Once the podcast is submitted, the iTunes team will review it and notify you via email when your podcast is approved.
Start Your Own Podcast on WordPress Today!
There you go, podcasters! You are now all ready to start your podcast on WordPress.
It is not that hard to publish the podcasts on WordPress once you have the right hosting provider and WordPress plugins by your side. I have shared my favorite media hosting (Blubrry), podcast player plugin (Smart Podcast Player), and other tools with you. So, don't wait up and make your podcast live now!