MemberPress Gifting Addon (Learn to Enable The Best Feature)
Freebies and gifts have always been the best way to market a brand and acquire new subscribers. There's a hypothesis. If someone has tried your product or service (for free or paid) and if they like it, they are more likely to come back to you for more. Based on the same, MemberPress gifting addon is the newly added feature.
Now, MemberPress users can gift memberships to their family, friends, and colleagues. This would not only build authority for the MemberPress website owners but also open doors to new subscribers and future prospects. In this guide, we'll walk you through a simple process on how you can enable the gifting addon for your MemberPress website.
What is MemberPress?
The concept of building a membership website on WordPress is to offer a good source of passive income to the content creators. Membership website owners can create reusable content such as courses, lessons, weekly newsletters, and more and sell them on the internet.
MemberPress is a popular WordPress plugin to create and manage memberships. The plugin lets you monetize your website by offering premium content on subscription.
MemberPress helps to build a powerful and unique membership website using many services. Many MemberPress integration partners are payment gateways, affiliate software, and more. For example, MemberPress users can install classroom mode to organize lessons and courses in an appealing manner.
In the long integration list, the company has recently added a new MemberPress Gifting Addon, which allows users to add a subscription gifting option to their website.
What Does MemberPress Gifting Addon Do?
With a MemberPress gifting addon, you can allow your subscribers to gift a membership to their friends and family. This plugin will help you sell more memberships and grow your revenue.
The gifting addon plugin is currently available for MemberPress Plus and Pro versions. If you aren't a MemberPress Plus or Pro user, you can upgrade for $297 and $597 per year. MemberPress also offers a 30-day money-back guarantee. So, you won't lose anything if you don't like MemberPress.
MemberPress Gifting Addon Features
Automatic Email Notifications: When a user buys a gift membership from your site, MemberPress will generate an email notification. Your user will receive an attractive email including a personalized message from the gift giver.
Expiration Reminders: You definitely want to retain new members after their gift membership expires. The gift membership expiration reminder allows you to send customized reminders to users. This way, you can encourage new members to become your permanent members.
Gift Giver Account: When a person purchases a gift membership, they have to create a MemberPress account. From the account, they can copy the gift link, resend the gift email and confirm the redemption. The email used to create a gift giver/recipient account can help in building your email list.
How to Set Up MemberPress Gifting Addon?
You can set up the gifting addon once you have the MemberPress plugin installed on site. You can easily install the plugin on WordPress by searching it in the plugins section of the WordPress Dashboard. After installing, activate it and then you can customize every MemberPress setting in the plugin dashboard.
Install MemberPress Gifting Addon
Login to your WordPress admin account.
Click on MemberPress > Addon page.
Scroll down to find the Gifting Addon.
Click on the Install Addon button to activate the gifting addon.
Set Up Membership for Gifting
After creating a gifting membership, go to MemberPress > Memberships > Membership Options.
Then, check the "Allow this membership to be gifted" box.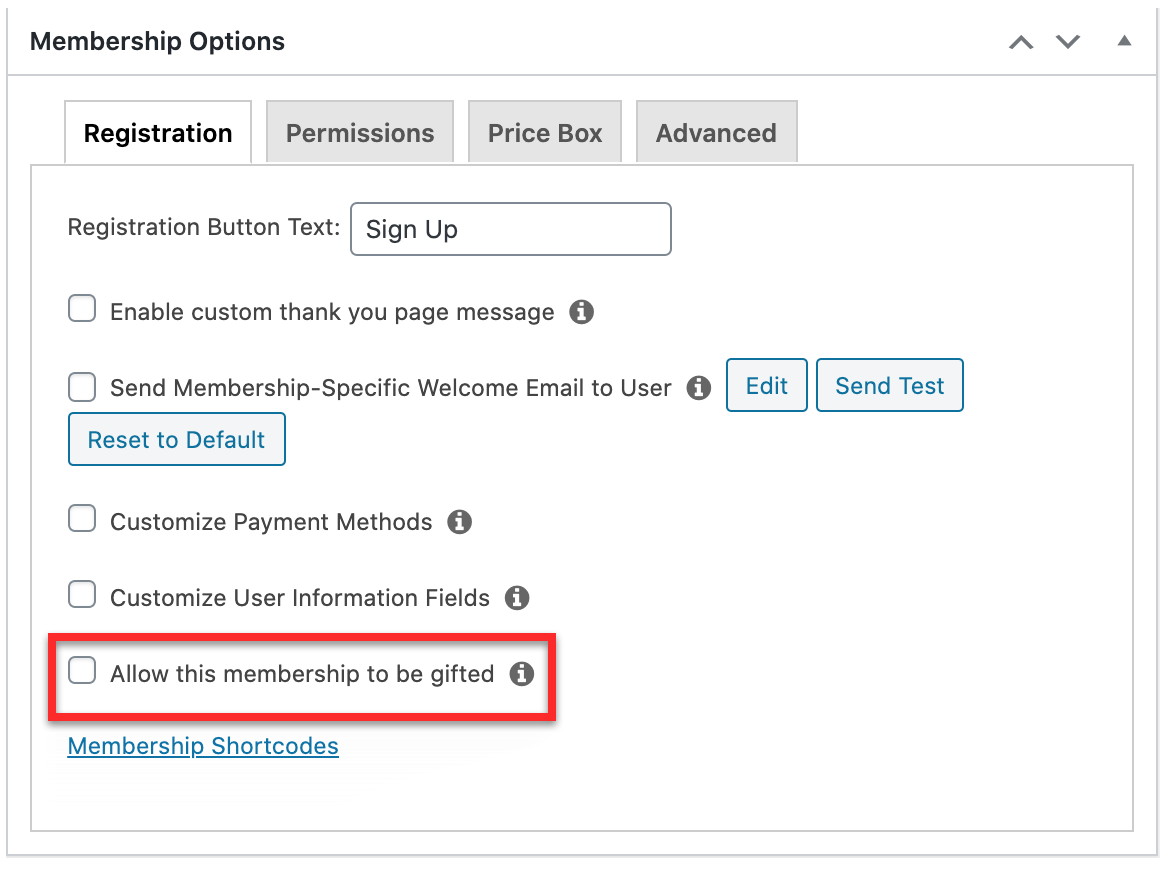 Once you configure membership settings, your membership will now contain an option to be sold as a gift on the registration form.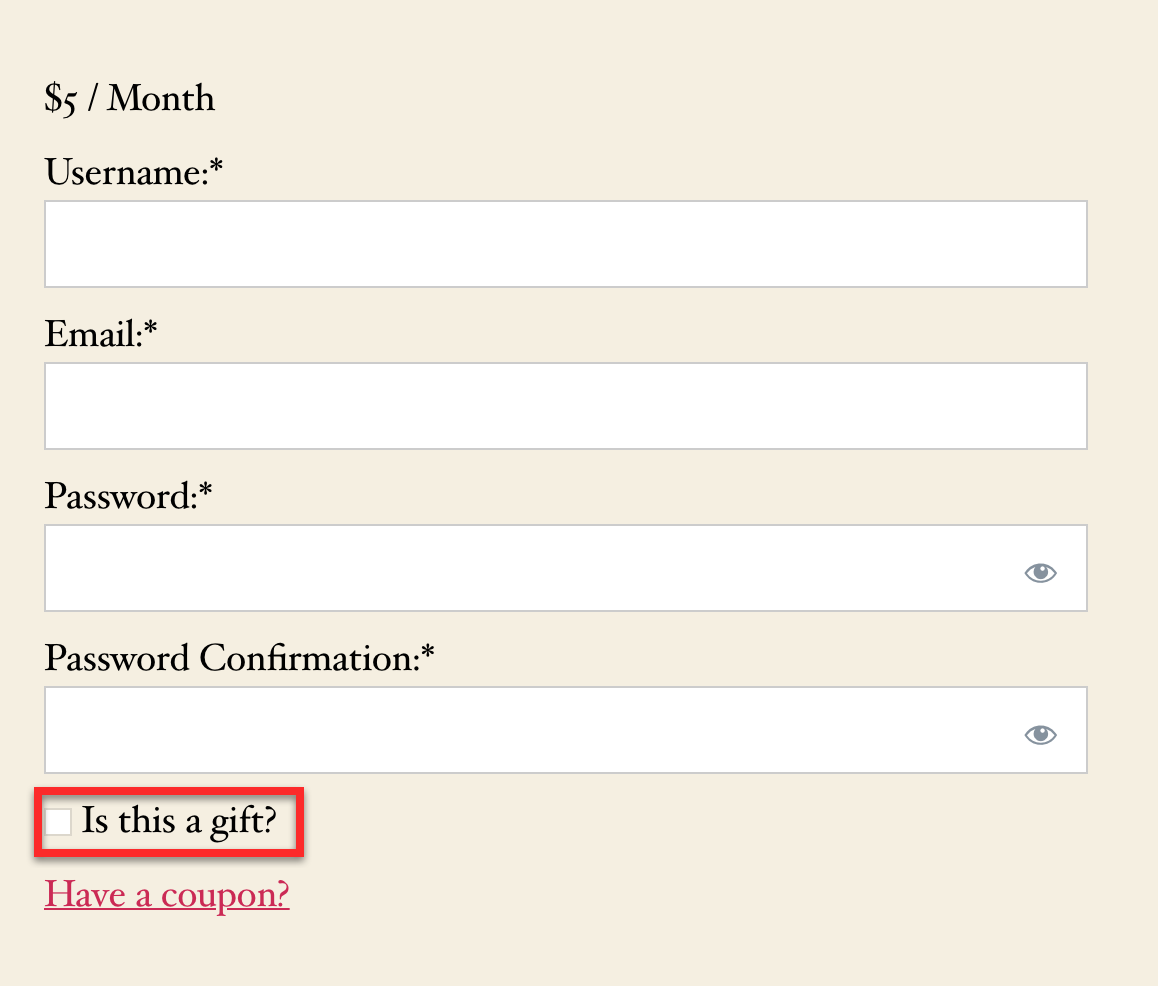 When users fill out the registration form and check the box, they will receive an email to confirm gifted membership. Once registration is submitted, a coupon under MemberPress > Coupons page will be generated.
Set Up Gift Email
Membership is valid for a limited period. Gift receivers have to renew their membership to continue using services.
Once the user signs up for gift membership, a pop-up window will prompt with a form.
Enter data into the form fields like From (Name), To (Name), a Personal Note, etc.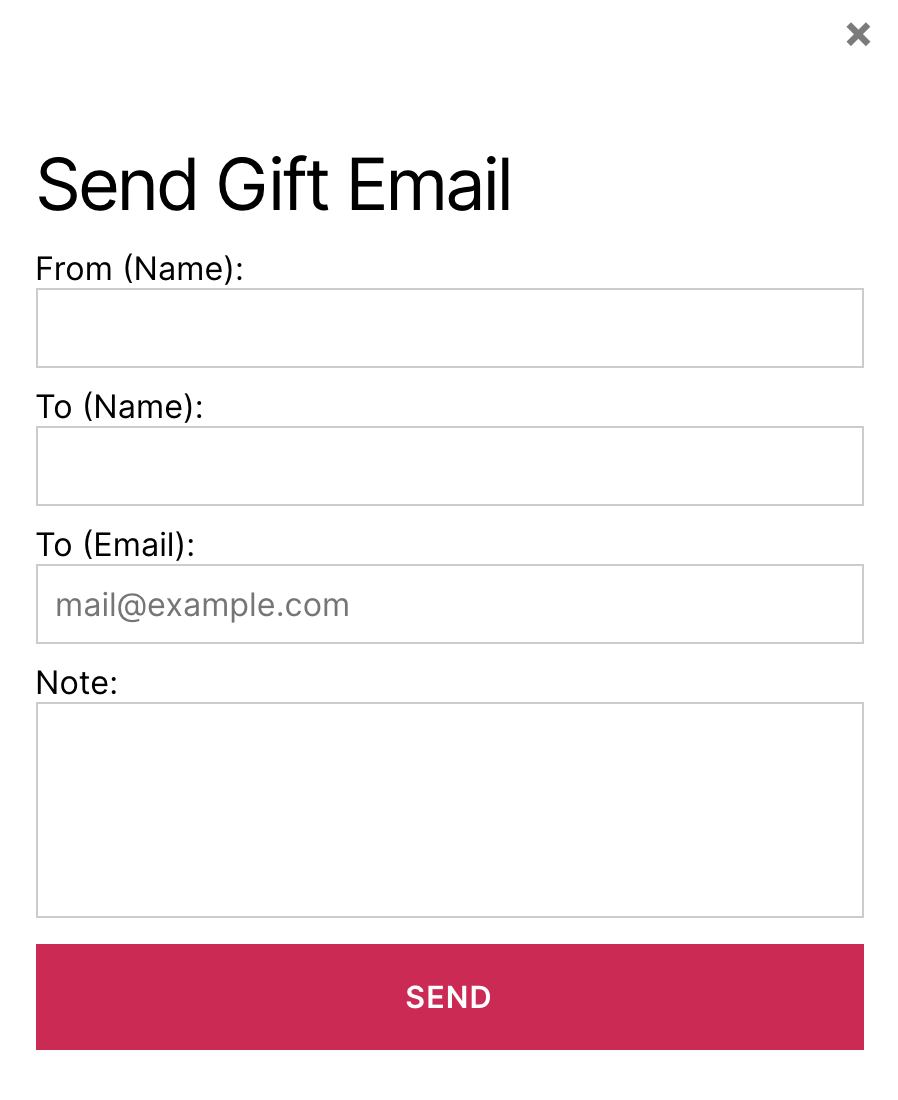 The gift sender once fills the form; the receiver will get an email with a link to redeem the gift membership. Recipients need to click on the link provided in the email for their gift membership. They need to fill out a standard registration form to activate their subscription.
Set Up Expiration Reminder
You can create reminder emails and send gift recipients to let them know that their subscription has expired.
To set a reminder, go to the Reminder page.
Then, select the "After gifted membership expires" option.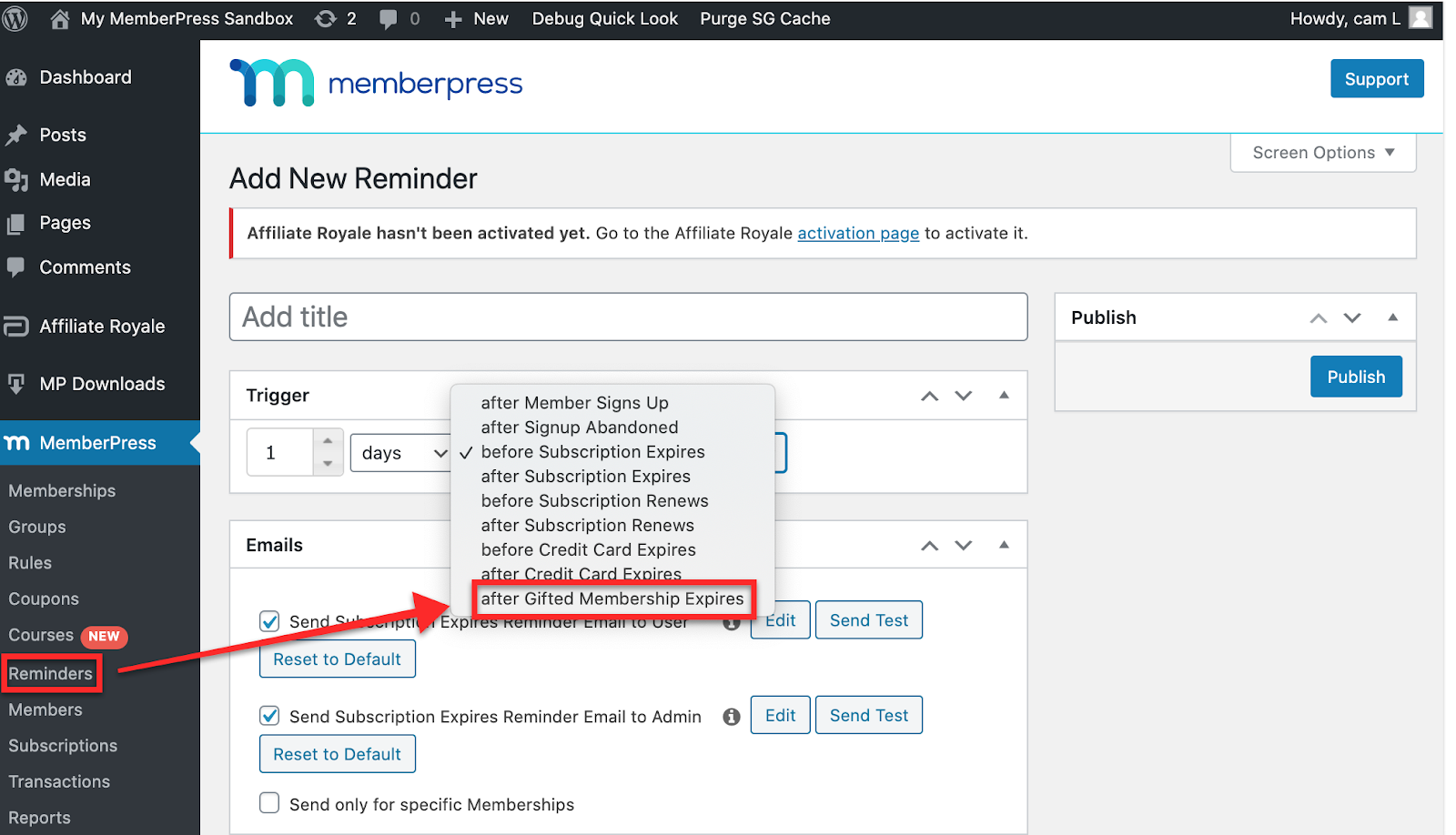 You can customize reminder emails to encourage recipients to renew their membership.
Also, edit reminder emails from the Settings > Emails tab.
Generate Account for A Gift Sender
When users give a gift, they have to create a gifting addon account (if they don't already have one). Once an account is created, they can log in to see the different options. They will also see a new Gift tab on their account page.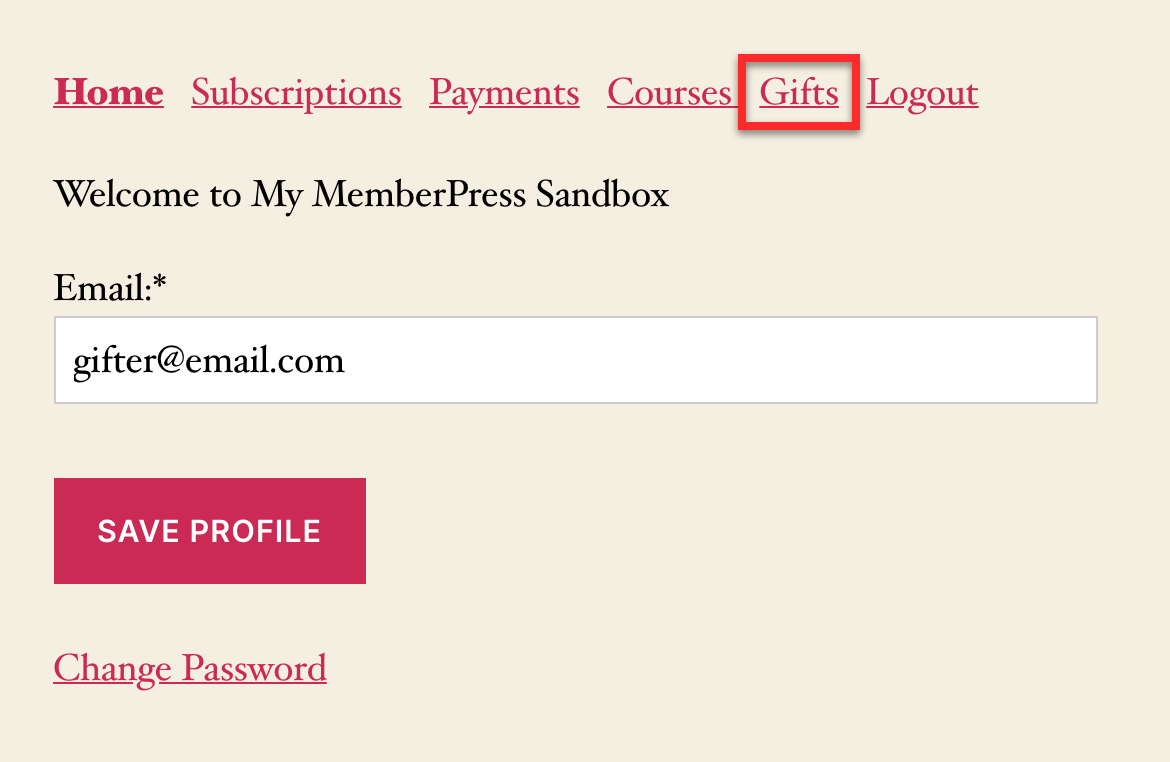 By clicking on the Gift tab, they can see a few options.
Click on the "Copy Gift URL" option to copy the gifted membership URL.
They resend the URL to the recipients if they have lost the email containing the link. Additionally, the account page will also show whether a gift has been claimed or not.
Users can go to the Transactions page to check the type of transactions (gifts purchased or received).
How Can MemberPress Gifting Addon Help Your Business?
MemberPress is installed over 100,000+ WordPress websites to grow their subscription services. For this, they're introducing features continuously to market MemberPress even better. Catching up with affiliate marketing websites is adding to the promotional causes. You can integrate your membership site with an affiliate program using the Easy Affiliate plugin and track and pay your affiliates on time. To learn more, check out our guide on how to use easy affiliate with MemberPress.
With the new MemberPress gifting addon, users can gain more benefits, such as: 
80% of holiday shoppers search online first before shopping. With the gifting addon, you can attract holiday shoppers and refresh your marketing plan.
You can expose your services or products to a new audience.
92% of consumers believe suggestions from friends and family more than advertising. When your current members gift your services to their friends, it is great Word of Mouth marketing.
23% of email marketers said that it takes a few days to create an email list. With one gift purchase, you are gaining two email addresses of the gifter and giftee.
Parting Thoughts
MemberPress plugin helps in establishing your source authority, online community, and sustainable income-earning. Already the plugin offers integration with many third-party services like PayPal, Elementor, Divi, etc. Now, with the gifting addon, MemberPress has given a new marketing tool in your hands to grow your business. So, use this feature smartly and prepare a fresh plan to market your membership website.