Best Converting Shopify Themes (Highest Rated Conversion Themes)
Everyone knows Shopify. And that is the reason we have gathered the best information on best converting Shopify themes, especially for you. But before I give you more information on them, let me explain everything that you need to understand for your online Shopify store.
How many of your Shopify website visitors actually buy your products? If you aren't turning visitors into buyers at a higher rate, the existence of your business is undoubtedly short-lived. Basic advice; find that sweet spot that convinces the highest percentage of your visitors to take action.
For instance, 100,000 people visit your site per month, and only 3,000 make a purchase, what's the conversion rate? Meagre 3%! While this may not be an accurate measure of conversion, it still speaks out loud about your business.
You'd agree with me that marketers believe in SEO, creating lead magnets, optimizing conversion rates, social media marketing, etc., yet the answer lies with web design. The design of your website is the key to a higher conversion rate.
But wait, let me tell you something, many people prefer to read something that is filled with beauty, as compared to a plain one. You need nothing short of a sleek and captivating Shopify website. If you want to start moving more masses, then buy converting Shopify themes. The themes can act as your start-to-finish sales & marketing pitch.
This way, customers can differentiate you from the competition. Shopify themes are the best solution for all kinds of eCommerce stores.  The themes are beautiful and feature-rich, and installing one of them guarantees you higher profit or at least a better conversion rate.
In my own experience, the benefits of having the best Shopify themes are immense. For instance, you'll create a nice-looking, easy to navigate, mobile-ready, and highly responsive Shopify website.
Understanding Shopify Themes
The best converting Shopify themes can put you right in the face of the right audience. Many eCommerce understand these benefits, and that is why they use Shopify. To put it into perspective, I have listed a few top-rated sites that use Shopify themes.
Urbana Sacs: This is a site that deals with sustainable paper. This website is built with Shopify using the Brooklyn template.
Heraldic Jewellery: This site creates jewelry pieces that are inspired by medieval times. You can get both men's and women's crest rings, as well as pendants and cufflinks. This Shopify site is built using the Brooklyn template.
Staples: This is another eCommerce that is made with Shopify. The site deals in office supplies, computers, and furniture.
Beginner Shopify Read: Ultimate Guide To Selecting Shopify Theme For Your eCommerce Store
What Is A Good Shopify Theme Template?
Times have changed, and so have Shopify themes. Previously, simple Shopify themes were the best way to dominate the web. Today, Shopify themes have gone into advanced levels. You can see sleek animations, cutting-edge layouts as well as responsive designs. Since most people are shifting from using computers to smartphones, the best Shopify themes should have a mobile-friendly design.
That is not all. Each year comes with new demands for attracting and keeping customers. With the growing knowledge about Shopify themes, some customers request particular features, advanced tools, and much more. You need to strike a balance between feature overload and design clutter.
The majority of Shopify themes work well with any size store. However, stores with a large product selection and expansive product lines should have additional features such as navigation, improved loading times, and a better layout and organization, optimized web pages, etc.
Buyers are tricky. If a site loads slowly, chances are visitors will move away from the site. Again, a website that is dull & poorly arranged, and not appealing website will lead to a higher bounce rate. Developers are creating themes that meet modern demands such as speed, responsiveness, and SEO friendliness.
Let me give you some examples of those themes:
Streamline
Streamline was built to capture the attention of customers as well as deliver a quicker impact. It comes in 3 styles, i.e., core, luxe, and hype. The features that streamline packs makes it one of the best eCommerce themes in the market today. The homepage having customizable sections, search engine optimization, free themes updates, and social media icons are simply amazing features for any Shopify site. It will help you increase sales and offer a smooth purchase process.
Its main features are:
Story-based product pages
Mobile-friendly design
Animated page content
Highly responsive product pages
Instagram Integrated
Express Checkout
Multiple Homepage videos
Warehouse Shopify Theme
If you have a large product catalog, then the Warehouse Shopify Theme is the best shopify theme for your online store. It effectively displays and promotes such catalogs. With the warehouse, you get 2 styles, i.e., metal and wood.
Its main features are:
Easy stock management options
Live searches with the quick product link
Biggest Catalogue theme
Features special promotion tiles for sales, discount, and featured products
Customer signup at Exiting pages
Vantage Shopify Theme
With impressive 4 styles (clean, mono, black, and reclaimed), Vantage is one of the best converting Shopify themes. Its design focuses on showcasing your brand imagery with a vast range of configurable content sections.
Its main features are:
Interactive in-built Pop-ups
Best Homepage Layouts
Advanced product showcasing features
Color Swatches
Advance Product Level Filtering
How To Choose A Good Shopify Theme?
The right Shopify theme is a primary requirement in running any kind of Shopify website. The theme and the layout of your store visually represent your eCommerce business; thus, it should give it a peculiar identity.
By now, you should know that the theme you choose determines the performance of your online store in terms of conversion rate, navigation, and trustworthiness, smooth functioning, etc. Again, themes vary in style and layout. That is why some Shopify websites look more attractive than others.
The bottom line is the best eCommerce themes should make a website more intuitive for first-time users than others?
That said, below are essential points on how to select Shopify theme for your eCommerce store.
Aesthetics
Always choose a theme that fits your brand and appeals to your customers. Ensure that the look and the layout of all the pages meet your purpose in totality. Though some Shopify themes may have hi-tech and flashy features, they may not be ideal for sites dealing with the handcrafted paper business, for instance.
Mobile-Friendly Design
Most people access the web using their smartphones because it is convenient. But not all sites are responsive to these devices. For you to capture a large customer base, using mobile-friendly Shopify themes is the only way out. These themes work perfectly across all devices. You do not get any usability concerns. You get simplified navigation static content and a smaller image display.
Responsiveness
Shopify themes usually respond or change according to the needs of the users. Besides, the device you use affects the responsiveness of a theme. Such optimization makes it possible to view content in any layout and screen resolution. Response time affects the time people stay on your sites. Similarly, it affects the conversion rate. So you must buy the best responsive Shopify themes.
Content Comprehensiveness
Content is usually images and texts on your website. The content should look best when placed on the site. Different themes have different layouts. For example, some themes allow for content on the home pages, while others enable images. Still, a good number allows both imagery and text. Buyers always look for information. Therefore content makes a critical part of a theme. You must understand the proper place to put your content and decide on the theme.
SEO Friendliness
SEO is king when it comes to marketing. Optimizing content can make your site more visible to clients. Currently, almost all Shopify themes are SEO friendly. However, the best responsive Shopify themes should have strong SEO functionality. The theme meta fields let you store SEO data and additional information for your products, customers, blogs, collections, etc.
Page Load Speed
Not all Shopify themes have a higher page load speed. Always consider themes that use cloud-based infrastructure, as they give you up to 99.98% overall uptime. According to the facts and figures, it allows the storefront to load 2.97 times faster than other SaaS platforms.
Best Converting Shopify Themes In 2020
Now coming to our most awaited part of the blog. Let us not waste time on other things and let me get straight to best converting shopify themes for your eCommerce store in 2020. When you choose to buy converting Shopify themes, it means you want to make more sales. Check the list for top-rated best converting Shopify themes:
Booster Theme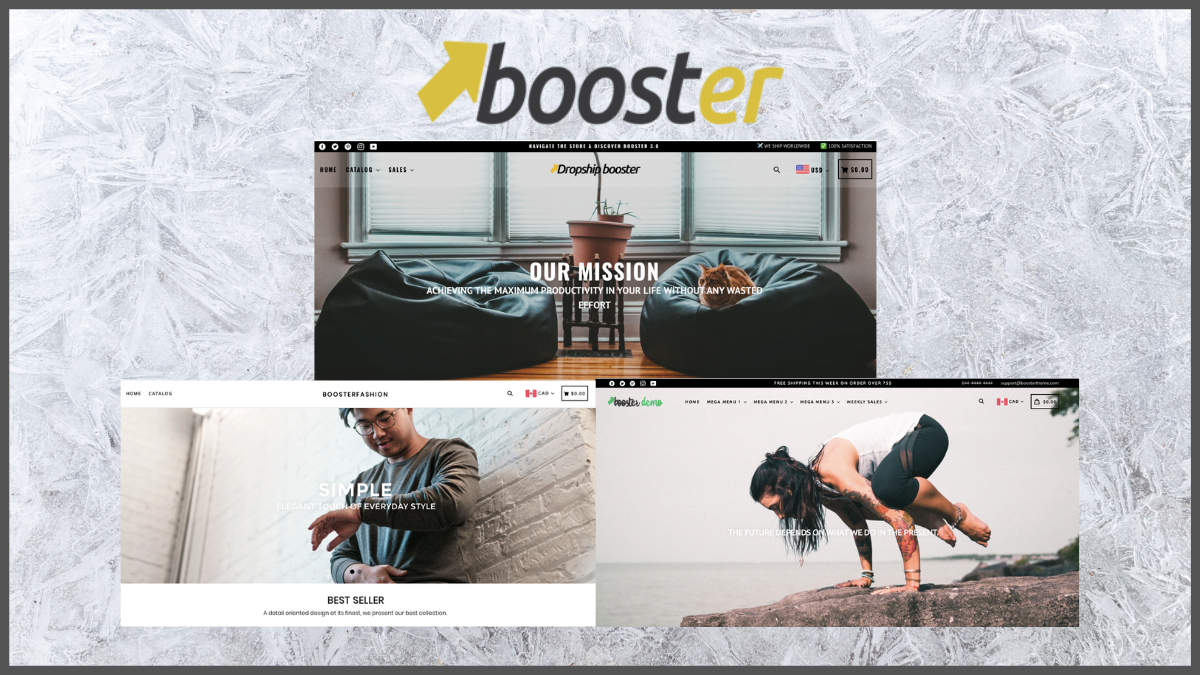 Are you looking to drive up sales? Booster Theme is the most potent persuasion machine that you can install on your Shopify website. It features a bright design and user-friendly tools. Additionally, it integrates an add-on upsell for a product that you wish to buy, similar to what is on amazon.
Using a mobile phone? They have got you. The theme is mobile-ready. The mobile version comes with add to cart buttons and clear images to help in converting more, especially impulse buys. You also get countdown timers price and delivery.
Let's get your Shopify website running. You can buy the booster theme on the official website at an affordable price. The best part is, we have got you covered with an exclusive booster theme coupon. Use our booster theme discount code and get a 20% discount on all the plans.
Out of the Sandbox Theme
Undoubtedly, Out of the Sandbox is a performance-based theme, thanks to its top-notch features and elegant looks. You can get these premium themes at a variety of prices. What's impressive is that each one of them gives a unique feature to elevate the performance of your online store.
The Flex is a game-changing theme that offers ultimate layout control. With a range of styles, you can easily bring your ideas to life. The 12 unique styles make this version fit for a wide range of online shops. There is a flex coupon code available if you want to buy it at a discounted rate.
On the other hand, the Turbo Shopify theme focuses on speed and mobile-friendliness. Turbo breathes life into your large inventories effectively and turns visitors to customers. Intuitive features, such as product row sliders, two separate speed modes, interactive mini cart, instantaneous page transitions for ultra-fast navigation, infinite scrolling, etc., makes it easier for customers to shop easily.
Out of the Sandbox Theme is the best way to create a modern-looking Shopify site. If you are interested in buying this theme, you get a 15% discount, which means lower prices. Grab our exclusive out of the sandbox discount code to avail the offer on all best shopify themes.
Shoptimized Theme
Do you want to buy converting Shopify themes for your online store?
Buy Shoptimized Theme. It has many conversion optimization features on all the product pages and the entire website. Features like blogs give customers information about your products while carts help customers shop easily.
Additionally, a countdown timer and discount expiry dates stimulate the sense of urgency in the customers. Another sales motivator is the product indicator showing the amount of stock remaining. This makes the customers not want to miss the deal.
You also get the shipping time estimator, email popup, an indicator of sales within a specific period value proposition, and video integration.
Regardless of the size and type of site, you can buy the shoptimized theme at an affordable price. Besides, we offer amazing discounts, check out our shoptimized coupon code and get a 20% sitewide discount.
eCom Turbo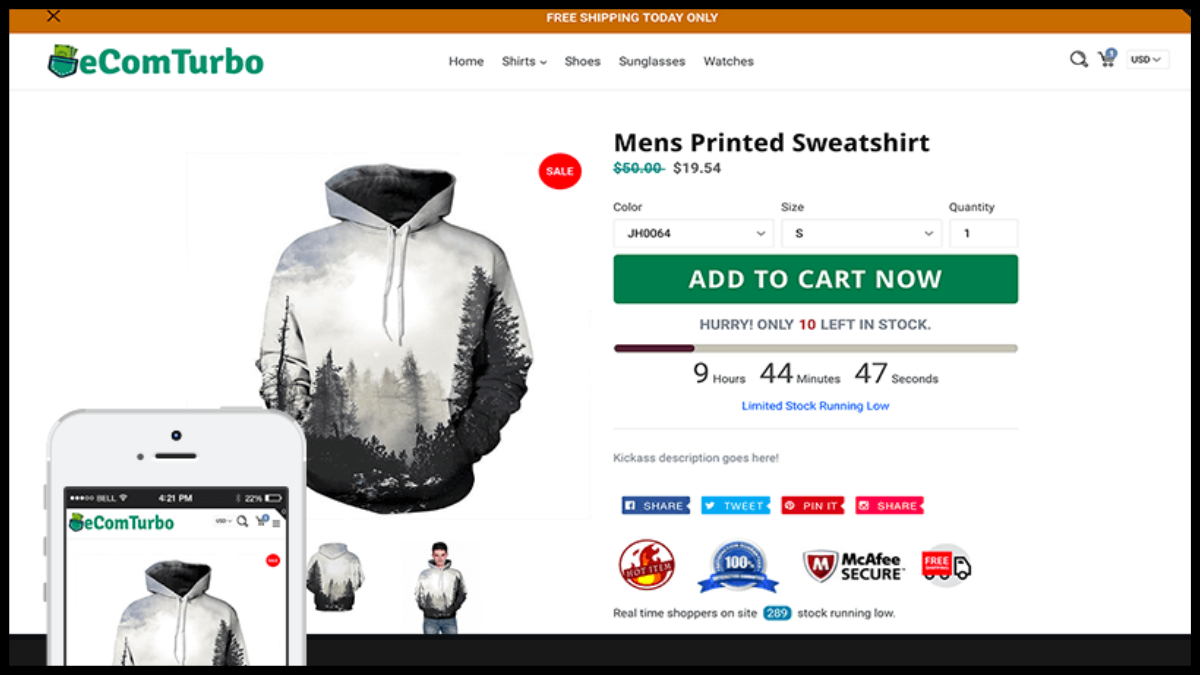 eCom Turbo presents itself as an easy to edit and high converting Shopify theme. It is power-packed to make you skyrocket your profit. The ability to edit the entire theme makes it possible to customize your store anytime – change logo, headers, currency converters, etc.
Additionally, it comes with inbuilt apps that do not affect the page load speed. The theme has a very high load speed making your page load faster, approximately 2 seconds, which beats the 3 seconds recommended for better conversion rates.
Other notable features you can get on this theme are the sales popup notification, related products upsell, scarcity timer, and trust badges. Apart from being a top-performing theme, the eCom turbo is also cheap. Check out the official website for more information.
Pixel Union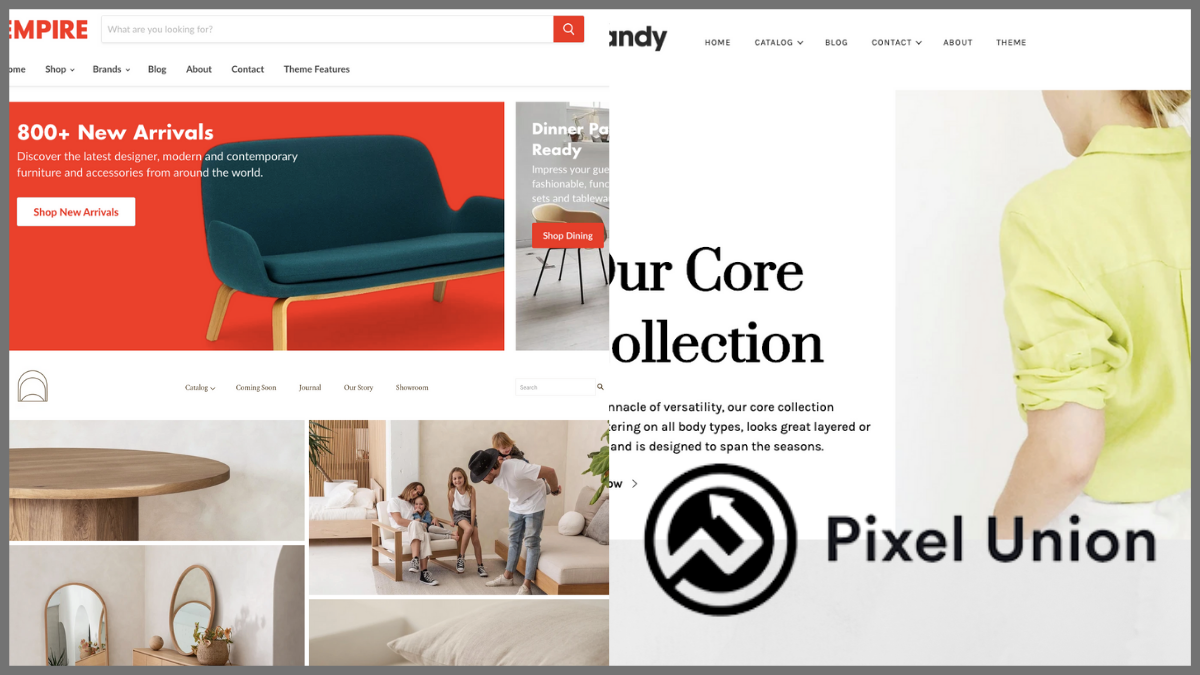 What's interesting about Pixel Union, is its design flexibility and performance. They are meant to work for a wholesaler and large catalogs.
The standout part of the theme is the multi-column drop-down menus, quick links, and speed-boosting features like Turbolinks, lazy loading, and minified JS., which eases the shopping experience.
Further, the design of the theme allows you to offer promotions and display featured products on promo sections, like no other online retailer, which is an enticing point for many customers. 
Other features that promote sales on these themes are the fast, dynamic search results for products and content. Such a feature makes it easier for customers to discover products quickly, which ultimately accelerates conversion.
Buying the pixel union theme certainly will turn your average business into a booming one.
What's more? It comes at the best price point. In fact, you can use our exclusive pixel union discount codes even to get lower prices. Just download the best Shopify theme from the official website and get your discount.
Underground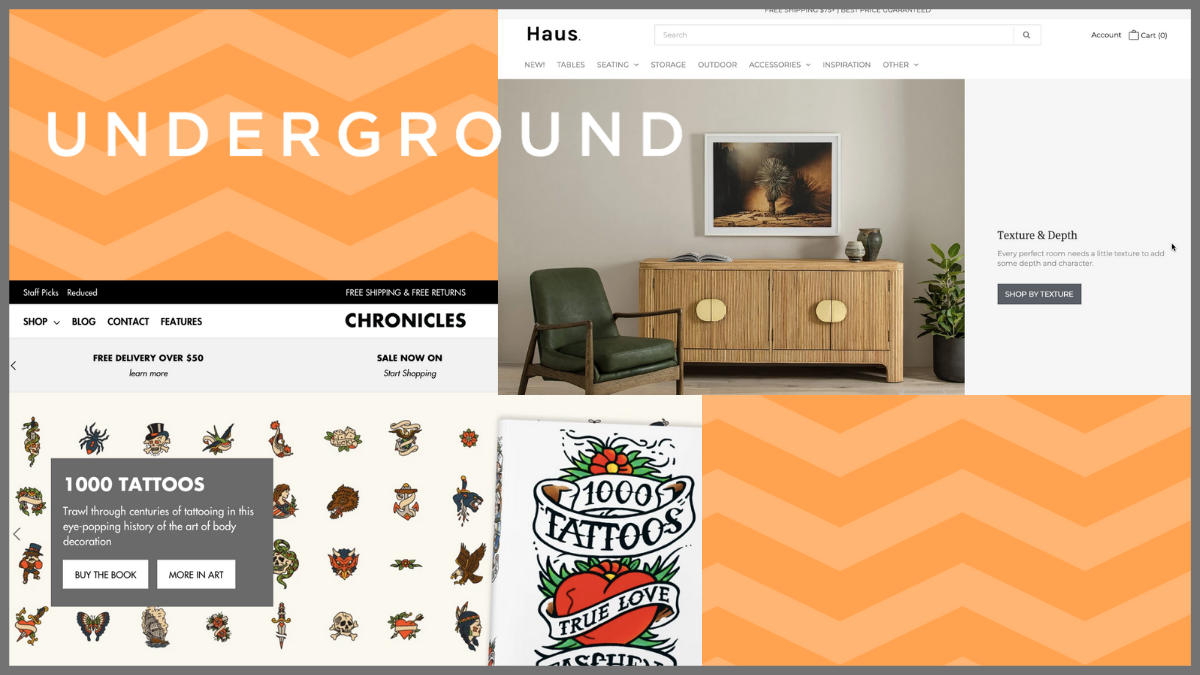 The marketplace is always evolving. Thus, Shopify themes that adapt to changing needs are worthy. Underground Shopify theme guarantees higher conversion and profit even in stiffer competitions. Buy the best Shopify theme if you are looking for the best conversion on your online store.
Essentially, the themes are built for all devices – mobile and computer. Mind you, potential buyers currently use a mobile phone to shop. Additionally, the site's SEO capabilities make it an efficient marketing tool. Just type the name of the product, and the results will be out.
Also, the theme has a lifestyle image gallery, which you can link to the featured product section. The exciting part is, the available multiple presets on the themes that allow you to easily customize your store to the looks and style fitting your products and brand.
Troop Themes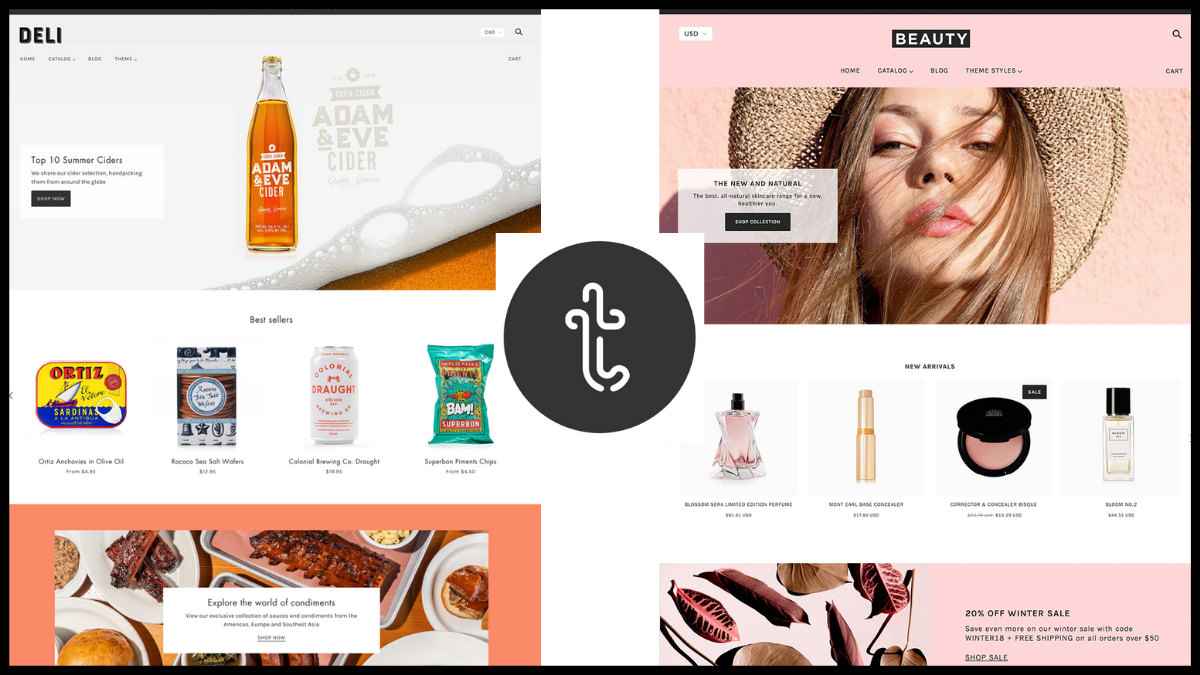 You can only bring your product to life by showcasing them, and finding a theme that works for multiple products may be hard. Troop Themes are sleek and spacious. Besides, the numerous features make it easy to sell products online.
What's more? You get unlimited theme updates. This comes in terms of new features, performance improvements, and functionality. The theme is the best choice for big, bold imagery. It is a unique design that features collage-based page layouts and extensive immersive imagery. That means you can create a contemporary store that will fit modern brands.
HTML Burger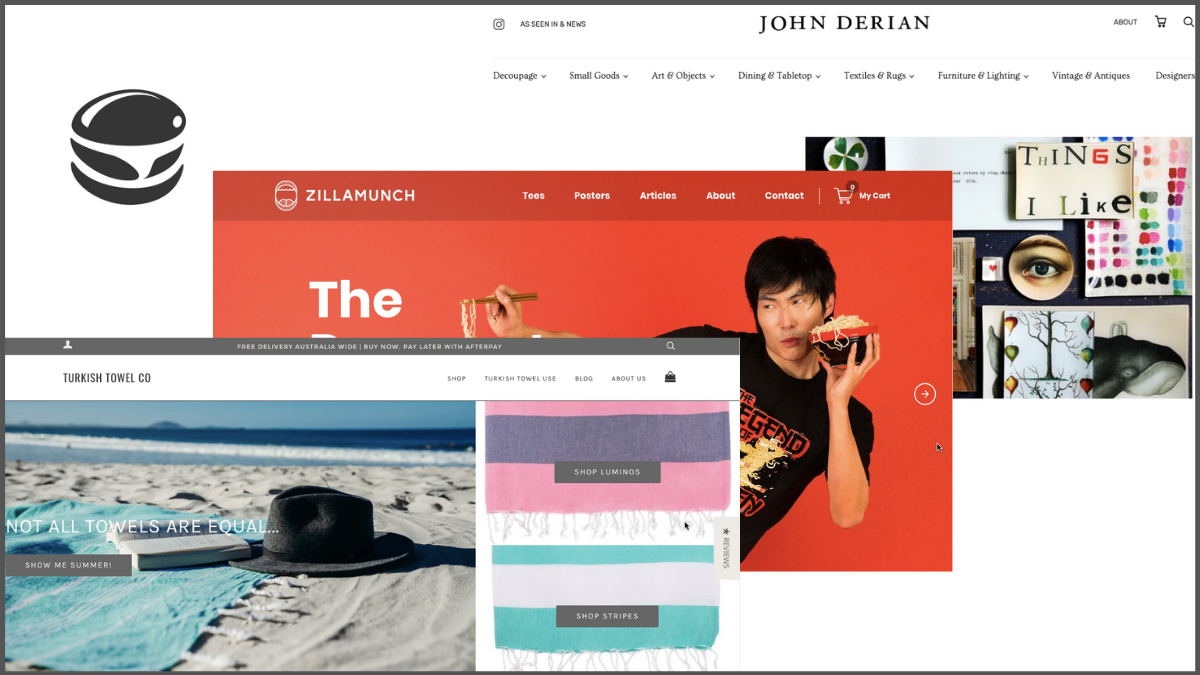 HTML Burger is the best eCommerce solution you can have for your sites. Typically, it offers HTML mark-up as well as implements all your eCommerce solutions including Shopify. This translates to having a fully functional website with content that you can easily manage. 
The exciting part is the user interface is very easy to use, which makes it easier for customers to navigate through. It offers additional animations and effects to give your site that attractive look.
If your website isn't Shopify ready, HTML Burger allows you to convert it into a Shopify website. Besides, the theme will enable you to add features to the site that were initially absent.
AThemes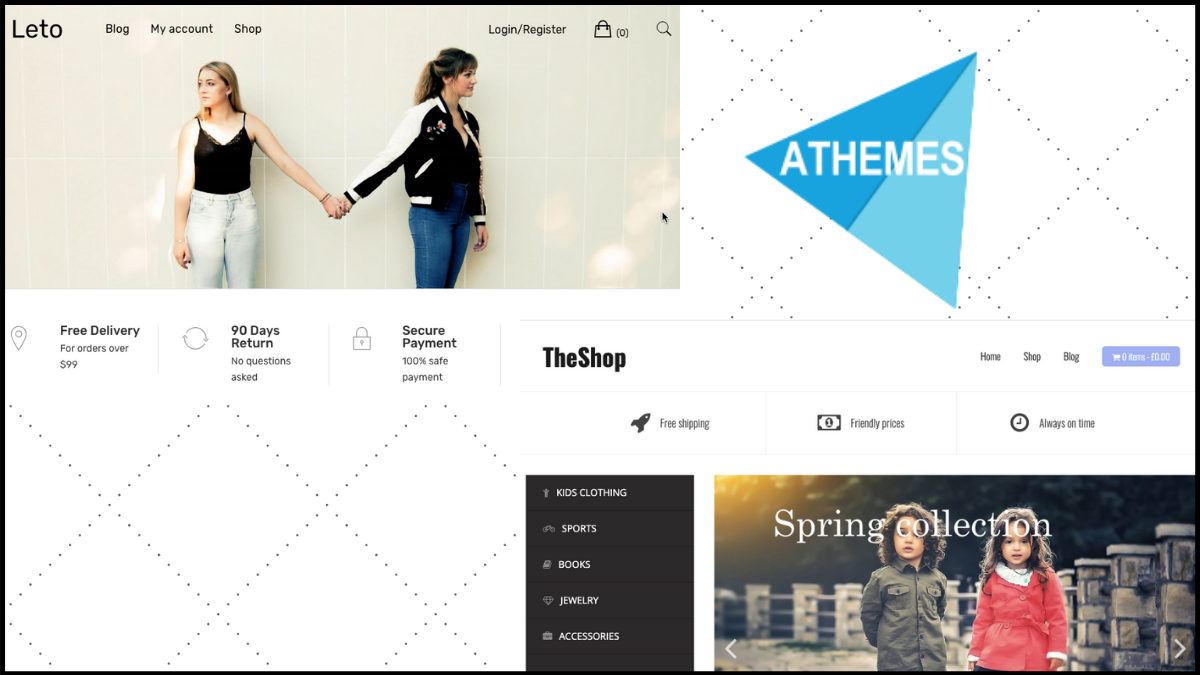 Apart from being responsive, AThemes are powerful and best options for fast-paced businesses. They are easy to use, allowing you to create an online presence quickly. Still, the immeasurable customization capabilities – full-color control, logo upload, layout control, full-screen slider, etc., lets you customize your Shopify site to your specifications.
You can create a standout home page, thanks to the block, a feature not found in other themes. When you scroll, the parallax backgrounds come to life as you scroll. You can choose a background for specific rows.
aThemes has social media integration. You can share your products, promotions, or blogs on various social media platforms with the link to specific products.
The installation process is quite easy, but first, you need to buy the theme first. You can take advantage of the current promotions to get better offers. Just apply the athemes coupon code to get the discount.
The 4 – Gecko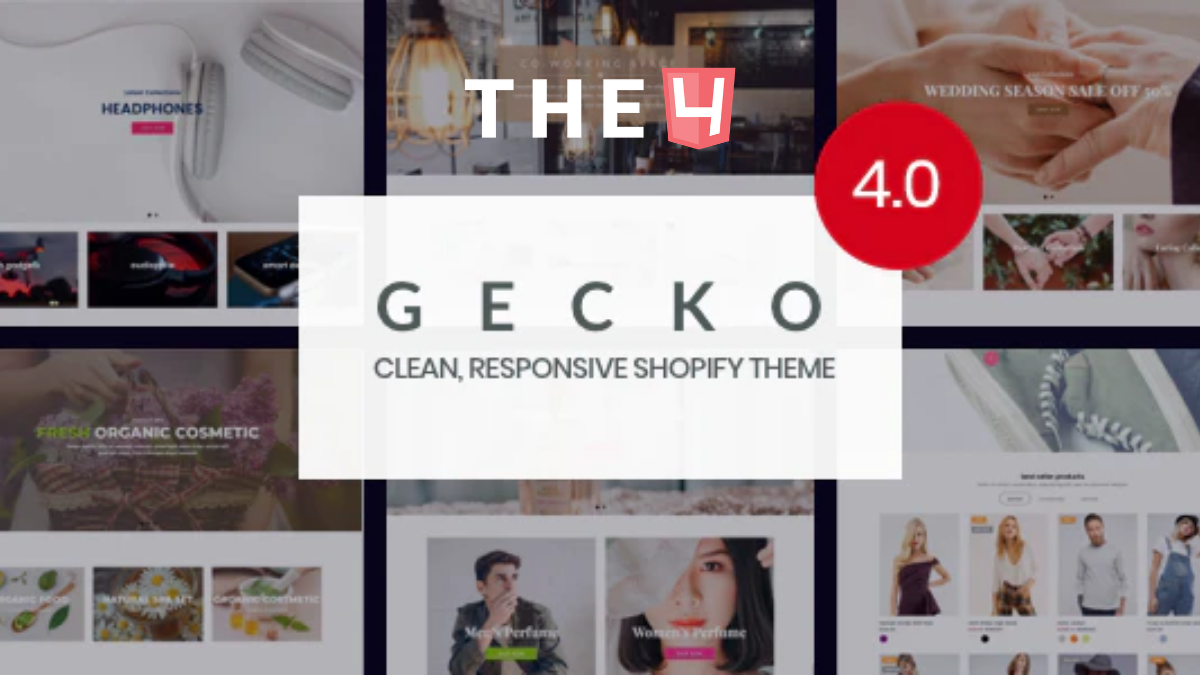 The 4 – Gecko is among the best converting Shopify themes, for its reliability regardless of what you are selling. It is your tool to create a powerful online presence as it offers customers a seamless experience, thanks to its high responsiveness. It adapts to devices you are using without any hassles.
Additionally, the built-in theme options panel allows for easier customization and quicker access to additional features and functionalities like the Instagram shop. Making adjustments doesn't require the use of codes, and you have access to multiple Google Fonts, but still, you can install Fontify to customize your fonts.
The flexible product layouts options allow you to display your products. Your visitors get a seamless experience with filters thanks to the Innovative Ajax filters. With these filters, your page doesn't need to refresh in case you change search parameters.
KrownThemes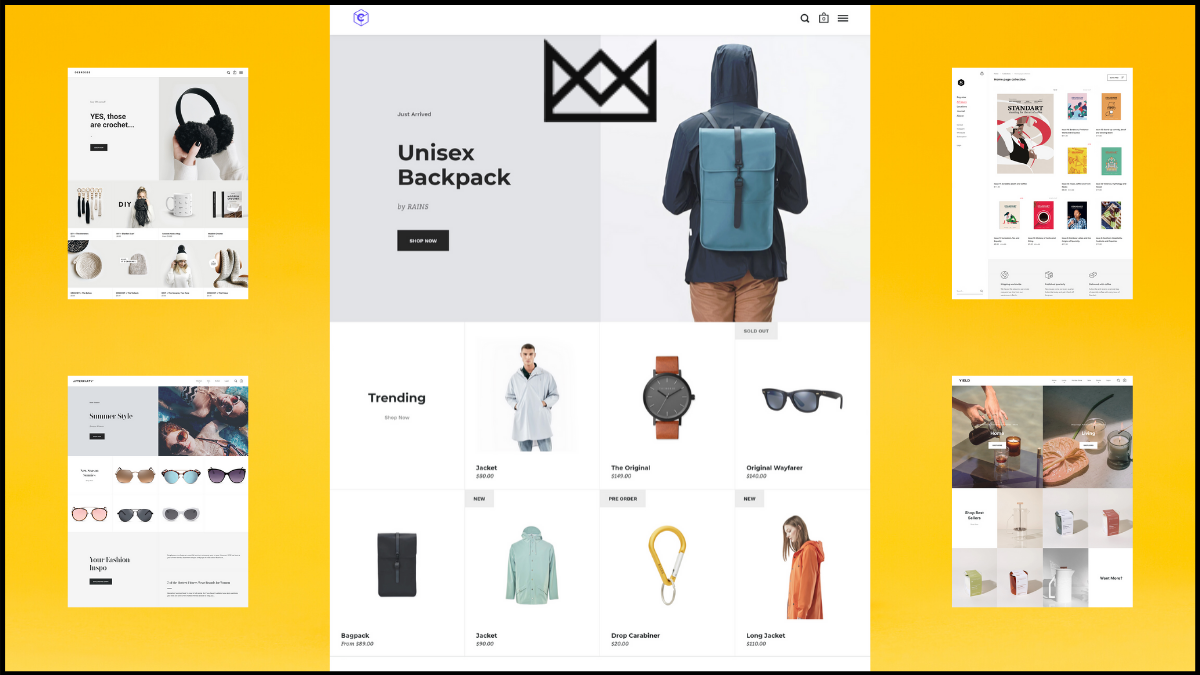 KrownThemes are one of the most intuitive themes you can install on your Shopify online shop. The theme is fully responsive and is the best theme for Shopify. The split scrolling feature allows you to display a large range of content, including full-width videos and images on any row of your site. With the feature, you can create a splitting effect as you scroll from one row to the next.
Also, you can customize the row, image background, padding, font, etc., by styling them to meet your brand's needs. Together with the retina ready and high rate of responsiveness, you get unmatched fluidity and consistent display across all devices. Unique to the split theme, you can get both the half-page and full-width post layouts. Still, the design allows seamless working with Shopify.
XlentThemes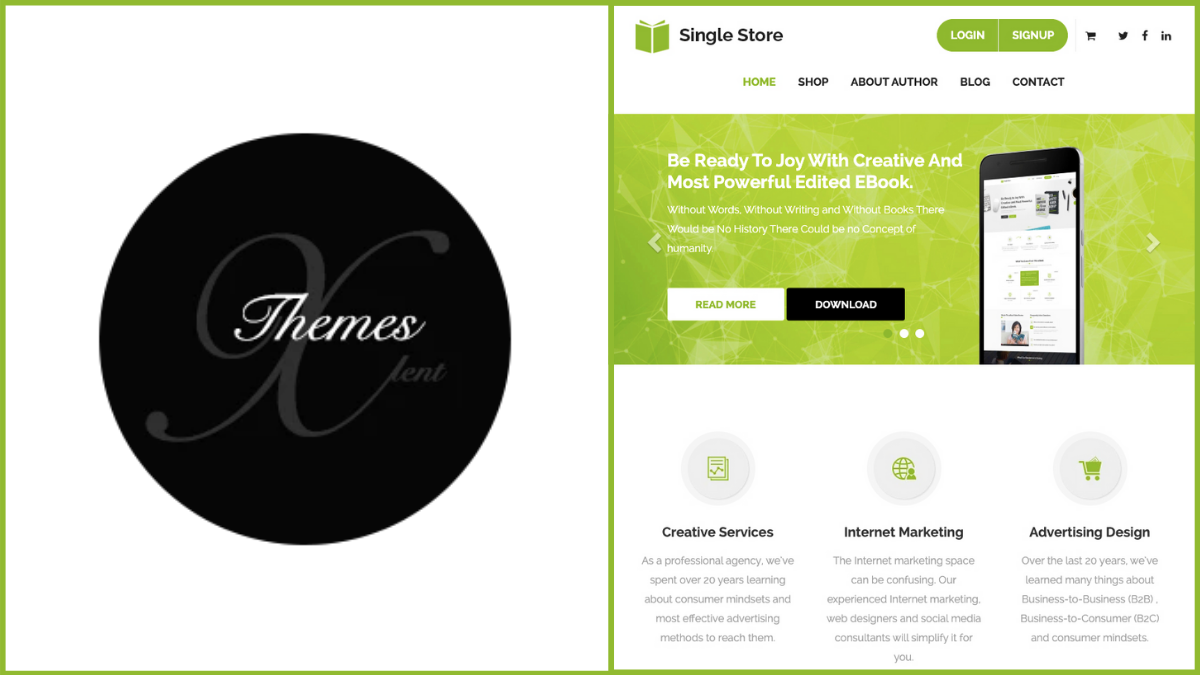 Some online shops only deal with a single type of product, and that is what XlentThemes offers. When it is time to buy the best Shopify theme, this should be one of your options. The theme comes at 25% off despite its powerful features.
With the ability to rearrange the home page, you can place the most attractive stuff on this page to attract your customers. The home page will display one product and its variants so that customers can easily make a selection.
Still, you get a slider, a feature that most customers like. For you, product data is essential, right? XlentThemes has a custom CMS block that calculates and presents data about the product's price, shipping cost, tax, etc.
Ap Strollik Theme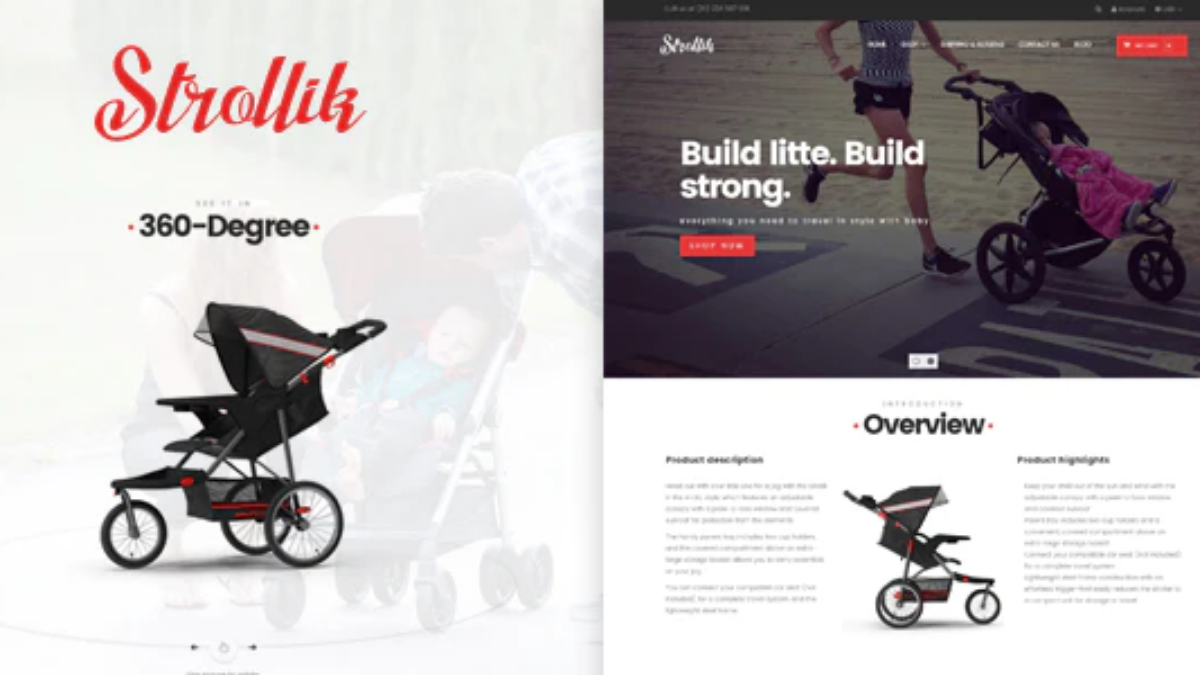 There are unique ways to give your customers' insights about your products. One of them is using overlay text. That means you use the text and the images that relate to your brands. Undoubtedly, when you use images and texts properly you'll transform a passive display into an interactive and engaging shopping platform considering you can display your products most smartly.
The stencil framework of Ap Strollik Theme fits the latest Shopify websites perfectly. You get a smooth sense from Swipe, Animations, and Slick Slider. Additionally, the versatile nature you can get different styles and layouts. The theme control is powerful and intuitive, packing numerous options for store management. You can customize your site with admin dashboard management, Theme editor, and social advertisement.
HaloThemes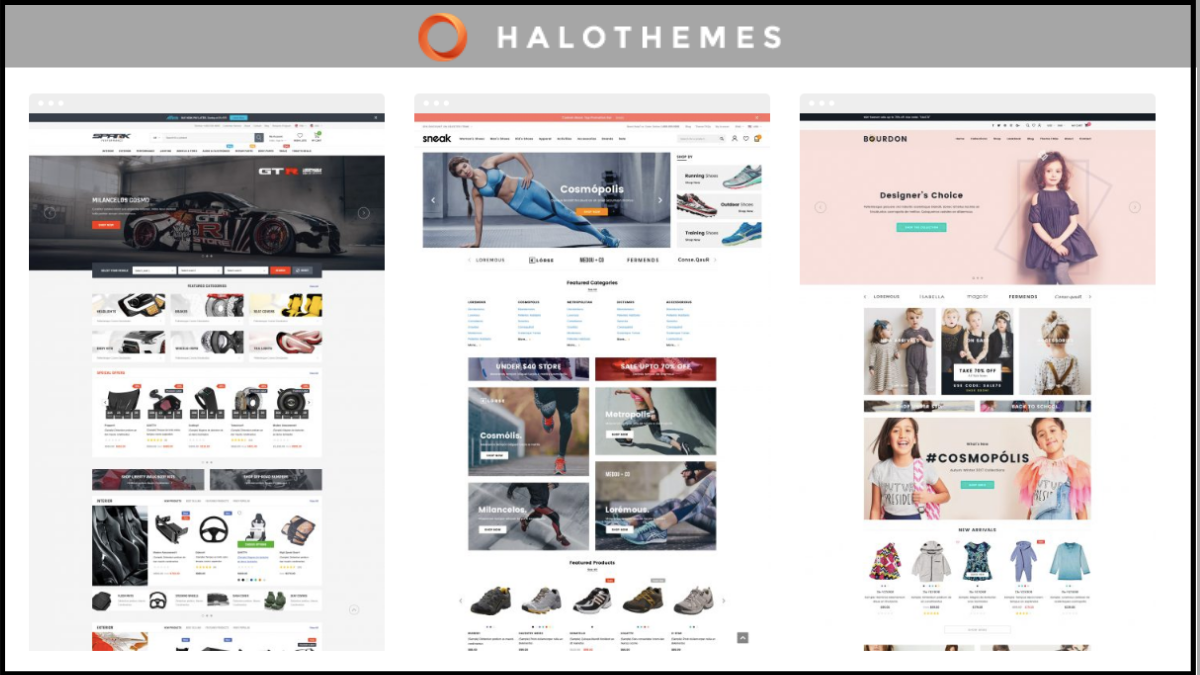 HaloThemes covers both Magento and Shopify templates. Once you install the themes, you'll be getting updates when a newer version is released (each month), but you'll need to re-download the template from the official website.
Each theme is created for development, i.e., you can modify or change particulars of the themes depending on the need at hand. Whether it is images, font, language, or layout, you create an outlook that you love.
Browser compatibility is not an issue with these themes as they are compatible with common browsers such as Chrome, Firefox, chrome, safari, and Microsoft Edge. Best of all, HaloThemes are easy to use.
TemplateMonster Shopify Themes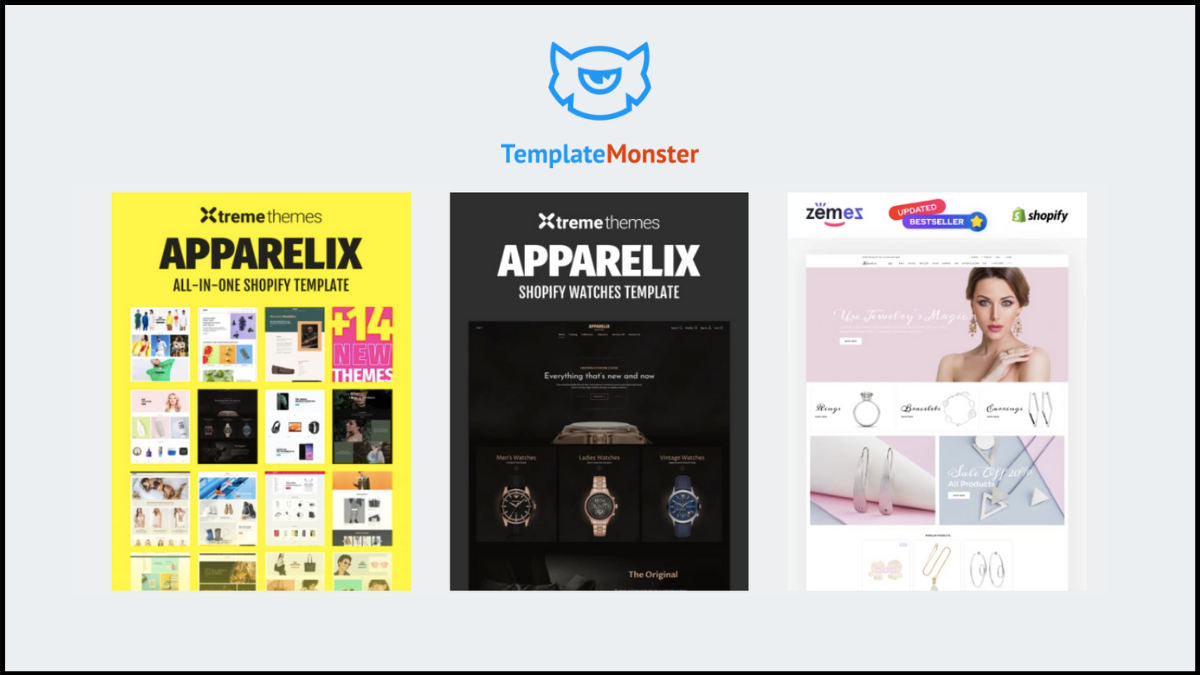 There are a variety of themes at TemplateMonster, and each one of them meets the specific requirements of particular businesses. Thus, you get numerous niche-specific themes, and with the live demo, you can easily choose a theme peculiar to your needs.
Whether you are browsing from your phone or computer, the TemplateMonster Shopify Themes are powerful enough to deliver impressive user experience, which makes it one of the best responsive Shopify themes.
The comprehensive toolset allows you to arrange your products as you deem fit. Still, you can create mega menus as well as organize items into categories and subcategories to save space. Yet, it is possible to develop products, collect and catalog.
With an option to promote your Shopify site on social media, you get a chance to tell potential customers about your brand. And if you have a creative mind, you can apply a blend of various effects to make the site sleek. This attracts customers. Still, you can optimize the site for search engines.
You can get the TemplateMonster Shopify themes at an affordable price. The good news is that currently, the developer is offering a 10% discount which you can get by applying the template monster promo code.
Buddha Themes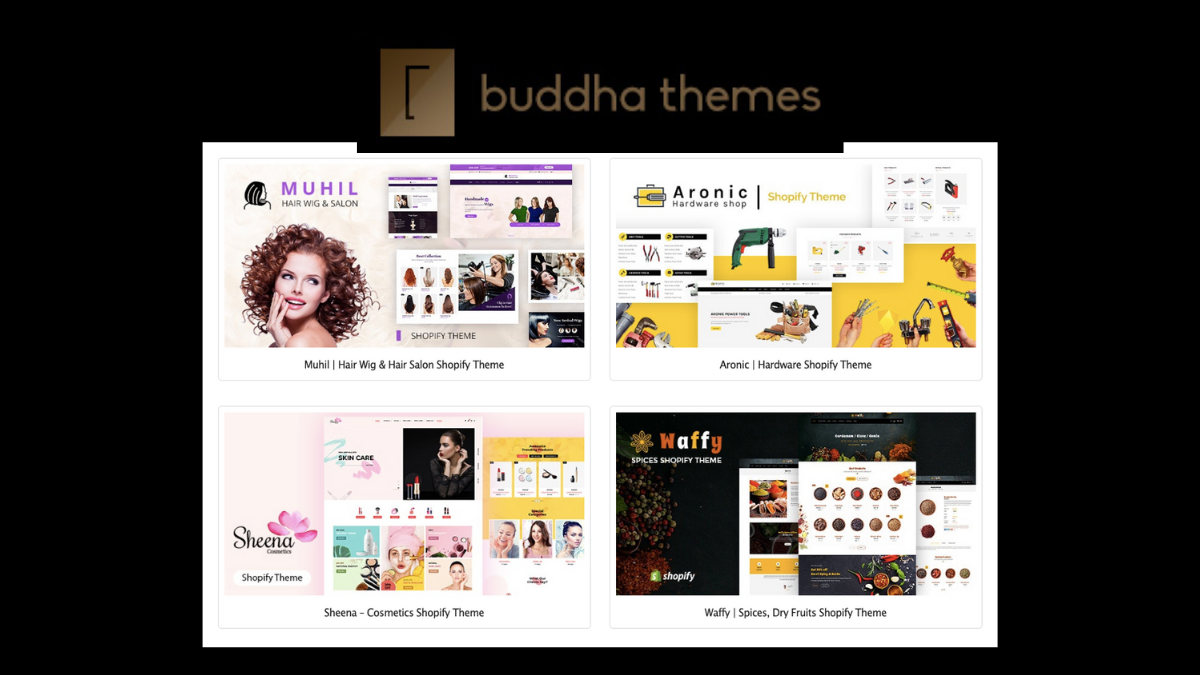 Buddha Themes are a highly responsive Shopify theme that works well for a wide range of stores. However, the design of these themes is geared towards selling luxurious products. What makes these themes unique is that they come in large amounts covering different categories. You can get the best food Shopify template or even clinic templates.
You can easily change the colors, images, and icons by simple clicks. If you are great at editing, you can come up with unique designs. However, you may need other applications such as adobe illustrator for editing vector smart objects.
Recommended Read: 5 Best Shopify Apps to Reduce Cart Abandonment For Your Store
Marry Your Business With Shopify Themes For Better Conversions
Curving a niche for yourself on the online platform isn't as easy as talking about it. It requires hard work and dedication.
Most online shops admit to making less than $1000 a year and fail in the first year itself. Is it stiff competition or poor web designing? I would say largely, both.
If you use any of the best Shopify themes mentioned above, you give a newer look and top-notch features to your website. The markets, web designs, Shopify themes, and marketing skills are evolving. The best way to stay afloat is to buy converting Shopify themes.
Attract visitors and let them hover around your Shopify store easily. Give them something that will hook them, and finally, entice them to make purchases. Sounds easy, right? It isn't. You'll have to optimize the conversation rate. Here is where a Shopify template saves you a lot. Typically, SEO improvements and conversion optimization is the secret of the efficiency of a Shopify theme that you select.
Fundamentally, Shopify template you select should offer the following features and functionalities:
The design should be simple but beautiful, especially the home page. It should tell the story of your brand
Should encourage users/buyers to leave their opinions
Promotion to social media
Allows offers and discounts
Mobile responsive
Support videos and an extensive image gallery
A convenient cart & checkout process
Swift order delivery
Wide range of communication channels – email, phones, fax, social media networks, live chats, chatbots, etc.
Faster loading and error-free templates
Bottomline
Some customers will buy without much convincing. However, some may need convincing. The best and perhaps the easiest way to turn a visitor into a buyer is conversion optimization. Simply put, you tell them that the products meet their specifications, interest and you offer the best services. Nothing can provide you with this opportunity except the best responsive Shopify themes.
Look, with conversion optimization, you have a chance to increase the ranking of your Shopify website on search engines as well as maximize profit. I would recommend buying any of the above-mentioned themes as they are highly recognized and used Shopify themes on the internet.