Best WordPress Form Builder Plugins (Generate Better Leads)
For every marketer, one of the most important strategies among all is lead generation. And why won't be? It's one of the best ways to attract as well as retain potential customers, so they go from website visitors to loyal, converted customers. However, it's not that simple. Form builder plugins are a great way to collect qualified contacts in the lead generation game. Check out our best WordPress form builder plugins and decide on which one you want to have on your website.
Before your users will consider it, you need to convince them that your email list is worth joining. The best way to generate leads is by offering an optimized contact form on your website. And, only the best form builder plugins can help you in this. (Helped me for sure).
Thinking how? Just download any of the listed plugins below and create a contact form in WordPress. Rest everything will fall in place.
Importance of WordPress Form Builder Plugins
Well, creating a form from scratch is really a long process. Yes, with the coding, the process is more time taking and can have flaws in functionalities. On the other hand, WordPress Form plugins offer a better low-code approach along with the flexibility to choose from pre-built templates.
So, to get the job done, many website owners now use WordPress form builder plugins. With the help of such plugins, multiple types of forms can be created that you need for your business.
What's overwhelming, there are more than a thousand WordPress form builder plugins making it super easy to create a form that matches your needs. But, having that many options mean, it can be hard to find the good ones. So I did that for you!
Best WordPress Form Builders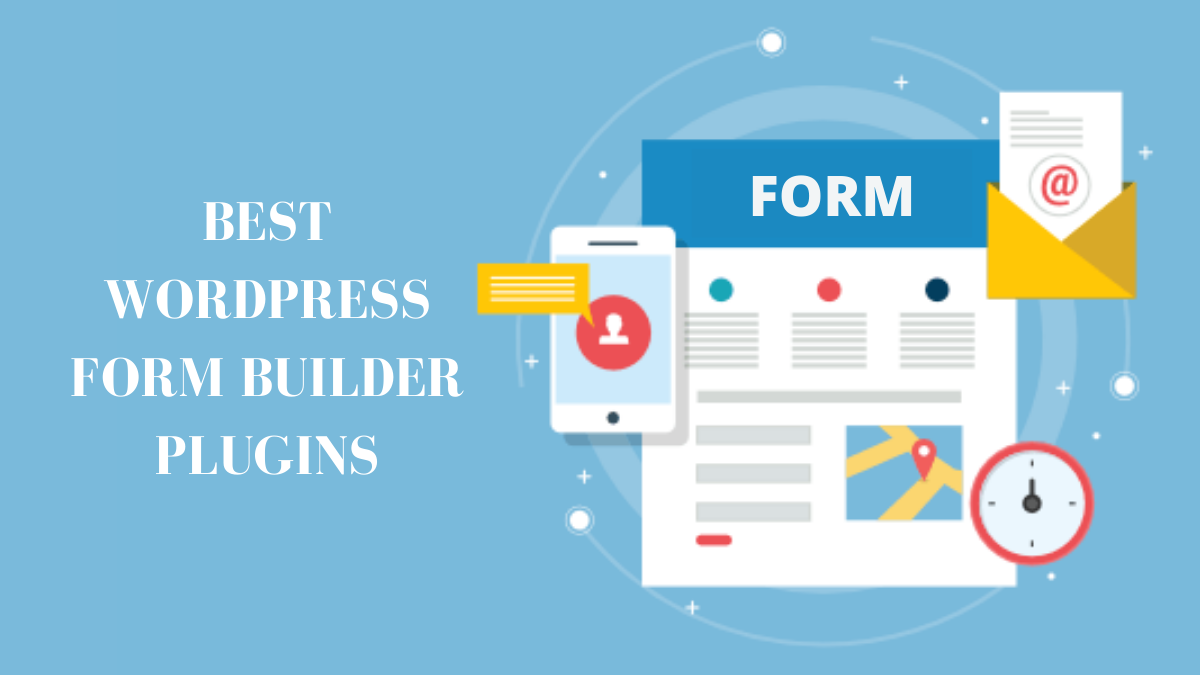 For each option, I'll share features, pricing so that by the end, you can choose the best WordPress form builder for your requirements. Let's read!
WPForms
The first name out of the best form builder WordPress plugins I would recommend is WPForms. It is one amazing drag and drop form builder ready to be both powerful and user-friendly. I used it on all my websites.
I used its premium version and unlocked access to all types of forms including surveys, post submissions, file upload forms, user registration, order forms with payment, and plenty more. You can also add contact form popups to retain customers on your WordPress websites.
The #1 aim of this tool is to be user-friendly, so there are no some of the complex features that another form plugin for WordPress might have. But, it surely has a few add-ons to expand its functionality. More importantly, WPForms has a fiercely loyal following and more than 2 million active installations. Read our latest WPForms Review to get more details on it.
Key Features & Benefits
WPForms Free
Unique form templates
Constant Contact integration
Drag-and-drop builder
10 standard form fields
Instant notifications
Button customization
Gutenberg compatibility
Anti-spam honeypots (for bots)
WPForms Paid
30 advanced form fields
Form abandonment analysis
Multiple form templates
Conversational forms add-on
Multiple marketing integrations
Form locker
Surveys and polls creation
User registration forms
PayPal and Stripe integrations to accept payments
Pricing Plans
You can obviously create a pretty basic form with WPForms Lite. But for additional features, you can definitely switch to the paid version of WPForms. There are 4 different plans:
Basic – $39.50 for one site
Plus – $99.50 for three sites
Pro – $199.50 for five sites
Elite – $299.50 for unlimited sites
Formidable Forms
Formidable Forms, another popular as well as best form builder WordPress plugin, is a versatile and popular one. If you want to create complex forms like surveys, quizzes, registration forms, payment forms, profile forms, and more, you can use Formidable Forms.
Plus, it is a drag and drop form builder, with amazing performance options.
The form builder concentrates on advanced developers and users, and it's the most extendable form solution in the market. You can use it to create form-focused solutions like job board listings, directories, management systems, event calendars, star ratings and other rating systems, and plenty more. The multi-part forms from Formidable Forms are trial, tested and proven tools to occupy questionnaire-driven contact collection.
Key Features & Benefits
Formidable Free
Drag-and-drop form builder
Basic fields
Visual form styler
Field placeholders
Colorful interface
Spam protection
Unlimited forms
Unique form layouts
Form autoresponders
Mobile responsiveness
WCAG/A11Y compliance for website accessibility
CSV export
Custom CSS
Formidable Pro
18+ Integrations
Conditional logic
Surveys and quizzes
Calculator forms
Multi-page forms
User tracking
User registration
Form action automation
Custom post submission
Tons of form templates
Front-end views to display form entries on the front-end of your site
API/webhooks
Pricing Plans
You can try the free version.
Without being skeptical, you can go ahead with any of the below plans as Formidable Forms Pro is giving a 14-day money-back guarantee.
Basic – $99
Business – $199
Elite – $399
Gravity Forms
Another name I recommend strongly is Gravity Forms. It is a visual form editor, packed with features like save and continue, multi-page forms, and limited form entries. It is its advanced features that make it one of the best WordPress form builder plugins for developers.
Gravity Forms has registered itself in the list of best WordPress survey plugins due to its explicit nature of creating questionnaire forms and feedback forms.
Key Features & Benefits
Over 30 form fields
Conditional logic (show/hide fields)
Automated email notifications
Front-end forms
14+ marketing add-ons
Powerful spam filter
Limit and schedule forms
WordPress post creation
Payment forms using PayPal or Stripe
User registration forms
Surveys and polls
Pricing Plans
There are currently three pricing plans:
Basic – $59
Pro – $159
Elite – $259
Typeform
This WordPress form builder, also known as the best form builder for conversational forms and surveys, integrates swiftly with the top apps in the marketplace.
With Typeform, you will get access to 60+ templates for creating quizzes, forms, and surveys.
Its top feature, conditional logic, makes you ask the right follow-up questions and skip the rest. Best part is, with this free form builder software, surveys feel less like interrogations, more like conversations.
Key Features & Benefits
Free Plan
Three form types
Ready-made form templates
Basic reports
Google Sheets and Slack integration
Self notifications
Download results in a spreadsheet
Add up to 10 questions
100 responses per month
Webhooks
Paid Plan
1,000+ responses per month
Three logic jumps per form
Unlimited forms
Unlimited questions
2 GB file upload storage
Custom thank you page
Mailchimp integration
Quizzes and payments calculator
Form scheduling
Pricing Plans
The plugin comes with various pricing options as compared to the other form builders on our list. With a Professional plan, you can get more features than the essentials plan.
Essentials – $35 per month
Professionals – $50 per month
Premium – $70 per month
Leadformly
Leadformly, an Intuitive drag and drop form builder, offers an easy-to-use drag and drop form editor (online form builder) for a seamless design experience.
With this best WordPress form builder, the design process is nothing short of intuitive, and the array of customization options is very admirable. The plugin is best for organizations and B2B businesses of all sizes. It's basically advantageous for those with high-value leads, such as agencies, universities, or companies in the insurance, finance, or medical sectors.
Must say it is the best online form builder tool to add to your existing digital marketing strategy.
Key Features & Benefits
15+ Question Types
Landing Page A/B Testing
Honeypot Spam Reduction
Lead Segmentation
Validation and Intelligent Forms
Easy to use
1000+ integrations
Conversion-optimized form templates
Pricing Plans
It only has one plan, $179/mo.
JotForm
An extremely capable form builder, Jotform comes with a lot to like. The drag-and-drop form designer is extremely easy to use and makes work of creating your forms super quick.
Best part is, the software enables multiple people to edit a form simultaneously. Better yet, the design process is compliant enough to let you fully customize your surveys, and templates make it easy to get started. Maybe the plugin isn't particularly cheap, but surely less expensive than some of its close rivals. Also due to its free plan, it is also known as the best free form builder.
Key Features & Benefits
Access Controls/Permissions
Archiving & Retention
Collaboration
Drag & Drop
Forms Creation & Design
Process/Workflow Automation
Annotations
Convert to PDF
Digital Signature
Encryption
Watermarking
Free plan
Pricing Plans
Apart from the free plan, there are 3 paid plans:
Bronze – $24 /month
Silver – $29 /month
Gold – $79 /month
Google Forms
A survey tool, Google Forms, is absolutely free for individuals and businesses with a Google account. There are no limitations on questions, surveys, or responses, which makes this one of the best WordPress form builders on the internet. Besides, the software comprises excellent tools for collaboration.
This best free form builder enhances simplicity, while integration with the broader G Suite ecosystem is a benefit for collaboration and data analysis.
Key Features & Benefits
Multiple Question Types
Survey Logic
Collaboration
Data Analysis
Support with email or live chat 24/7
free for use
Integrated with the entire G Suite ecosystem
Pricing Plans
Oh yes, it's free!
HubSpot
If you are looking for an easy way to add forms and popups to your WordPress website, the best option is HubSpot's WordPress form builder. You can create beautiful forms in minutes with its intuitive drag-and-drop builder.
To match your site, you can even customize your forms, and then trigger automatic actions once a visitor completes a form. What I like the most is, stores capture contacts in the HubSpot CRM and view a unified timeline of a contact's interaction with your site.
Key Features & Benefits
Use the template (Registration, Contact us, Support, etc,.)
build design from scratch
Add dozens of form field types or 1000 form fields
Edit form styling
Trigger redirects, thank you messages, or emails upon form submission
Pricing Plans
The WordPress plugin is free to use. Besides, there are three paid plans. Get an amazing 25% discount using our latest HubSpot promo codes.
Starter – $50 per month
Professional – $800/mo
Enterprise – $3,200/mo
Microsoft Forms
Microsoft Forms may better suit your preferences if you still prefer Excel Sheets. Yes, Microsoft Forms works with more data analysis functionality, thanks to its integration with Excel.
Why I like Microsoft Forms, the best free form builder software, is because adding questions to Microsoft Forms is simple and fast; choose the answer format, add a question, and type in your questions and response options.
Plus, you can send people a direct link to respond, or you can grab the embed code to add the form to your website or embed it in Sway when you're finished building your form.
Key Features & Benefits
Free
Easy to create, surveys, polls, and quizzes
Simple to use
Appealing to users
Works on any web browser
Pricing Plans
It is free with a Microsoft account
Wufoo
Platform-independent form builder, Wufoo makes you publish a form on any website, comprising WordPress sites. The plugin offers a free plan that allows us to craft five web forms, but be mindful that once they have exceeded 100 entries per month, they'll be deactivated.
You can get your online forms up and running quickly and easily using this form builder. I like this tool because we can integrate our contact form with lots of great online tools. The plugin offers more integrations than other WordPress form builders.
Besides, all the data on the forms are secured with 256-bit SSL encryption, before they're sent to their servers.
Key Features & Benefits
Real-Time Notifications
Dozens of native integrations
Branching & Logic
Automate workflows
Customize one of the ready-to-go themes
drag 'n drop form builder
256-Bit SSL Encryption
Smart CAPTCHA
Pricing Plans
There are four plans available:
Starter – $14 .08 per month
Professional – $29 .08 per month
Advanced – $74 .08 per month
Ultimate – $183 .25 per month
Convertful
If you want to convert the visitors into leads easily, Convertful gives you a complete solution. Using a compatible drag and drop form builder, it makes you craft subscription forms in minutes. It definitely does not need single lines of code. Besides, it is an ideal tool to engage as well as convert site visitors into subscribers by using behavior-based opt-in forms.
Key Features & Benefits
50 unique form templates
Mobile-friendly forms
Evergreen countdown timers
Remarkable display animations
Social signups
Customizable layouts, fields, positioning, etc
Powerful display rules and targeting functionality
All modern form types
Communication notifications
A/B split testing
Shows yes/no forms
Tracking pixels for conversion events
Add hidden data fields
Send data to multiple marketing software
Offer welcome discounts
Pricing Plans
Apart from the free plan, there are 3 paid plans you can choose from:
Blogger plan – $19/mo
Growth plan – $79/mo
Agency plan – $199/mo
Forms On Fire
If you are looking for the #1 choice for mobile forms software in the cloud, Forms On Fire is the name.
I like this tool because its drag and drop designer goes beyond anything you've ever used. Especially if you've used spreadsheet formulas, their expression logic engine is easy to learn.
The tool is jam-packed with 900+ advanced integrations that both receive and send data swiftly between your favorite systems, including Google, Zapier, Microsoft, Box, Amazon, Dropbox, Twilio, a Custom API, and our email connector.
Key Features & Benefits
Offline & Online
Map-driven, color-coded tasks
Familiar design tools – Word & Excel
Users easily track their progress
Photos, annotation, and sketching
Capture GPS, mapping & navigation
Powerful mobile reporting
Easy-to-learn user experience
On-board mobile analytics
Supports barcodes, NFC, and signatures
Pricing Plans
You have the flexibility to try the tool, but there are paid plans too.
Standard – $20 per user per month
Premium – $28 per user per month
Enterprise – $36 per user per month
Formstack
A premium WordPress form builder, Formstack enables you to make fantastic online forms with its drag and drop interface only in seconds. It even allows integration with loads of third-party apps. To embed your Formstack web form into your posts, pages, or sidebar you can download the free integration plugin from the WordPress repository.
Plus, making form building fun and easy, Formstack's user interface is cleaner and more modern.
Key Features & Benefits
Create brand recognition
Pre-made templates
Save hours of time
No coding req
Allow users to skip questions
Add-on tools
14 days Trial
Pricing Plans
No free plans, only 4 paid plans
Silver – $50/month
Gold – $83/month
Platinum – $208/month
Enterprise – Give them a call for a quote
Paperform
Paperform is a great plugin as it looks more like a landing page or blog post than your standard list of form fields. Add headings, photos, video, and long-form text to use your form to tell the story behind your providing. It's a great substitute for a landing page builder, making you collect visitor data on custom landing pages for things like targeted marketing campaigns and PPC ads.
If you will scroll through some of Paperform's templates, you will see the many things you can do with a non-traditional form: accept restaurant reservations alongside location maps and contact info, create product catalogs complete with ordering and payment fields, embed application fields into a page that includes your job listing, and plenty more.
Key Features & Benefits
14 Day Free Trial
Unlimited forms.
Custom pricing rules.
Can add images and videos to forms
Theme and form customization.
Question logic.
Required and conditional questions.
Scoring (calculations)
Pricing Plans
There are three plans you can choose from
Essentials – $12.50 per month
Pro – $32.50 per month
Agency – $82.50+ per month
Optingun
A software, Optingun has created a revolutionary impact on online businesses by crafting forms in a few minutes. This has improved the integration process as well as automated the process of converting visitors into subscribers and paying customers. Being the fastest software, it helps to build and integrate forms with the help of plugins in your WordPress site. The best part is, it can successfully integrate over 30 autoresponders to send emails.
Key Features & Benefits
Social logins and signups
Multi frame forms
Redirecting data
URL data synchronization
Smart pre-filling forms
Compatibility
Easy to use
Data-driven A/B testing
Pricing Plans
Apart from the free plan, there are 4 paid plans to choose from.
One – $9/mo
Two – $21/mo
Three – $35/mo
Four – $70/mo
Pabbly Forms
Pabbly Forms is considered one of the affordable online form builders available on the market. It enables you to craft beautiful forms using its drag and drop editor too within a few minutes. All the forms are interactive enough to grab the audience's attention and are not generic. It also has a wide array of prebuilt responsive templates.
Key Features & Benefits
Conditional redirect
Collect payments
Email autoresponders
Conditional logic
Partial form submission
Thank you page
Integrations
Embedding
Form scheduling
Pricing Plans
It cost $10 per form comprising all the advanced features like embedding, unlimited views, and plenty more.
Forminator
A free WordPress form builder plugin, Forminator comes with a drag and drop visual builder to manage and set up your WordPress forms. It makes you easily collect user information and generate more conversions to enhance your revenue.
If you want to create polls and surveys, fun quizzes, order forms, and any type of custom form, this form plugin is perfect. Best part is that it can integrate with multiple payment methods, including Stripe and PayPal to collect payments online.
Key Features & Benefits
Drag and drop form blocks
Develop and sell your own extensions
Poll your visitors
Your own Facebook-style quizzes
Collect leads with your quizzes
Gutenberg block
Email routing and pre-populate
User front end post submissions
Google ReCaptcha
Collect, track and gdpr ready
Add an e-signature form field
Pricing Plans
There is a 30-Day free trial. Besides, you can opt for plans:
Starter – $19 for 1 Site.
Pro – $49 for 3 Sites
Agency – $79 for Unlimited Sites
Formsite
Formsite enables you to encrypt the text in specific form fields. Like the plugin scrambles it so that responses appear unintelligible to people without permission to access them. It comes with built-in payment processing integrations like Stripe, PayPal, and Authorize.net, or you can use encrypted fields to easily accept ACH data or credit card through your form.
You can even reuse form blocks and data in the plugin.
Key Features & Benefits
Build web forms, online surveys, questionnaires, and poll
Get responses
Collect payments
2000+ Integrations
Pricing Plans
There are so many paid plans to choose from
Deluxe – $1667/month
First Pro Plan – $25 /month
Second Pro Plan – $50 /month
Third Pro Plan – $8333 /month
Enterprise – $20833 /month
Cognito Forms
One of the best online form builders I've tested, Cognito Forms and its interface is really easy to use. This intuitive form builder can cater to all your form-building needs, with over 100 templates and support for data encryption – and you can accept payments even on the free plan.
Must say, it seems like Cognito Forms could meet virtually every online form need.
There's a large selection to choose from templates that are arranged neatly into categories. If you're a business owner, you can use Cognito Forms for employee appraisals, recruitment, and timesheets, evading your need for third-party forms for business management.
Key Features & Benefits
Free plan
Electronic Signatures
Integrations through Zapier
Analytics & Tracking
Document Merging
Save & Resume
Conditional Logic
Multi-Page Forms
HIPAA Compliance on Enterprise Plan
Easy to use
Drag-and-Drop Editor
Simple Form Field Settings
Multiple Publishing Options
Pricing plans
Apart from the free plan, which also offers unlimited forms, there are three more plans to choose from:
Pro – $10 monthly
Team – $24 monthly
Enterprise – $99 monthly
Takeaway Thoughts
So, here are the best options I have used earlier and found worth using. Hope the list of the form builder options will help you too, to make a better choice which will further help you in getting feedback from their customers.
If you are still in a dilemma, I would recommend you to go with WPForms. Its 30 advanced form fields and multiple form templates will make things easier for you.
Besides you can also trust Formidable Forms blindly. Its features like 18+ Integrations, Conditional logic, Calculator forms, Multi-page forms, and most importantly Form action automation and Custom post submission makes it an ideal choice or I should say best online form builder.
Anyway, choose up to your needs & budget. I am sure, by now you have already decided which one you want to go with. Give it a try. Good luck!
FAQS
1. What is a form builder?
Form Builder is an application that creates customized forms for customers that helps to receive the required feedback as well as helps in lead generation.
2. What is the best form builder for WordPress?
WPForms, Formidable, Gravity forms are the names known as the best form builders for WordPress in the market.
3. What is better than Google Forms?
If we give it a comparison thought, WPForms, Formidable Forms, Microsoft Forms, Typeform, and Cognito Forms; all are better than Google forms.
4. How do I make an online form for free?
Simply create a form with a form builder that offers free plans or a trial period. Optigun, Forminator, Cognito, Google forms, etc, are names you can rely on!
5. Is Jotforms free?
There are multiple subscription options, apart from a free plan. However, Free users also have access to all of the same features as paid users, but with some limits on form submissions, form counts, form views, submission storage, and upload space.