How to Display Popular Posts in WordPress Using Plugin?
Whether you are a blogger or eCommerce website owner, you want your users to explore top-rated content or product on your site. Especially when you have put hours of hard work and dedication into creating something amazing, you definitely want people to appreciate it? And for that, you have to learn how to display popular posts in WordPress.
Averagely, users stay less than 15 seconds on a website. In this short time, how will a user know that you have a certain popular or trending post on your website?
Unless you highlight the popular posts or products in front of the user while they are reading through your current post. By highlighting popular posts, you can trigger FOMO (Fear Of Missing Out) among your readers and customers, as 56% of people are afraid of missing out on news and events.
WordPress is a junction of various plugins to ease your life as a website owner. Thus, you have plenty of options to display popular posts on your website using plugins.
There are also a few ways to display your popular posts without using plugins and one of the many ways is by adding a blogroll to your website. A blogroll is a collection of links to your website's best-performing pages, blogs, or most recent articles. You could include any blog or website link in your blogroll that you want your users to visit.
A blogroll is a fantastic method to point people to your blogs or the postings of other bloggers. This will enable you to compile a collection of links to other well-liked blogs on your website or blogs from other authors that you respect. Additionally, including a blogroll on a WordPress website lowers the bounce rate.
To know more about it check out our detailed guide on how to add blogroll to your WordPress website.
For now, let's get into how can you feature your popular posts using a plugin, for this we recommend – MonsterInsights.
Why? Let us present our case with all the facts and figures so that you can make the right decision.
What is MonsterInsights?
MonsterInsights is a highly functional Google Analytics plugin for WordPress. It is one of the highest-rated and appreciated plugins by numerous big brands like FedEx, Bloomberg, Microsoft, and many more. It is a compact tool for generating eCommerce reports, conversion tracking, and marking the priorities.
There is a free version of MonsterInsights available and you can easily set up MonsterInsights in WordPress in minutes. However, you should go for Pro because it offers dynamic features – Popular Posts and Contextual Insights. With the latest MonsterInsights 7.13 features, you can boost your page views, increase user engagement, and reduce bounce rate in one go.
You can effortlessly display your best content and products anywhere on your website with this powerful plugin. Not only just that, but it also provides insightful data to push your success rate beyond the limits.
On the top, MonsterInsights gives three interesting options to display your popular posts. Overall, when you are wondering how to display popular posts in WordPress, don't go anywhere else and just use MonsterInsights.
Three-Way Post Display Options
When you have burned the midnight oil to compose informative content, you can generate lots of leads, shares, and clicks through it. To track all that you can install Google Analytics stats dashboard in WordPress and get insights about users. But, only when a large number of people can reach your content. To increase your post reach, MonsterInsights has robust three-way offers.
Inline Popular Posts
If you have constantly been posting high-quality content on your website, but your bounce rate is still higher than 70% – it is an alarming situation. With MonsterInsights Inline Popular Posts display feature, you can revive your site's bounce rate. By using this option, you can display posts within the text of your blog. It helps by redirecting users' attention to other posts published on your website.
Popular Posts Widget
Popular Posts Widget is a very useful feature for blogs, news, or other events websites. Widgets can be used to display top posts on your site's sidebar or bottom of the blog posts. This way, readers will be exposed to other trending posts on-site, and they might click on them too. Google's organic search results have an average CTR of 31.7%, so there's a high chance of getting traffic on your other posts with the widget.
Display Popular Products
It is a reliable display feature for eCommerce stores. This MonsterInsights display option facilitates users to showcase top sellers or trending products on their website. For example, Amazon showcases Amazon Choice and related product displays to encourage its customers to explore other products as well. The benefit of ranking top products is that you get recognized by voice-controlled devices like Alexa.
How to Display Popular Posts in WordPress?
If you have already been using MonsterInsights to analyze how many people visited and viewed your posts, you are on the right track. But, imagine what if Google Analytics can flaunt off your trending post to visitors – that be awesome. With Popular Posts, you can put your valuable data into action and boost your reach in no time.
Ahead, we are going to lay down how to display popular posts list in WordPress using the MonsterInsights plugin. Step by step guide to compel your readers to visit your website again and again includes –
Step 1. Define Post Type Custom Dimension
Firstly, you have to install Google Analytics in WordPress with MonsterInsights Pro plugin; otherwise, you won't be able to use the Popular Posts feature. Once you are updated to MonsterInsights Pro, you have to install and activate the Dimensions Addon.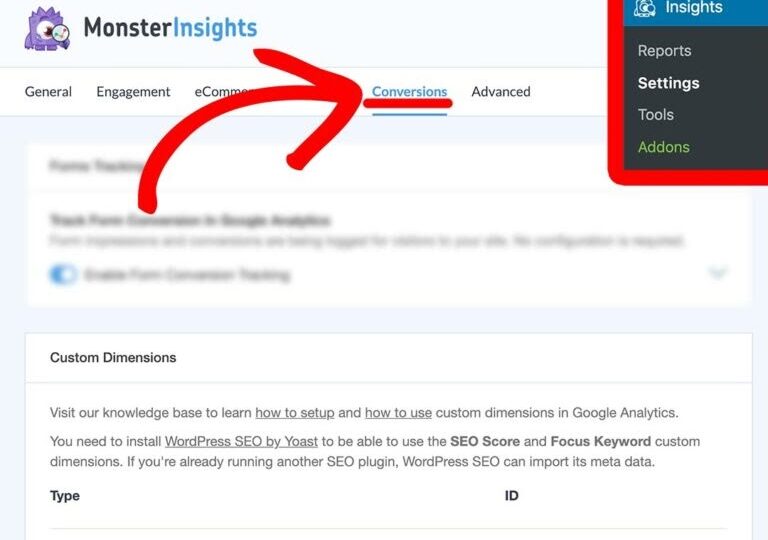 To add custom dimensions, you have to navigate through Insights > Settings > Conversion and scroll down to the Custom Dimensions section. Now, click on the Add New button and select the right dimension type from the drop-down menu. MonsterInsights allows users to customize the following dimensions – Logged in, User ID, Post Type, Author, Category, Published at, Tags, SEO Score, and Focus Keyword.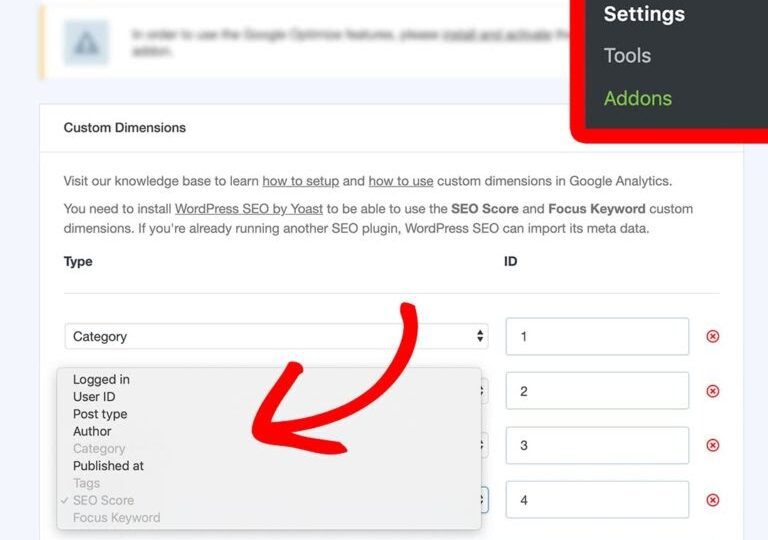 It is important to define all the custom dimensions, but you have to define Post Type precisely in our context.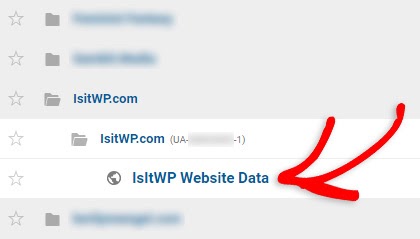 Next, you have to send Custom Dimensions to Google Analytics. Lastly, you have to match Google Analytics with MonsterInsights Custom Dimensions Settings. Both settings have to be the same for the implementation of the next step.

Step 2. Let's Wait
If you haven't defined your Post Type, you might have to wait for 24 to 48 hours to complete the process. Post Type is a very useful Custom Dimensions that helps in tracking the performance of each post available on your site. When you have many posts published on your site, Post Type can assist in analyzing individual posts' performance. Thus, Google Analytics takes time to update the Post Type Settings.
Step 3. Specify Post Sorting Settings
Once your Custom Dimensions Settings are linked to Google Analytics, you have to open – Insights > Popular Posts > Inline Popular Posts > Sort By. Now, click on the Curated button.

Up next, click on the text area right below the Curated radio button. One drop-down menu will automatically appear on your screen. You can select your post from the menu or type the post title in the search. When your post is selected, it is added to the text area. Each selected post is added to the list. If you want to remove any post, click on the X icon present in front of each post.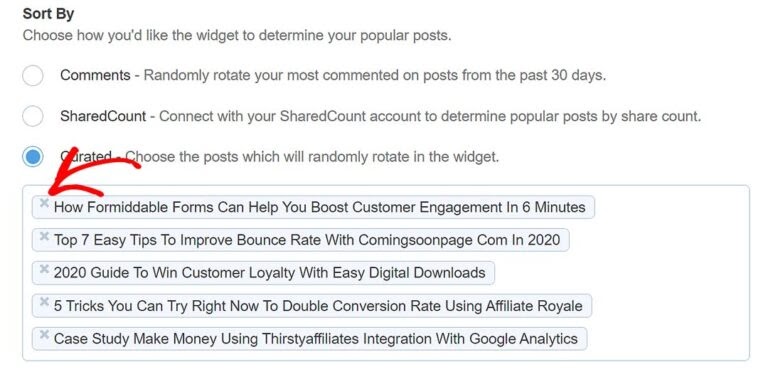 Step 4. Make Top 5 Popular Posts List
Finally, you can create the Top 5, Top 10, or any number of Popular Posts list. You have to navigate through Insights > Popular Posts > Inline Popular Posts > Automated > Curated.
Now, you can click on the Add Top 5 Posts from Google Analytics toggle and slide it. The Check Configuration button will appear beneath the toggle button. Click on it, and once the configuration is successfully completed, you will be greeted with this message.
However, if there's some problem with Post Type Custom Dimension Settings, you will be redirected to it. You have to make changes as per the suggestions. Your changes will be automatically saved, or you can scroll down and click on the Save Changes button – now, there's no harm in being extra careful.
You have to insert Inline Popular posts somewhere in your site to view the end results. Now, your Top 5 posts will appear on your site. You can follow the same steps to display your popular posts on your website using other MonsterInsights options.
Why Is MonsterInsights?
If you search for "How to Display Popular Posts in WordPress" on Google, you are going to find plenty of different options. Such as –
WP-PostRatings
WP Most Popular
Jetpack
Post Hit Counter
Most and Least Read Posts Widget
Top-10 Popular Posts Plugin and many more.
Now, the million-dollar question is – why is MonsterInsights plugin better than all other alternatives? Other WordPress users and we are rooting for MonsterInsights because –
Universal Tracking – With just one click, you can set up a universal website tracking system across multiple devices and campaigns. It has made analyzing your website pages and posts – a codeless job.
Google Analytics Connectivity – MonsterInsights empowers WordPress website users to draw site analytical reports right from their WordPress dashboard. You can analyze your posts' performance from a single dashboard.
Elevated eCommerce Tracking – This plug-in has given more power to the eCommerce users. With one click, eCommerce website owners can track performance for Easy Digital Downloads, MemberPress, and WooCommerce.
Affiliate Links and Ads Monitoring – You can easily track and monitor your banner ads, affiliate links, and other outbound links performance. Keeping track of your internal and external links has become super easy.
Custom Dimensions – As we have already discussed, MonsterInsights allows us to customize various dimensions. From Post Type to Categorise, you can Custom Dimensions to display your posts in various ways.
Seamless Integration – MonsterInsights is a very friendly plugin. It can seamlessly integrate with your other favorite WordPress plugins like WooCommerce, WPForms, Yoast, Google AdSense, and many more.
Engage Readers With Popular Posts
From pageview boosting to reducing bounce rate, you can gain so much by displaying popular posts on your site. MonsterInsights provides an easy and powerful solution to highlight your content and enhance your traffic rate. So, just get MonsterInsights Pro and accelerate your site's performance in one click.
Now that you know how to display popular posts list in WordPress, do share this knowledge with someone else too. Share this article on social media and don't forget to tag us @reviewsnguides.