How to Get Google Sitelinks for Your WordPress Website Easily?
Search rankings are an important part of any digital marketing strategy. But, did you know Google sitelinks can be a great way to improve WordPress website traffic? Let's take a step back for a moment. Ranking well for your main keywords allows you to bring in consistent and relevant traffic to help your website succeed (and grow). However, while it's great to rank well, this means nothing if people don't actually click through to your site from the Search Engine Results Page (SERPs). In this blog, you'll learn how to get Google sitelinks for your WordPress website, let's get started.
Google search sitelinks actually take up the highest space on Google search results and get more people to click on your website in the results.
Google sitelinks are a great way to improve your click-through rate (CTR), which will help you to bring in more traffic, as well as strengthen your SEO.
What Are Google Sitelinks?
Google sitelinks appear under the first search result on the (SERPs). They are internal links to the website, presented with a short description. Sitelinks are often found when performing a brand search and they help the user to navigate around your website.
You've likely seen the top result for a Google search with two, four, or six internal links displayed underneath. These are Google sitelinks and they look like this:
When searching for a brand, the homepage may not be the most relevant page for a user's needs. A user searching for "Barneys" might click on the sitelink "Designer Women's Clothing" to head directly to this page rather than the homepage.
This provides a better user experience and allows users to head directly to their page of choice without extra clicks.
How Google Sitelinks Are Beneficial to Your Business?
There are many reasons why Google sitelinks can benefit both your WordPress website and visitors.
Improve Click-Through Rate (CTR)
A good CTR is all about how enticing a headline and its meta description are, which is directly related to its relevance to the search query. While a person may perform a simple brand search, sitelinks offer more relevant options that might take them directly to their desired product or services.
But why should you care about CTR? Well, on average, the first three results in Google get the majority of clicks, (according to this study by AWR). It then drops rapidly from there:

Giving searchers instant access to your most popular pages will help to entice them to click through from the search engine. The more people click on your site in the SERPs, the more consistently you will rank for that search term, in turn increasing your organic traffic.
In fact, Google search sitelinks have been shown to increase CTR by 64%. Hence, making an effort to optimize your WordPress website for Google sitelinks is well worth the investment.
Build Trust & Credibility
Sitelinks are not shown for all websites. Less well-known or poorly optimized sites are unlikely to have sitelinks displayed in the SERPs.
If sitelinks are displayed for a website, it shows that it is well structured and that the sitelinks are relevant to a user's query.
After all, Google wants to provide the best answer to a searcher's query. And with sitelinks taking up so much space on Google results, they wouldn't give this much space to a poorly optimized or untrustworthy site.
Sitelinks take up a lot of space on Google search, for both mobile and desktop results. However, not every website can appear in sitelinks on mobile. One trick is to install a responsive theme on your WordPress website. Here's how the google sitelinks on mobile look like: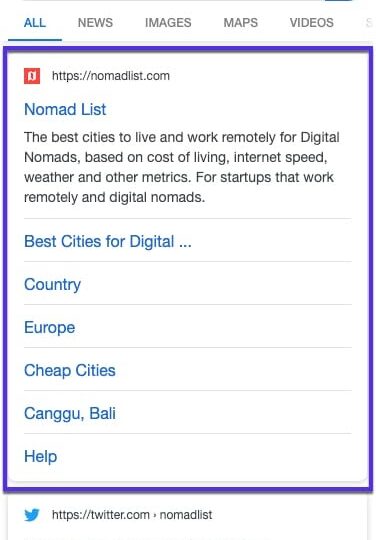 These are both factors that help to promote a website as being trustworthy, and the fact that not all results have them gives a sense of exclusivity.
Some WordPress websites even benefit from a search box within the Google sitelinks: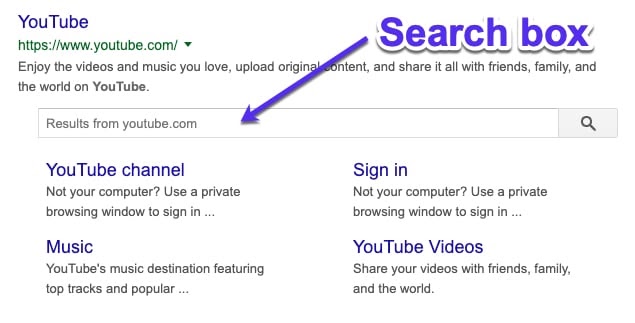 This allows users to search within the external website directly from the SERPs. The inclusion of the search box will again improve CTR and user experience, giving them a better opinion of your website as a whole.
Increase Brand & Product Awareness
The purpose to get Google sitelinks is to present some of a website's most important pages to searchers to improve their search experience. These are the pages that Google thinks are the most relevant based on your website's structure, content, and the search term in question.
The pages that Google chooses for sitelinks are often product pages, pricing pages, about pages or blogs, which help a user to learn more about a company.
The sitelinks showing for Fomo do a good job of highlighting the key pages about the company (about us), useful product pages (integrations, product tour, etc.) as well as key information like the pricing page and the blog.
When performing a brand search, a sitelink may be displayed for a particular product or range like this example for GoPro:
This helps to educate users about what you have to offer without them even visiting your site. It also speeds up getting potential customers to your best/most popular product pages.
Thanks, Google!
Allow Users to Browse Deeper Pages
The majority of visitors aren't going to explore your website in any great depth. Most of the time, people will browse your homepage, product pages, and service pages without delving further into your content.
Google search sitelinks display a website's most popular pages, which means that your top blog post, best-selling product, or frequently downloaded how-to guide could appear as sitelinks.
A good example of this in action is for web designer-turned-entrepreneur-and-author Paul Jarvis' site, which has top articles and product pages all being pulled into the sitelinks: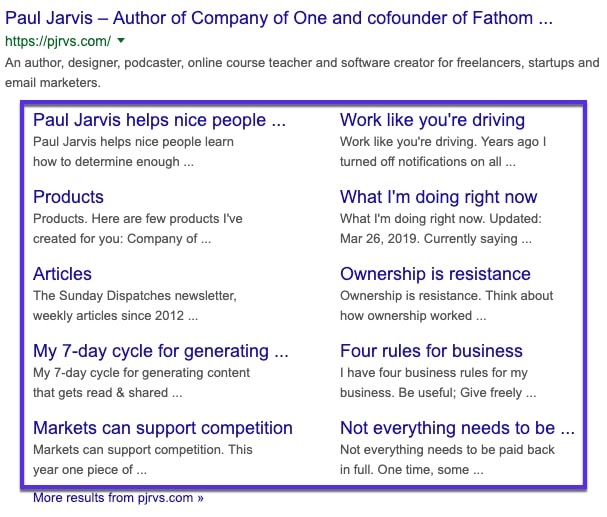 It also works well for software tools. For example, sitelinks for Ahrefs is pulling in the specific tool pages: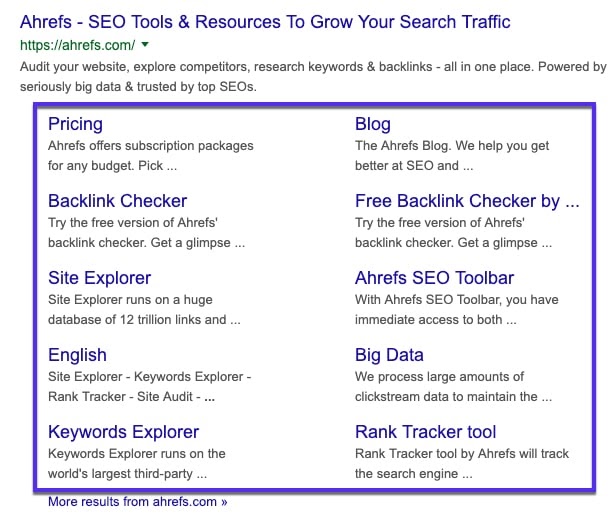 This drives traffic to your most important pages, helping to deliver leads such as inquiries and subscriptions, instead of sending everyone to the homepage. So, along with improved SEO and CTR, sitelinks can help you to benefit from increased conversions.
How to Get Google Sitelinks For Your Website?
Unfortunately, you can't set up your own sitelinks. Whether they appear, and which links are chosen, is completely up to Google's algorithms. However, much like any other aspect of SEO, there are certain best practices that you can follow to improve your chances of getting sitelinks.
Let's explore them in more detail:
Unique Website Name
Google search sitelinks are predominantly found for brand searches, so having a unique brand name will help you to rank in the first position.
A generic name like "The Digital Agency" will struggle to rank, because it's hard for Google to know whether the user is looking for a digital agency in general or this specific company.
Ambiguous company names can sometimes rank well in the right conditions. For example, a search for "apple" will bring up results for the tech giant rather than the fruit, because of the huge popularity of the brand.
However, without having an incredibly strong brand presence, it's difficult to rank for a fairly generic name.
If your company is already established, don't just change the name in order to better target SEO, as this is a very complicated task that poses many of its own risks and difficulties. If you're in the pre-startup phase, choose a company name that is unique as this will help you to perform well in brand searches.
Rank at Position #1 for Your Brand Name
Google sitelinks are only assigned to the first search result. So, your WordPress website needs to be ranked at #1 to stand a chance of appearing in Google sitelinks.
Along with ensuring that your website or company name is unique, do as much as you can to strengthen your brand's online presence.
Audit your backlinks and check that all online citations use the correct name, address, phone number, and URL. Keep your social media profiles active, and make use of content marketing methods such as blogging to spread your brand further across the web.
Use Structured Data
Also known as rich snippets or schema, structured data helps Google and other search engines to better understand your website.
There are many ways that structured data can help to improve your website's appearance in the SERPs, such as by displaying review or event snippets, but it can also help you when it comes to sitelinks.
You can tell Google which menu to consider for sitelinks, specify your contact page, and enable breadcrumbs or a sitelinks search box.
While using schema won't guarantee that Google will display sitelinks, or that they will always be the ones that you specify, it's a good way to push things in the right direction.
Clear Website Structure & Navigation
Websites with complicated or unclear structures are harder for search engines like Google to crawl, as well as being difficult for users to navigate.
If Google can't find all of your WordPress pages or understand how they relate to each other, it won't be able to assign sitelinks. Consider this example of site architecture: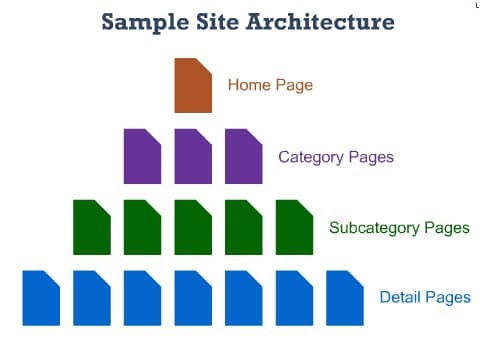 Make sure that the homepage is the main page of your website, and that all other pages easily branch off from there. Use clear headings and an intuitive structure to organize your pages, and split everything into relevant subcategories wherever possible.
It's also good to have the standard web pages covered, such as About, Contact, and Products/Services. Google as well as users understand such terms easily, and make great landing pages links for the SERPs.
Add XML Sitemap to Google Search Console
Sitemaps help search engines to understand and crawl your website, and to determine which are the most important pages.
If you've got a clear website structure and you've linked a sitemap to your Google Search Console account, Google will have a leg up when it comes to crawling and analyzing your site.
When choosing which WordPress pages to feature in sitelinks, Google looks at each page's priority and traffic. It assesses its usefulness and matches the intent with users. By adding a sitemap to your Google Search Console, you'll help Google to choose the most relevant sitelinks.
You can also monitor which of your posts are eligible for the sitelinks searchbox.
Build Internal Links
Internal links are an important (and sometimes overlooked) part of SEO. The more you link to an internal page on your website, the more important that page appears to Google.
If your WordPress pages frequently link to a particular product, the contact page, or your about page, these will be good candidates for Google sitelinks.
All these internal links direct users around his site, taking them to related content they may find useful.
Within the content, we add internal links to other articles that are relevant to that topic. Not only does this help Google's crawlers navigate our site better, but it also helps users to move through our site while engaging with our content.
If you want an overview of your site's internal links, you can track them in Google Search Console to see how many times your website links to particular pages. If there's one that you're particularly keen to have in the sitelinks, make sure that you link to it throughout the rest of the website.
Use Relevant Page Titles
This is SEO 101. Page titles are one of the most important SEO elements on your website.
By making sure that each page has the most effective title, you can help to improve your overall SEO and help Google to pick relevant sitelinks.
Google sitelinks are generated from your WordPress page's titles, so make sure they align with what that page is about.
Each page title should be a short, logical description of what the page is about. Titles that have nothing to do with the page content will be confusing for Google, meaning that they will struggle to rank—and you can wave goodbye to sitelinks.
It's tempting to use interesting or unusual titles for your pages. However, you must be aware that this may affect your SEO and the assignment of sitelinks. For example, an about page titled "Find out what makes us tick", isn't particularly clear to Google's search algorithms.
Increase Brand Awareness
Increasing your brand awareness is not a one-time job. It is an ongoing process.
Spreading your brand name further online will help to improve your site's authority and popularity. These are two major factors that Google uses to determine rankings.
Build a positive reputation for your company and make sure that people have heard of you. Here are just some of the ways that you can get your brand out there:
Guest blogging on popular industry sites.
Giving interviews.
Reaching out to online news outlets.
Getting positive reviews and testimonials.
Participating in online community discussions.
The more people know your company by name, the more branded searches you'll receive, and the better your chances of getting sitelinks will be.
Get Google Sitelinks!!!
By following these steps, you can increase your chances to get Google sitelinks for WordPress. It will boost the organic traffic, leads, and brand awareness.
Like any element of SEO, getting sitelinks doesn't happen overnight. All you can do is follow best practice guidelines and maintain your continual SEO efforts to give yourself the best chance of earning those sitelinks. And just be patient.