How To Improve Core Web Vitals with MonsterInsights Speed Reports
Do you want to know everything about Core Web Vitals and how you can manipulate them with a new feature from MonsterInsights? Then, let me walk you through an easy way to improve your site speed and ranking. Learn how to improve core web vitals.
The last two decades have been dedicated to the World Wide Web—therefore, the number of websites has surpassed one billion. In 2019, approximately 1.7 billion websites were present on the internet. That means if you want to grow your online business in 2021, you have to step up your game and offer the best experience to your users. But, you can effortlessly beat them all by aligning with Google's Core Web Vitals. MonsterInsights has announced a new Site Speed Reports feature to improve Core Web Vitals.
But first!
Set up MonsterInsight in your WordPress with this simple and easy installation guide. Once this process is done, go ahead with the step-by-step process to improve core web vitals.
What Are Core Web Vitals?
Core Web Vitals is a holistic Google announcement that enables website owners to peek into their top-secret ranking algorithms. This feature shows how Google measures your site on their key performance factor, User Experience.
Google has divided Web Vitals into three performance metrics to judge whether your website offers a good user experience or not. These three Vitals are called 'Core' because they sum up everything that you ever required to enhance your site speed.
Google has always emphasized the high site speed because 46% of people hate to wait for page loading. Therefore, to improve your site speed and ranking, Google presents the following Core Web Vitals:
Largest Contentful Paint (LCP)
LCP is focused on measuring page loading times perceived by users. With the Largest Contentful Paint metrics, the render time for the largest content element present on your site will be accessed.
The whole purpose behind LCP metrics is to know how long it takes to load your web page's main content in the user's browser. The best thing about LCP is that it will be determined on the user's perceived experience instead of a bunch of site load process measuring steps.
Numerous factors affect load speed like CSS, client-side rendering, JavaScript, etc. With LCP viewport, you can fix what's holding back your website's speed because sites that load in five seconds witness 70% longer average sessions.
First Input Delay (FID)
This Core Vital measures page responsiveness to user input. FID measures the time from when a user had made their first interaction with your website in any way (clicked on a button, used a control, etc.) to the time when the web browser actually responded to that interaction.
When a user clicked on your site, and nothing happened, it could be due to third-party codes, JavaScript, etc. Users don't care about the cause because 100 milliseconds of delay can drop conversion rates by 7%.
Cumulative Layout Shift (CLS)
Cumulative Layout Shift measures page stability. It is based on a formula that shows how many times components present on the page 'shifted' around during page loading. Obviously, fewer shifts mean better speed.
It is the worst sign of poor user experience—when your web page components keep on moving and disturbing users' interaction.
Imagine you have been trying to order a new pair of sneakers from your mobile phone, but the buy button keeps on moving—how frustrating will that be. Mobile sites should target three seconds or less load time. An Akamai's Study concluded that 2.4 seconds is the perfect mobile conversion rate.
Improve Core Web Vitals Using MonsterInsights Speed Reports
MonsterInsights is the most popular Google Analytics tool for WordPress.
It allows you to install Google Analytics dashboard in WordPress and generate user reports. The site speed improvement is definitely an overwhelming and intimidating process, which can't be achieved without some technical knowledge. But, MonsterInsights 7.14 has announced a new Site Speed Report feature that can make it possible for everyone to improve their site speed.
Using MonsterInsights this report, you can measure how fast your website loads for your visitors. Overall, you'll get a site speed score for both mobile and desktop so you can ensure whether you meet Web Vitals guidelines or not.
Additionally, you can check out the following essential user experience statistics:
Server Response Time – This data will show how much time your website server responds to your users' requests and return data to load the site.
First Contentful Paint – The most important Web Vital FCP will also be reported by MonsterInsights Speed Report. The report can tell how elements like fonts and images load on your site.
Time to Interactive – The time lag between when your page first starts to load and when it stops loading. This is going to show about user interactions minute details on your site.
Total Blocking Time – It measures the time that takes your visitors to first interact with your website.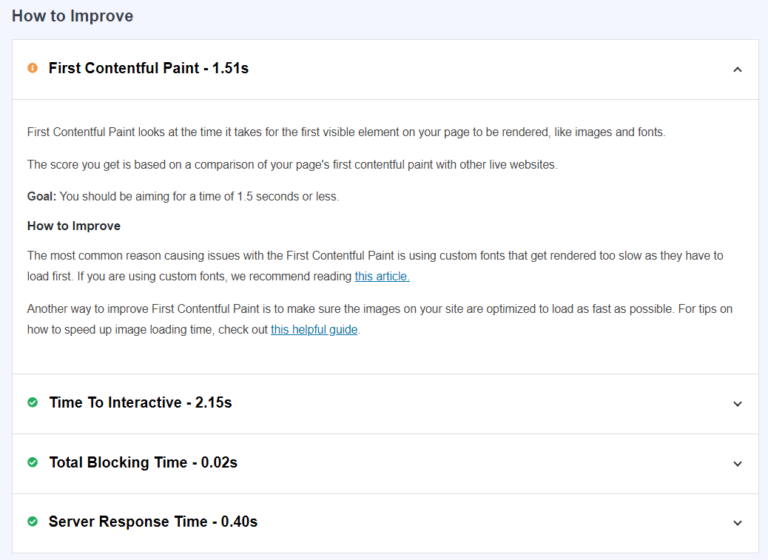 MonsterInsights job isn't done here. It's also going to offer each metric a goal that you should aim to improve your website speed. For instance, if your server response time is high, it will tell you which WordPress caching plugin can help you out to reduce it.
So, if you are scared from the new Google Core Web Vitals algorithm updates, don't be—just update your MonsterInsights plugin today!
Why MonsterInsights is Number #1 Google Analytics Plugin?
There are many website speed optimization tools available such as Google PageSpeed Insights, Pingdom, GTmetrix, WebPageTest, Varvy PageSpeed Optimization. But, MonsterInsights is Number #1 because:
2,000,000+ professionals use this plugin.
It is a universal website tracker across multiple devices and campaigns.
You can add the MonsterInsights stats dashboard in WordPress to view your website analytics report right in the WordPress dashboard.
MonsterInsights offers real-time statistics to make instant decisions.
You can export WordPress Analytics report from Google Analytics for easy insights exploration.
It can automatically track clicks on your banner ads, affiliate links, outbound links, and much more.
It can make your site GDPR-friendly.
MonsterInsights allow you to set up form conversion tracking in WordPress to game up your Lead Gen game.
You can also buy MonsterInsights with an exclusive discount. Get 50% OFF with our exclusive monsterinsights coupon codes.
Other Ways to Improve Core Web Vitals
You can improve your website's core web vitals with the following alternatives as well.
You should look at your website's analytics to recognize how your users are interacting with your pages including usability, SEO, A/B testing, etc.
Use custom fonts to reduce the vacuum.
Move ads to the bottom or completely out of the viewport.
Specify image dimensions.
Avoid adding new content above the old one.
Preventing the Flash of Invisible Text (FOIT).
Less use of non-composited animations.
You can compress the size of CSS, JavaScript, and HTML files that are larger than 150 bytes.
Reduce the number of redirects as whenever your one page redirects to another page, your visitors have to spend extra time waiting for the new HTTP request, which delays the response cycle completion.
If your browser faces script while rendering, it can stop and execute it before completing the process. Therefore, block JavaScript on your site.
With Content Distribution Networks (CDN), you can optimize servers that distribute your content. It can store copies of your content at multiple geographically diverse data centers so that visitors can have faster and reliable access to your website.
Improve Your Website's Core Web Vitals
To improve your website speed and ranking in 2021, you have to level up. The basic site speed optimization steps won't be enough to target Google Core Web Vitals. Thus, you need a monstrous Google Analytics tool like MonsterInsights.
So, do upgrade your MonsterInsights plugin and speed your website compliance to Web Vitals right now!