How to Setup Form Conversion Tracking in Google Analytics?
The average conversion rate for online forms is roughly 21.5% (varies as per industry). I know the conversion rate is low compared to efforts that go into creating a campaign. Fortunately, once you know how to setup form conversion tracking in Google Analytics, you can dramatically increase your form conversion rate.
Google Analytics will help you understand the source of people who filled up your web form. To generate leads from your campaigns, knowing your traffic source is a vital step. And in this post, you'll gain a clear insight into it.
Apart from using google analytics to track your conversions, there are other various software that will help you monitor your links to increase your conversion rate. One such tool is ClickMeter.
Users may more easily monitor, assess, and improve all of their links using ClickMeter thanks to a variety of capabilities that are contained within a single virtual platform.
Agencies, affiliates, advertisers, and publishers can all use this platform. You may track metrics like views, clicks, and conversions and target visitors where they offer the best conversion rates. Check out our ClickMeter Coupons and get 30% OFF on your purchase.
What is Google Analytics?
Google Analytics is a free website analytics service by Google to track website traffic and share analytical information about visitors. It offers multiple website and user metrics such as:
How many people landed on your website?
From where they have reached your site?
What do your visitors do on your website?
Which pages or posts are most popular?
Your site's speed analysis as per different pages, countries, and browsers.
Visitor analysis as per their age, sex and location, etc.
Getting started with Google Analytics is easy. Google offers you free dashboards and analytics services to track your website's performance. So, set up Google Analytics account now and enjoy the data-driven insights to your online business.
Since Google Analytics record their personal data such as age, location and many more. It is important that it's compliant with California Consumer Protection Act (CCPA). Failure to do so, you will be charged with violation penalties worth $7,500 per individual. Whereas, unintentional violators can face penalties worth $2,000 per individual. Check out our guide on how to make your Google Analytics CCPA compliant.
Importance of Google Analytics Ideal for Form Conversion Tracking
There are numerous free and paid conversion rate optimization tools available like—Owler, SurveyMonkey, Alexa, OptinMonster, and many more. Still, Google Analytics is used by over 29.3 million websites because:
You can recognize the highest response received forms and converting pages.
Gain form optimization insights to get higher conversion using referral web codes.
Compatibility with WordPress AJAX contact form.
Data visual reporting makes conversion analysis fast and simple.
Reports let you gather insight into your visitors' path.
Google Analytics can help you track your marketing campaigns effectively. You can track newsletter campaigns in Google Analytics and know how your email list is consuming your content.
How to Setup Form Conversion Tracking in Google Analytics?
The multi-step form can lead up to 300% more conversions, so you'll be excited to learn how to setup form conversion tracking in Google Analytics.
Firstly, you have to set up a Google Analytics account with your Gmail ID.
Secondly, you have to Sign Up for Google Analytics. Simply navigate to Sign In link > Sign Up > Select Website and add details > click on the blue Get Tracking ID button > Accept Terms of Service.
Lastly, you'll get Tracking ID and Analytics tracking code inside your Google Analytics account. You can find it by visiting Admin > Property > Tracking Info. Non-WordPress users can copy and paste tracking code to every page that you want to track.
You can set up Google Analytics goals and track the performance of your business. This will result in better marketing strategies, informative product campaigns and better ROI.
However, there are a few ways to use Google Analytics with WordPress. But the easiest one is using the MonsterInsights plugin. Once you complete the authentication process, you are all set to track your form conversion.
How to Set Up Google Analytics Conversion Goals?
At this point, you must be quite overwhelmed by Google Analytics's complexity level. There are numerous different aspects of the tool that you can postpone learning for a moment. To gather contact form insights, you need to get familiar with conversion goals.
Develop a New Goal
Open the Admin tab that'll take you to three columns—Account, Property, and View. Click on the View columns, and on the third head, you have to tap on Goals. On the Goals page, click the red New Goal button.
Select Goal Setup
Under the Goal setup, you'll have to choose the Custom radio button located at the bottom and click Continue.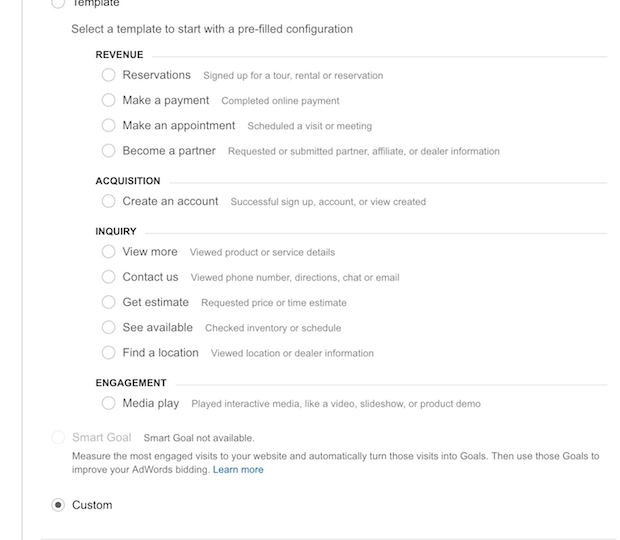 Add Goal Description
Here, you'll be asked to name your goal and define its type. In our case, form conversion tracking is the goal. You can give any name to your goal that you wish to track and select Destination and press the Continue button.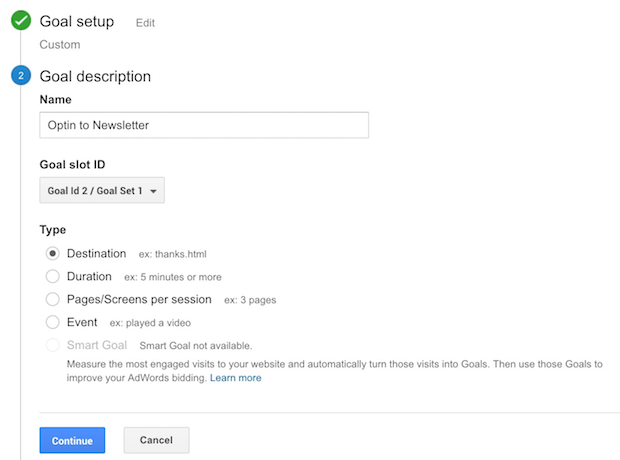 Add Goal Details
You have to add the URL for your thank you page—new subscribers will see this page after they opt-in to your site. Here, you also can toggle the Value tab to enter a monetary value of the conversion. You can use it when you want to know the monetary value of your campaigns. The Funnel option is also used to track conversion down the funnel-like a sale, but this can be skipped for now.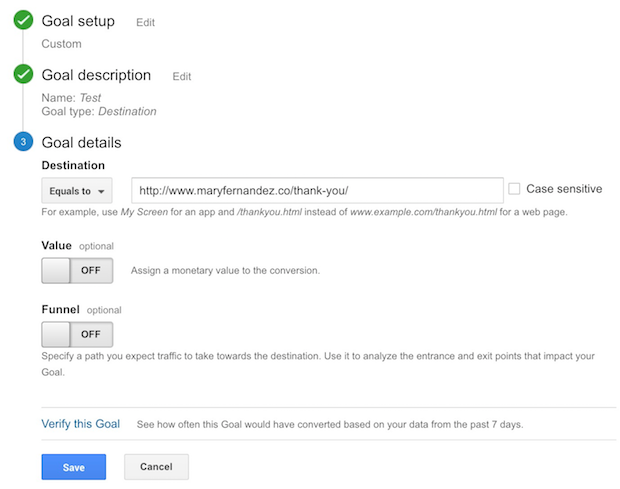 Let's Record & Analyse
Once your goal is created, Google Analytics will start recording data. You can view your data anytime by navigating to Acquisition > Overview > clicking on your new goal.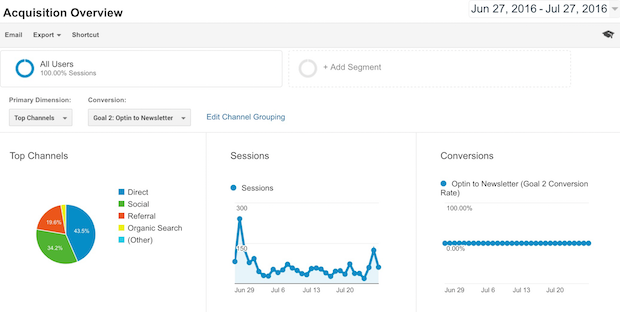 On the dashboard, you can see top sources of traffic, graphic representation of your sessions, importantly conversion rate, and so much more.
How to Track Conversion of Multiple Forms?
Goal-based conversion tracking is quite simple, but when you have multiple forms and campaigns running on your site, it gets complicated. You'll have to create separate conversion goals, thank you pages and individually analyze metrics for each campaign.
However, if you are a WordPress user, you can cut down the process of creating goals every time. Using the WordPress form plugin, you can set up form conversion tracking.
We are going to target the top three WP contact forms in this guide.
MonsterInsights
Install Google Analytics with MonsterInsights Forms addon. Once the plugin is installed, you can connect it with Google Analytics—click on Insights > Addon and Install under the Forms addon.
Activate the plugin, and you are ready to use it. Without any hassle, MonsterInsights will automatically record your forms data and display it in reports. To view reports, go to Insights > Reports > Forms.
For each form, you can view—conversions, impressions, and conversion rate data.
With MonsterInsights, you can know the performance of your forms. But, to find out the source of leads, you'll have to visit your Google Analytics account. You have to select Behaviour > Events > Top Events from the left side menu. Now, you can view your forms as an event category.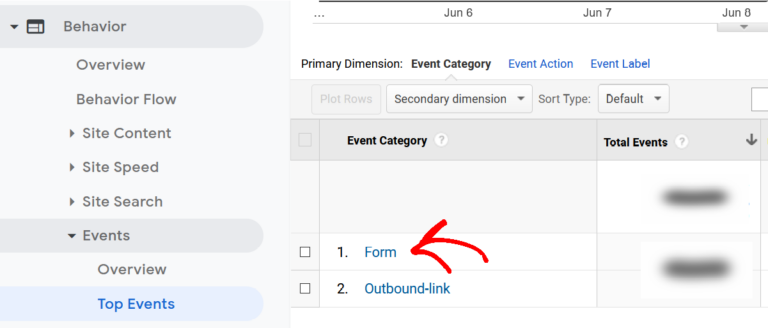 Up next, you can view Event Action and the total number of impressions and conversions. To view the source, you have to click on Conversions. All the forms submitted by visitors are now visible. So, click on the form that you are interested in to find sources.
After selecting the form, you have to click on the secondary dimensions from the drop-down menu, choose Source/Medium, or type in the search bar.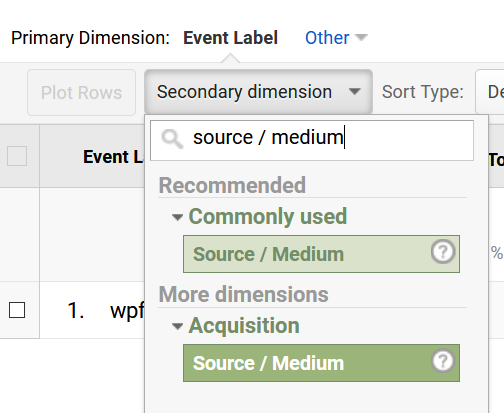 You can now see from where visitors have landed on your site, such as search engines, social media, etc. Further, you can use advanced filters to analyze data.
For instance, if you are interested in knowing traffic referred by other sites, you can go to Include > Source/Medium > Containing and enter referral and click on Apply. Now, you can filter display referral sources for your completed forms.
This kind of tracking can be helpful to you in producing targeted content, creating personalized social media campaigns, and many more. To know more, check out our guide on how to use lead source tracking in GAs using MonsterInsights.
OptinMonster
Install OptinMonster in WordPress (same as MonsterInsights) to track your goals effectively from your WordPress dashboard. Then, go to the Analytics tab on the OptinMonster screen; under Non-Active Connections, click on the Connect button to connect with Google Analytics.

On the new generated screen, click on the Generate Authentication Code button. A new tab will open, and you should click on the Allow button to let OptinMonster view your Google Analytics data.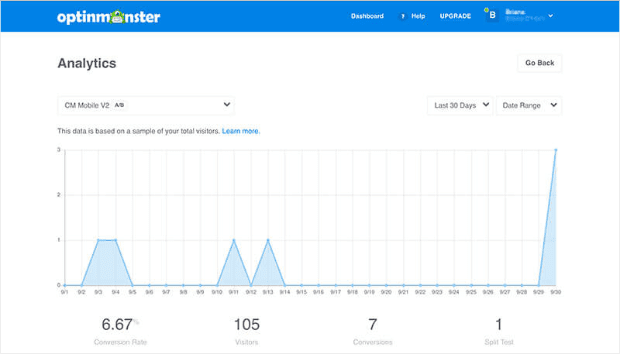 That's it now; you can collect data from Google Analytics and track form conversion within your OptinMonster account.
WPForms
If you have Pro or higher WPForms plans, you can install User Journey Addon to record your visitors' path. By going to the Addon section > navigate for User Journey Addon > Install > then, Activate.
After activating addon, open WPForms > Entries > Select the Form. Now, you'll see entries for your form. Click on the View button to view the journey of your visitors. You can scroll down and get a full report on steps taken by users to reach your form, which pages they viewed, etc.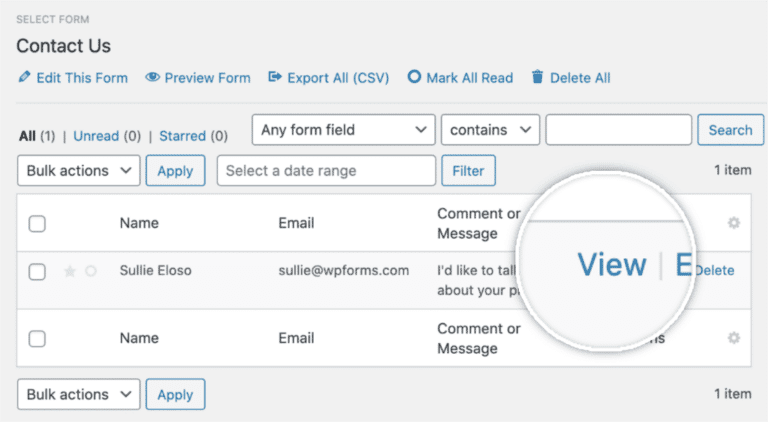 What to Do With Collected Data?
Once you have collected data by following our how to setup form conversion tracking in Google Analytics guide, next, you have to use collected data in the right manner. The real-time user data can be used in multiple ways, such as:
Lead Generation – You can generate potential leads through understanding your individual user's preferences.
Personalized Offers – Based on your users' preferences, you can custom create offers and encourage them to make purchases.
Link Building – When you know the exact path of your site visitors, you can target those websites or social networking platforms better.
Better Marketing – You can increase your marketing ROI by identifying the most profitable areas. Let's say you have launched a paid campaign on Facebook and Twitter both, but you received more leads from Facebook than Twitter. In this case, you can put more resources on Facebook rather than wasting time on Twitter.
Setup Form Conversion Tracking in Google Analytics Now
If you aren't tracking your campaigns, you can't measure the outcome as compared to the efforts used. You'll never know whether your contact forms have generated the desired results or not.
So, do use Google Analytics to analyze your campaigns. Plus, when you have so many easy ways to track the conversion rate with Google Analytics, don't let this opportunity. Let's start tracking and growing today!