How to Install WordPress Theme for Your Website? (Best Guide)
WordPress is a highly customizable, flexible, and globally well-known CMS. The fact that there are over 8,600 WordPress themes with generic or niche-specific designs on the official directory plays an important role in that. In this blog, we will guide you on how to install WordPress theme. Keep reading to enhance your WordPress website!
Installing the right WordPress theme is an excellent way to maximize your website's potential. In fact, you can create a WordPress website in 5 minutes with our step-by-step and easy guide. In addition to creating a visually appealing design, it helps strengthen your brand and improve the visitors' experience.
Both WordPress and third-party sources offer a myriad of free and premium themes for you to download. The only work you'll need to do is install and customize it.
In this article, you'll learn all about WordPress themes – what they are, what to consider before installing one, three different methods to install one on the site, and how to switch between themes.
What Is A WordPress Theme?
A WordPress theme is a bundle of modifiable template files that, once installed, helps to establish consistent design throughout the website without altering its core features. It typically doesn't affect your content, rather altering the way it is displayed for site visitors.
WordPress themes cater to all sorts of user preferences and needs. Each comes with customizable designs, with the option to modify its code, insert widgets, or add plugins.
There are WordPress themes for every kind of site – from eCommerce website themes to food blogs. Generic themes are also available if you prefer them over niche-specific choices.
Types of WordPress Themes
Installing your WordPress theme is remarkably simple.
Before you start, you need to establish what type of theme you'll be using. This will help later, as different themes have different setup requirements. Check out our detailed guide on how to select the best WordPress theme based on your business requirements.
There are three types of WordPress themes:
Free themes from the WordPress theme repository.
Free themes from an external website.
Premium themes from an external website or marketplace.
Factors to Check Before Installing a WordPress Theme
Finding the perfect theme for your website is essential due to a variety of factors besides the website's appearance. It can also affect the site's overall user experience and how people perceive your brand:
Enhancing User Experience: An attractive and well-organized website helps visitors easily find the information they're looking for.
Increased Session Duration: If your website is both easy to navigate and good-looking, visitors are more likely to stay and explore more of your website's content.
Responsiveness: More than half of the audience are mostly using their mobile phones to access your website. You need to make sure your site is mobile-friendly for a good response. So, always make sure that you are buying a responsive theme. Check out our detailed guide on how to install responsive theme on your wordpress website.
Good Impression: You only have a few seconds to convince people to stay on your website. A beautiful and eye-catching theme is crucial in doing so.
Strengthen Credibility: Having a great site appearance makes you look professional, reliable, and detail-oriented.
SEO Friendly Website: SEO is the single most important strategy to increase website traffic and grow your website revenue through organic methods.
Light Theme: Heavy themes make the primary reason for slow loading for websites. The only way to enhance your site's load speed and reduce the bounce rate is to serve users with fast loading websites. Light WordPress themes also help improve the web vital score of your website. Check out our detailed guide on how to improve your wordpress web vitals.
How To Install WordPress Theme?
There are a few different ways to install a WordPress theme on your website. Through the theme directory, using the upload method, or with file transfer protocol (FTP). The theme directory and upload methods are simpler, but installing via FTP is best for larger themes, custom themes, or when the WordPress dashboard is not accessible.
Install WordPress Theme Through the Theme Directory
If you want to use a theme found in the WordPress Themes Repository on your website, the easiest way to do this is on the backend of your website.
To start,
log into your WordPress website
go to Appearance > Themes in the WordPress dashboard
click Add New.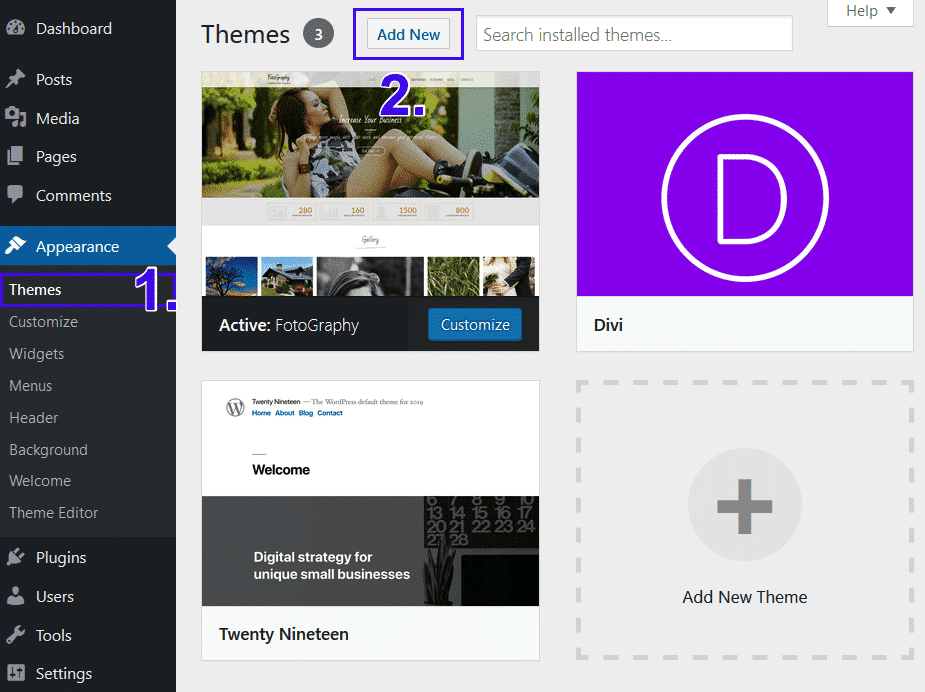 From there, you can filter the results based on:
Featured
Popular
Latest
Favorites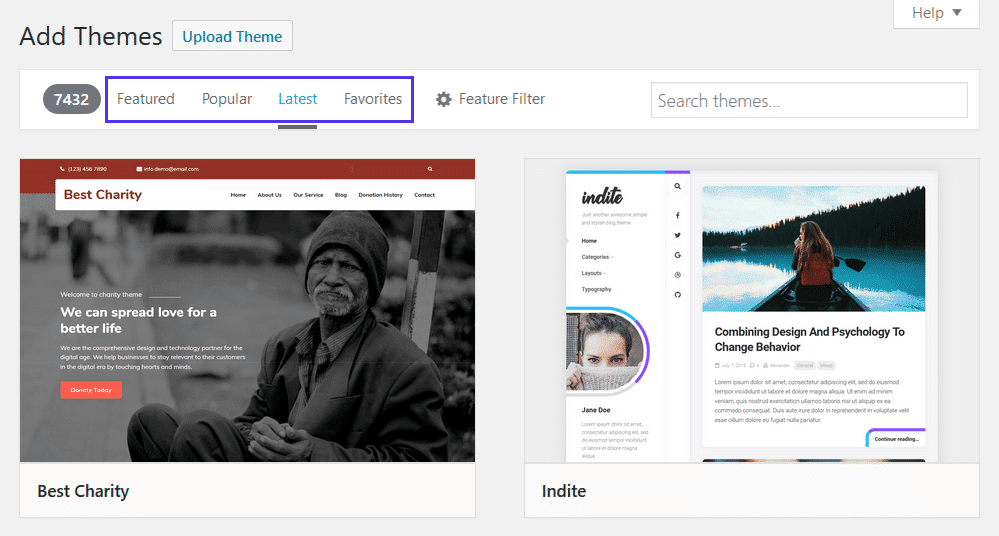 Or, you can use the Feature Filter button to filter the theme results based on specific features.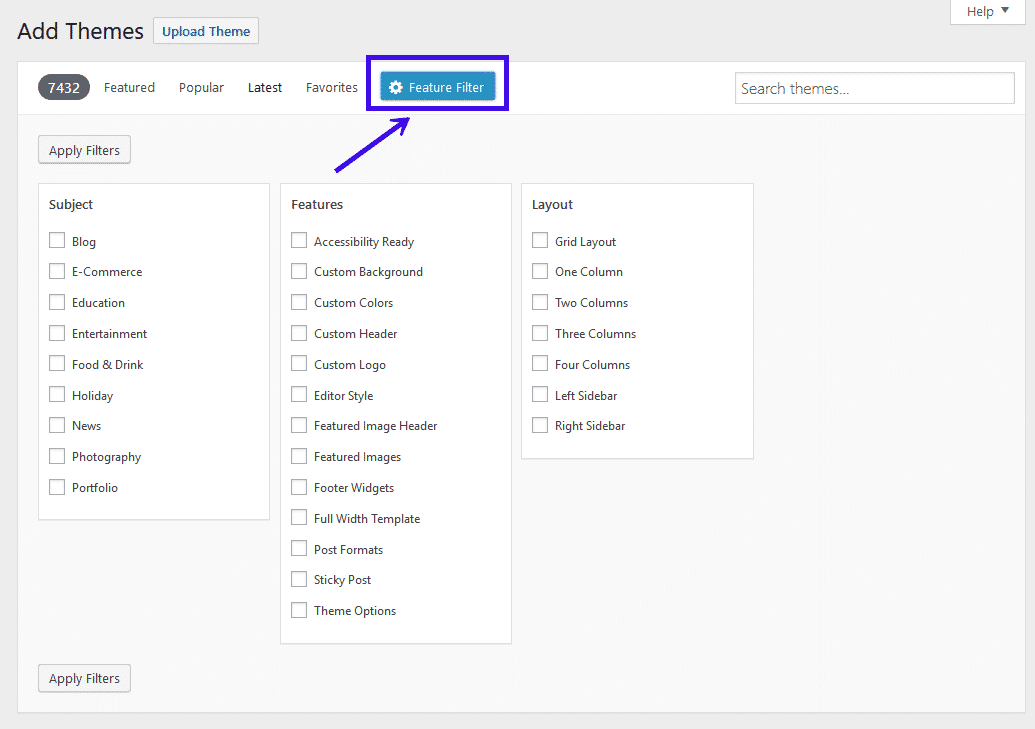 Lastly, you can search for a specific WordPress theme if you know the name of it by entering the theme's name into the search bar: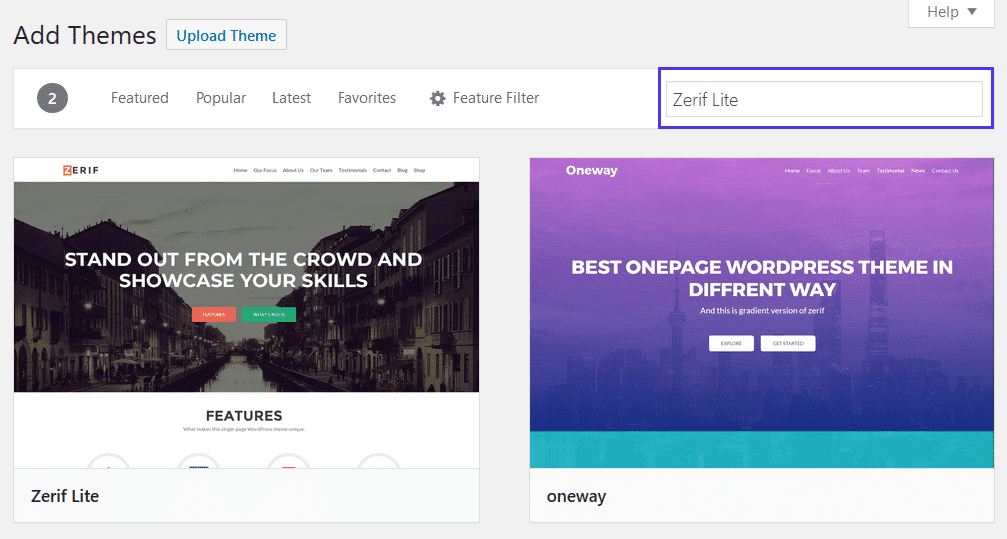 Once you find a theme you might want to use, you can click Details and Preview to see more information about the theme, Preview to see a preview of the theme in action, or Install to install the theme onto your WordPress site: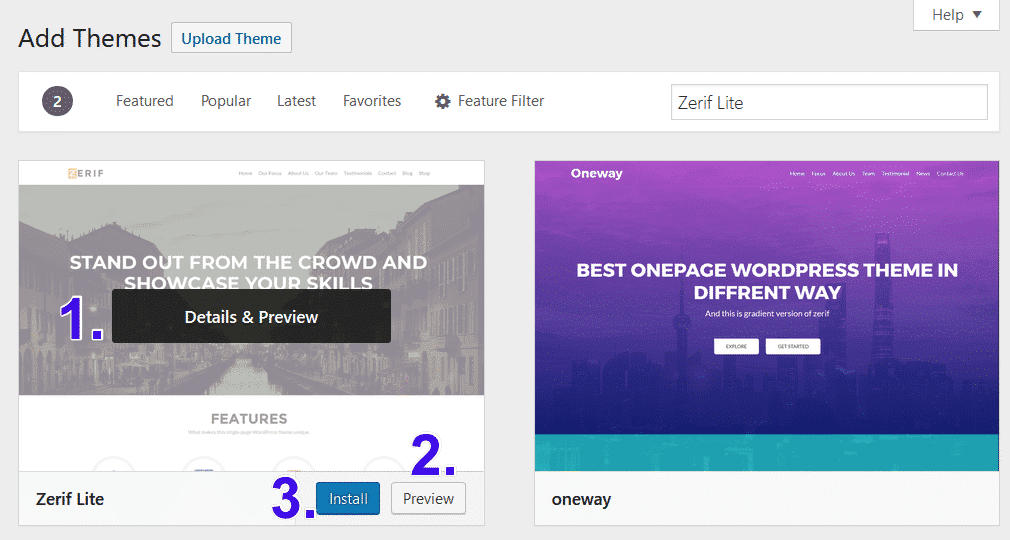 When you decide you want to use a theme found in the WordPress Repository, click Install.
Then, click on Live Preview first to see how your site will look using the theme. This makes it easier to decide if the theme you're interested in is the one for you or not. When you've made the decision, click Activate to finish adding it to your website.
Your WordPress theme is now installed on your website.
Manually Uploading to WordPress
You will first need to download the theme as a .zip file from external sources. For that, you can go to the official website of the theme and check out multiple versions before downloading. Then, take the following steps:
Follow the first step from the previous method, but click the Upload Theme button after you get to the Add Themes page. Next, click Choose File.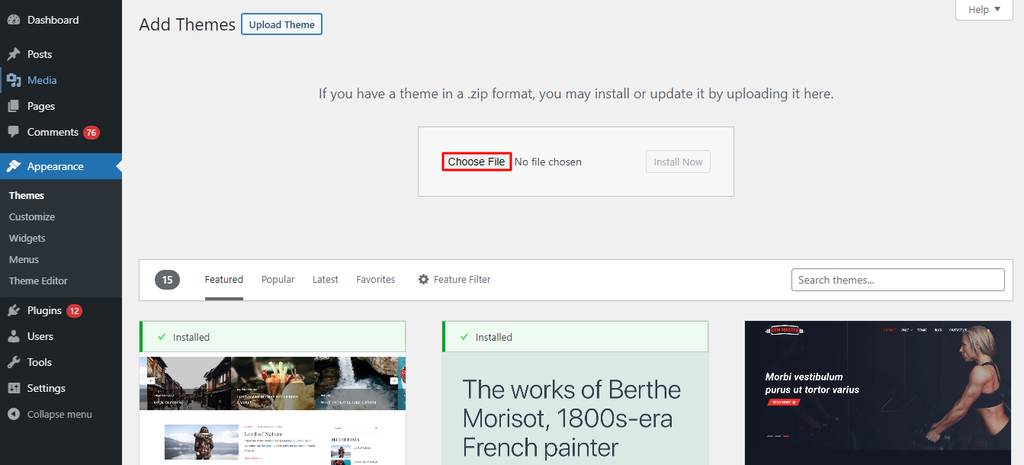 Locate your theme's .zip file. For this tutorial, we're going to use Hestia from ThemeIsle. Click Install Now and wait for the uploading process to complete.
Now click Live Preview to see how your site might look once the theme is activated. Additionally, choose Activate if you want to use the theme immediately.
Some third-party themes require extra tweaking to function as advertised.
You can visit the theme provider's website to check its documentation or to get technical support.
Manually Using FTP
If you're a tech enthusiast and are confident with your skills, then you can learn about installing WordPress themes using FTP.
Remember, this is not for true beginners because it involves a bit of programming and advanced steps.
First, you need to download the theme zip file to your computer. After that, you need to unzip the file.
This will create a new folder with the theme's name on your computer. We downloaded the popular Divi premium theme.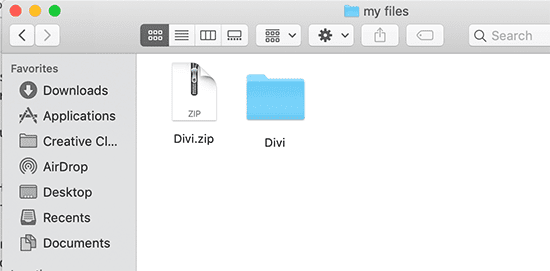 Now that you have the theme files, you are ready to upload them to your website.
To do that, you'll need to connect to your website / WordPress hosting account using an FTP client.
Once connected, you need to go to /wp-content/themes/ folder. Inside, you'll see folders for all themes currently installed on your website.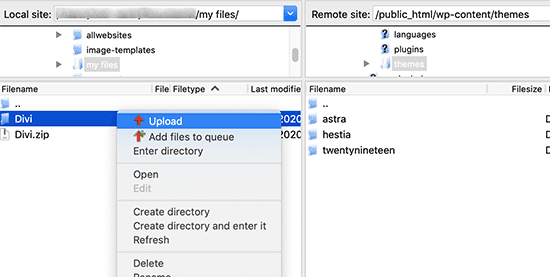 Select your unzipped theme folder from your computer and then upload it to your website.
Once you have uploaded the theme, you would need to go to your admin area and click on Appearance » Themes.
You should see the theme that you uploaded listed there. Simply bring your mouse on top of that theme and click on the activate button.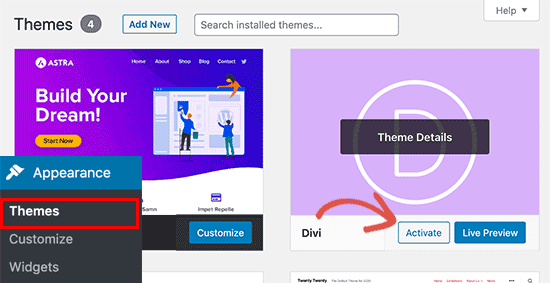 Conclusion
A WordPress theme is a group of template files that all give a consistent design to a WordPress site while maintaining its core features.
Before you install a theme, consider your site type, compatibility, and budget. There are lots of themes available for various purposes, both free and paid.
The right theme can create a great first impression, improve user experience and credibility, as well as increase dwell time. To achieve this, make sure your theme is configurable, attractive, easy to navigate, lightweight, and suits the site's niche.
Once you decide on a theme, you just need to install it to start customizing and adding content to the site. In this article, we have discussed how to install a WordPress theme using three different methods:
Through the official WordPress theme directory, which is only possible for free themes.
Manually uploading it to WordPress.
Uploading it via FTP.
However, if you change your mind and decide to use a different design on your website, switching between themes is also possible. You can do so via the WordPress dashboard.
We hope this guide has been useful in helping you choose and install a WordPress theme on your website.
Get Best WordPress Themes with Exclusive Deals
At Reviews N Guides, we collaborate with top best WordPress themes providers to bring our readers the best deals. You will get a minimum of 40% OFF on your theme purchase if you use our coupon and discount codes.
Here's a list for you to choose and install the best WordPress theme for your business.