Learn How To Set Up Google Analytics Goals for WordPress Website
Do you want to improve your website for conversions? You can simply set up your Google Analytics goals for your WordPress site and can increase your website's conversion rate. In this article, we'll talk about how to set up Google Analytics goals for WordPress.
Monsterinsights is one of the most used WordPress plugins. It can automatically track your website's conversions and provide you detailed insights.
So without further ado, we'll talk about goals in Google Analytics, the need to create them, how to set up Google Analytics goals for WordPress using MonsterInsights plugin and how to track your eCommerce conversions.
But first, use this simple guide to Set up a Google Analytics account. Now, let's dive into the guide on setting up Google Analytics goals.
What Are the Goals in Google Analytics?
Goals can either be user's interactions or monetary conversions or both. You can track these goals using Google Analytics. You can set up your goals accordingly by measuring your conversions, track email sign up forms, track sales and many more.
This will particularly help you in increasing your website's conversions and also increase the level of making more money online.
All this you can do by installing a Google Analytics account in WordPress with MonsterInsights plugin.
Why Should You Create Goals in Google Analytics?
The major need to set up Google Analytics goals for WordPress is that you get detailed insights about your website.
If you are selling online products, you can track which products are driving the most sales using your goals in Google Analytics.
If you are having an eCommerce store, check where your customers are abandoning the checkout process through goals.
Suppose, you are a personal trainer with a fitness blog. You can check which specific posts are more engaging with the help of goals. Thus, you can update it and can plan your goals further.
Therefore, creating the right goal is very important for your website. Because this allows you to see your insights that are beneficial in many ways in the future and can work on your strategies accordingly.
Moreover, if you want your customers to remember you, sending them an emails-newsletter is the best way. As it not only helps your customers to remember you but also updates them regarding your latest offers and special discounts. And in order to track the conversions, you need to first set up email-newsletter tracking in Google Analytics.
Track Your Goals With MonsterInsights?
There are hundreds of paid and free WordPress plugins that you can use. However, MonsterInsights is one of the best WordPress plugins used by millions of online marketers and small business owners.
As MonsterInsights plugins enable easy tracking of events and display the exact on your dashboard where you will be able to see your conversion rate.
Using MonsterInsights you can make data-driven decisions and can analyze the events that have low performance to make necessary changes. Adding a Stats Dashboard in WordPress will make analyzing part easier.
MonsterInsights has a competitive advantage over other plugins. Rather than setting up your goals manually, Monsterinsights enables automatic goals setting for you.
Track Your eCommerce Conversions
The MonsterInsights eCommerce tracking addon gives you an overview of audience interaction with your website. It sets your goals for your eCommerce store automatically. It also provides you with a complete report of your conversion rates, revenues, transactions, average order values, and top-performing products.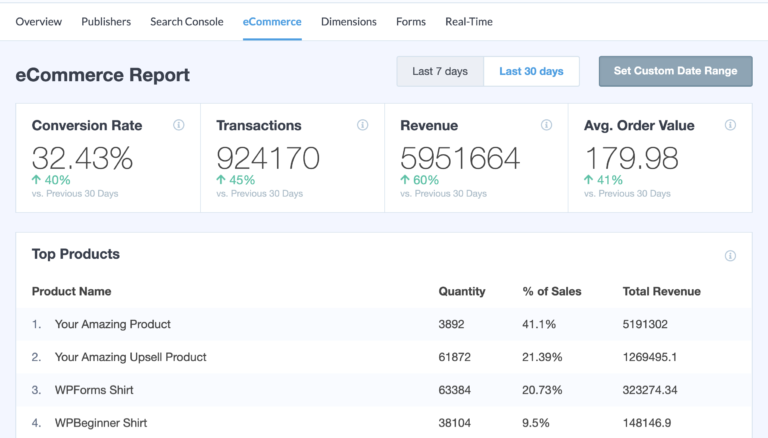 You can analyze the referral traffic, as in from where the user landed on your website. With this data, you can promote your products and store where it actually matters and is needed.
Also, you can use the total 'add to cart' and 'removed from cart to track' conversion details. Using all these details you will be able to see your goals coming on track as you wanted.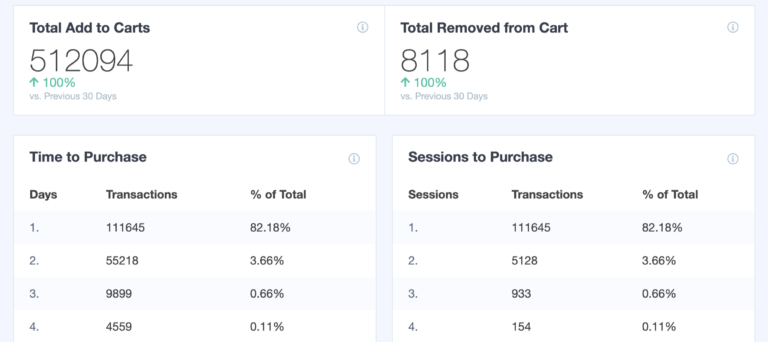 How To Set Up Google Analytics Goals for WordPress?
After linking your Google Analytics account with WordPress, follow the steps below to set up Google Analytics goals. Moreover, knowing how to set up Google Analytics goals for WordPress is not important. The important part is to understand the user insights and transform the user journey for conversions.
Step 1: Sign In & Select Your Website
First, sign in to your Google Analytics account and select the website you want to create a goal for.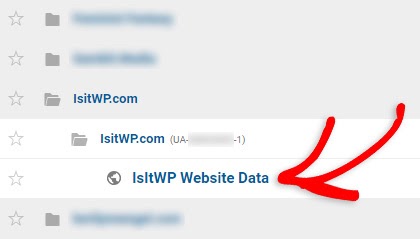 Step 2: Creating a New Goal
You will find an admin button on the left bottom of the sidebar. Then, click goals under the view column.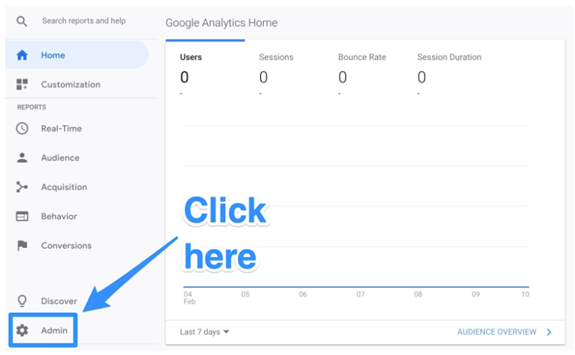 Create a new goal by clicking on the + New Goal button.

Finally, write a description and enter the details of your goals. Enter a suitable name accordingly and choose the type of goal.
Types of Goals in Google Analytics
Google Analytics has mainly 4 types of goals.
Destination
If you want to use a pageview or screen view as a conversion, you can choose this type of goal.
Duration
You can track the duration to compute user engagement. It's the time a user spends on a page during conversion.
Pages/Screen Per Second
Using this goal you can compute the number of page views per session, mainly as a conversion.
Event
Using the event goal, you can measure user interaction as a conversion. Example: Video play, Button click, ebook download, Form submission etc.
Now choose a specific goal with the detailed filled form description and proceed with the creation of goals in Google Analytics.
Under the goal description format, write the name, say Form Submission, and choose the goal type to be Event and click the continue button.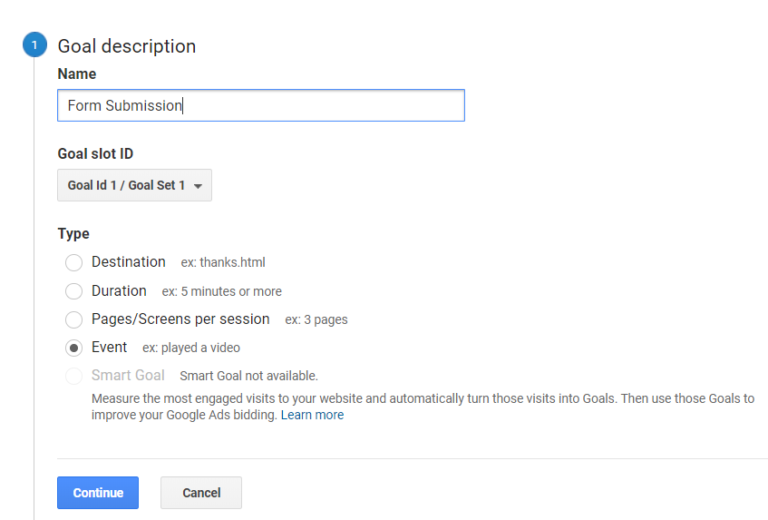 Now, enter your goal details with your event conditions. You will see a list of options and an input bar next to them. Among them, you will notice the first button named as a category, where you will enter your form. The next option will be an action to add your conversion.
Now, under the label option, enter your form ID and leave the last option, i:e value, blank.
You can click on the option to verify your goal. It'll show you the data from the past 7 days.
As you have finally entered all your details, click on the Save button.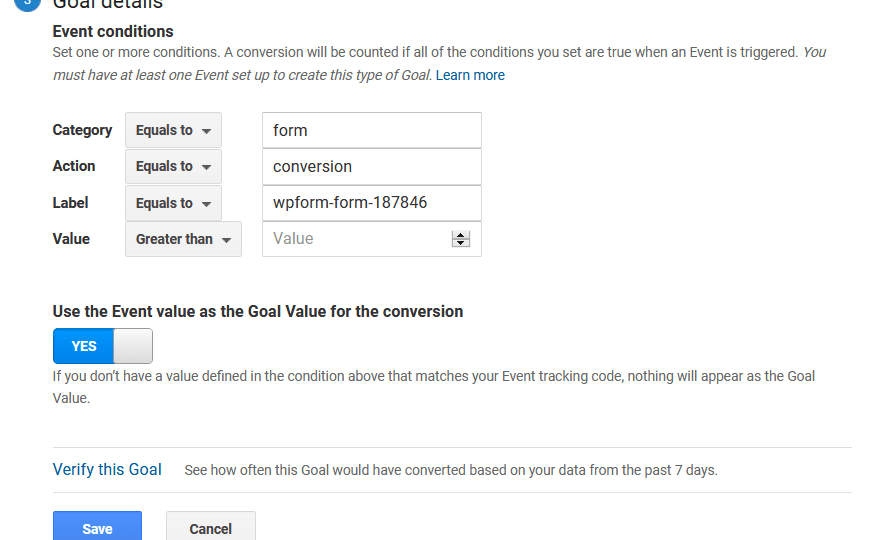 Bottomline
Setting up goals for your WordPress website is very important. By using the insights, you can focus on rectifying the mistakes and improving website performance. By creating and tracking your goals you will be able to boost your signups, increase your sales and ultimately increase the conversion rate of your website.
We hope this guide on how to set up Google Analytics goals for WordPress was helpful to you. If you liked it, do share it on social media and tag us @reviewsnguides.