How to Set Up Supermetrics to Streamline Tedious Reporting Tasks?
Undoubtedly, extracting and analyzing data is the most boring task. But, as a marketer or business leader, you can't avoid it. For effective marketing, you have to define each step in a funnel. Oh, and you can't ignore scraping data from different channels in the process. Considering this pain point, I would like to show how to set up Supermetrics and sort your data.
This guide will show you how you can save 3.55 hours a week. Yep, that's the time you roughly spend collecting, organizing, and analyzing marketing data from different sources.
So, let me show you what Supermetrics is and how to set up and use it.
What Does Supermetrics Do?
Supermetrics gets data. It gives you the freedom to decide how, when, and where to extract data and in which format.
Supermetrics simplicity is its main plus point. Gathering data and implementing web analytics and online marketing is a piece of cake with it. Follow our exclusive Supermetrics review to find out the features, plans, and benefits of this awesome marketing reporting platform.
Additionally, to use Supermetrics, you don't have to change the way you process your data. That's because it is already integrated with all your favorite data processing tools. From Google Analytics to Facebook, Supermetrics can pull data from anywhere.
How to Set Up Supermetrics?
Okay, so before I walk you through setting up Supermetrics, let's first talk about prices. To know the exact Supermetrics cost, you have to define integration type, data sources, and users per account. However, you can get pricing idea from this basic price chart:
Google Sheets – Starts from $49/mo
Data Studio – Starts from $19/mo
Data Grabber – Starts from $19/mo
Supermetrics Functions – Starts from $11.99/mo
Supermetrics Uploader – Starts from $39/mo
Before purchasing Supermetrics, you should use a 14 days trial to first test it. To get discounts, you can also use our supermetrics discount codes to help you out.
As of now, let's focus on how to set up Supermetrics tools.
How to Set Up Supermetrics for Google Sheets?
Imagine your client's calling you non-stop for a monthly marketing report. But you are still copying and pasting data from different channels. That's definitely a scary scenario! But Supermetrics and Google Sheet marriage can save you. Just connect your marketing accounts with Supermetrics, and it will pull the data into Google Sheets for you.
Go to the Supermetrics website and click on the Google Sheets product page.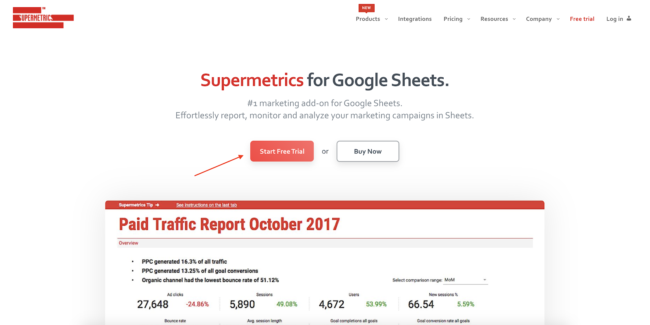 Simply click on Start Free Trial.
This will direct you to the G Suite Marketplace. Click on Install.
Once installation is completed, open a blank Google Sheet. Then, click on Addons > Supermetrics > Launch.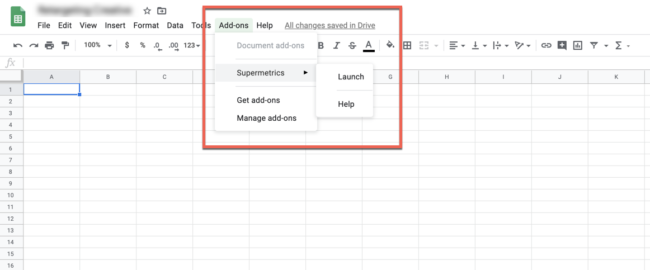 You can now access all features in the side panel.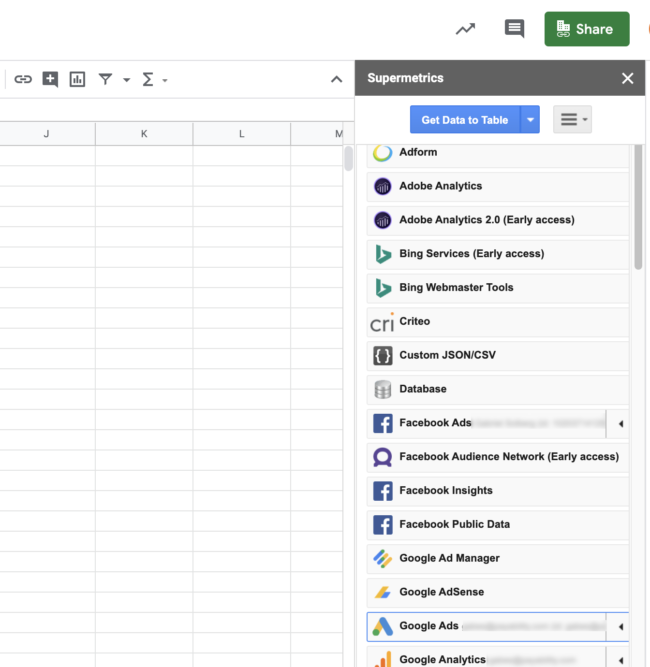 How to Set Up Supermetrics for Google Data Studio?
With Google Data Studio, you can customize the dashboard that you want. And with Supermetrics, you can quickly pull data from as many sources as you want.
Go to Supermetrics website > Google Data Studio > Free Trial.
Next, select the connector you need. For instance, I am using Ad Data + Google Analytics. You can also pull data from Facebook, Twitter, or Google ads.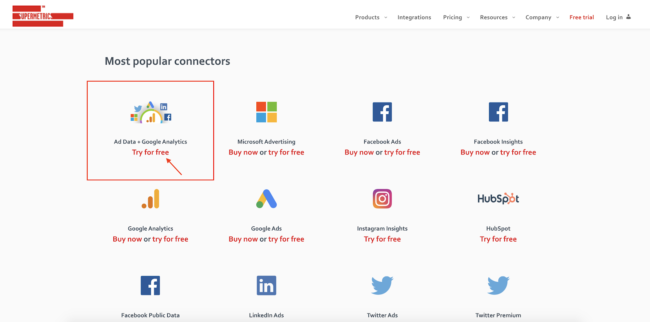 Select the Free Trial.
You have to Authorize the connector.
Give permission by clicking on the Allow button.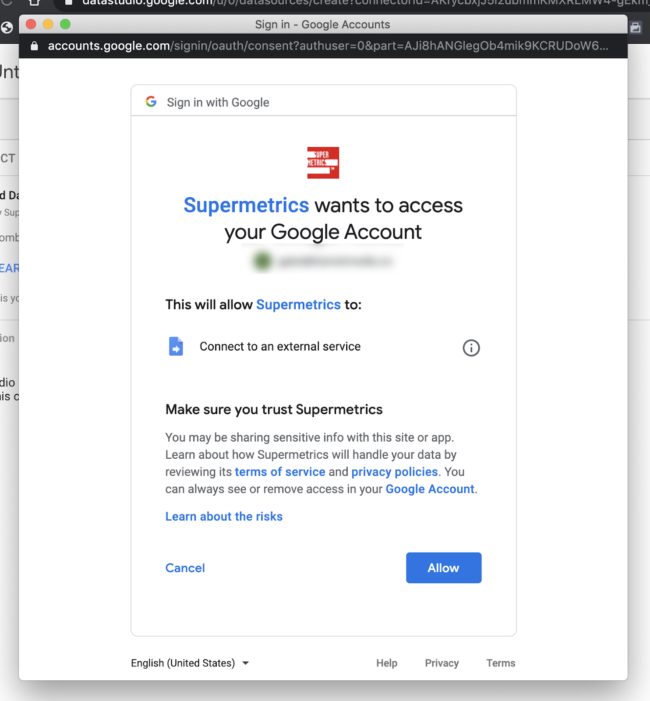 Once your connector is authorized, you have to authorize each specified platform. You can do that by clicking on Log Into (check below).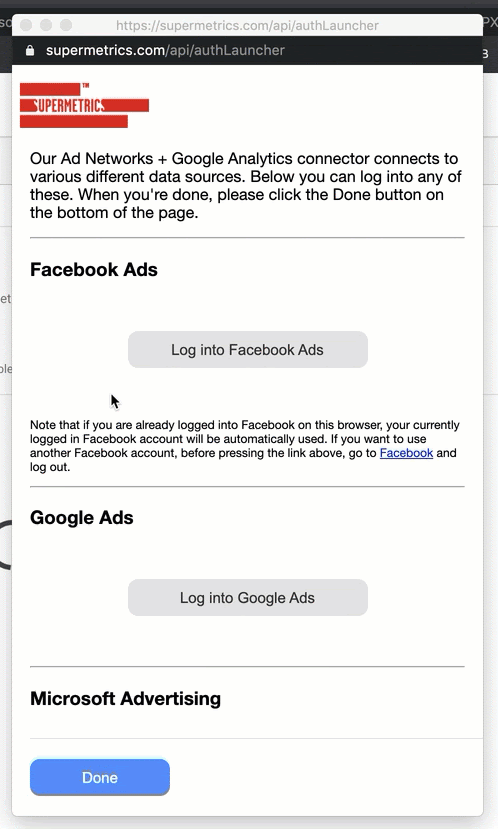 That's it! You are all set to create multi-channel reports in Google Data Studio.
How to Set Up Supermetrics for Excel?
If you are an Excel Sheet person, Supermetrics can pull your data into Excel too.
Go to Supermetrics website and select Excel.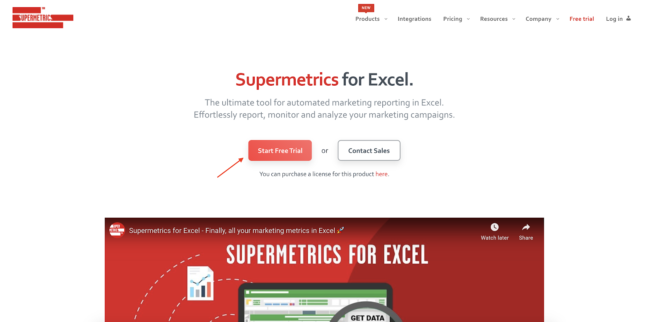 Choose the online or desktop Excel version, depending on your preference. Considering that most people use the desktop version, I'm moving forward.
Click on the Start Excel Desktop Trial button. Then, on the next page, click Open in Excel.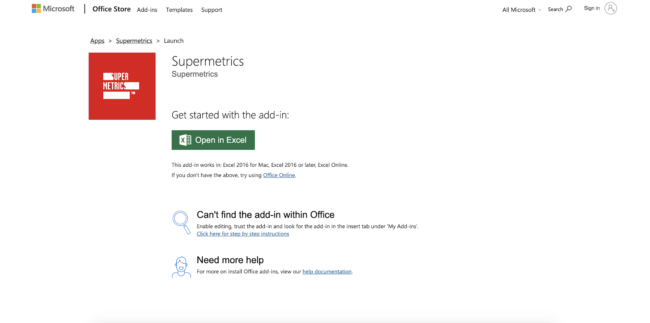 It will now open Excel on your computer. You need to enable editing and permit Excel to trust the addon. s
Access the addon in the insert tab under 'My Addons.'
Now, you can access all features in the side panel similar to the Google Sheets.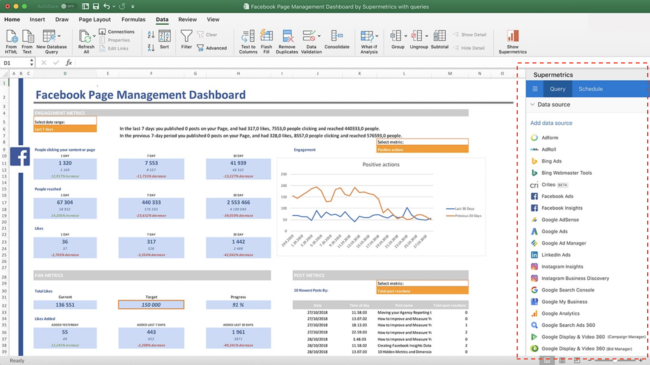 How to Set Up Supermetrics for Uploader?
From Twitter ads to AdRoll, you must be running ads on hundred different platforms to grow your business. Which must have made ROI tracking harder for you. Here, Supermetrics Uploader can upload ad data from different sources to your Google Analytics to reduce your workload.
Go to the Supermetrics site and click on Use Uploader.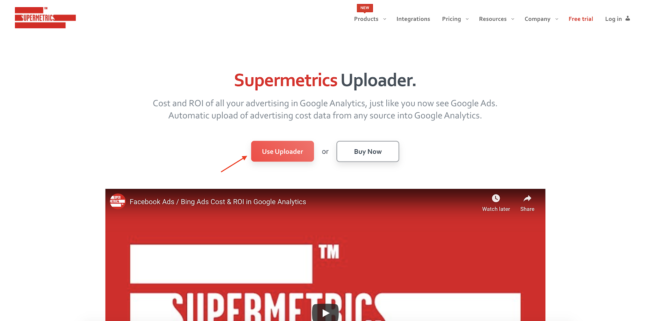 Login to your Google account connected to Google Analytics.
Select your upload type.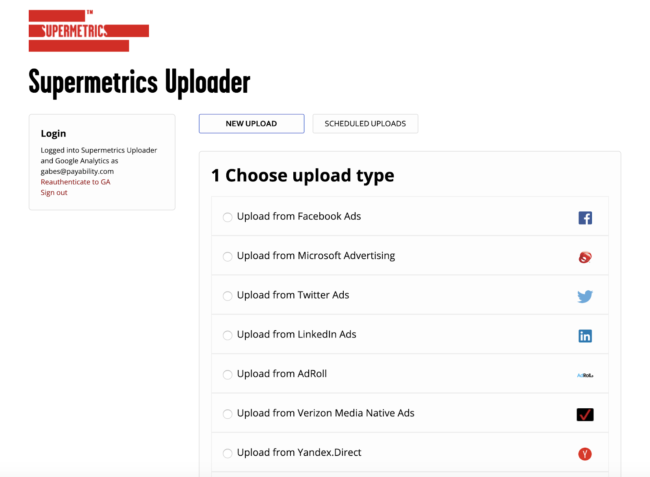 I have selected Facebook ads for the guide. So, I need to connect with my Facebook account, select the specific campaign and Currency under Upload Source. I'm also asked to select data under Upload Target, which is optional. You can select other uploaders from the list; just follow the on-screen instructions.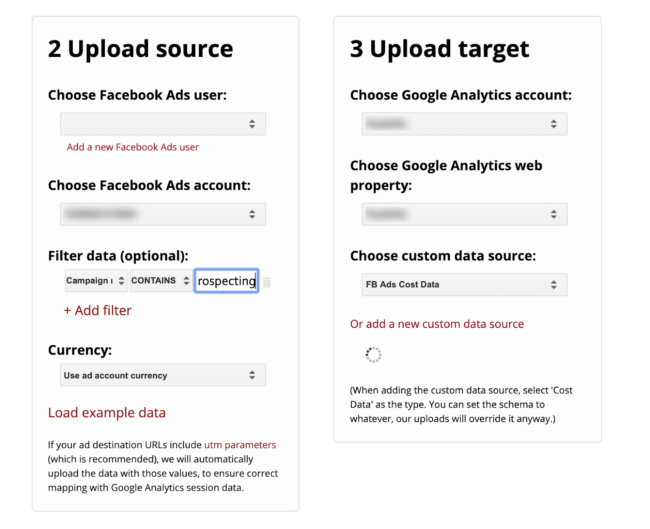 My one blog can't explain how to set up all Supermetrics in depth. So, I'll just say that the Supermetrics family is very big. It has API, BigQuery, Snowflake, Amazon S3, Azure Cloud, and more. For more details, visit the Supermetrics website and try all tools with a free trial.
How to Use Supermetrics?
In the beginning, I might have mentioned that Supermetrics is a tool for marketers. But marketers aren't only Supermetrics users; they are just prime users. In fact, SEOs, Content Marketers, BI, and CS teams can also use it.
Globally, Supermetrics is used by 1600+ brands to:
Create Cross-channel reporting. It can optimize all of your paid marketing campaigns and adjust the budget to maximize ROI.
It can prevent overspending and underspending by limiting daily budget.
Supermetrics connects PPC and analytics data to answer what's going on with your paid campaigns?
Sends instant alerts related to performance, budget, or other developments.
Collects cross-channel data to streamline your marketing efforts.
Parting Thoughts
Reporting isn't simple. But, with this guide, we have learned a way to simplify it. Supermetrics's easy integration has made the data reporting landscape incredibly organized. For both quick and ad hoc analysis, it has the right features.
Here, if you are concerned about the cost, let me again remind you to use our promo codes. So, let's give a free spin to Supermetrics and simplify the reporting process now.
And, do follow us on the social media platforms to stay updated about the latest Supermetrics news.