Ultimate Guide on How to Use Spin to Win Optin in WordPress
Want your customer to spend more time on your page? Let's learn how to use spin to win and get more sales.
Helping your audience by offering them freebies can generate traffic for you. Remember, everyone wants to feel special. Especially in times when shopping or purchasing things online. You can use many such special discounts and offers to grab the attention of your audience. Thus, if you want to leverage your customer's time on page for conversion, you have easy ways to do so online.
What is Spin to Win?
'Spin to Win' was created by Knowband. It enables the store's admin to offer discounts and coupons with the help of 'Spin to win' interactive features. With such gamified tools, you can make your users or shoppers stay for a little longer on your page. Moreover, your audience also enjoys the offers and discounts for every purchase they make when they spin the wheel. 
Why Spin to Win is Important?
Adding this tool creates a sense of curiosity and engagement in your audience to know more about your brand, discounts and product. Coupon wheel campaigns make people subscribe to your brand and enable them to buy your products because of exciting rewards. It is mainly used for giving your customers a chance to feel lucky to win discounts and invoke further excitement to purchase the product.
How to Use Spin to Win?
Spin to win is a gamified tool for WordPress websites. They are mainly known to increase conversion rates from 2-3% to 30% or more. This works as it is engaging and is always memorable to the shopper thus creating interest. There are many top companies in the industry such as Volkswagen, Ford motors, etc. who use gamification in their business websites for increasing their sales and improving customer loyalty and engagement. OptinMonster is one of the tools that help us using Spin to Win. Let's check out how to use spin to win with OptinMonster?
Retain Users With OptinMonster's Spin to Win
Do you want to improve your sales through customer retention? You can do so by joining 'OptinMonster' and get access to the 'Spin to Win' campaign. Consequently, the following steps will guide you on how to use spin to win wheel.
Creating a Wheel Campaign
First, you need to join OptinMonster, to get access to wheel campaigns.
After signing up, you will start with your campaign dashboards by clicking on 'Create new campaign'.
Afterward, choose your campaign type and choose the type of template you would like to.
The coupon wheel template comes in 3 color options. Choose your fully customized wheel campaign.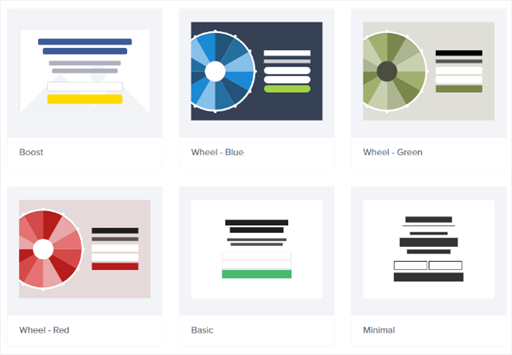 Finally, give your special discount wheel a name and choose the site you want your campaign to appear on and then simply click on 'Start Building'.
Designing Your Wheel Campaign
This is the most important step in the entire process of how to use spin to win with OptinMonster.
You need to modify the texts, colors, images, etc. as per your choice. By clicking on the choice of an element with the changes, you can preview the modification on the screen and add the element.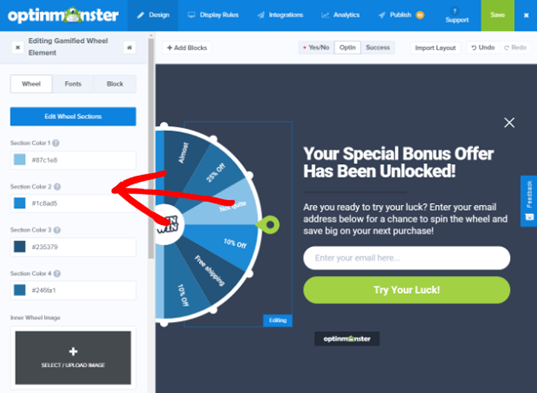 Now, on the left-hand side of the screen, you can choose the editing tools and can modify the key elements of your wheel campaign such as a change in discount and coupon codes of the wheel etc.
Create Display Rules
Now you can set some rules that allow you to know who can see your campaign and when they can know.
For example, your campaign is designed to reduce cart abandonment done by the users. If the shopper has moved away from the checkout process, it means that they are leaving your site and abandoning your cart. Therefore, if they can get any special discount towards their purchase, they may get convinced to buy it. Even if at times, shoppers do not buy the item, by gaining their e-mail id details you can reach later. Moreover, there are also many Shopify apps to reduce cart abandonment.
Therefore, you need to go on the 'If the visitor has visited the URL that exactly matches the checkout option and finally you will add the 'Exit-intent technology' to set and add the 2 rules for display. Similarly, you can add more rules as per your wish.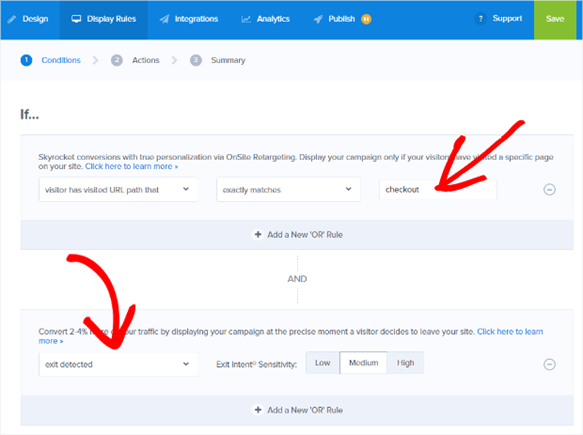 Adding Integrations
Suppose you need to add the email addresses of your users as an integration. You need to go to the email provider dropdown and select the option of 'Constant Contact'. If you want any other setup option, the tool will help you.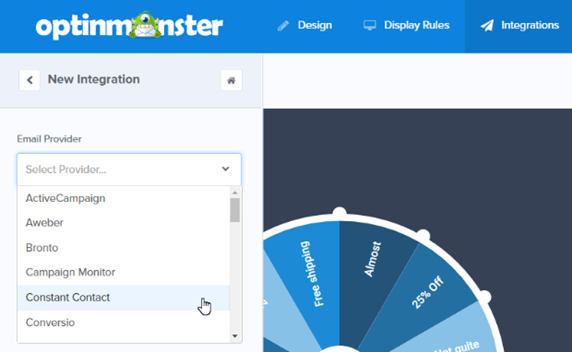 If you do not have an account, you need to Register with constant contact.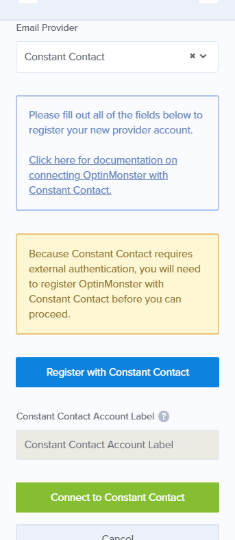 Tap on 'Allow', allowing you to enter and add an account label.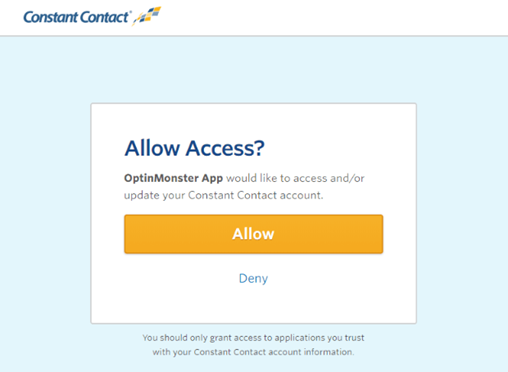 By clicking on the "Connect to Constant Contact" option, choose the email provider list and add the subscribers as per your choice and finally add them to the General Interest default list.
In the end, SAVE your wheel coupon.
Connecting the Analytics
This is the last step in the process of how to use spin to win using OptinMonster.
To understand the behavior of users on your website, you need to add Google Analytics in your WooCommerce.
OptinMonster enables you to connect to Google analytics. You need to go to the Non-Active Connections which would be visible on the Analytics tab. Under that, you will see the Google analytics option, click it and then click on Connect.

If you have added your Google Analytics account, you will be able to see and select your account from the drop options.

If you are a new member choose the Add a new Google connection option from the Google analytics dropdown option.
Click on Generate the authentication code.

In a new window, you then can connect your account with OptinMonster and click on the Allow button.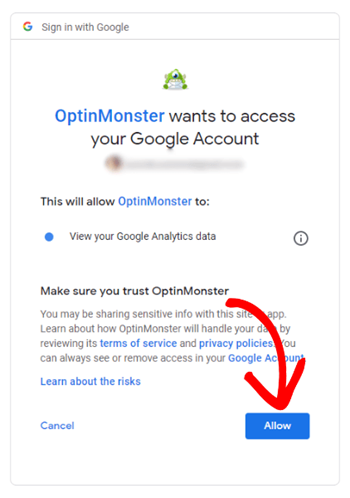 On another screen, you will see the authentication code.
Copy the authentication code and paste it in the Google authentication code box present on the campaign builder page.
In the Account label box give a name that will make you noticeable and click on the Next button.
Click on the Website profile, choose from the options and Save your campaign changes.
Publishing the Campaign
You can publish your campaign in many easy ways.
From the Publish tab, go to the Status button and tap Live and Save your wheel campaign.
Bottomline
I hope I provide enough information that you have learned how to use spin to win using OptinMonster. It would improve your sales by creating excitement and interest in the shoppers. It would also result in increased traffic because of the discounts and offers given to the customers. OptinMonster's Spin to Win tool is a great way to engage your users, thus generating buzz amongst the audience.