WPForms Polls and Survey Plugin (All About The New Feature)
We are all well aware of the flexibility and ease of creation that WordPress offers. In fact, WordPress is so popular that it powers over 33.2% of all websites. While the platform keeps on launching different kinds of feature plugins and tools, it never fails to update its existing tools. Recently, WPForms added a new feature of the Surveys and Polls plugin to keep up with the ongoing surveying trend across social media platforms.
Did you ever come across surveys asking critical user experience questions on websites? All these survey tools and features are aimed to engage the target audience. The more you engage, the higher are the chances of you selling; it's as simple as that.
Let's take a dive into the newly added Feature of WPForms polls and survey plugin.
Intorduction to WPForms
WPForms is a simple drag and drop form builder that is available as a plugin with WordPress. It is a very powerful tool and additionally allows users to create attractive contact forms on WordPress.
WPForms offer several other form types such as subscription forms, payment forms, and more. The ease and effectiveness of WPForms enable website owners to enhance user engagement levels without hiring a developer. Additionally, WPForms is very versatile in nature as it can be integrated with various business workflow tools that can automate the process of transferring data. One such tool that it can integrate with is Zapier. Zapier is an online automation tool that connects to a variety of apps. You don't need to code or rely on developers to integrate data with Zapier. To know more, check out our complete guide on how to connect Zapier with WPForms.
WPForms has already been downloaded over half a million times. Since it was launched in 2016, it's been constantly gaining popularity among bloggers, business owners, web designers, and developers.
WPForms is a paid tool that offers great features for all kinds of forms solution. It recently added the new survey and polls plugin. WPForms comes in 4 plans ranging from $39.50/year to $299.50/year.
However, you can get up to a 40% discount with our exclusive WPForms coupon codes.
WPForms Benefits
Undoubtedly, WPForms is one of the most desired form plugins.
The latest polls and features plugin
Helps create the ideal forms for WordPress websites and assists in creating unique WordPress polls
Allows the use of conditional logic to handle field visibility
Avails the functionality of creating multi-page forms
Provides form spam protection
Also provides a File upload field for submitting files through forms
Includes advanced field classes like date and time fields
Avails multiple form entry submission verification features
Allows users to send form entry emails to multiple recipients.
Facilitates incorporation of Constant Contact email marketing service (additional integration choices available with Plus, Pro and Elite licenses).
By now, you probably have acquired a good idea of the WPForms plugin and why it is exceptionally beneficial. Now, as we already know about WPForms and how it can help websites generate organic engagement, let's checkout what is offered by the WPForms Polls And Survey plugin.
WPForms Polls and Survey Plugin
Before we take a deep dive into the working and features of Polls and surveys add on, let's first understand why it WPForms introduced in the first place? Well, there exist a variety of factors leading to the high demand and the launch being followed
Surveying helps in studying the audience
High engaging practice
Helps in organic traffic generation
An innovative way of getting user feedback
Collected data can be utilized to analyze user behavior
More than that, installing a WordPress survey plugin is a great way of collecting feedback from a targeted sample through vivid methods.
Apart from all these factors, there was an innovation race led by social giants like Instagram and LinkedIn. These platforms boosted the use of online surveys. Additionally, independent websites also started incorporating the feature. It was only a matter of time for WordPress to address this trending demand and automate it for its websites.
WPForms Polls and Survey Plugin Features
Let's now dive into the specific features that the new WPForms survey and polls integration offers.
Fresh Form Templates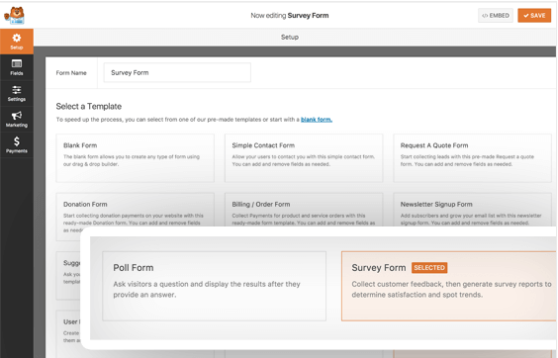 WPForms has launched two new form templates for serving the ease of creating polls or surveys for its users. Moreover, both the new forms will immensely help save time and efforts to develop excellent polls and surveys.
Smart Survey Fields
This is so far one of the best aspects to consider while buying WPForms for creating surveys. Other WordPress form plugins create duplicate fields for surveys. This can get confusing for users. WPForms has enabled the survey features into the existing form fields. Hence, converting an existing form into a survey form is way easier when using WPForms.
All you need to do is to enable the poll or survey option to automatically convert the form fields into smart survey fields.
Beautiful & Customizable Visual Reports
The real-time insights functionality itself offers detailed data visualizations for each question.
Additionally, you have the option to change the visualization type that best suits your needs!
How do instantaneous polls report add value?
This is often the problem with sites developed using traditional coding. Users would lose interest in your content if your site shows the same report the entire week for a single poll. Moreover, your readers might assume low participation and engagement on your website.
A real-time polls report is a key functionality of the Surveys and Polls plugin. Overall, WPForms offers a very organized real-time polls report feature in order to satisfy the users.
It is surprising that they can easily export the survey reports in PDF or JPG file format using the WPForms. This fantastic functionality of exporting individual charts enhances the overall productivity and saves time and effort.
Enable Survey Reports on Older Forms
WPForms also allows users to enable survey reports by using the polls and survey addon on existing forms. Isn't it fascinating? You can now easily enhance old forms by incorporating the all-new feature of polls and surveys.
Users can now simply edit any existing form and enable survey Reporting through the settings menu.
Customizable Print Styles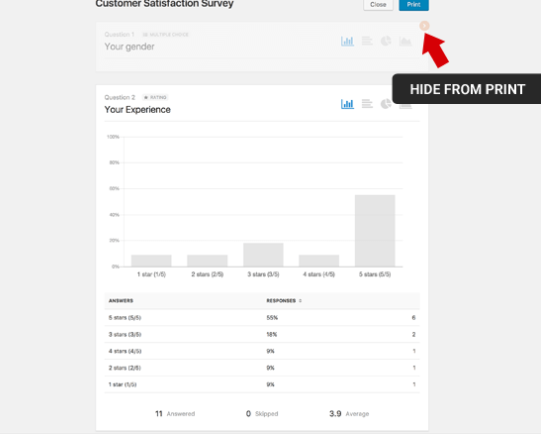 Let's say you have to draft a written proposal and need to print the reports. The polls and survey plugin will have you covered here too!
The plugin arrives with fascinating print styles, so you can effortlessly print your survey reports.
Additionally, print styles are entirely customizable, corresponding to the specific scenario and visualization styles.
Wrapping Up
The WPForms polls and survey plugin helps us significantly in:
Get genuine opinion from audience
Receive organic feedback from customers
A few independent web platforms initiated the surveys and polls feature. Then, social media followed it after witnessing unrealistic results. Users found that these quick online surveys are very engaging and attractive. In the case of WordPress websites, the survey and poll features are even more overwhelming.
Users can customize the print designs, add visuals, present live insights and make their website look impressive. Surveying is now easier than ever with WPForms' beautiful survey templates. Users can now utilize the plugin to the maximum and produce optimal results.