Top Best Free Shopify Themes for Your eCommerce Store
Are you looking for the best themes for your website without investing much? Are you confused about which theme is best suitable for your business? Want to know the difference between Free and Paid themes? If yes, then you are in the right place. All your questions will be solved in this article where we'll explore top 10 best free shopify themes.
Competitive Edge With Shopify Themes
Nowadays, online selling is becoming more complex. The reason behind this is Competition. People have multiple options when it comes to online shopping.
If you want your website to stand out of competition, your website's theme must be attractive enough or your customers will easily bounce off to another site by clicking the back arrow at the top of the browser.
For effective web design, you've to hire graphic designers or web developers but unfortunately, the budget will rise. Small businesses can't afford these. For this, Shopify Themes are the best alternative. These themes are budget-friendly and hassle-free.
Anyone can easily build an e-commerce store with these themes. There are too many free and paid Shopify themes available for e-commerce.
Shopify themes also benefit in reducing cart abandonment. For example, someone adds your product to the cart and then plans to leave your website without making a purchase.
There are certain shopify apps that reduce cart abandonment by capturing user's information and showing better suggestions to keep them on the page for longer time.
We understand the need for attractive themes for your website. That's why we've gathered the best free Shopify themes in 2020 for you. With these themes, you can easily adjust the designs and content.
Whether you are selling clothes, electronics, furniture, or anything else, there is bound to be at least one theme that fits your needs.
How Free Shopify Themes Contribute to E-commerce?
Various successful e-commerce stores are using Shopify themes such as:
Furbish Studio
Common Deer
Uppercase
A Book Apart
Being completely cloud-based and hosted, Shopify themes gives you the flexibility to access and run your business from anywhere with an internet connection. Free and paid, both Shopify themes have everything built-in and come with 24/7 customer support. So, pick up your best opt free Shopify theme and open your amazing website today.
Check out the important features you should always consider while selecting shopify themes for eCommerce store.
Difference Between Paid & Free Shopify Themes
If you are on the hunt for an affordable, flexible, and feature-packed e-commerce platform, then you should look at Shopify. There are various free and paid best Shopify themes available to the users. Let's see the Free vs paid Shopify themes and find out the difference.
Free themes provide you with basic web design and store functionalities; these can be great with providing you a professional-looking store and allow you to run quickly and cost-effectively. You can get the best free theme from the Shopify Theme Store. Free Shopify themes are simple and they come with less customizable options. However, it doesn't affect your sales. If you are a start-up and don't want to invest much, then free themes are the best option for you. There are so many best free themes that are available on Shopify. Narrative, Debut, Venture, etc are the Free Shopify themes.
Paid themes integrate more functionality, are more stable, have cleaner code, provide you a more unique store look and are more customizable. When your business is medium or large and you want customization in your theme, you have to go for more advanced paid Shopify themes to better suit your needs both in terms of design and functionality. You can get the best paid Shopify themes in the Shopify Theme Store. Streamline, Broadcast, Cascade, etc are the Paid Shopify themes.
Moreover, paid themes are designed and developed for conversion. If you want to know more, check out our list of best converting shoplift themes.
Best Free Shopify Themes
There are many free Shopify themes available but picking up the right theme for your business is challenging,
Brooklyn
Brooklyn is a free theme available at Shopify Theme Store. This is the best theme for apparel stores. It is suitable for brands with medium to large product catalogs. There are two aesthetic options available in this theme: Classic and Playful.
The Classic theme has a minimalistic look that is best opt for modern apparel stores. The Playful theme comes with a bright color which is best opt for children's clothing, toy store, or bakery store. It is bolder in color and vibrant.
Brooklyn is desktop and mobile-friendly. It looks great on both desktop or mobile and best suitable for SEO Optimization. It has the option of adding videos on the homepage. You can tell your brand story or showcase your new product. The video starts as soon as the customers visit your site. It is fully responsive and user friendly.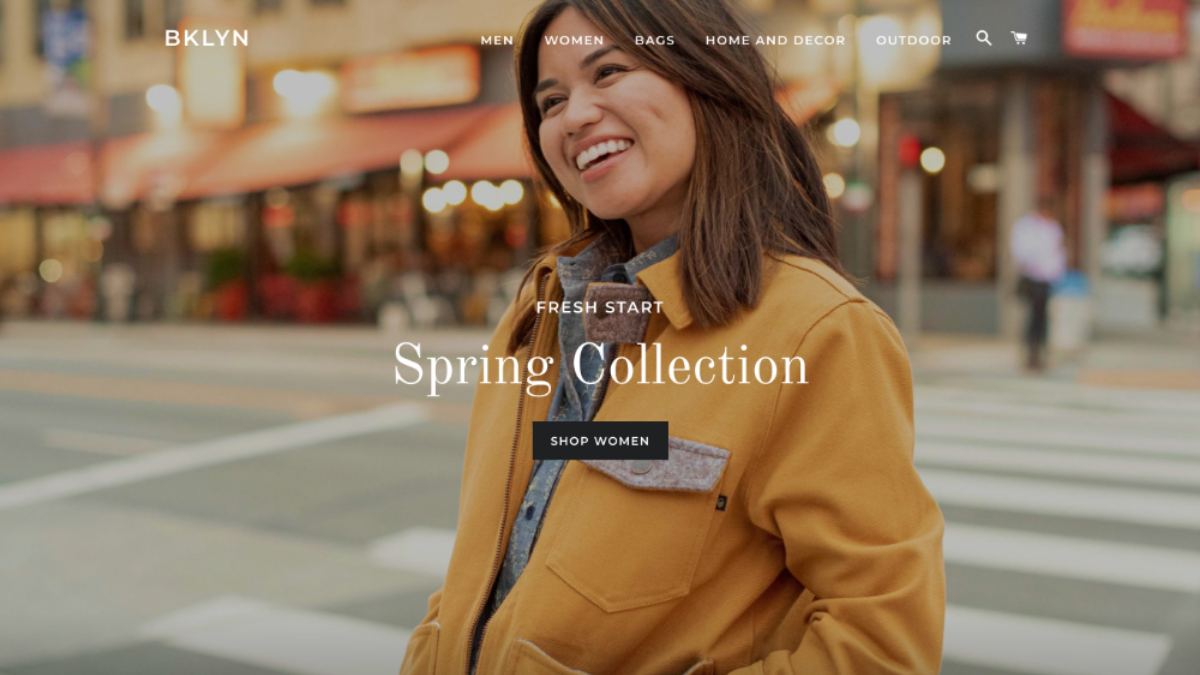 Brooklyn Theme Features:
Designed for Modern Apparel Stores
Dynamic Product Grid
Collage style
Slide Out Cart
Solve update issues
Minimal
If you are looking for a simple and clear theme, then Minimal would be the best suitable for you. It has a look and feel touch. This theme comes with three aesthetics: Vintage, Modern, and Fashion.
The Vintage design of the theme has a very simple look with a slider having a white background. The Fashion design allows you to promote your product with lots of photos with a larger horizontal space slider. The Modern style combines the features of Vintage and Fashion with a short slider.
Vintage looks great on all the screen sizes – mobile, tablet and mobile. It is SEO friendly also. Vintage Shopify theme has a built-in product section and comes with advanced product filtering options. It has a zoom tool that allows the customer to look at the products better by zooming. It also helps in up-selling and cross-selling. The theme aims to increase your sales as well as guide customers in a purchasing process.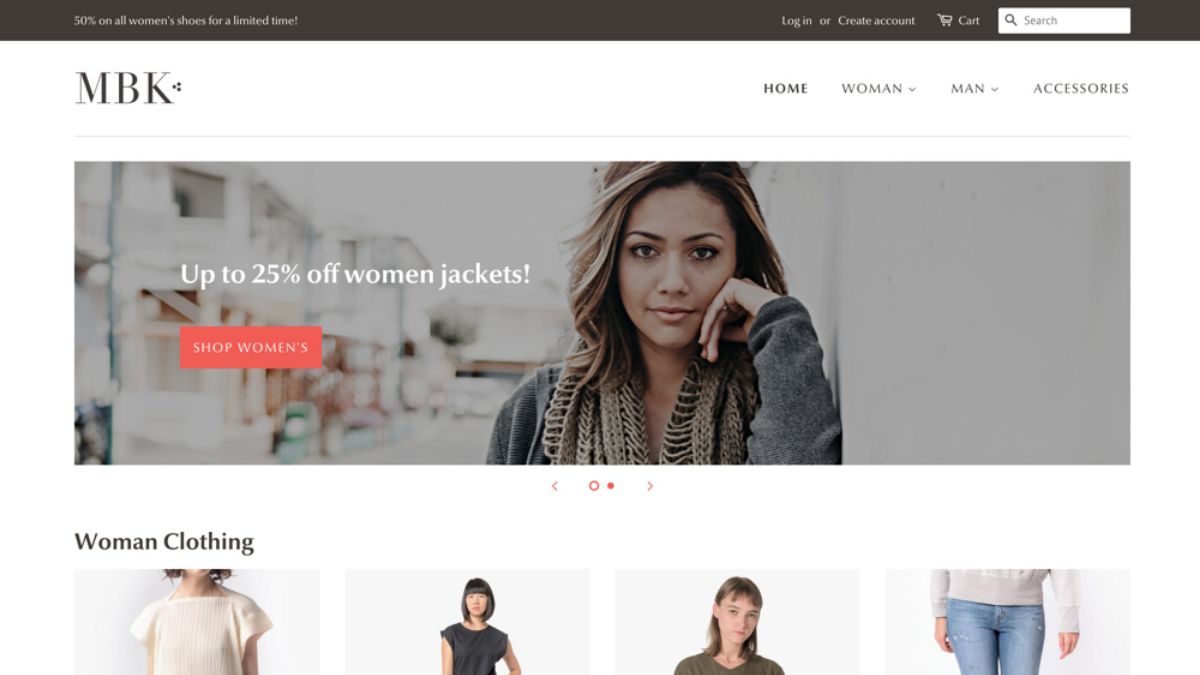 Minimal Theme Features:
Homepage Slideshow
Zoom product tool
Product Sorting and Filtering options
Built-in related product section
Simple
As the name itself suggests, it is a simple and clear free Shopify theme. This theme comes with two different styles: Light and Beauty.
Both styles allow each product photo to stand out on each page. It has a minimalistic design. The Simple theme is best suitable for fashion or apparel stores. This is SEO-friendly and fully responsive. It looks attractive which increases your chances of a higher conversion rate as a customer spends more time when the site looks attractive. It is perfect for showcasing products as it is a clean and minimal theme.
The most important reason for using this theme is that it allows image animation. You can't see this feature on most of the Shopify themes. You can create an interesting transition between the images. This theme comes with a slider drop-down menu allowing customers to easily navigate through your product. It also has a zoom-in feature allowing customers to take a closer look at the product.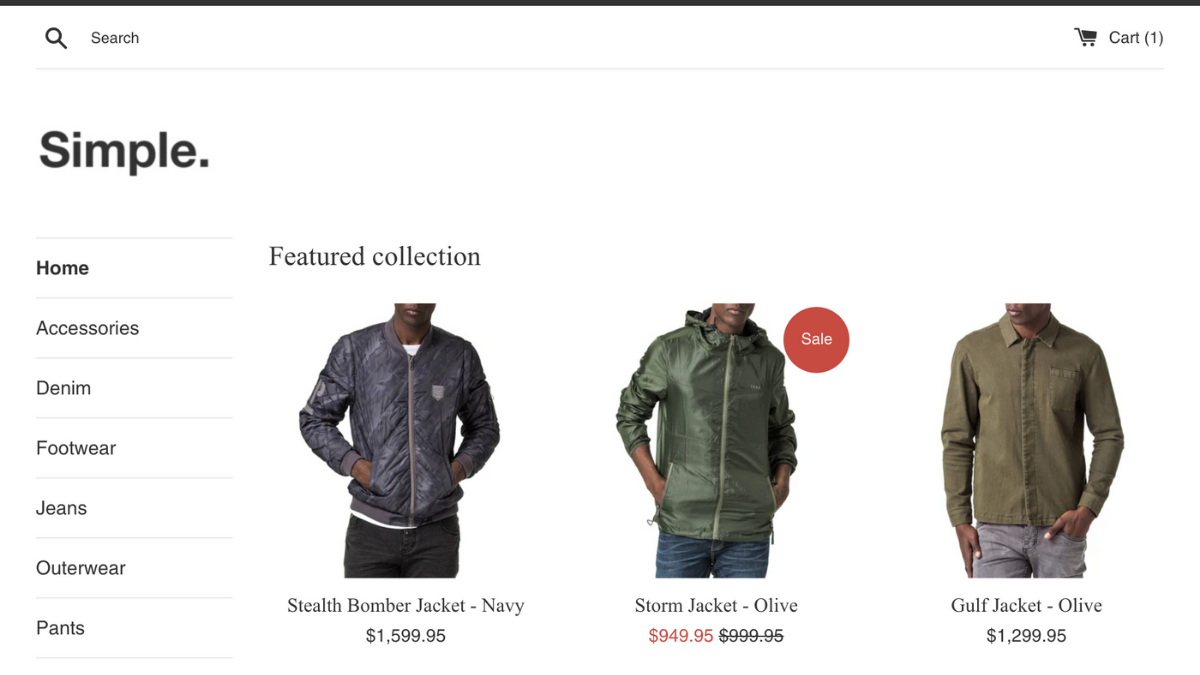 Simple Theme Features:
Sidebar menu
Images with text
Featured products
Image animations
Product recommendations
Collection list
Boundless
Boundless is a minimalistic free Shopify theme that puts your photography at front and center. It is best suitable for a User Interface module. If you have medium to large inventories, this theme is for you.
It has a slider bar menu which helps your customer to navigate easily to any page no matter wherever they are on the site. The theme comes with social media icons, color palettes, and several customization sections. This theme is suitable for almost all industries.
This theme comes with two styles: The Black & White and Vibrant. The Black and white theme has a conservative look while the Vibrant theme has a playful look.
Both the styles are just perfect for showcasing the products beautifully. The homepage of the Boundless theme comes with a slideshow supporting the video and a navigation menu. It has full optimization for large images.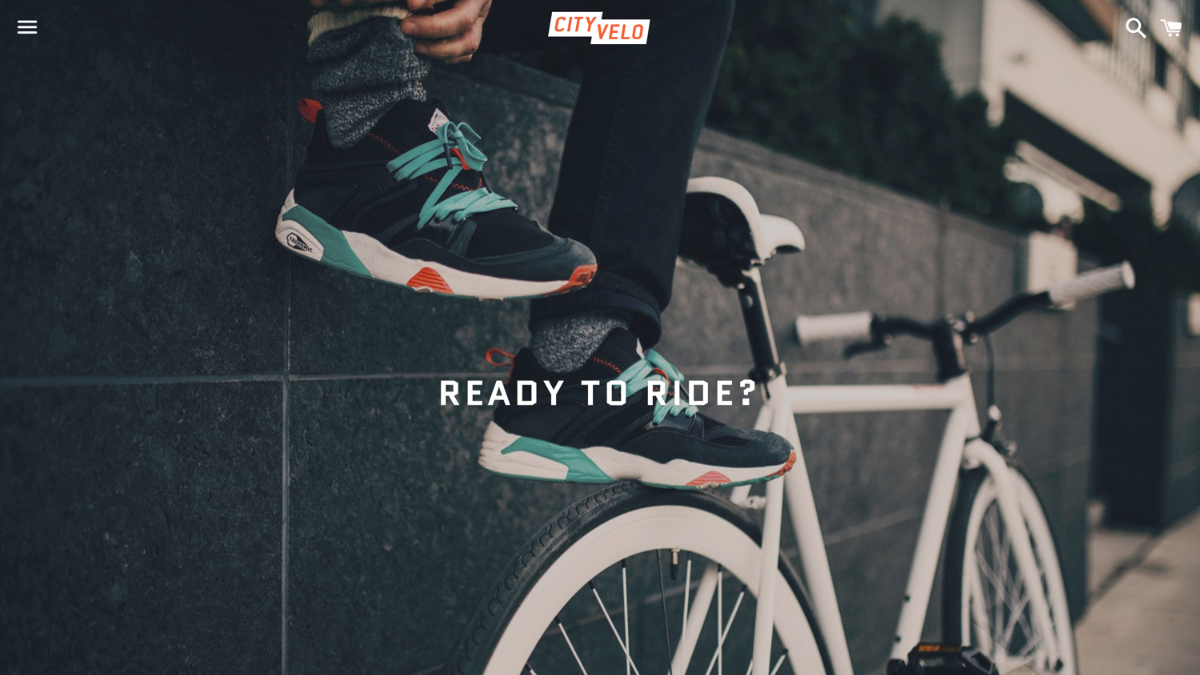 Boundless Theme Features:
Optimized for large images
Slideshow with fading effect
Single product gallery
Allows you to use your own coding
Sticky Navigation
Narrative
If you have a small catalog, then the Narrative Shopify theme is the best option for you. This is one of the best free Shopify themes for small companies or start-ups.
This theme has multiple styles with different colours. It is the best theme if you are selling one or two products. This theme is best suitable for mobile, jewellery and clothing stores.
It has a wide layout version and vertical slideshow feature which allows you to showcase your blog or products. This theme works perfectly for visual storytelling.
It allows you to put videos on the homepage which play automatically whenever any customer visits. Narrative theme comes with a full screen button for the better view. You can customize anything and everything in this theme.
This theme has 3 different styles: Warm, Light and Cold. Warm is the conventional style with traditional fonts and photos in their natural colors. Light has a minimal aesthetic that is best suitable for contemporary stores. Cold is primarily dark with a black cast over the header.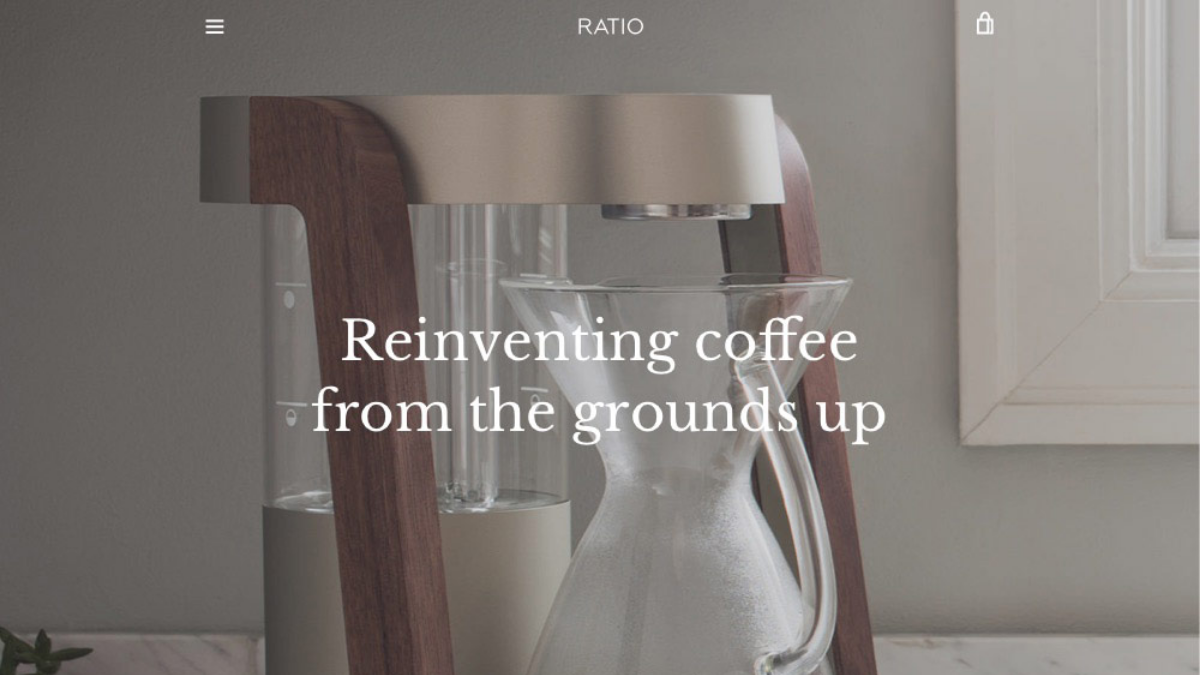 Key Features Of Narrative Theme:
Designed for visual storytelling
Hero video
Built for small catalogs
Fixed navigation
Vertical slideshow
Parallax scrolling effect
Venture
Venture is another free Shopify theme. The theme is best suitable for selling sports and outdoor equipment. This theme is designed for an eCommerce business with a large product catalog.
It is user friendly and is the most responsive theme. It is SEO friendly and mobile friendly also. This theme is suitable for all sizes of screens.
This theme comes in three different styles: Boxing, Outdoors and Snowboards. It has a homepage slideshow, product filtering and promotional board which allows advertising your offers and products.
It is best for the business that has too many products, collections and large menus. You can avoid this theme if you are selling only two or three products. It has a single feature product view with plenty of tools to play around.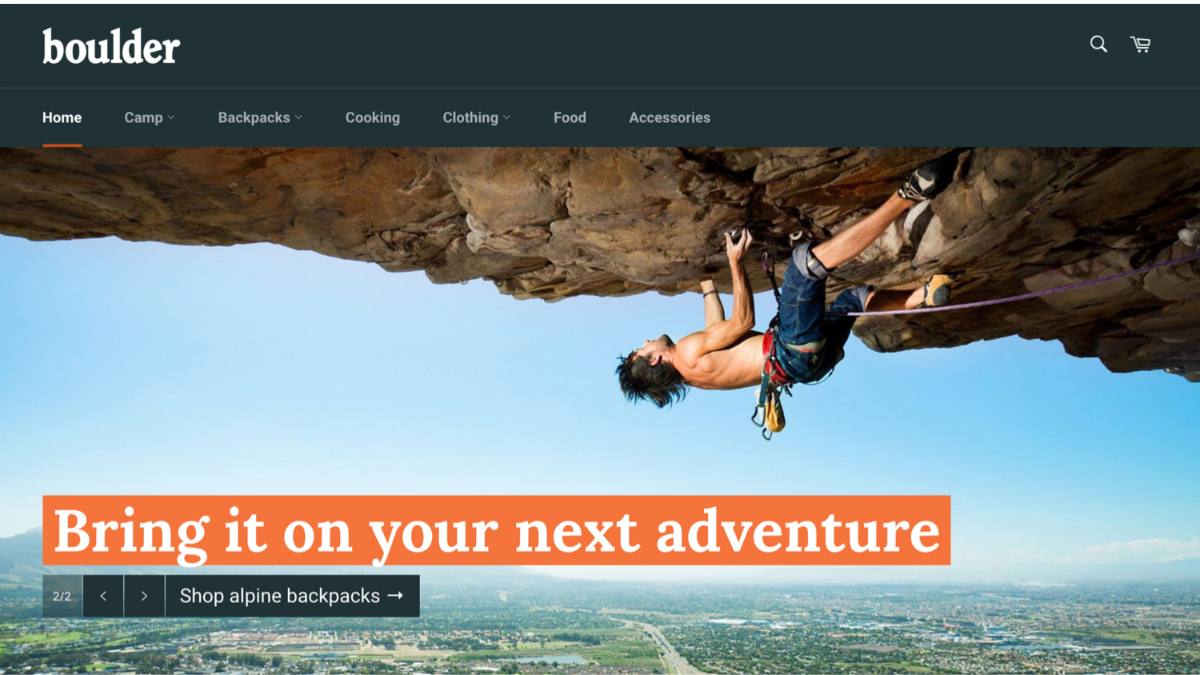 Venture Theme Features:
Edge-to-edge slideshow
Built for large catalogs
Single featured product
Multi-column drop-down menus
Promotional banner
Debut
Debut is the most flexible free Shopify theme designed for both small and large catalog. It is a simple and clean theme. You can do customization according to your needs. As you can customize this theme you can make an out-of-the-box website. You can easily set up a store with this theme.
This theme comes in two different styles: Default and Light. It includes social media buttons. This theme has a user interface module.
You can create your story with slideshows and can use either images or videos. Customer testimonials are included with the Debut theme. This theme is suitable for each store.
It is considered as the Best Free Shopify theme. You can start selling immediately, easily rearrange store layout and see the real time changes.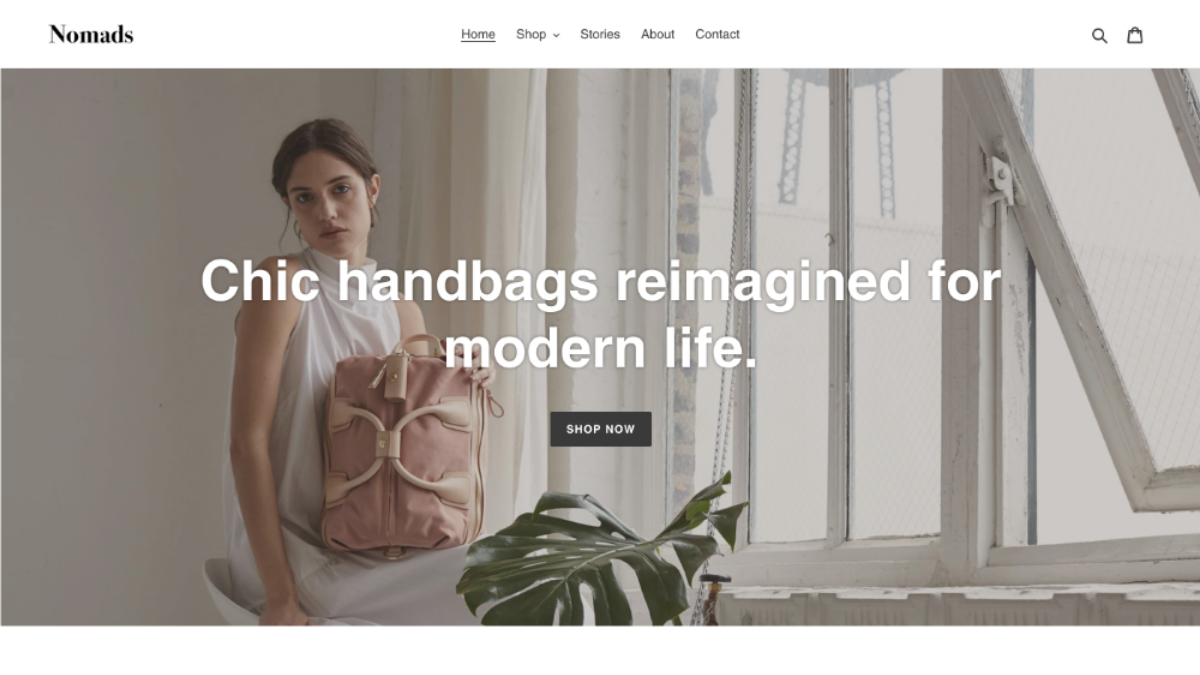 Debut Theme Features:
Add, remove or rearrange newsletter
Homepage Slideshow
Each page has its own section
Customization section
Drop down navigation
Customer testimonials
Predictive Search
Product recommendation section
Built for both small & large catalogs
Promotional header bar
Annabelle
Annabelle theme is also available Free on Shopify. It is best suitable for apparel, footwear, and accessories stores. This theme comes with a slider on the homepage.
You have a choice between the overflow and full-width sliders. You can show off your product on the home page using this theme.
When we talk about home pages, Annabelle has the magical homepage page more than any other theme. Annabelle's homepage has the best look which helps you to increase your sales.
This theme also has multiple column options. This theme comes with an Instagram gallery to increase your followers. It has a customer review section on each page. It allows you to add sizing charts and social sharing. Customers can zoom the product for a better view.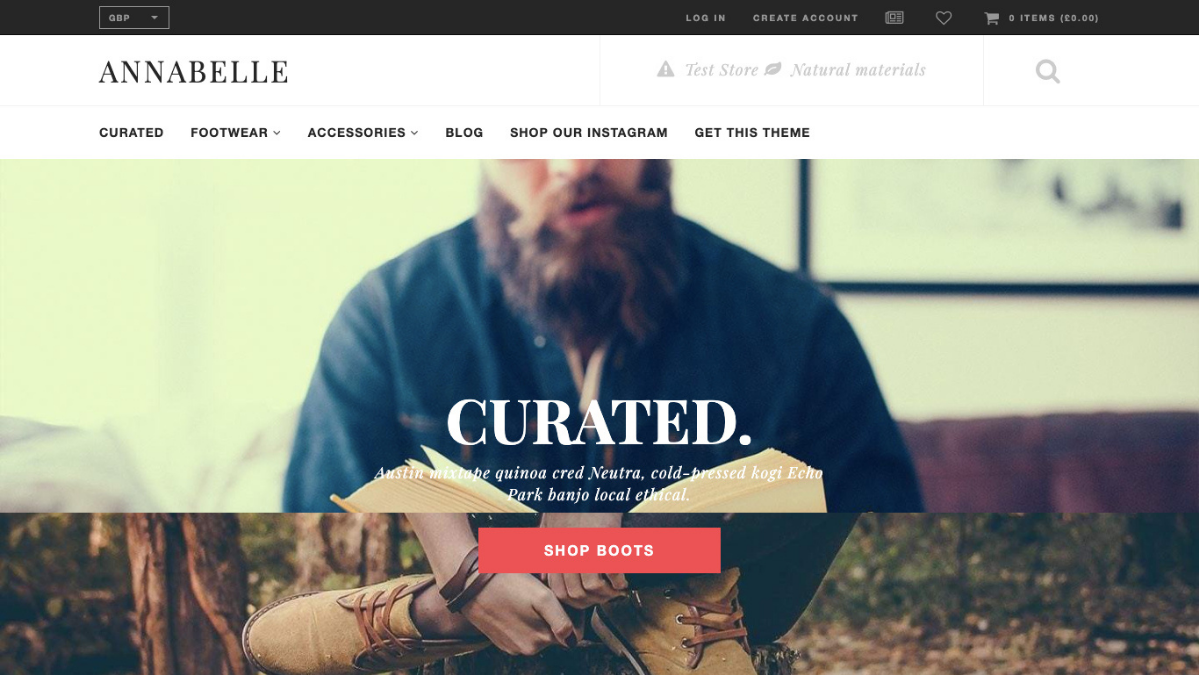 Annabelle Theme Features:
Versatile
Customizable
UI module
Overflow & Full-width slideshow
Thalia
Another free Shopify theme you should definitely look at is Thalia. It comes with full features to make a stylish e-commerce store. This is best suitable for apparel or fashion stores. This looks modern and stylish.
Thalia allows you to make certain customization in fonts, colors, and layout. This theme comes with a slide-out cart feature which is powered by Ajax, allowing customers to access easily.
Thalia shopify theme can be customized according to your needs in certain things. This theme has advanced product filtering options and displays product colors on a page. It is simple and built with much precision. You can go for this theme if you want your website to look stylish and modern.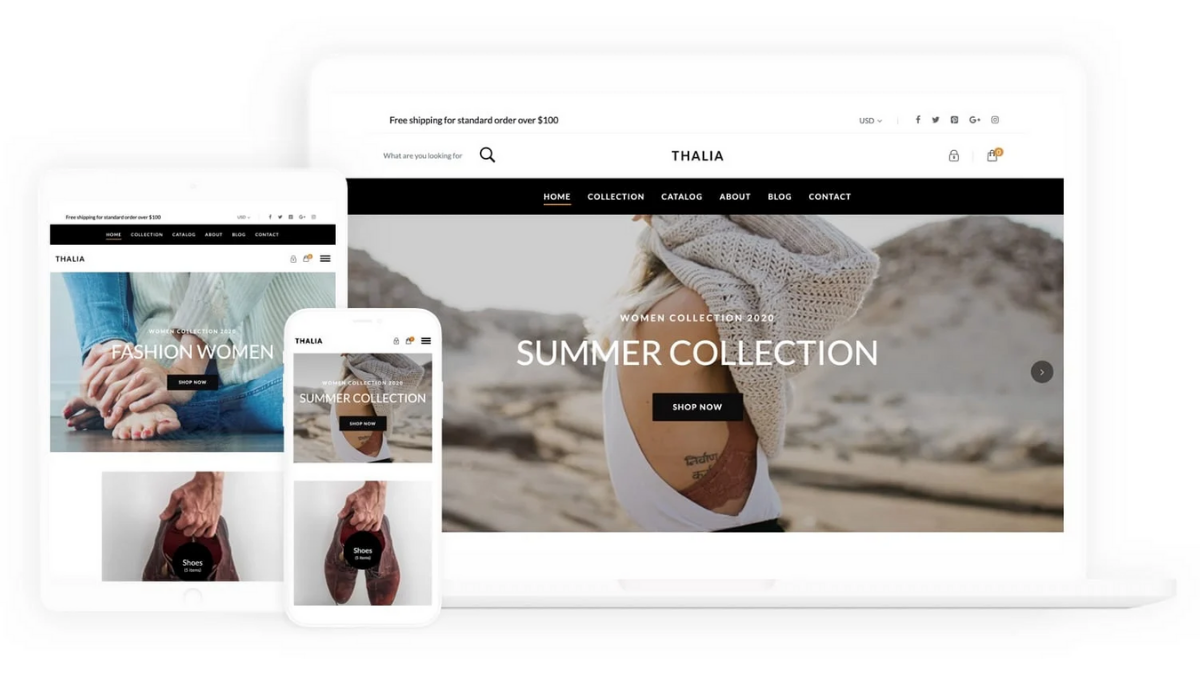 Thalia Theme Features:
Slide-out cart
Powered by Ajax
Font, color and layout customization
Modern & stylish look
Advanced product filtering
Above are the best free Shopify themes in 2020. You can select one according to your business and start selling your products right away.
Bottomline
Effective and attractive web design plays a key role in online sales. With the right aesthetic and layout, online stores encourage engaging and shopping experience amongst customers.
Above is the list of best free Shopify themes in 2020. You can select anyone according to your business. If you are still confused about which theme is best for your business, I'd recommend you to go for Debut or Thalia as both themes are suitable for small to large products catalog.
You can make certain customization in these themes. Also, they have stylish and modern looks that are best for all businesses. If you have more than 50 products then you can go for the venture theme. It's best suitable if you are selling too many products and collections.
FAQs
1. How do Shopify themes offer a better conversion rate?
Shopify is a hosted e-commerce solution that is very user friendly as you don't have to bother about payment gateway, hosting, and other technical issues. You just need to focus on managing your catalog, store design & layout, and marketing, so it offers a better conversion rate.
2. Are Shopify themes worth it?
Yes, of course, Shopify themes are worth it. It is an affordable, flexible, and feature-packed e-commerce platform. Many users find Shopify more friendly to use than any other e-commerce platform.
3. Are paid themes better or free themes?
If you have a small business then free themes are opt for you otherwise you can go for paid themes if you want more customization in themes.
4. Are Shopify themes a one-time purchase?
Most Shopify themes will be a one-time purchase; there is only a small selection that is not. Thankfully, it will provide future updates and support as part of this fee. Whether or not you can use the theme on multiple stores at a time or re-purpose it from a store to another will depend on the license itself.
5. Which is best free Shopify themes?
Debut is the best Shopify theme. This is suitable for almost every store, regardless of inventory size. It looks good without any customization. You can easily set up this theme as it is user friendly and flexible.
6. Can you get scammed on Shopify?
Shopify is not a scam; it is simply an e-commerce platform that gives newer E-Commerce users a relatively easy way to get a web store up and running. So, you cannot get scammed on Shopify.