How to Create Countdown Timer Popups to Boost Your Sales?
The holiday season is ready to knock at your doors – for businesses; it's time to gear up your marketing strategies. Since online shopping is the new normal; thus, you should start learning how to create countdown timer popups. With subscription popup forms, you can attract customers by creating urgency. One eCommerce website has boosted sales by 9% with the popup campaign.
If you are keen to improve your sales, let's check out the step by step guide to create OptinMonster countdown timer popups.
OptinMonster Countdown Timer Popups
OptinMonster is a user favorite WordPress lead generation plugin. This plugin is used over more than 1,000,000 websites. It is a visually appealing plugin that helps in grabbing the attention of your potential customers and improving the conversion rate. 
You can create popups with OptinMonster. This amazing popup and lead generation solution is turned into a standalone application by the developers. It means not only WordPress but also other eCommerce platform users can gain benefits from OptinMonster popup. The other popular platforms supported by the OptinMonster application include BigCommerce, Shopify, Magento, WooCommerce, etc. 
Today, if you genuinely want to grow your business online, it is vital to instantly grow your email list. Now, if you are expecting to grow your email list by adding a subscription form, it won't work. Yep, the plain vanilla subscription forms don't work anymore.
On the other hand, many visitors come for window shopping on eCommerce stores and mostly leave without buying anything. When you have a countdown popup indicating that the sale is going to end soon, it will push visitors to buy quickly. And, that's what eCommerce businesses need to boost sales apart from collecting quality contacts. By the way, many eCommerce owners utilize the multi-step popup feature from OptinMonster to capture contacts and boost sales.
You need to create a beautiful and attractive OptinMonster countdown timer popup that can immediately capture users' attention. With the relevant information containing popups, you can easily spike up your users' interest. Furthermore, you can track conversion, run split tests, and analyze your efforts with OptinMonster.
With OptinMonster, you can accelerate your sales, and that's even writing a code line. Now, that's what we call a super awesome application! If you are eager to boost your business sales with OptinMonster, read ahead to find out how to create countdown timer popups with OptinMonster.
How to Create Countdown Timer Popup?
An Experian report states that promotional content conveying urgency has 14% of higher chances to get a reaction. With the countdown timer popup, you can perfectly convey the message of urgency. Thus, if you want to make your holiday promotions a hit, you should add popups now. Just follow the simple steps to insert popups into your site.
Step 1: Develop a Floating Bar Optin
The foremost step in how to create a countdown timer popup process is to install OptinMonster in WordPress and open the OptinMonster dashboard. Next, you have to create a new optin (a term referred to sorting mailing list, newsletter, or advertising) by tapping on the Create Campaign option. Now, you have to click on the Floating Bar campaign type from the various options. Here, you have to select the Countdown by hovering over it. 

In the next option, you have to give your countdown timer a name and select your website. For example, if you are creating a Christmas countdown, name your countdown "Christmas Sale." By naming your campaign, you can determine how many clicks, conversions and other actions taken on it. This will be helpful in analyzing different campaigns running on your website. Up next, you have to click on the Start Building button to add a content body.
Key Tip – OptinMonster countdown timer popup can be added to any campaign template. Just don't forget to frequently save while working on building a campaign. The Save button is located on the top right corner of the Builder.

Step 2: Tweak with Display Settings
Once you have built your campaign, it is set to show at the bottom of your website. So, you need to tweak the settings and change the position to the top. Click on the Display Settings and shift Load Floating at the Top of Page to the On position.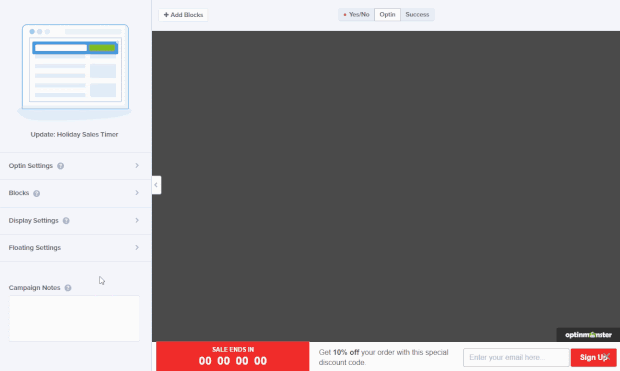 Key Tip – Since you have already opened Settings, remove the Powered by Link to save screen space.
Step 3: Set Your Timer
One of the important steps is to create a countdown timer for bringing out urgency. You have to click on the countdown clock in the live preview so that the editing tool comes on the left. Ensure that Type is set to Static to show the same timer to all the visitors.
In the next step, you have to set a date and time for your campaign. From the sales starting time to ending, you need to add all the information properly for users' convenience.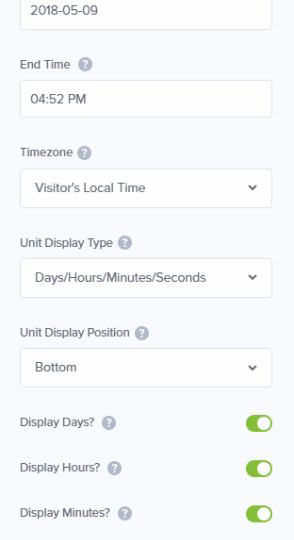 Key Tip – All the changes will come live as you create them in live preview to easily modify countdown content.
Step 4: Customize Your Countdown Timer
It is one of the most interesting steps to design countdown timer popup. You can use your creativity and marketing knowledge to customize your countdown timer. There are plenty of different options to customize the timer, such as –
Change Countdown Timer Section

The customization process can start by making changes in the countdown timer section. For this, you have to edit columns by hovering over "Sales End In" content. Two grey icons will appear – click on the one that looks like a gear to edit columns settings. Now, you can change the column background as per your ad's theme.

You can change the popup text as per your liking from the live preview. From the font style to color, you can edit all the text elements to match with the background.

To encourage viewers to take action, you have to add catchy optin button content. From the live preview section, you can add a catchy optin button text. Commonly used optin button texts are "Sign Up," "Subscribe Now," "Register Now," and many more.

Once your user has clicked on optin button, you have to provide them the coupon code. To do that, you have to set up the success view by clicking on the Success Tab.
Step 5: Integrate with Email Service Provider
You have gone through all the trouble of adding popups to get subscriber emails – so don't forget to connect your optin with your email service provider. The good thing is that Optinmonster connects with all the email service providers. So, you can easily integrate your optin with your email service provider and create an email list.

Step 6: Define Your Display Rules 
Once you have created an attractive countdown popup, next, you have to set display rules. For that, open the Display Rule Tab and make your floating bar on or before a certain date. For example, if you want to start Christmas sales ten days before the main day, make your popup visible on 12/15/20.

The next step is to determine where to show the popup campaign. If you want a popup to appear on the shop page, you have set a condition matching your page URL.
Key Tip – Usually, eCommerce websites have multiple shop pages. Thus, you should set a URL pathway that only contains the shop. This way, whenever someone clicks on any shop page, a popup will appear.
Step 7: Finally! Publish It
Now, all left to do is publish your appealing countdown popup. Just open Publish Tab and move the Status toggle to Live and Save it. Voila, your campaign is ready now. To check it, open your WordPress dashboard and click on the OptinMonster icon. You can see all your options there; if not, refresh your screen, and it will appear. You can click on the Go Live button, and your campaign will go live.
Boosting Sales with Countdown Timer Popups
Today, eBay-like eCommerce platforms are ruling the market because of countdown popups. The popup campaigns help in creating urgency and grabbing the attention of users seamlessly. If you want to gain maximum benefit from popups, you have to focus on –
Content of Campaign – To boost sales with a countdown popup, you have to create an engaging and crisp campaign. The content has to be catchy, informative, and relevant. With the right words, you can easily bring the urgency to buy. So, prepare your countdown content after careful evaluation.
Personalization – One research has shown that 75% of consumers are likely to buy more – when retailers know their preferences and refer to them by their first names.
Additional Incentives – You should offer some additional incentives in popups to compel consumers to buy. For instance, 90% of consumers confessed that free shipping had compelled them to shop. So, offer something extra to your customers.
Show Reviews – You should share old customer reviews and testimonials to validate your claims. If you say that you offer the best quality products, it won't show authenticity. But, when real users say that they find your product useful, it reflects authenticity. And, new customers are attracted to authenticity – period.
Conclusion
Countdown timer popups can be static on the webpages or can be triggered by exit-intent action. Leveraging the exit-intent action, OptinMonster has brought forth multiple feature-rich applications such as Spin-to-Win optin for WordPress.
It is clear that by using countdown popups on your website, you can easily boost your sales. Furthermore, OptinMonster has eased the process of creating countdown popups for everyone. So, if you are still not taking advantage of OptinMonster, you are missing out on a lot. Get your countdown timer popup ready today and skyrocket your sales figures instantly!