How to Set Up Trezor Wallet? (Learn How to Store Your Cryptos)
Cryptocurrency is hyped for good. Bitcoin, being the most expensive cryptocurrency, values USD 57,627 as we speak. Under such circumstances, crypto traders need to consider nothing less than the best bitcoin wallets to store their virtual treasure. There are multiple crypto wallets such as hardware wallets, digital wallets, hot wallets, cold wallets, and more that offer a great deal on security and safe trading. In this article, we'll talk about one of the most popular crypto-wallet called Trezor. We'll talk about how to set up Trezor easily and share some highlights of its features.
What is Trezor?
Trezor is a hardware Bitcoin wallet offering strong security for storing all your cryptocurrencies. It is a highly secure way to handle digital coins compared to traditional cold storage methods.
Trezor can process secure payments without disclosing your private keys to potential threats. It is a pocket-sized device that you can connect to your computer with a USB cable. You can store your Bitcoins, Ripple, Zcash, and other 1000+ coins in it.
Trezor One vs. Trezor Model T
There are two versions of Trezor available right now. You can select the suitable one based on your requirements.
Trezor One
It is the first hardware wallet that the world witnessed on July 29, 2014. This device offers password management and two-factor authentication. Trezor One is easy to set up and can be used by both experts and newbies. The basic Trezor One price starts from $79.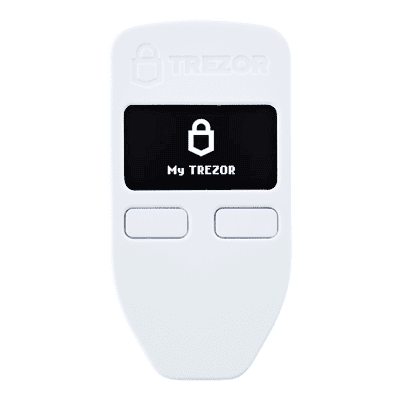 Trezor Model T
It is the premium version of the Trezor hardware wallet. It is developed with new features and high-level security options. Trezor Model T offers U2F authentication, GPG encryption, and other premium features. This next-generation wallet is available in a vivid price range.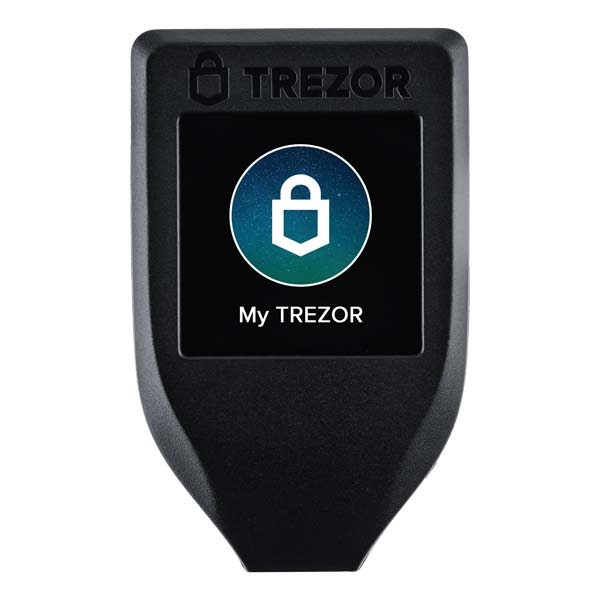 For both the Trezor One and Trezor Model T we have exclusive trezor promo codes to get you fantastic discounts. Now let's jump to the setup guide to install and use Trezor.
How to Set Up Trezor & Use It?
Before learning how to set up and use Trezor wallet, ensure a few things:
The security seal on the box is untampered. Notably, always order Trezor from the official website. Don't trust buyers on third-party sites like eBay.
Make sure your box contains a Trezor hardware wallet, Two Recovery seed cards, Lanyard, an Instruction manual, and a USB port.
Connect Trezor to Your Computer
Use the USB cable to connect Trezor to your computer. On the Trezor device screen, you will see a Lock icon and instructions to go to trezor.io/start. Trezor works with Chrome and Mozilla Firefox only.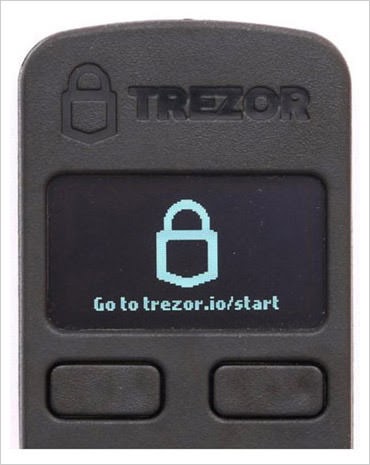 Open the Trezor Set Up Screen
Once you open the Trezor startup screen, select your Trezor version. Next, you'll be asked to check the hologram seal on your box. If it's tampered, you should immediately contact Trezor Support.
Download & Install The Trezor Bridge
You have to download and install Trezor bridge and then refresh your page. If you aren't automatically requested to download the Trezor bridge, you can use this link.
Install The Firmware
For security reasons, no firmware is installed in the brand new devices. Click on the 'Yes, Install' button, and the firmware installation process will begin.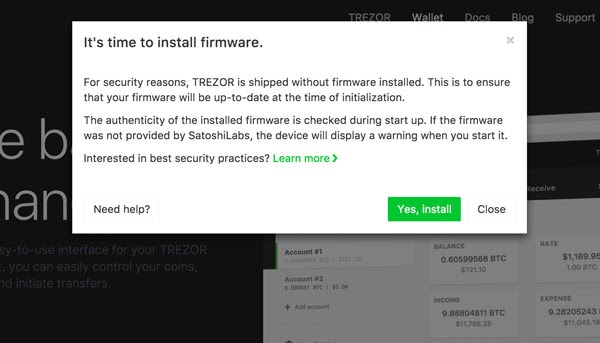 Now, you should match firmware prints on your computer screen with one on the Trezor screen. If both matches, click 'Continue' on your Trezor. You might have to plug-in and plug-out the Trezor wallet a few times before visiting wallet.trezor.io.
Give a Name
Give a name to your Trezor device for easy identification.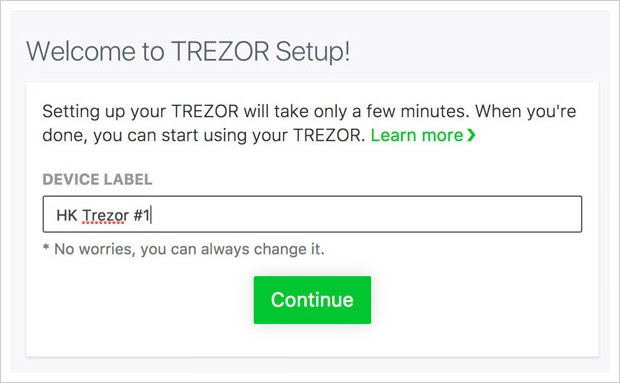 Set Up The PIN
It is a crucial step in setting up and using the Trezor guide. You might find complex 3*3 grid dots on your browser screen. Don't worry, you will get the hang of it once you look at your Trezor screen.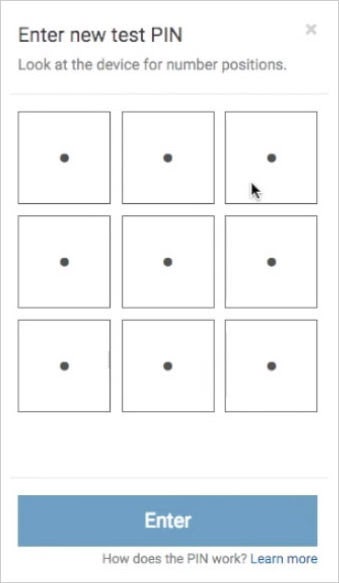 All the dots represent the numbers that appeared on your Trezor screen.
For example, if you want to set your Trezor PIN — 7896, you need to click on the dots representing these numbers. Remember that the number sequence on the Trezor screen will change every time you log in.
You need to renter your PIN to confirm it.
Note The Recovery Seeds
Now, the recovery seeds card given in the box will come in handy. Trezor will generate 24 words combinations like BOTTOM, SOUND, etc. It will help you recover your accounts in case you lose your device.
You should note down all 24 words in the recovery seed card. Make two copies for safety's sake. Trezor will show all words again so you can recheck. Make sure you never lose your recovery seed card.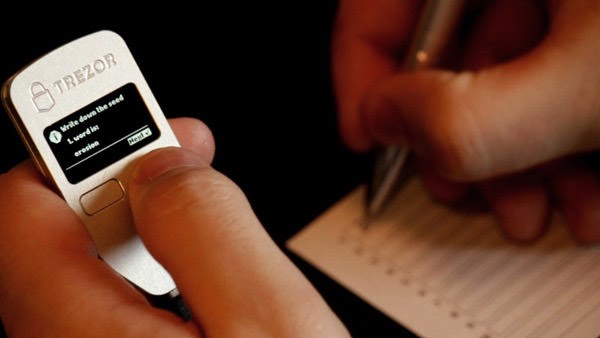 Whenever you enter these recovery seeds in your new Trezor device, it will automatically retrieve your coins.
Access to Trezor Wallet
Finally, in how to set up the Trezor process, go to wallet.trezor.io, enter a PIN, and press enter to access your wallet. You can also customize your Trezor device home screen. Further, you can edit the device's basic settings like change label, PIN, etc.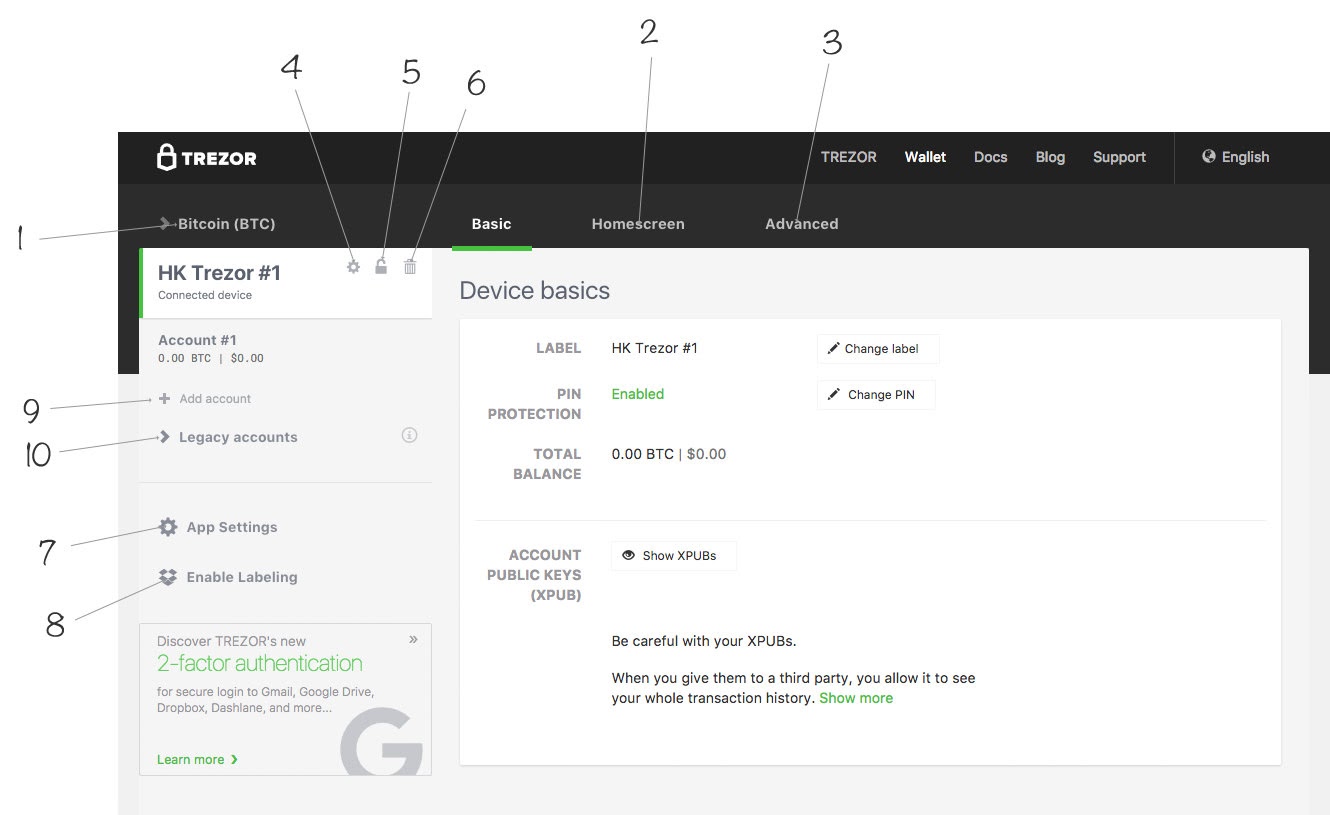 How to Use Trezor to Receive & Send Cryptocurrency?
Receiving Cryptocurrency
Select the specific cryptocurrency you want from the drop-down menu at the top left. If your coin isn't on the list, you might have to use a third-party interface.

Once you have chosen the cryptocurrency, click on Receive.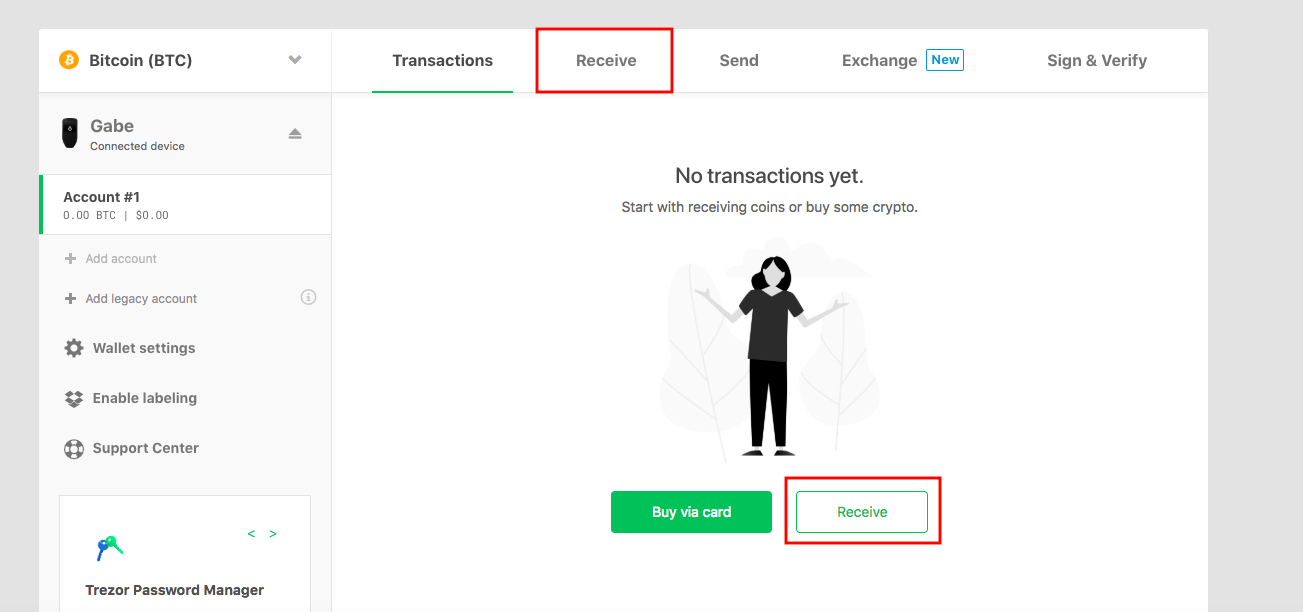 Click on Show Full Address and verify the address on the Trezor.
Copy and paste the address into the wallet or exchange from where you are sending coins.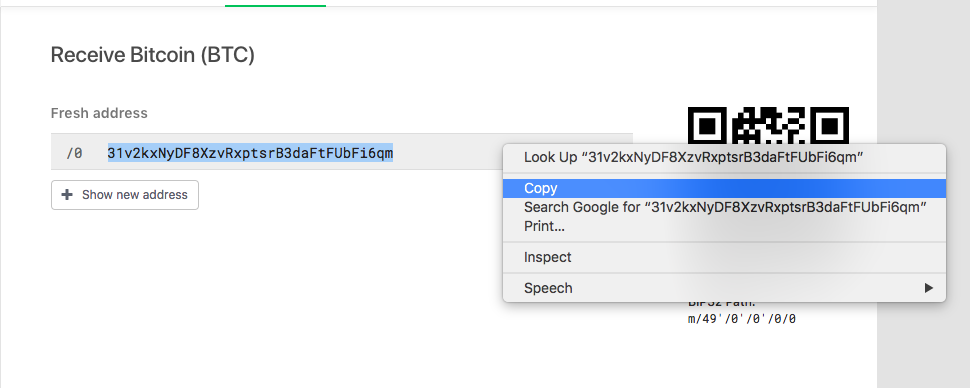 You can click on the Show New Address on the Trezor web wallet to display more public addresses. In many cryptocurrencies like Bitcoin, one public address is required for all transactions.
Your new balance will now appear under 'Account #1'.
Sending Cryptocurrency
Select your desired cryptocurrency from the drop-down menu.
Click on the Send.
Paste the address to which you are sending to and select the amount and transaction fee.
Suppose you want to send Bitcoin to Binance, login to Binance, and copy the Bitcoin receive address. Go back to the Trezor web interface and paste the address. Click on the Send.
You can send funds to multiple addresses at the same time. To do this, click on the "Add Recipient" option.
Finally, Trezor will ask to confirm the transaction and instantly send cryptocurrency.
Final Thoughts
Trezor is based on a simple principle — your keys, your coins.
Now that we know how to set up Trezor, you can easily store all your cryptocurrencies. It is an offline wallet that won't rely upon any third-party software which is prone to viruses or hackers.
Don't wait up and order your Trezor today!