MemberPress Courses vs Teachable – Which is The Best LMS for You?
Be it selling courses online or teaching online as a part-time business, you need to select the right and best Learning Management System (LMS) platform. LMS helps you create, promote, or sell your online courses with ease. If you know how to build a membership website, you can earn a great deal by adding lectures, courses, sessions, and more on it. There are various great LMS platforms available in the market that help you do so. Thus, it is a bit tricky to find the best and compatible LMS platforms. That's why to help you out, I have reviewed MemberPress Courses vs Teachable.
To review both LMS platforms, I have considered some common grounds, such as:
Customer Support
Ease to Use
Integration Capabilities
Affordability
Tracking & Analyzing User Data
Since MemberPress Courses and Teachable are two popular LMS platforms thus, a deep comparison can help you better sell your online courses. So, let's start the ride.
MemberPress Courses vs Teachable
Teachable is a perfect platform to create online courses and coaching services. Already over 100,000 creators have sold more than 1 billion courses on Teachable. Here you can create vivid types of courses — from brand building to drone flying.
MemberPress Courses is an addon plugin by MemberPress. It contains all the MemberPress features along with the robust LMS interface to create online courses. Without any complex coding, you can start selling courses via MemberPress Courses today.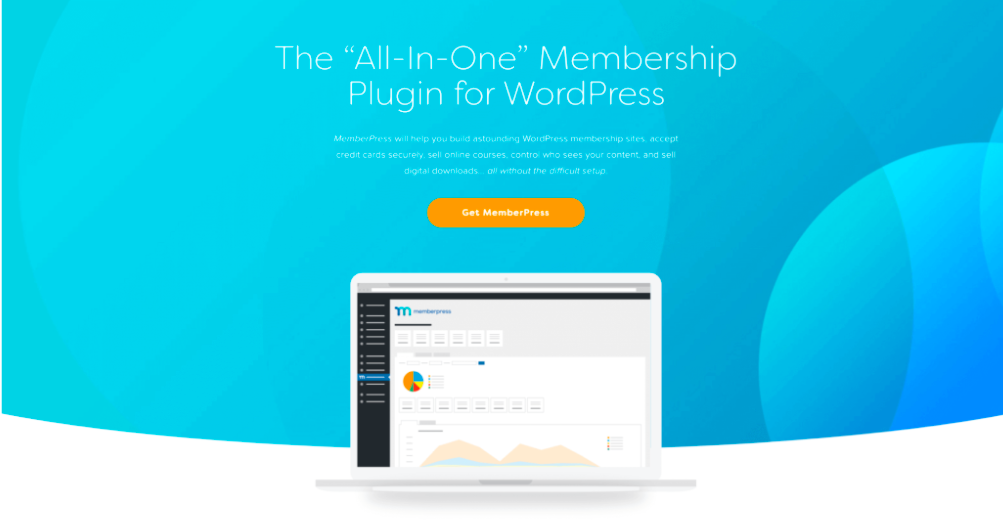 Both Teachable and MemberPress Courses are competent and powerful LMS platforms on their own. So, it's alright to feel confused whether to go for Teachable or MemberPress Courses.
To help you pick the right LMS platforms, I have reviewed both platforms and drawn a clear comparison.
MemberPress Courses vs Teachable — Features
Teachable has many robust features to create as many as individual courses you want to. You can upload videos, audio recordings, text documents, or certificates on Teachable. Additionally, Teachable offers—
Facility to link your custom domains
Easy calendar scheduling
Simple students and courses management system
Support for different team members
Integration with many survey sites or feedback tools
Helps to track and promote sales
Allows to set up an affiliate program for your site
Accepts payments in 130 currencies via a PayPal
Various tools to customize your content and personalize your brand, etc.
Talking about the MemberPress Courses features, they are a bit the same as WordPress. You can here create classes and curriculum using easy to use WordPress post builder. You can publish courses on your site and even restrict content access using MemberPress. Moreover, you can explore the following features:
Create subscription courses
The MemberPress Classroom Mode to customize your online classes
Course tracking to keep an eye on your students' accomplishments
Control your classes with custom codes, themes, plugins, and the WordPress Customizer
Simple visual drag and drop menu
Protects your content with MemberPress access rules. Check out our guide and learn how to protect your content using Memberpress plugin.
No complex coding, etc.
The new MemberPress gifting addon feature enables your members to gift memberships to their peers
Usability
Ease of use is a very important factor while choosing a good LMS portal. Both Teachable and MemberPress Courses platforms offer many great usability functions.
It is very easy to set up a Teachable account. You have to first name your school and answer a few basic questions about your business and content. After that, the Teachable dashboard will launch on your screen.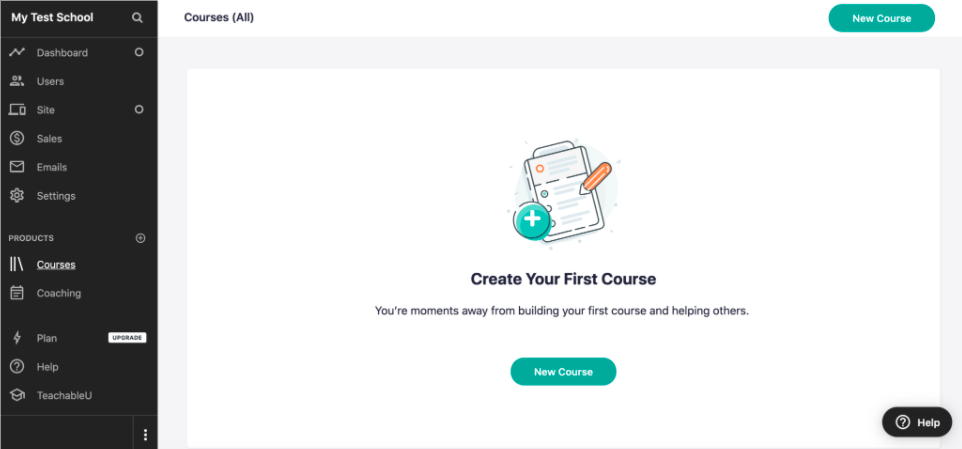 On the dashboard, you can select a New Course button to customize your first course. You can add a few basic information about your course like Title and then press the Create Course button, and Teachable will create your course.

Now, you can add components to your courses like lectures and sections. You can also mark components as a downloadable or free preview.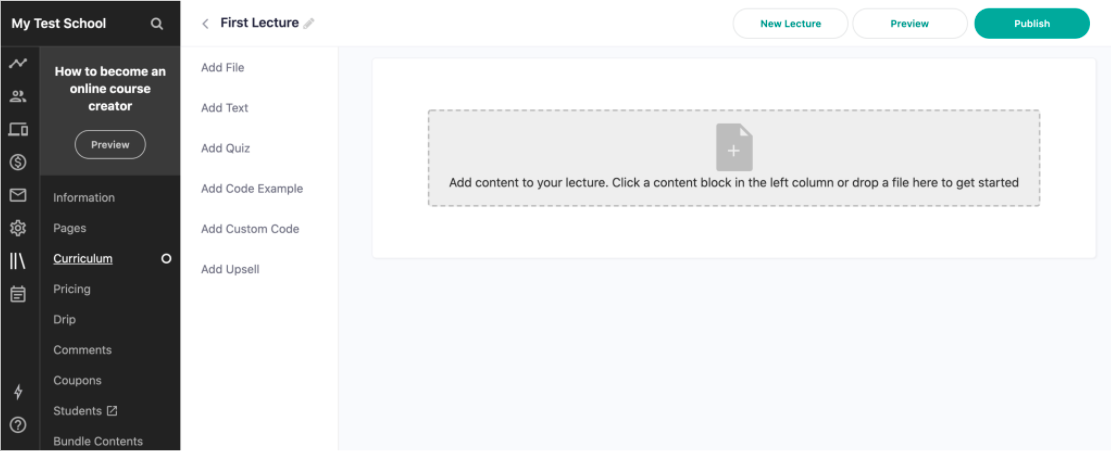 When you select the First Lecture, Teachable will open an editor to add content to your classes. That's it! You now have to repeat the same steps every time you create a new course or add components to the existing one.
To create MemberPress Courses on the LMS platform, you only need to activate the MemberPress plugin. For this, go to your WordPress dashboard > MemberPress > Add New.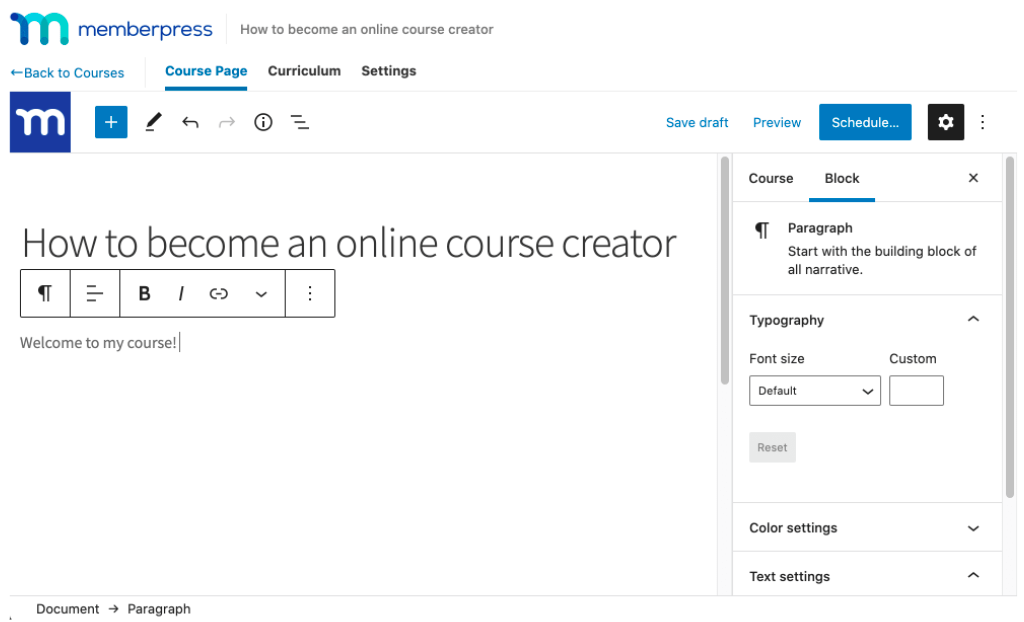 MemberPress course editor will open on your screen where you can draft your course's homepage.
Select the Curriculum tab next. There, you can use an easy MemberPress drag and drop menu to structure your courses.
You can add sections and lessons into your courses along with the relevant content. As MemberPresss is a WordPress plugin; thus, you will have the famous WordPress editor support to create your courses. So, you can create graphic-rich online courses with MemberPress Courses.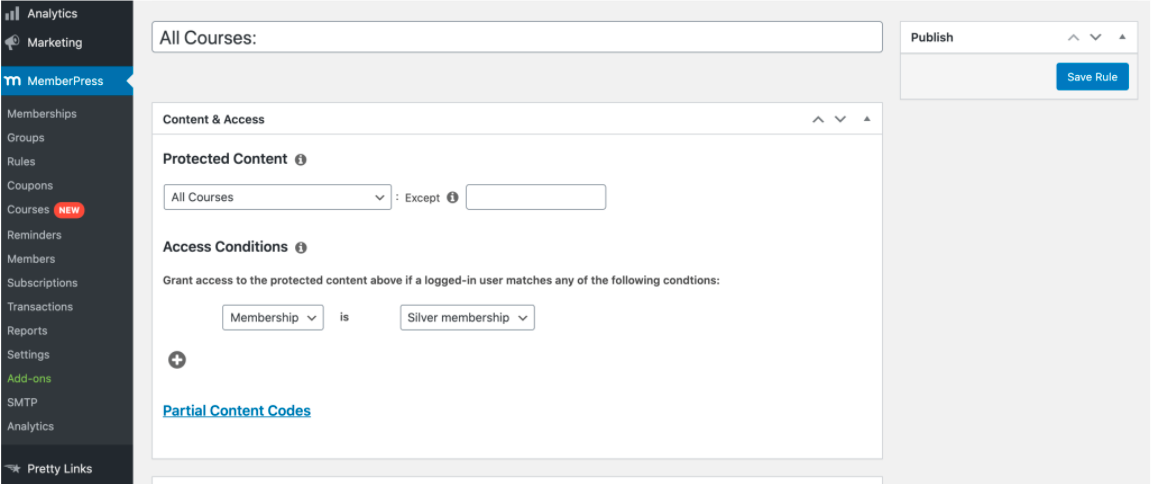 Further, MemberPress restrictions allow you to create premium lessons and monetize your courses. To do so, you have to configure your MemberPress Rules Settings a bit.
Customer Support
For a novice user, setting up the LMS platform is a bit tricky. Even with the robust tools, you may face a few challenges while setting up the LMS platform. That's why your selected LMS platform should come with good customer support.
Here Teachable offers customer support via email. Unfortunately, it doesn't offer phone support. But if you subscribe to a higher than basic plan, you will get a live chat facility.
Teachable also offers a complete knowledge base where you can find a solution for your problems. This range varies from how-to guides to troubleshooting materials.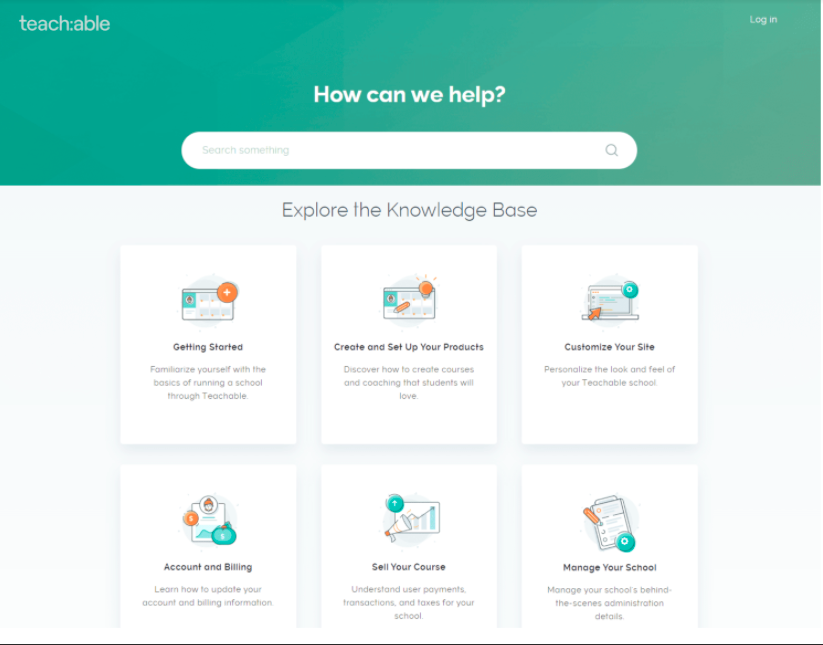 MemberPress Courses receive top-quality support from MemberPress. You can get MemberPress support via emails, tickets, or even hire a MemberPress expert to assist you.
Like Teachable, MemberPress Courses also has a vast knowledge base to help you out. There you can get long-term blogs and various tutorials to guide you.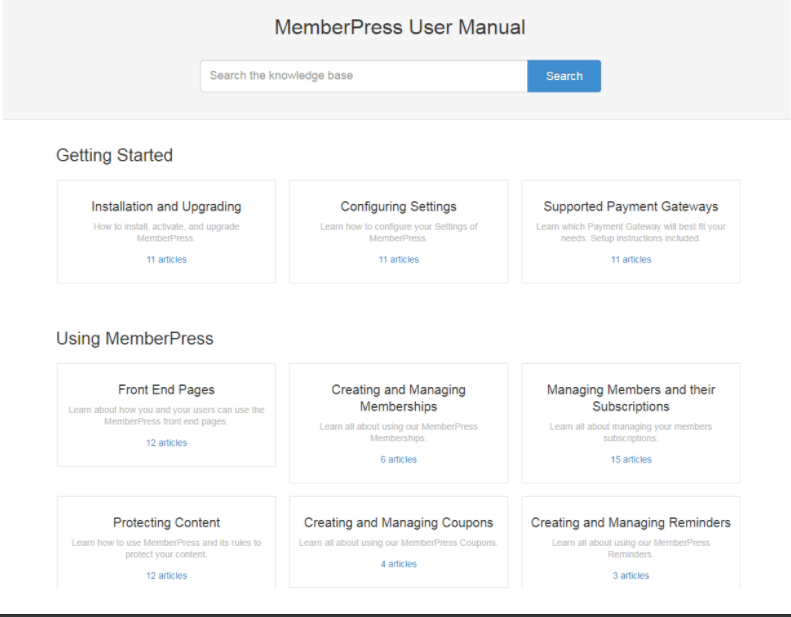 Pricing Structure
Besides the easy setup, price is yet another important LMS platform selection criterion.
Teachable offers three price plans to the users. The Basic plan starts at $29 per month to set up unlimited courses and host an infinite number of students.
Here you have to pay 5% transaction fees with the Basic plan. However, if you move to a Pro plan for $99 or a Business plan for $249 per month, you can wave off transaction fees.
The MemberPress price bundle also has three packages — Basic ($279], Plus ($299), and Pro ($599). MemberPress also offers a 14-days money-back guarantee with all the plans.
MemberPress Courses add-on is available with the Basic plan. Additionally, you can also get the TrustPulse and Easy Affiliate plugin with the higher-tier plans.
Which LMS Platform is The Best?
After comparing Teachable and MemberPress Courses on different grounds, it is clear that they both have their pros and cons. It's difficult to quote which of them is the best LMS platform.
Teachable is a powerful marketing tool for small businesses to boost their revenue. In addition, it has a vast community where you can thrive with your excellence.
MemberPress Courses is an easy and flexible alternative to the traditional LMS platforms. It has WordPress editor's ease and MemberPress's subscription options.
In the end, it depends upon your requirements whether to choose Teachable or MemberPress Courses. Here if you want to sell online courses on your website, MemberPress Courses is the perfect option. But if you don't have a website, Teachable is the right place to start with.
So, keep your requirements in mind while selecting the right LMS platform.