Crossrope Jump Rope Review – The Best Jumping Rope Ever!
Skipping is a must-have exercise in your routine if you follow a healthy lifestyle. Did you know that If you jump rope for ten minutes? It's roughly equivalent to running an eight-minute mile. That's burning close to 500 calories. Read our crossrope jump rope review and learn how rope jumping helps you maintain a healthy lifestyle.
Introduction
Jumping ropes is not easy and requires practice. It also largely depends upon the type of ropes you are using. How many of us actually pay attention to details such as length, weight, and material while shopping for jumping ropes? We buy any rope only to realize later that we are not comfortable while doing jump reps. A jump rope comes in different lengths and weights. You've to choose a jump rope that suits your height and weight.
In this Crossrope jump rope review, we are scrutinizing jump rope sets and accessories by Crossrope. We'll review its features such as quick-change handles, different weight jump rope sets, and their free app that's the hub of a simple exercise program and rope skipping tutorials.
About Crossrope
Crossrope strives to add more fun and energy to your cardio sessions with apt jump ropes. Yes, they manufacture durable jump ropes. But more than that, they aware everyone about the importance of including rope hops in their exercise routines. Crossrope tries to solve a few simple problems for people who prefer to burn calories by doing HIIT and other endurance training and cardio.
Problem #1: Sometimes the length and weight of the jump rope restrict you to jump more and faster. You might trip over as the rope physically interrupts your jump reps. Also, skipping ropes on concrete surfaces wears off the rope material. Crossrope provides durable jump ropes with good vinyl material.
Problem #2: Some jump ropes have handles that are attached to the end of the ropes. It restricts the smooth circular movement of jump ropes when you twist your wrist. Crossrope's jump ropes have specially designed handles with detachable clips and ball bearings cased in handle grips. They also offer a wide range of quick-change handles to make your jumping experience strain-free.
Problem #3: Jumping rope is a skill. There are multiple variations such as single foot hops, front and back hops, two-feet hops, jumping jack, crisscross, scissor split and more. Many of us are not able to do simple hops, let alone the variations. Crossrope has a free Crossrope Lite app that trains next-gen jumpers with jump rope skills. It also has fun challenges to invoke self-learning.
Crossrope Features That Make Them Unique
In this section, we'll talk about different types of jump ropes from Crossrope. Further, we'll drill down to the design and ease of use. Then, we'll shed some more light on the Crossrope Lite app and its features.
Types of Jump Ropes
Crossrope deals in majorly 3 kinds of jump ropes sets. The design of each rope set serves different kinds of exercisers.
The Get Fit (2020) jump rope set has a combination of light (¼ LB and ½ LB) and heavyweight ropes (1LB and 2 LB). With improved slim and power handles, these are designed to fit your HIIT workouts. With this jump rope set, you also get free access to the Crossrope Lite app.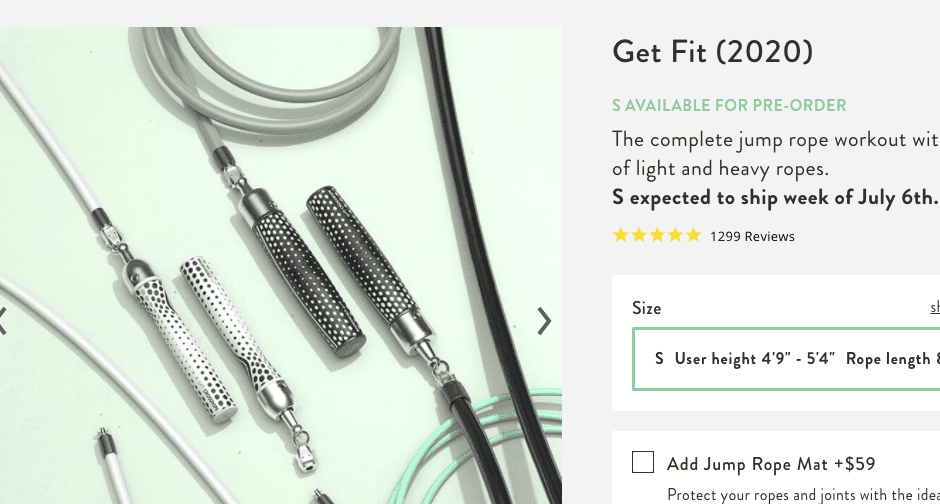 The Get Lean (2020) jump rope set is light compared to the Get Fit set. It is good to use if you are looking to burn fat, boost cardio, and build lean muscle. The set includes ¼ LB jump ropes to fit your HIIT workouts and ½ LB jump ropes for beginners to start advanced cardio. There's a carry pouch for you to easily carry your rope. With this jump rope set too, you get free access to the Crossrope Lite app.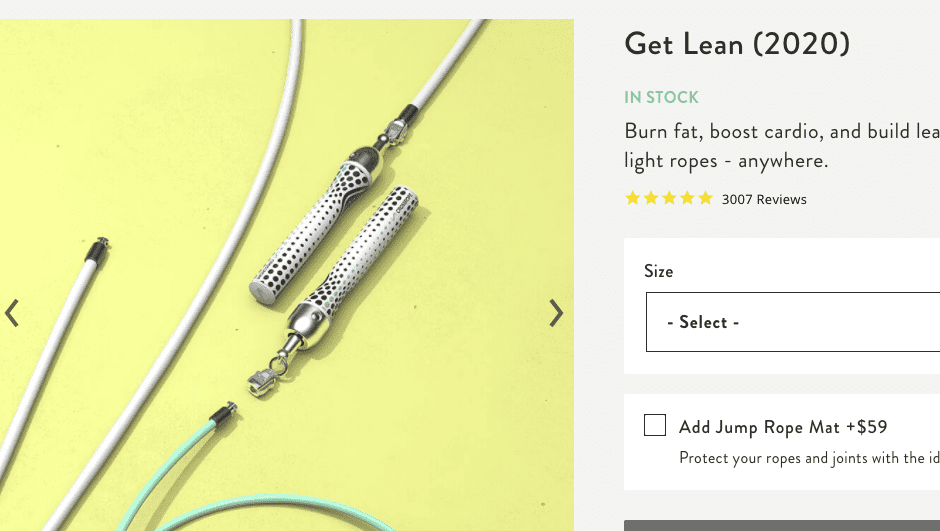 The Get Strong (2020) jump rope set has comparatively heavy ropes are designed to activate your muscles and build real strength. There are 2 ropes in this set weighted 1 LB and 2 LB for high-intensity strength workouts and cross-body workout sessions. There's free access to the Crossrope Lite app with this set of jump ropes too.
The ropes come in small, medium, large, and extra-large length specifications. Apart from the whole set, Crossrope also deals in selling jump rope accessories separately. You can choose from their online catalog of multiple weighted jump ropes, handles, clips, mats, and workout pouches and bags.
Design & Material
Crossrope never deals with unauthenticated products. They are into a business of selling unique jump ropes to suit the needs of a health enthusiast.
The jump ropes by Crossrope are of gym-quality and are durable
They follow a tangle-free rope design for smooth and uninterrupted hopping
Crossrope follows textured patterns and rubber-coated handles to prevent slipping
The curves in the handle ensure a tight grip and good thumb-point support
The ropes are made of twisted steel cables that prevent tangling
Crossrope uses color codes (green and white) to easily to identify ¼ LB and ½ LB weighted ropes
The metal caps on the handles have clips to quickly shift between different ropes
Pricing
It would be bad to say that Crossrope jump ropes are cheap. No, they are not. But the features they offer along with the free exercise app make Crossrope products worth buying.
Buy The Get Fit (2020) jump rope set costs $238
Or The Get Lean (2020) jump rope set costs $99.
Or The Get Strong (2020) jump rope set costs $139
All the deliveries are done online and the shipping is free. If you somehow receive damaged products or nothing you expected, you can return it within 60 days. Use our crossrope discount codes & get amazing offers!
The Crossrope Lite App (Jump Rope Training)
Let's further go in our crossrope jump rope review by checking out its mobile application.
The name of Crossrope's training app is "Jump Rope Training". It is available on both Google Play and Apple's App Store. The app is free to use and houses many training programs, routines, and challenges.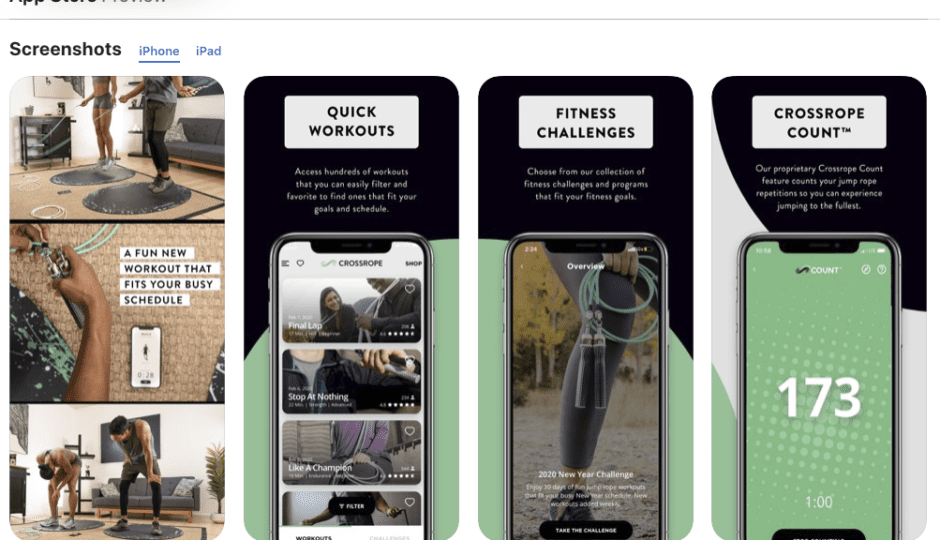 The idea is to impart rope jumping skills to their customers. Think about it, you get tired of doing just the two-feet hops. You feel like quitting it because it gets boring and there's no new variation. The Jump Rope Training app has useful tutorials and challenges to help you master the art of jumping ropes.
App Features:
Everyday workout sessions for cardio, weight loss, and strength
Monthly fitness challenges for you to set and achieve fitness goals
Guides and visual cues to become a good rope jumper
Activity tracking to help you follow your workout time, challenges, and calories burned. You can easily sync it with Apple Health app
A wide library of simple and comprehensive jump rope tutorials
Crossrope Pros
Jump rope sets designed for every type of training
Free mobile app to teach jump rope variations
Free shipping
60-day product return guarantee
Durable material
Crossrope Cons
Become a Skilled Jumper with Crossrope
Due to our busy schedules and stressful lifestyle, we skip a lot of healthy habits. The bottomline of this article is that you should find some time for yourself amidst all the chaos and focus on building a healthy body. Skipping ropes is a very underrated exercise which you can religiously follow to see transformation in you.
In this Crossrope jump rope review, we evaluated Crossrope jump ropes and its accessories along with other impactful features such as design, pricing, and the popular Crossrope Lite app. We strongly recommend using Crossrope products because they are designed to fit your healthy lifestyle. The wide range of products easily fit your workout sessions be it cardio, strength training or HIIT.
So, what are you waiting for? Go to Crossrope's website and order the equipment. Start your goals to live healthy and strong with Crossrope's help.