Ride1UP Review: The Best Value Electric Bikes in The Market
According to the American E-bike Market analysis, by 2030, it is expected that throughout America, twice as many e-bikes will be purchased as vehicles. You're probably reading this because you are in search of a smart, slim, powerful e-bike. So, here's the thing. It can be tedious to find an electric bike for your needs. And that ends now. We are reviewing one of our favorite e-bike brands: Ride1UP.
Why Ride1UP Over Other Ebike Sellers?
Ride1UP's founder Kevin Dugger started experimenting by building his electric bike. He found it to be life-changing, and couldn't find another sleek, smart and efficient bike on the market. And ended up selling on his own.
Ride1UP believes in quality and values the customer experience which makes it the most trustworthy e-bike brand in America. The e-bike market is competitive. With renewable energy processes taking over, people are choosing to stay away from carbon emissions from vehicles.
But with so many best e-bikes options in hand, it becomes difficult for a customer to choose.
Ride1UP is another E-bike seller in the market that boasts to have one of the best active supply chains, with quality control, high-end performance, usability, and affordability.
Ride1UP is all about making your ride better. While writing this review, we found that some of the best qualities the customers love about Ride1UP are their efficiency, unbeatable prices, friendly customer service, guaranteed warranty, and easy returns.
Ride1Up Ebikes Are Efficient
RideUP entered the industry only a few years ago but has already conquered the field by bridging in amazing trends and quality. The brand has managed to stand unique because of its efficiency. Not only are the models smart and sleek but they use even less energy than walking or traditional cycling.
Their concern for the environment and communities has made them surge rapidly in sales. With our experience, we are amazed to note that the motor stays longer than the usual e-bikes in the market.
Ride1UP Offers Unbeatable Prices
How do you think a young brand like Ride1UP would make a huge win in such a short amount of time?
Because they care for their customers. They delivered more than they got. Not only are their bikes efficient, but the team itself has also proven to provide the highest value at very affordable prices. Ride1UP has no physical presence yet it has one of the most powerful supply chains making every purchase online.
Money-back Guarantee & Free Shipping
Ride1UP needs you to know how their bikes work before you decide if it'll work for you. To support that, they offer a 30-day trial period.
Didn't like the bike? Return it by all means. No questions asked. You'll get your money back.
Still not convinced how Ride1UP manages to make $4 million revenue annually in just three years after release?
Wait. There's more.
Ride1UP Ebikes Come With 1 Year Warranty
Ride1UP makes sure that they get only happy customers. As long as you buy from their original website, you will be given a 1-year warranty for all the bikes. The company will take care of the expenses in case of any defects. They back up confidence in all their models. That impressed us.
Easy Customer Support
They know that online purchase is not easy. We, humans, hesitate to make a thousand-dollar purchase online, they covered that too. The purchase is made very simple and they assure that their customer service team has got your back in every step of your purchase.
Ride1UP Ebikes Review
Best Value Ride1UP Ebikes
In this Ride1Up review, we will explore each model, its prices, customer ratings, features, and much more. So, in the end, you will know which one to choose.
| | | |
| --- | --- | --- |
| Model | Best Known for | Rating |
| RoadsterV2 | Flat surfaces and urban commutes | 4.7 |
| Core-5 | Beginner-friendly | 4.8 |
| 500 Series | All-rounder e-bike | 4.8 |
| Cafe Cruiser | Comfort and style | 5.0 |
| 700 Series | High-end biking experience | 4.8 |
| LMT'D | Powerful and speed motor | 4.7 |
| Prodigy | Luxury e-bike | – |
Ride1Up Roadster V2 Review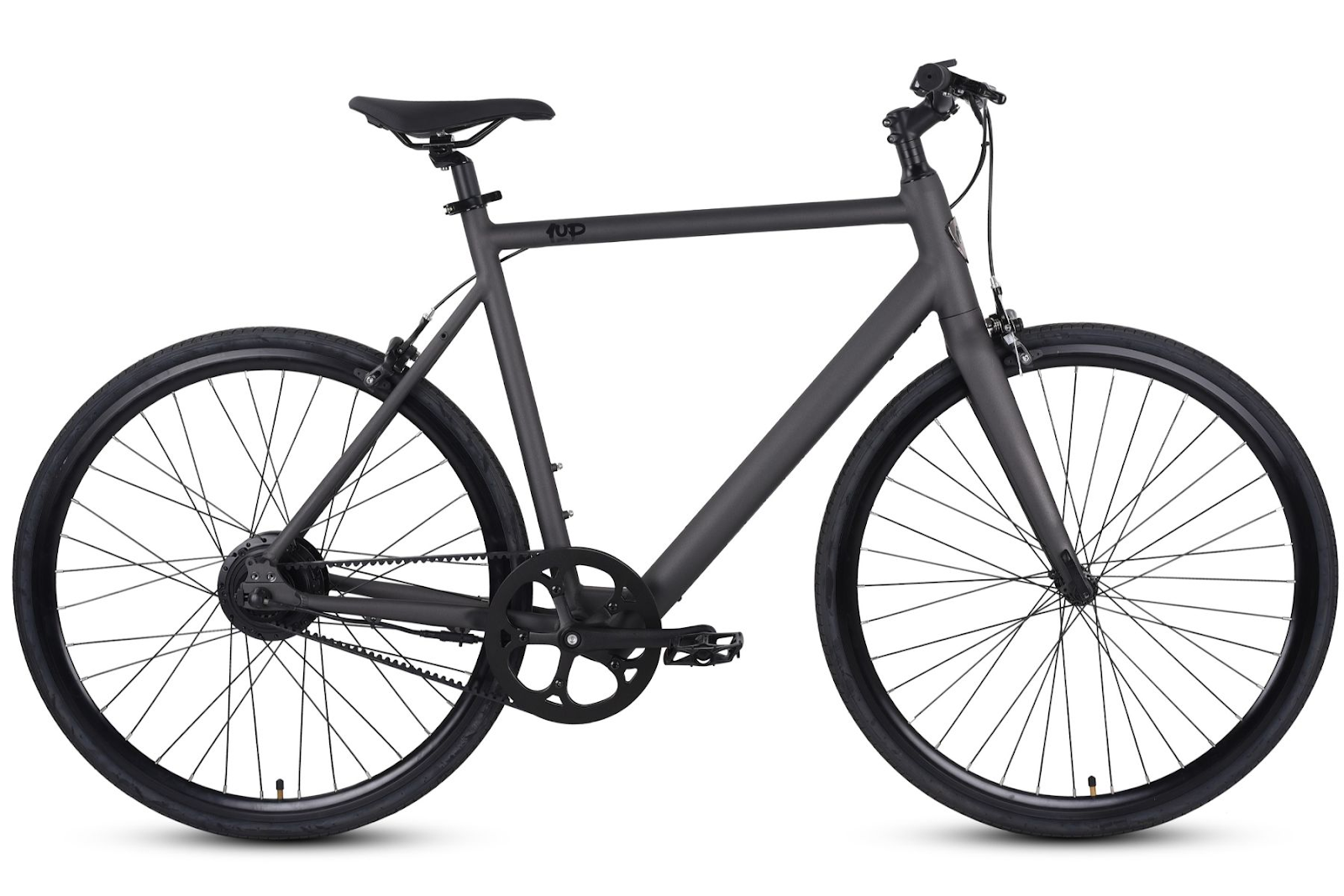 Ride1UP's newest and kickass RoadsterV2 is conquering people's hearts. If you want a bike with a super clean look, Roadster V2 is your mate. It's quiet yet powerful. Hands down this model don't even look like an e-bike. The brand has somehow managed to secure all the components inside making it sleek and super clean. Sounds like a treat?
Roadster V2 is known for smooth urban commutes and can serve best for daily use. The term maintenance doesn't exist for this bike as the chains are replaced by a carbon belt drive.
Price: $1,045
Features
Speed – Up to 24 mph
Motor – 350 Watts
Range – 20-30 miles
What's included?
LCD Digital display
Charger and cable
Road bike tires
Belt drive
Ride1Up Core-5 Review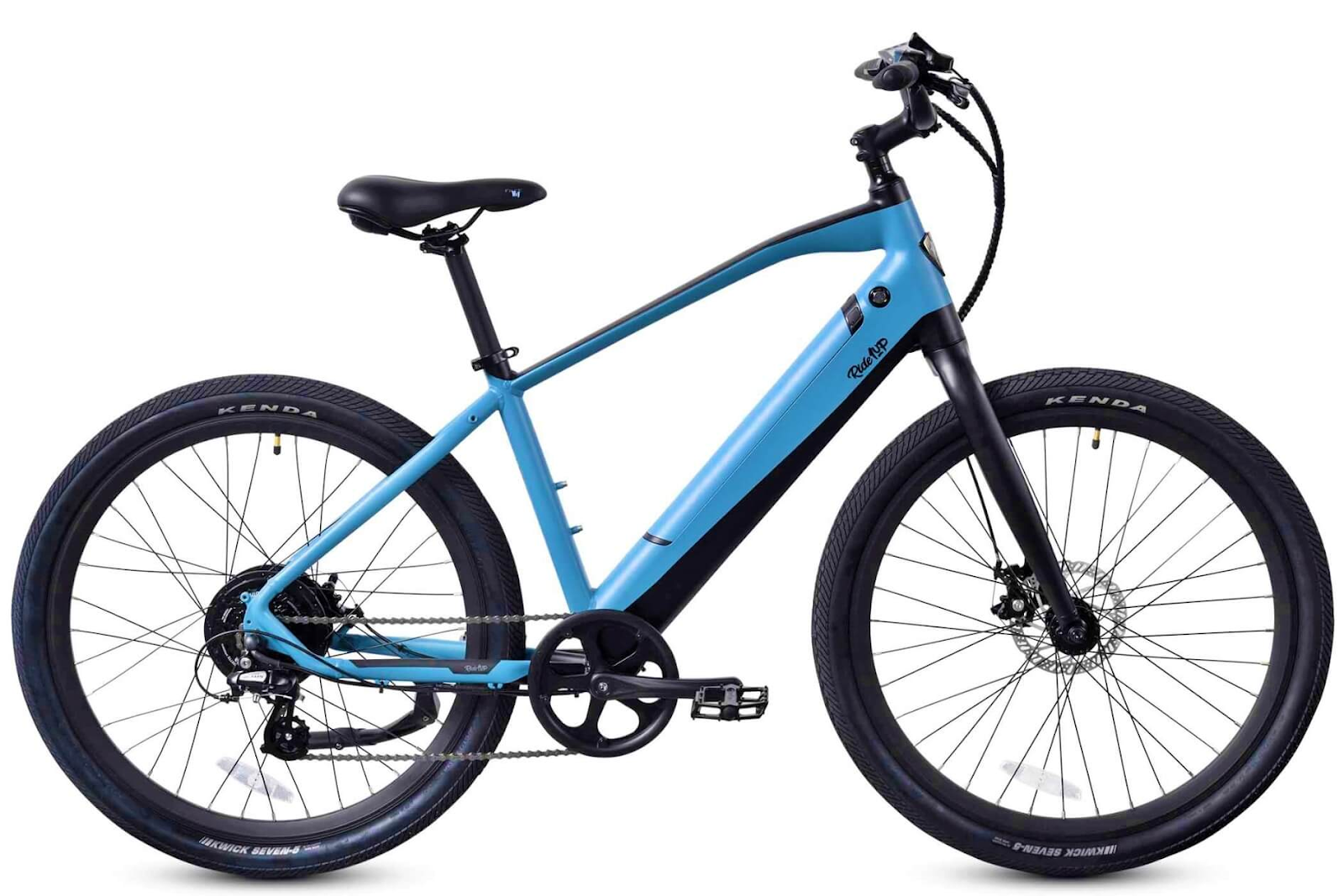 The best e-bike for beginners. Let's admit it. E-bikes are not something we've known for decades. And the transition can be tough. Ride 1UP Core-5 makes you feel safe and easy. If you're not a fan of heavy machines and wires, the cozy smart look of this e-bike is all you need.
Don't underestimate the efficiency as we say it's for beginners. When we were looking for customer reviews of Ride1UP e-bikes, we found the majority of the customers praising the Core-5 model to be the best all-rounder e-bike to ride on almost all terrains with pleasure.
If you want something that doesn't look heavy from the outside but performs for the pay, we recommend you pick this one.
Price: $1,045
Features
Speed – 28 mph pedal assist and 20 mph throttle
Motor – 750 Watt
Range- 20-40 miles
What's included?
Charger and cable
LCD digital display with Odometer
K – shield protection for tires
Heavy-duty kickstand
Ride1UP 500 Series Review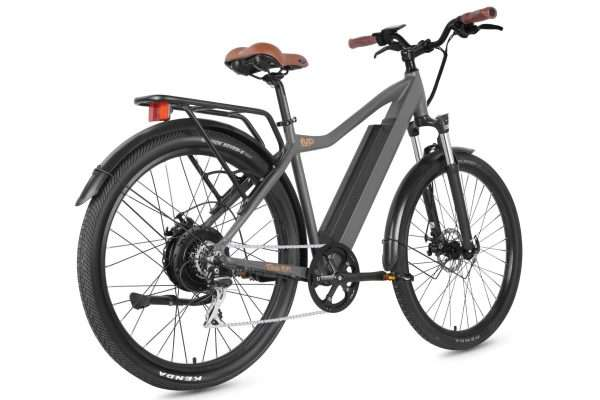 Let's meet the star of the brand. The first bestseller that skyrocketed Ride1UP's business and was the reason it all started.
Lightweight, easy paddling e-bike designed to travel long distances. It was recognized as the most popular e-bike in 2020. And Ride1UP hasn't stopped mesmerizing us. They have upgraded the tires, display, and gears making it the most versatile model in 2021.
What more are you expecting? Ride1UP 500 series is a treat if you are looking to maximize your experience with a minimum budget.
Price: $1,495
Features
Speed – Up to 28 mph
Motor – 750 Watts
Range – 24-45 miles
What's included?
Integrated LED headlight
48V2A Charger
LCD digital display
All-terrain e-bike tires
Heavy-duty kickstand
Ride1Up Cafe Cruiser Review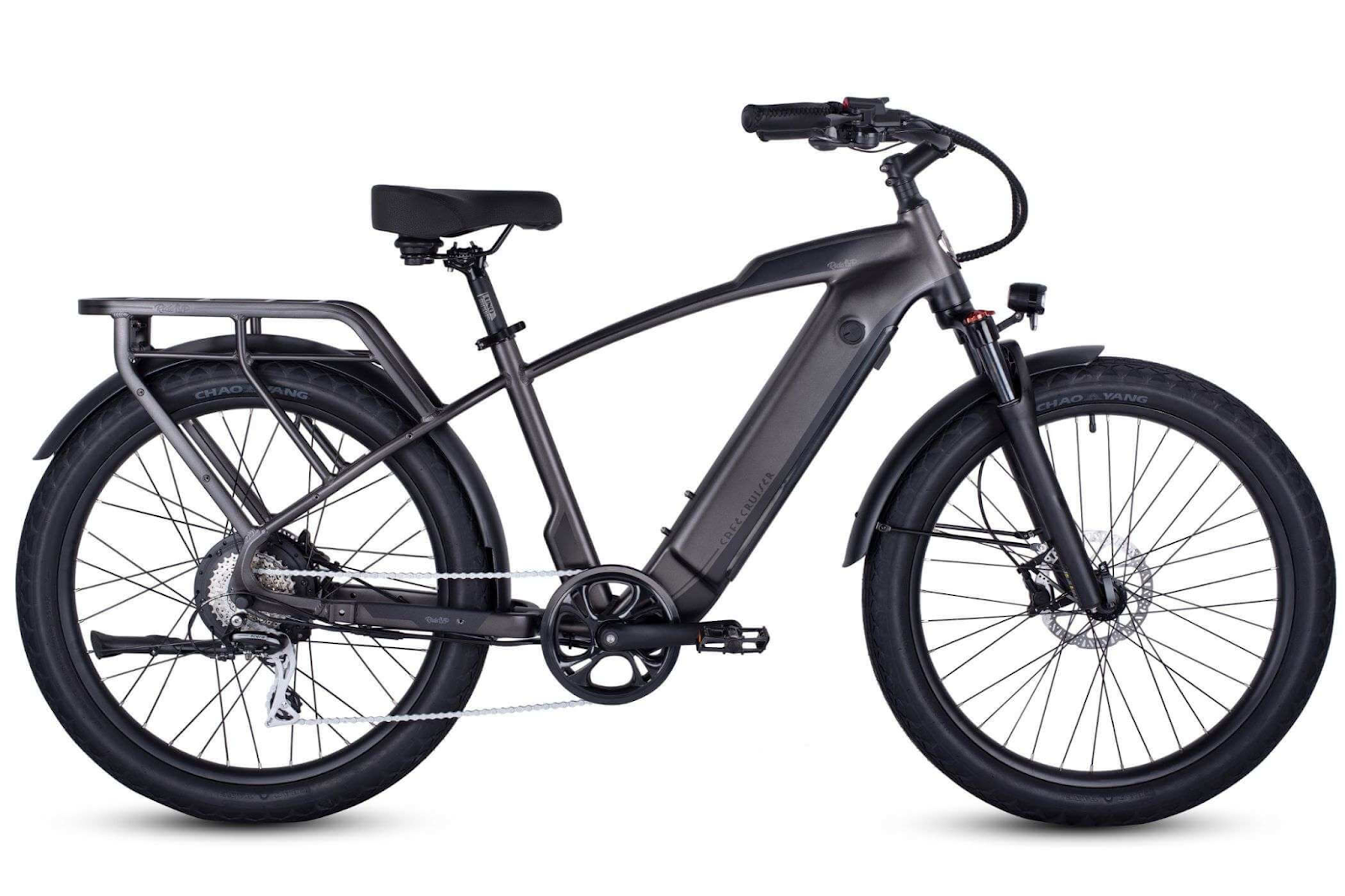 Ride1UP works based on its customer's suggestions. Cafe Cruiser is the first hybrid e-bike from Ride1UP that allows a second passenger a seat. This versatility to accommodate two passengers also comes boasting a heavy-duty kickstand.
Customers have loved this upgrade because of its cool design and comfy seats. Ride1UP's attention to detail is exceptional. The design and components are simple and easy to assemble when the package arrives. Cafe Cruiser is one of our most loved models of Ride1UP which makes it the celebrity of this review.
Price: $1,595
Features
Speed – 20 mph pedal assist and 20 mph throttle
Motor – 750 Watts
Range – 30-50 miles
What's included?
Integrated LED headlight and taillight, operated from the display.
Charger and Cable
Sandstorm e-bike tires
LCD display
Heavy-duty kickstand
Ride1UP 700 Series Review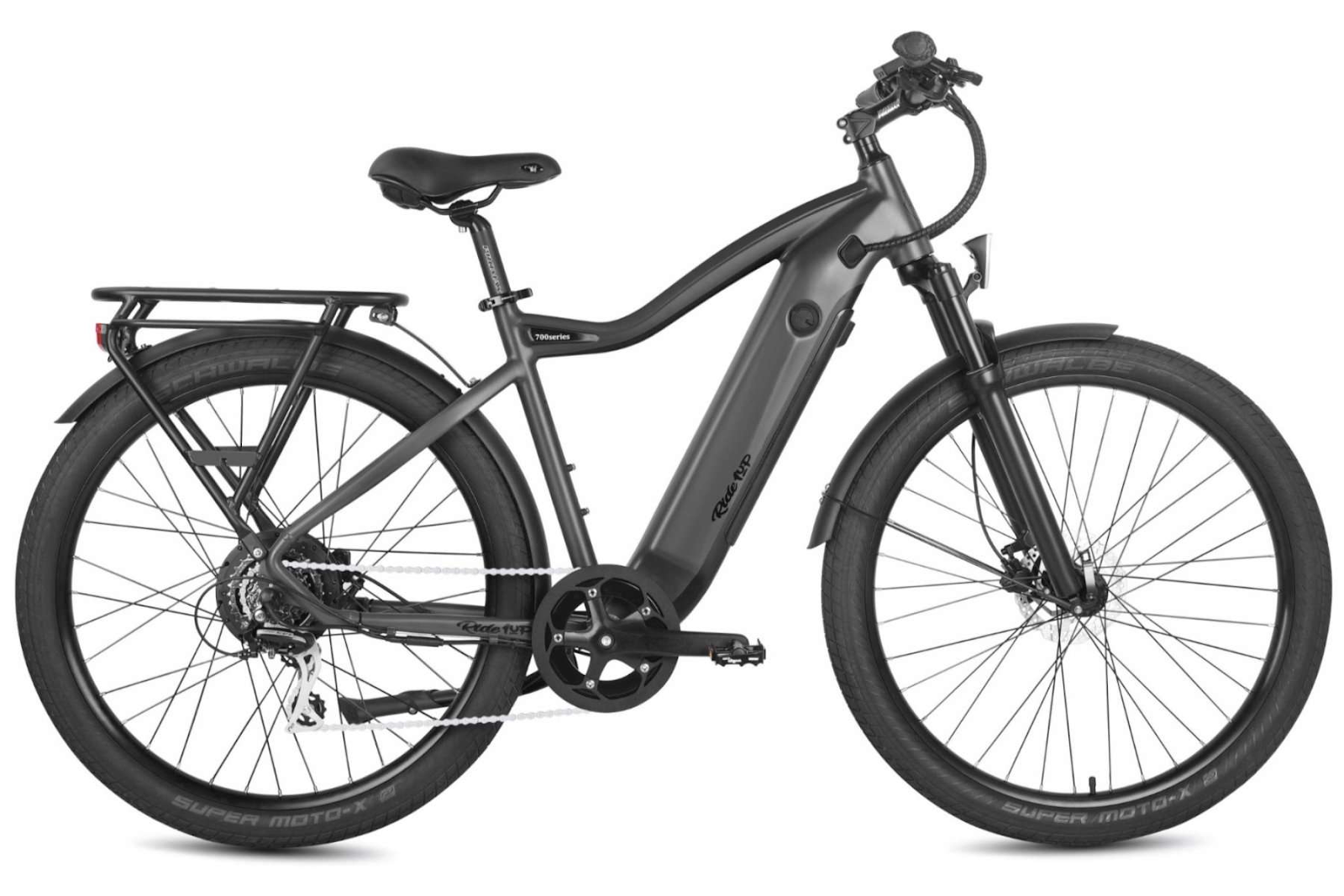 One for all. This bike reminds us of this phrase. The best all-rounder bike you can get for the price. Ride1UP 700 Series is the wild up-gradation of the 500 series. It is the best choice for those who are looking for a true car replacement and ride on all terrains.
The most valued quality of Ride1UP is that they value the comfort of their customers. Assembly of parts can be a daunting one. Ride1UP provides adequate support to cover it for you.
Price: $1,695
Features
Speed – 28 mph pedal assist 20 mph throttle
Motor – 750 Watts
Range – 30-50 miles
What's included?
LCD TFT Display
Schwalbe tires
Integrated headlight and taillight
Ride1Up LMT'D Review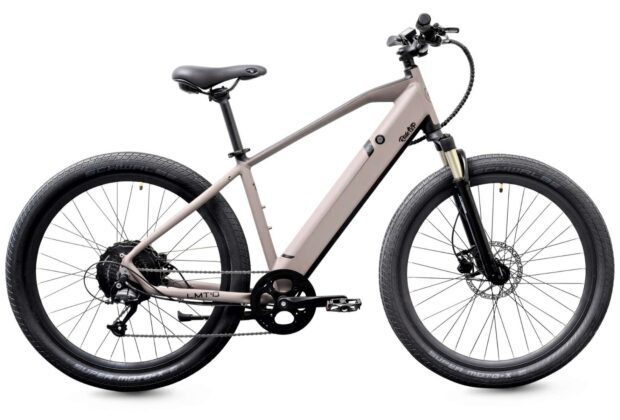 If all you think about is taking a leap and getting an e-bike having power that overrides other models, the Ride1UP LMT'D e-bike would be a badass option. This e-bike boasts to be the most powerful Ride1UP model by far.
Don't underestimate the design when we talk about its power. This is by far the most lightweight model with numerous hidden qualities. Sounds like a surprise, right?
Despite how wild you get with this bike, the soft spot never fails to impress us. Maximum speed, maximum power, high acceleration, easy assembly, lightweight and it has got all. The higher-end motor makes it unique from other models. If you don't mind trading little extra cash for unbelievable power and speed, you can go for this option.
Price: $1,795
Features
Speed – 28 mph pedal assist and 20 mph throttle
Motor – 70 Watts
Range – 30-50 miles
What's included?
Schwalbe Super Moto-X tires
LCD TFT Display
Heavy-duty kickstand
Charger and cable
Ride1UP Prodigy Review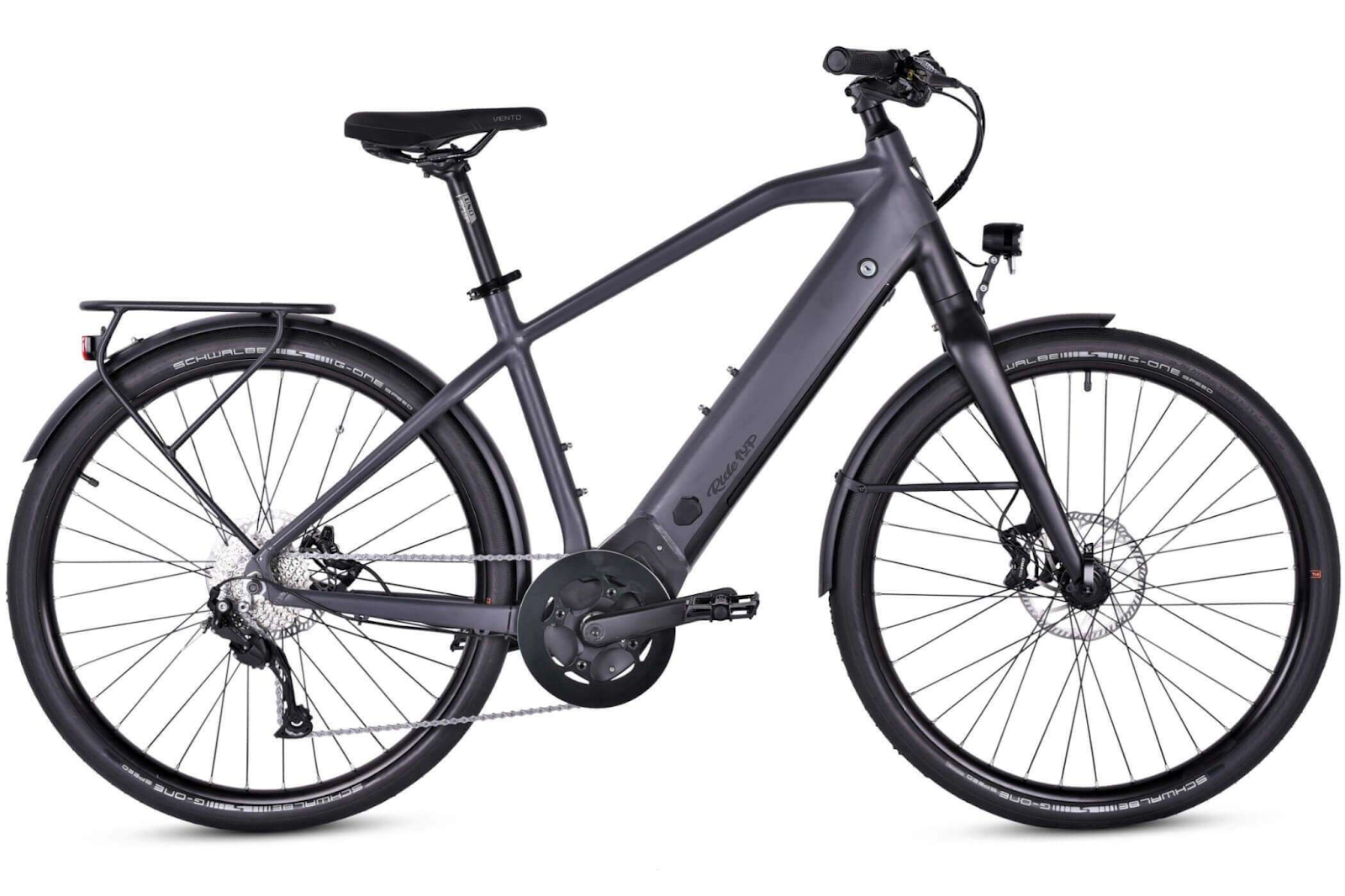 Ride1UP Prodigy is the celebrity model of the brand. They are so popular that these e-bikes remain unavailable most of the time. They sell out soon. You better hurry up if you are looking for a luxurious ride without the burden of a high price tag.
If budget is not a concern but you value luxury, comfort, and prestige, we highly recommend you pick this bike without a second thought.
With medium power and beautiful design, Ride1UP's Prodigy could be an all-in-one pick.
Price: $2,295
Features
Speed – Up to 28mph
Motor – mid-drive motor with 90nm torque
Range – 30-50 miles
What's included?
Super bright integrated 80 lux headlight and taillight
Charger and Cable, automatic charging shut-off
Maxxis Refuse tires, e-bike touring tires for high-performance
Ride1UP Ebikes Size Chart
| | | | |
| --- | --- | --- | --- |
| # | Model | Large | Small |
| 1 | Roadster v2 | 5'7"-6'2" | 5'3"-5'8" |
| 2 | Core-5 | 5'6"-7'4" | 5'0"-6'1″ |
| 3 | 500 Series | 5'6"-6'4" | 5'1"-6'2" |
| 4 | Cafe Cruiser | 5'5″-6'4″ | 5'1"-6'2" |
| 5 | 700 Series | 5'5"-6'4" | 5'0"-6'2" |
| 6 | LMT'D | 5'6"-6'4" | 5'1"-6'2" |
| 7 | Prodigy | 5'6"-6'4" | 5'1"-6'2" |
Frequently Asked Questions
Can I test ride the bike?
In some cases, Yes. But you'll have to pay a premium fee to test drive from the dealers. Ride1UP always offers a 30-day trial period with a 100% money-back guarantee.
Are these bikes waterproof?
The bikes can handle water as they are moisture-resistant, but it is advised not to ride during rain and other hazardous climate conditions.
Ride1UP is definitely worth the buy as they supply one of the most efficient, smart, and durable e-bikes.
Yes. The battery usually lasts longer. If required, they also have varied options of accessories to explore.
Is Ride1Up a good company?
Yes. Ride1UP is a very good company. They are known to provide efficient e-bikes with very little margin making them highly affordable.
Ride1UP's product warehouse is located in Sparks, Nevada but they are based in San Diego, California.
Which is the fastest E-bike from Ride1Up?
LMT'D is the fastest e-bike from Ride1UP with higher-end components and a slightly more powerful 100nm geared motor for faster acceleration.
Which Ride1UP e-bike is best for beginners?
Ride1UP's Core-5 and the 500 Series are best for beginners. However, we recommend that you go through the detailed review of each Ride1UP e-bike model in the article above and decide to keep your expectations and budget in mind.