Elementor Review: The Best Website Builder Tool For WordPress
Website designing is not alien to people these days and you don't need to be a high-level coder or developer in order to build a stunning online portfolio for yourself or your business. With the WordPress CMS, it is easier for people to create a website without any knowledge in coding. In this Elementor review, we'll focus on its features, pros, cons, and how to install it.
Elementor, a very useful WordPress plugin. We understand you are new and don't know much about it. So, here is a comprehensive Elementor review that will help you better understand what this plugin is all about and whether or not you should be using it. We have even made a detailed guide on how to speed up your Elementor website feel free to check it out.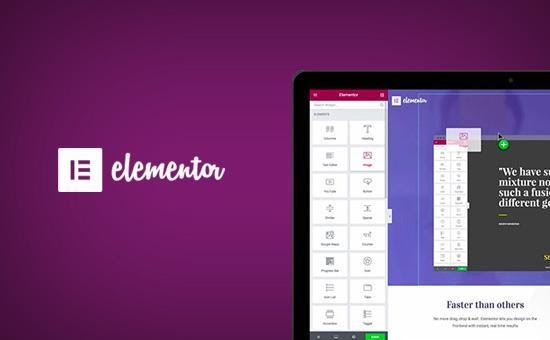 What Is Elementor?
Elementor is one of the most useful WordPress plugins that you should use if you don't want to hire a developer and designer for your website. It is the ultimate WordPress page builder that offers a lot of features even on the free version. It lets people create engaging and beautiful websites and webpages in the easiest possible way.
The Elementor plugin is known for its convenience of usage as it allows the users to customize the appearance of the website live. All the new changes that you make will be visible in one window.
The free version of the Elementor page builder is very comprehensive. However, you can also opt for premium packages – Personal, Plus, and Expert, which will unlock more features and customizations.
Elementor Features
So, let's take a look at the features of Elementor for WordPress and how significant they can be for your website building process.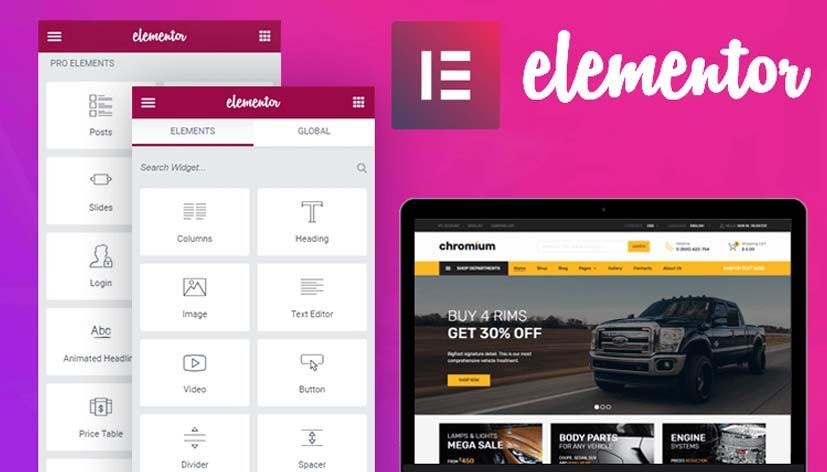 Page Builder
Unlike the website customization that every theme has by default, you can build every web page individually with the Elementor free version. This makes it very easy for you to create hassle-free custom landing pages.
We did use the free version of this page builder before moving on to the premium version and we can tell you with certainty, it was worth it. Here are some highlights from our experience:
Allows making custom page layouts
Allows you to add multiple widgets, be it for texts, images, logos or buttons
Can be used to make multiple pages
Having quoted the free version, the pro version offers many more features. Available in three packages – Personal, Plus, and Expert, the number of features is the same among all. Wondering how they differ? Take a look.
Social Sharing
Besides just being a comprehensive page builder, Elementor also offers a lot of social sharing buttons. The small and unattractive icons from the default WordPress page builder might not entice a lot of visitors to share your content with others. However, the custom icons that Elementor offers will surely make a difference.
Moreover, you can even add your own buttons if you don't like the default. All you would need is a PNG image of the icon with transparent background for best results.
Block Editing
The block editor in Elementor makes it very easy for you to design or customize your website. You don't need a single line of code. If you want to add a text or image block, just drag and drop the option from the feature gallery. This is the same for testimonials, separators and buttons too.
Moreover, it even makes embedding videos from third-party apps extremely seamless.
Front-end Editing
One of the many things we loved about the Elementor page builder is its front-end editing feature. It allows you to design the website live, all the changes that you make and all the blocks you add are displayed right in front of you.
Gallery of Templates
Elementor offers a massive gallery of templates. What's more interesting is the fact that you can create custom pages for all the pages of your website individually, unlike the default WordPress editor. So, go ahead, design all the pages of your website, individually!
The pro version of the Elementor page builder boasts on more features and is much more comprehensive. Wondering how the basic and pro versions differ? Take a look.
Elementor Pro Features
Direct front-end designing tools
Block builders (zero coding)
Template-based design
WooCommerce
Popup builder
Free support for a year
Scalability
Personal is available for 1 website
Plus is available for 3 websites
Expert is available for 1000 websites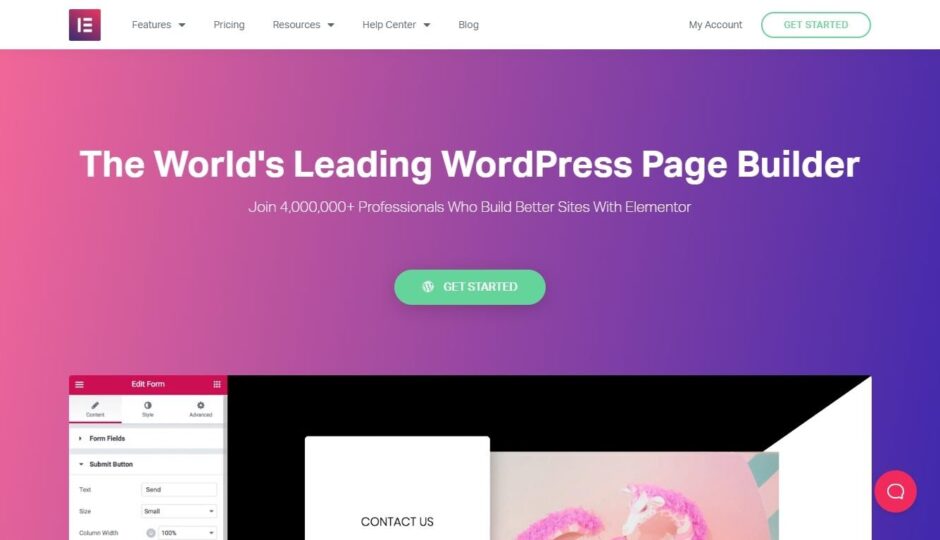 Elementor Templates & Themes
You get templates for every business-related website, be it for hotels, restaurants, agency, educational, e-commerce, etc on the website. What's even better is the fact that you get landing pages too, which means you can run promotions, especially deals or one-off information for your visitors with a customized page.
Here is an example we can give you. You run a restaurant and want to attract more customers in Christmas week by offering discounts on dine-in or take-away. You can make a one-off landing page with the information of the offer on the Christmas Gift Shop landing page template (Elementor has this specific template).
Post this, you can promote the landing page to people so that they know about your offer and visit you. Isn't that a great way to attract more customers?
Once you have upgraded to the Elementor pro version, you will get great customizability with all the themes you get on WordPress. However, we understand it is quite impossible to take a look at all of them to choose which one is best for your website/blog/e-commerce.
But don't worry, as we have brought this Elementor Pro review to make things easier for you, we will also tell you about the best and most popular themes. Read on!
Top Themes For Elementor
Website owners and bloggers can use the large collection of Elementor themes to ensure a more professional design. Though the basic free version gets a few templates, the pro plans unlock a wide gallery of them.
OceanWP
For long, OceanWP has been one of the best Elementor WordPress themes and is the same in 2020. It is a great pair to go with Elementor and has a lot of premium extensions on its premium version. Plus, it has a very good load speed support with WooCommerce, making it a great option for e-commerce.
Astra
Astra is one of the most popular WordPress themes and a lot of new bloggers prefer it to have a decent web page layout. However, its pair with the pro version of the Elementor plugin makes for the best WordPress builder combination.
Atmosphere Pro
Designed by Genesis Framework, Atmosphere Pro is probably one of the best combos for addons for Elementor. It supports the drag-and-drop feature of the website builder smoothly and is great for WooCommerce too.
Pros
Every product, be it tangible or intangible, has its own set of pros and cons. However, we did find Elementor to be more useful than not and the number of positives has been greater. Take a look at how we summarize the pros and cons of the website builder.
Is available at a nominal price
Offers many templates too
Supports WooCommerce for online stores
Highly customizable
Cons
A few of customization blocks are bland and uninteresting
No lifetime package available
But yes, we personally feel Elementor for WordPress should have offered support for more than one website even on the basic plan. The themes and widgets are so intrusive that it will make creating a blogging network very easy.
How To Use Elementor?
Using an Elementor is not difficult at all. As far as we have experienced, even a first-time user won't face any difficulties installing the plugin or working on it. Let's continue to the step-by-step guide.
Install The Plugin
Install and activate the Elementor plugin from your WordPress backend. Then, you'll notice that the list of plugins show two installations – Elementor and Essential Addons for Elementor.

Open Elementor
Open the Elementor option that you might now see on the menu sidebar. You will get the option to upgrade to the pro version from this option itself.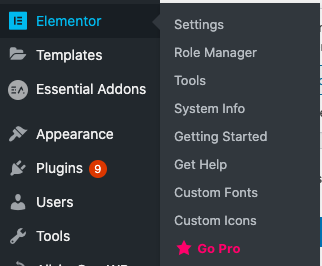 Buy Your Package
Choose the upgrade package, you will be redirected to the upgrade page (you can buy directly from the link on this website too)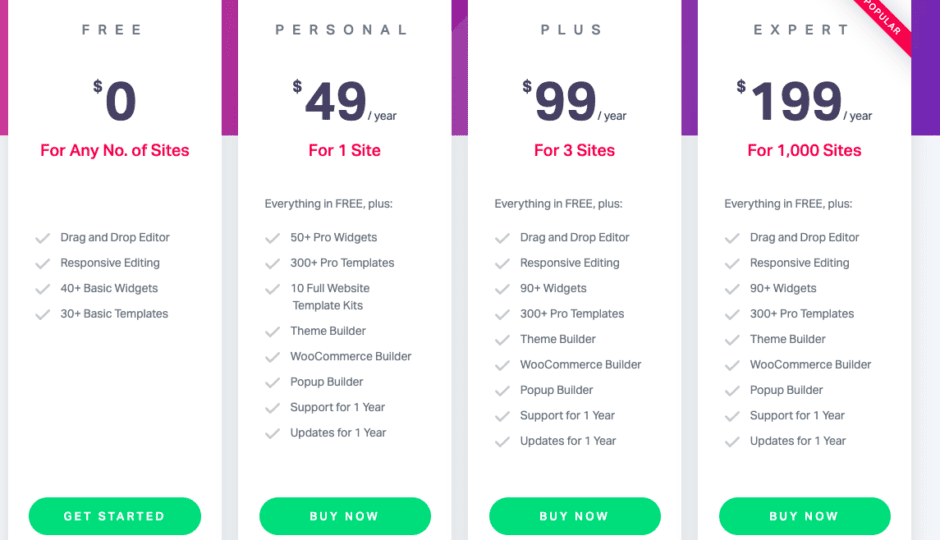 Use Features & Widgets
After you have made the purchase, you will have access to all the features that the Elementor plugin offers.
You can create pages with the webpage designer or customize the existing pages with it
Create new pages and click on "Edit with Elementor" option, you will be redirected to a new page where you will have all the widgets on one side of the screen and live changes on the other side.

However, you have to remember one thing. Once you have customized a page with the essential addons for Elementor, opening or redesigning it with the standard editor might break the format.
Customization Options on Elementor Pro Version
Elementor offers quite a lot of customization features and you won't need anything else to create stunning web pages. Here are some of the widgets/features that we think will be most useful for you.
Adding headers: Elementor allows you to add headers within your pages.
Images: You can create image boxes and fit images of your choice to make the webpage look more engaging.
Text editors: If you need a text block, just fit one in with the Text editor option.
Buttons: "Call us", "Get in touch", etc., are very useful buttons for any website. You can add them to Elementor.
Divider and spacer: Easily separate two sections of a single webpage with this tool.
Google Maps: Yes, you can insert Google Map widget with Elementor.
Gallery: Adding image galleries is easy with the Elementor tool.
Countdown: Countdowns can be an interesting addition if you have an upcoming event lined up for the visitors.
WooCommerce: You can add a host of features from the WooCommerce widgets on the Elementor editor.
Elementor Pricing
If you are looking for a comprehensive webpage builder, look no further Elementor free version. Post the installation, you can even upgrade to a higher plan.
The Personal plan of Elementor pro version is available for $49 a year
The Plus plan is available for $99 a year
The Expert plan is available for $199 a year
Should You Upgrade To Pro Version?
Now, if you are wondering that the Elementor free version is comprehensive already and is perfect for a start, and might not need a premium version, consider reading further.
Without a doubt, the basic version is enough for a new blogger whose aim is to just share his/her knowledge and experiences (like traveling) with the world. However, things start to be a little more demanding once you have a decent audience size.
Let's put it this way – if we review one product a week on this website and have an audience size (estimated page views) of 5,000 a month, we would be happy with the basic version of Elementor for WordPress.
But we aim for a lot more than that. And while we look to expand our reach to tap into a bigger audience group, we do need to keep the user experience in check. In other words, our website should be designed in a way so as to attract people to come to visit this website.
This is where the pro version comes into the picture. There are several add ons for Elementor that are only available with the pro plans and you need them to absolutely nail your website designing.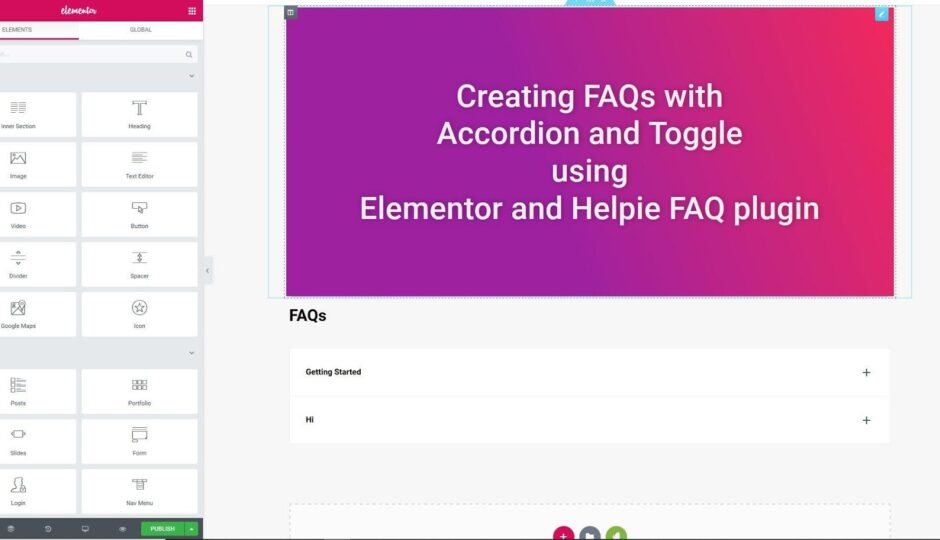 Here are some reasons why you should be opting for the pro version over the basic free version.
Unlocks all the premium addons for Elementor that could be helpful in stunning page design. You can get them at low prices with our addons for elementor discount codes.
Offers over 300 templates that are available for the pro version only
Unlocks over 50 new widgets that you don't get on the free version
Enables WooCommerce design, which is a boon if you want an e-commerce platform
Free upgrades and support for a year
Final Words on Our Elementor Review
We have designed quite a few websites using Elementor to ensure we get a complete drift of every feature it offers. As for the interface, we would rate it with a 5-star only because it is one of the easiest to use a WordPress plugin. We have a collection of some must-have free WordPress plugins that you can use in your website.
And, as far as, the Elementor Pro review is concerned, we don't think there are any features you might miss, it offers all. Plus, the pricing is not pocket-pinching too as you get a subscription for an entire year at just $49.
And the best part is, your website will not look like it has been designed by a layman if you use the Elementor website builder. Finally, we suggest you to trust our instincts as we won't let you down.
FAQs
1. How to use Elementor in WordPress?
Using the Elementor is very easy. You just need to install the plugin and upgrade to the premium package. Next up, just edit any page with Elementor and will get all the widgets spoon-fed.
2. What is the maximum image size for Elementor?
It is always a great idea to use high-resolution images with Elementor. However, having too many high-resolution images might slow the website. So, try to keep the image resolution down to 2048 px or below.
3. How to add a new font to Elementor?
You can manage the fonts within the Text widget on the Elementor editor.
4. How to convert WordPress editor to Elementor?
You can convert all the existing WordPress pages with the Elementor editor by simply clicking on the "Edit with Elementor" option. However, please ensure that you don't edit the page with the default editor anymore.
5. Why can't I edit categories with Elementor?
You have to create new sections with Elementor in the Library section. However, this will require you to work on the theme editor of the template. So, if you are new to web designing, please refrain from doing so.
6. How to make a website mobile-friendly in Elementor?
All the theme templates on Elementor are mobile-friendly. However, if you want to make the website more engaging on the small platform, try and customize it keeping the small devices in mind.
7. How to create a footer in Elementor?
You can create a menu and text blocks on the footer too. Just drag the blocks to the part where you place it.
8. How do I add a section in Elementor?
There are many widgets available, like text, image, buttons, Google Maps, social icons, etc. Just drag and place them on the canvas. However, it is a nice idea to separate sections with a divider.
9. Does Elementor slow down your site?
No, this is not the case. In fact, since Elementor makes the web pages more user-friendly, readers will prefer your website over poorly designed ones.
10. Is Elementor easy to use?
Extremely! It is made by keeping all the new and inexperienced website owners in mind. In this Elementor review, we've tried our best to comprehensively explain its ease of use.
11. Why is Elementor best?
Elementor is the best because the developer claims so. But if you still don't buy the fact, we will vouch for it to be user-friendly and amazing. Hence, you can take a look at all the user reviews too.