Tailwind Review: Go Data-Driven For Great Visual Content Strategies
Instagram turns 10 in 2020. In a decade, Instagram has earned over 1 billion active users and is the 2nd most downloaded free app in Apple's App Store. There is also a prediction that 75.3% of U.S. businesses will use Instagram in 2020. In this Tailwind Review, we are going to tell you features, pricing and how to use the tool.
Small businesses and marketers always depend on social media to get good traffic to their website and products page. Marketing strategies always align with automation and scheduling social media posts. In this article, we'll review Tailwind app, a niche Instagram scheduler, for its features and how it can help businesses drive traffic from Instagram. Check out our exclusive tailwind coupon codes for amazing offers.
What Is Tailwind?
Although sharing your content on social media is very important, it is also a tiresome task. You cannot sit every hour to share a new post keeping aside all other important tasks such as content creation. Automatic post scheduling software and services help a lot here.
Tailwind is a tool designed for bloggers, marketers and small businesses to schedule posts and derive insights from Instagram and Pinterest engagements. Tailwind helps you with:
Quickly uploading images on Instagram
Tracking social media engagement
Meet new users through Tailwind Tribe – a Tailwind user community
On average Tailwind members get 1.8x more likes on Instagram & 6.9x more Repins on Pinterest!

~ Tailwind
So, let's dive in the tailwid review. Let us explore the tool and check out how to use it.
How To Use Tailwind?
Tailwind puts a great emphasis on keeping its user interface clean. The comprehensive Tailwind UI helps users navigate through multiple options such as scheduling, tracking, account settings etc.
We used Tailwind for free to get an inside view of the dashboard. We'll walk you through all the sections in the tool one by one.
Create Tailwind Account
This one's easy like any other account set up process. Use your Instagram username and password to create a Tailwind account. Once your account is created, you'll get a welcome message like the one below. You are all set for the automated posting for your instagram account.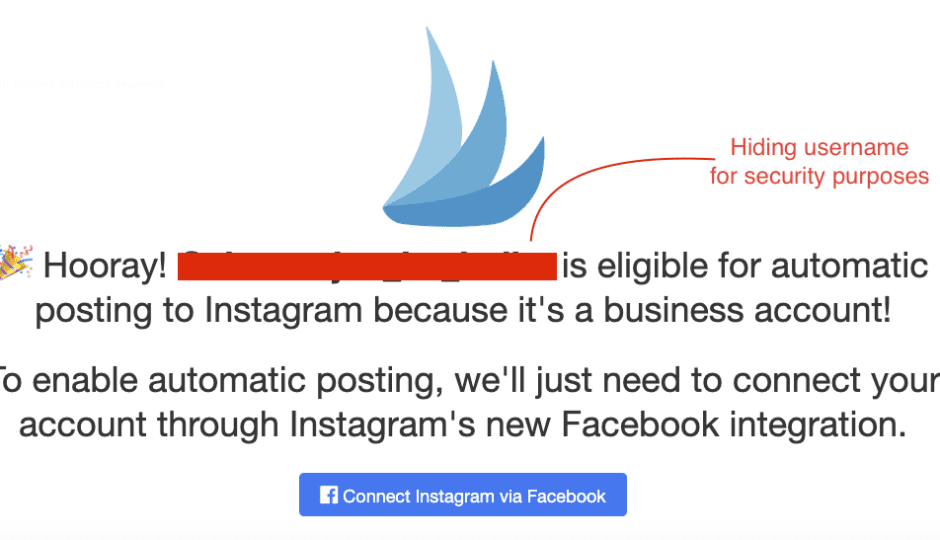 Complete Your Tailwind Account
Details about your profession is by far the most important thing for Tailwind to know. This helps the service providers to give you a personalized experience.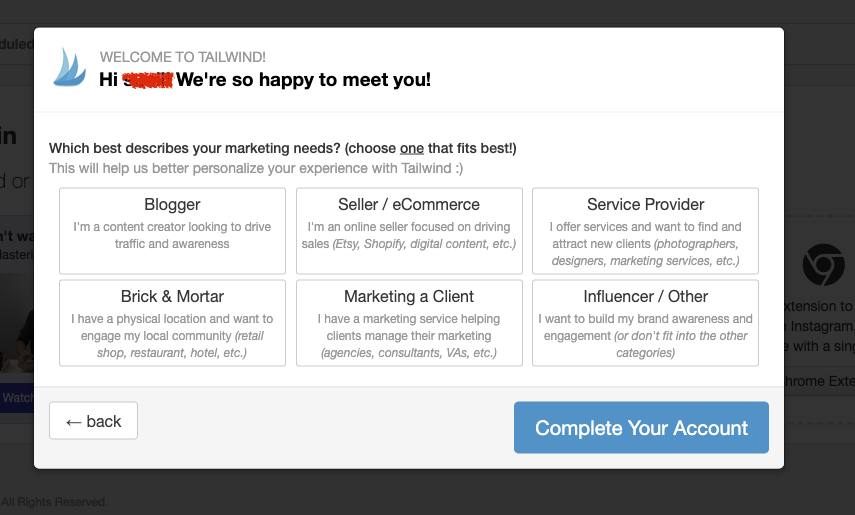 Explore The Dashboard
Tailwind dashboards have minimum options to enable simple navigation. As you can see in the image below, the left sidebar has options to check out the publisher dashboard and insights dashboard. We'll talk more about the insights and scheduling from Tailwind below in the features section.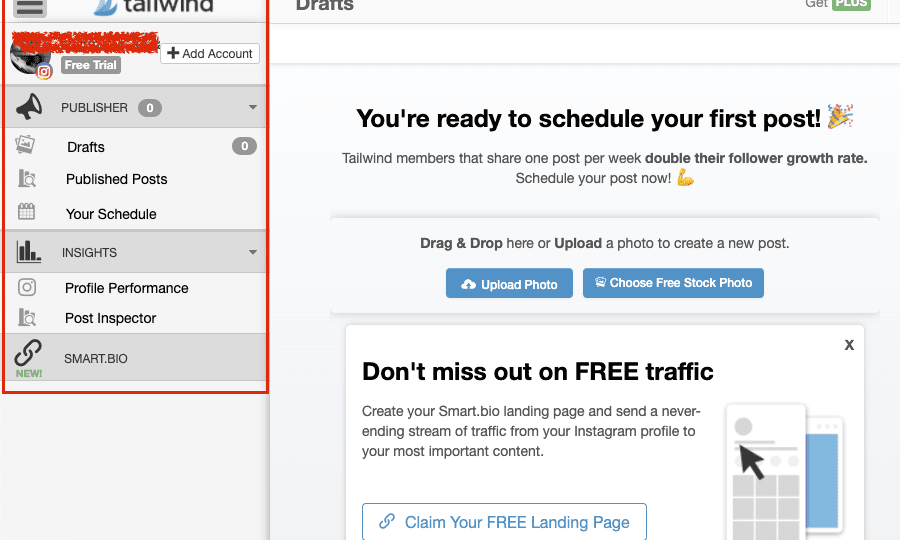 Choose Your Device
Once you are done setting up your account, Tailwind will ask you to register your mobile device. It enables automatic posting on your Instagram account without giving you any notifications. It relieves a lot of pressure of manual scheduling. This is only for scheduling from Instagram business accounts.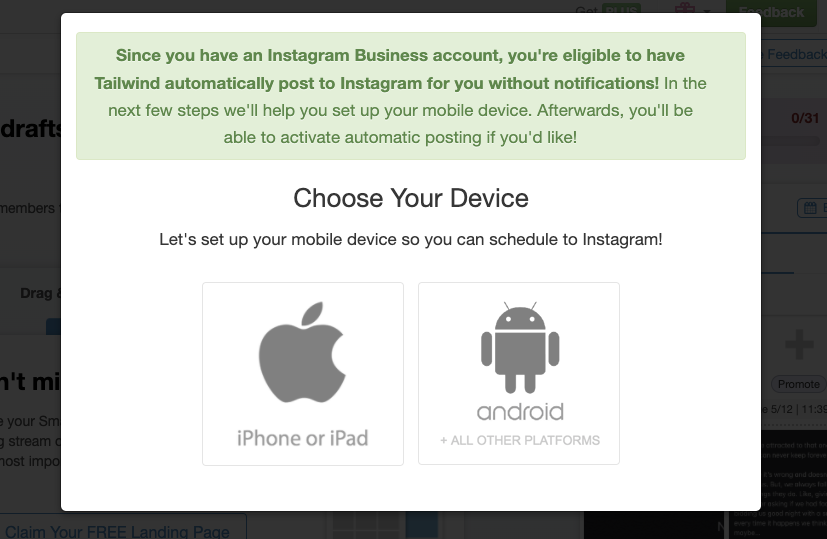 Let us get into more in the tailwind review. Let's Check out the most important features.
Tailwind Features
Tailwind is not like any other social media scheduling tool. It is specifically designed for Pinterest and Instagram. Right from scheduling to realizing what's working for your posts, Tailwind binds the users into an automated and data-driven journey. Let's check out some of the premium tailwind features.
Tailwind Publisher & Scheduler
Tailwind is curated to create an optimal scheduling calendar according to your needs. The editorial calendar has a simple drag and drop mechanism. You can schedule your posts based on your audience engagement and traffic. With a simple Chrome, Firefox, or Safari extension you can schedule bulk content. The automated scheduling calendar ensures that your posts are reaching a wider audience.
Data, Insights & Actions
No business and marketer will go big in getting traffic without analyzing their social media data. Tailwind offers an insights dashboard that helps you understand the performance of your posts in the past. It tracks multiple metrics such as engagement rate, traffic to website, referral traffic, and followers. With a simple analysis you can take actionable decisions about your next social media strategy.
Optimized Content Strategy
Tailwind offers content recommendations. It's a cool feature for you to try out. Identify new content strategies and see what works fine for your business. You can understand what's the best time for you to post. This way you can get the highest engagement on your content. With simple filters you can categorize your posts by category, hashtags, keywords and more. This would help you to spot the drivers of the virality of your post.
RoI
Tailwind allows you to run campaigns for your marketing efforts. We cannot judge a strategy based on the metrics of one piece of content. Whole campaign metrics gives an overall idea of what's working and what's not. Marketers can make smart decisions and get their return on investments by identifying high performing campaigns.
Tailwind Pricing
Tailwind comes for Pinterest and Instagram. In the free trial of Tailwind you can schedule up to 100 posts on Pinterest and 30 posts on Instagram. The app allows you to explore all its features. Tailwind's paid version comes in two plans – monthly and annual.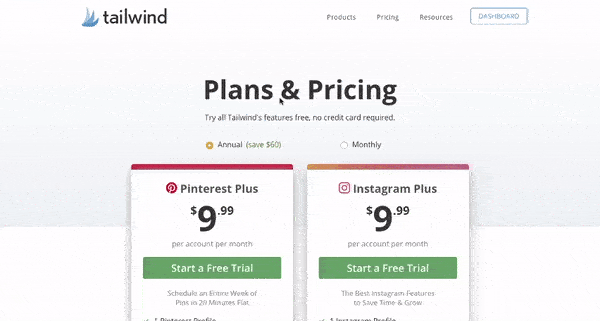 Tailwind's annual plan comes at a pocket-friendly budget of just $9.99 per month. The Monthly plan costs a little high and comes at $14.99 per month. However, you can subscribe to the monthly plan first to try it out . First understand the feasibility of Tailwind with your business and then purchase.
Tailwind offers plenty of features with the paid account. You get a hashtag finder, comment monitoring, drag and drop calendar and more. Our tailwind review also covers the tailwind coupon codes. Check it out and get a 30% discount on your subscription.
Pros of Using Tailwind
Create and schedule multiple posts using simple browser extension
Track important metrics such as engagement rate, referral traffic, and followers
Get a chance to connect with fellow marketers through Tailwind Tribe
Bulk scheduling on Tailwind
Optimized Tailwind UI enables easy navigation
Cons of Using Tailwind
User have complained of receiving random errors
Poor view of scheduled posts across the scheduling board
Bottomline
This is the end of our Tailwind Review. We tried to cover the most parts which will help you understand the tool better. Our review will also help understanding the tool precisely and how to use it.
The Internet is full of social media scheduling tools. However, there are only a few who go specific. Tailwind is specifically designed for Pinterest and Instagram. We tried Tailwind for free. Finally, We recommend it to our readers. If you want to go data-driven for your visual content strategies, then Tailwind is for you.