iRocker Review: The Best All-Around Paddle Boards in Market
Are you a paddle board enthusiast? If yes, then our iRocker Review will take you on a nice detour of the best paddle boards available in the market.
With a wide range of paddle boards available in the market, how can you buy the perfect fit for you? Choosing the right board requires a lot of exploration and analysis. It depends on a number of factors like experience (beginner, intermediate, or pro), money, last but not the least, quality. A fan of some healthy fun-filled surfing, finding the right fit for your crème-della-crème adventure may turn out to be a daunting task.
Well, your search ends here. iRocker Paddle Boards are the perfect match for your requirement. Along with our detailed iRocker review, we bring you amazing irocker discount codes & offers to make your shopping a little lighter. Without further due, let's start!
Introduction to iRocker Review
We, at Reviews N Guides present to you a detailed iRocker review: the one-stop destination for the surfing buffs. Be it the board varieties and the price range or the additional features, we have it all covered in this review.
iRocker is one of the best paddle board companies, making the finest inflatable boards for you. It also sells several accessories including gears, boards, tutorials, and provides blog articles to enlighten you more about the alluring world of surfing. The USP of this brand is the all-round package – the best products at the optimum pricing arrangements.
The reason iRocker stands out is its attention to detail.
Super-durable and rigid due to Triple-Layer Composite military-grade PVC, there is no doubt how it maintains a sterling track record of top-notch customer service since its advent in business. Not only are the boards structured in order to reduce the drag in every water experience, but it also lets you taste the real feel of an adventurer.
iRocker Paddle Boards
This detailed iRocker review will provide you with all the varieties of paddle boards. They are available over a wide range of design, capacity, length and material of construction. There are also additional features to help you choose the perfect companion for your joyous ride.
For all the listed iRocker paddle boards you can get a good discount by using our iRocker discount codes.
iRocker Sport 11'X 31"
iRocker Sport is the fastest iSUP designs available in the market. The iRocker Sport paddle boards are some of the finest to ride on. This 11' board with a narrow tail (12") and a width of 31" helps in minimizing the drag.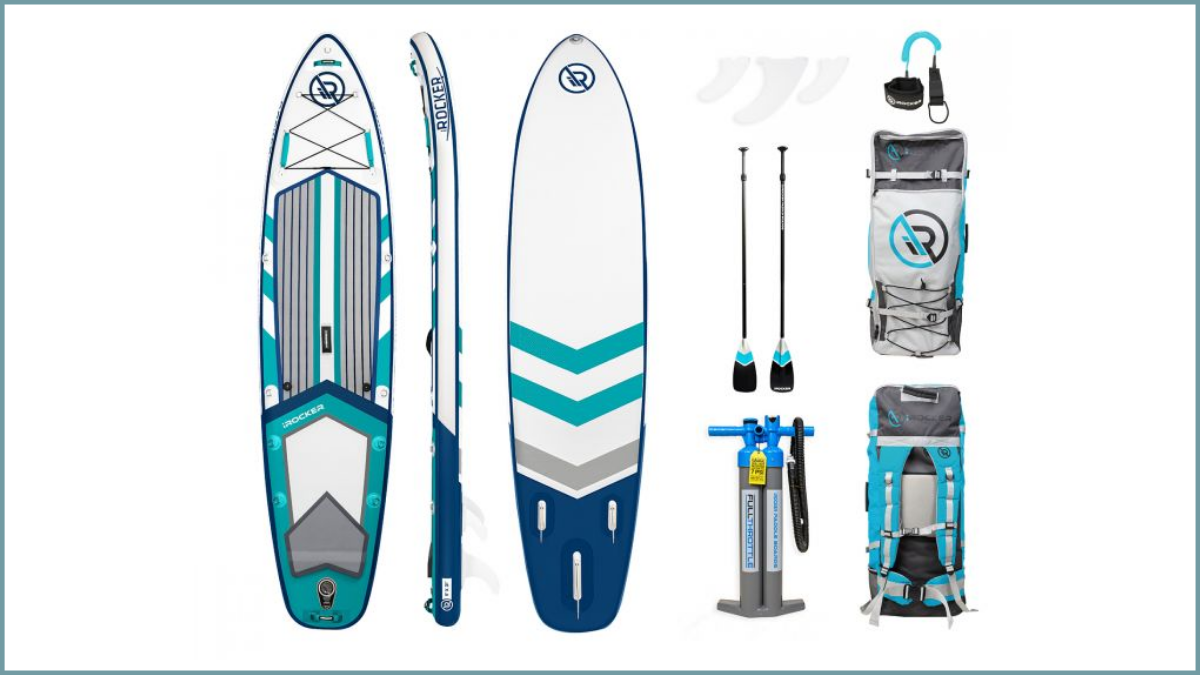 It eases the movement of the board through the swirling water waves. This $749 paddle board works great in both composed and turbulent water conditions.
It is made up of triple-layer PVC and has a carbon blend shaft paddle. This is the example of grace blessed with comfort. It weighs 25 lbs and can bear a high 385 lbs weight. It is 20% lighter than the previous Quad level construction. Whether you want to perform Yoga or take a quick tour, everything is possible with this.
iRocker All Around 10'
iRocker's 10' All Around paddle board has a width of around 32" for maintaining stability. It is 6" thick, weighs around 24 lbs and has a tail of 16" width.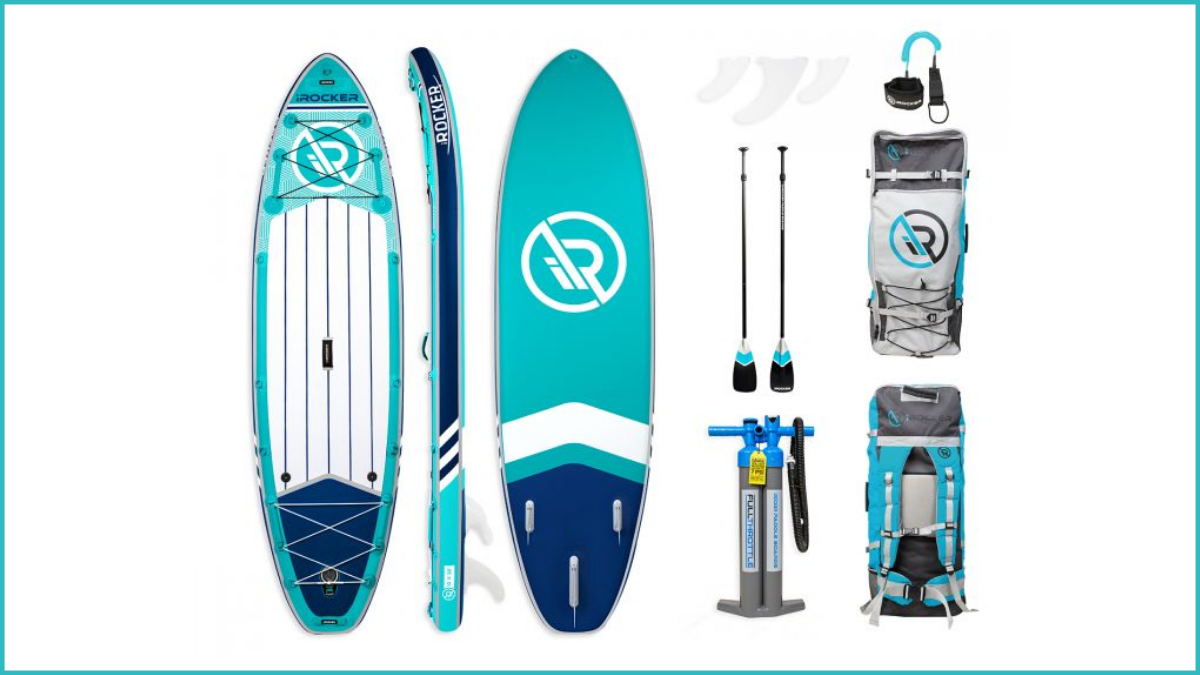 The paddle board costs $699 and comes in various eye-striking colors. It is composed of Triple Layer PVC and 20% lighter than Quad level construction boards. This is another most rated iRocker reviewed product.
It has a speed quotient of 70 and not preferred for riders above 5'10" height. The teal colour paddle board has a larger rear cargo storage and a wider deck pad for comfort.
iRocker All Around 11'
The drawback of the All Round 10' model has been overcome by this new 11' All Around paddle board model. This is well-suited for heavier and taller riders as well. It also has a higher speed quotient.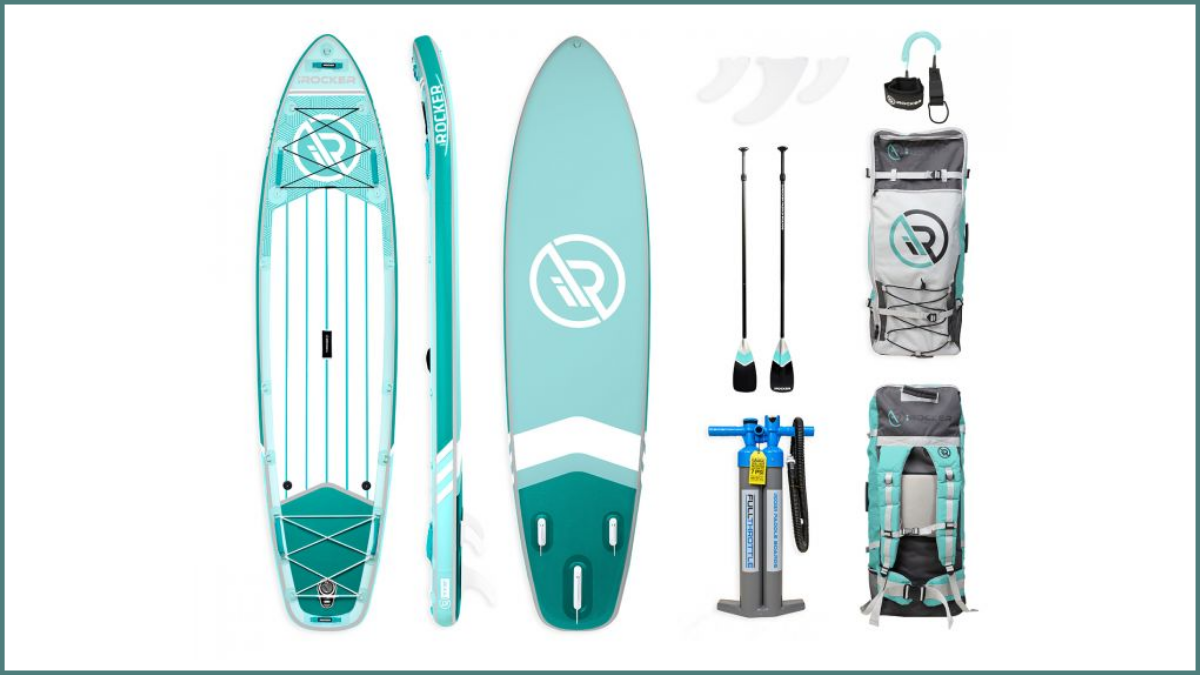 The all around paddle board model is 6" thick and the tail is 16" wide. It weighs around 26 lbs and is capable of bearing 435 lbs at 15 psi. The backpacks come with extra pockets and Velcro storage. It is highly durable and easily portable and costs $799.
iRocker Cruiser 10'6"
This 10' 6" iRocker Cruiser paddle board is one of the most stable iSUPs in the market. Its extra-long tail helps in achieving this high stability range.
Costing around $749, Cruiser board is favourable for all types of riders below 400 lbs. It weighs 25 lbs and also allows multiple rider-system facilities.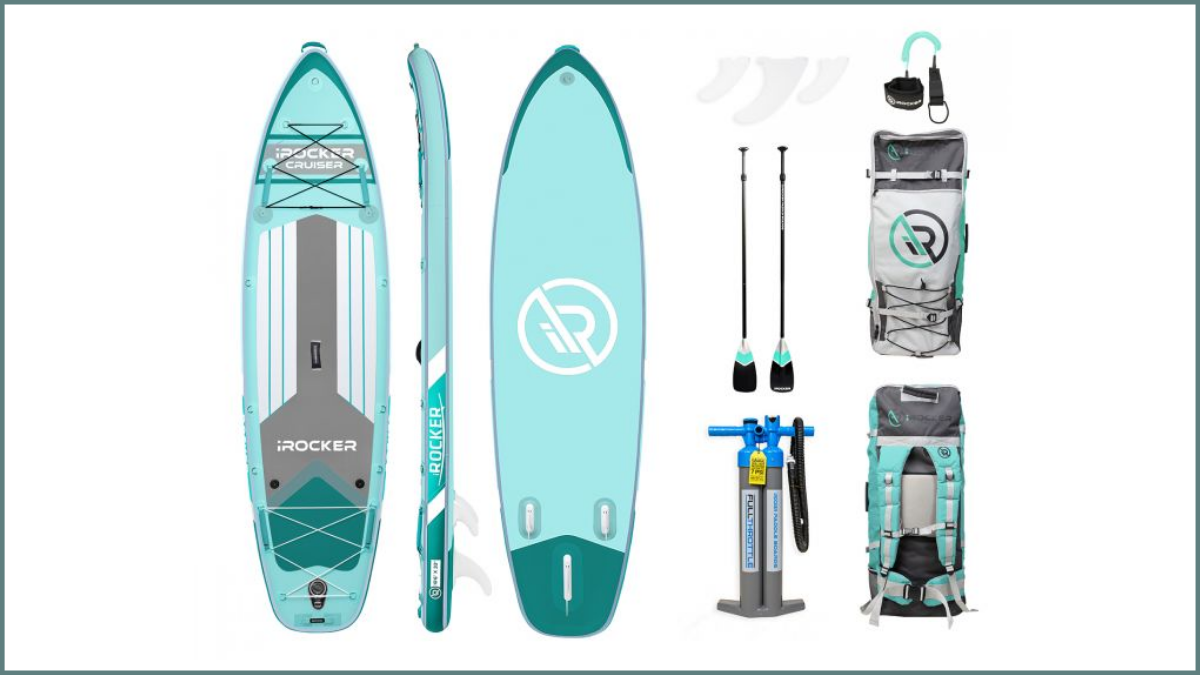 It has twin hand chamber pumps and also a compatible and versatile handpack. Durable and portable, it is recommended for relaxing rides. People with a knack for yoga or steady tours like fishing are the perfect match for this paddle board.
Nautical Paddle Boards
Cool and innovative, Nautical is affordable and trendy. Therefore, newbies and paddlers with tight budgets can easily get hold of one. Simple and lightweight with bungee cord cargo storage and removable fins, you can have an entertaining water tour with these boards. We have covered Nautical paddle boards in this iRocker review as well. Check out the details:
Nautical 11' 6"
Appropriate for beginners and skilled alike, this 11"6' long Nautical model provides a stability factor of 85. Its 32" width helps in easy gliding through the groovy water waves. With a 6" thickness and a 16" tail width, it has a weight of around 22 lbs, hence lightweight.
It is made up of Dual Layer Military grade Drop Stitch material which increases the toughness. It makes it resistant to dents and other damage possibilities.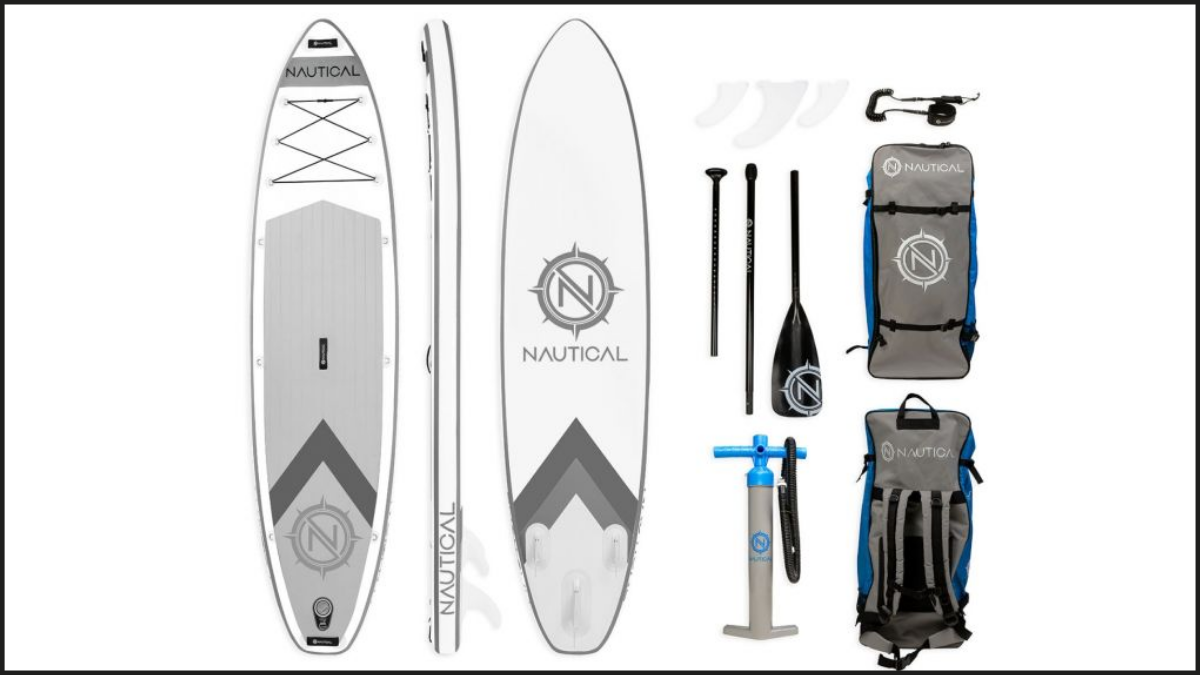 A fully inflated Nautical 11"6" can withstand a maximum of 265 lbs. Fiberglass ultralight adjustable travel paddle and a versatile backpack makes it easily portable. It costs around $549.
Nautical 10' 6"
The second model of the Nautical line, this 10" 6' nautical paddle board is quite popular and has gained customer satisfaction points.
This also has a 32" width that enables safe and secure gliding through water with minimum drag force. It has a 6" thickness and 16" tail width and weighs around 20 lbs. It is also constructed of Dual Layer Military grade Drop Stitch material to increase the toughness quotient. The stability factor of iRocker Nautical 10' 6" paddle board is 70.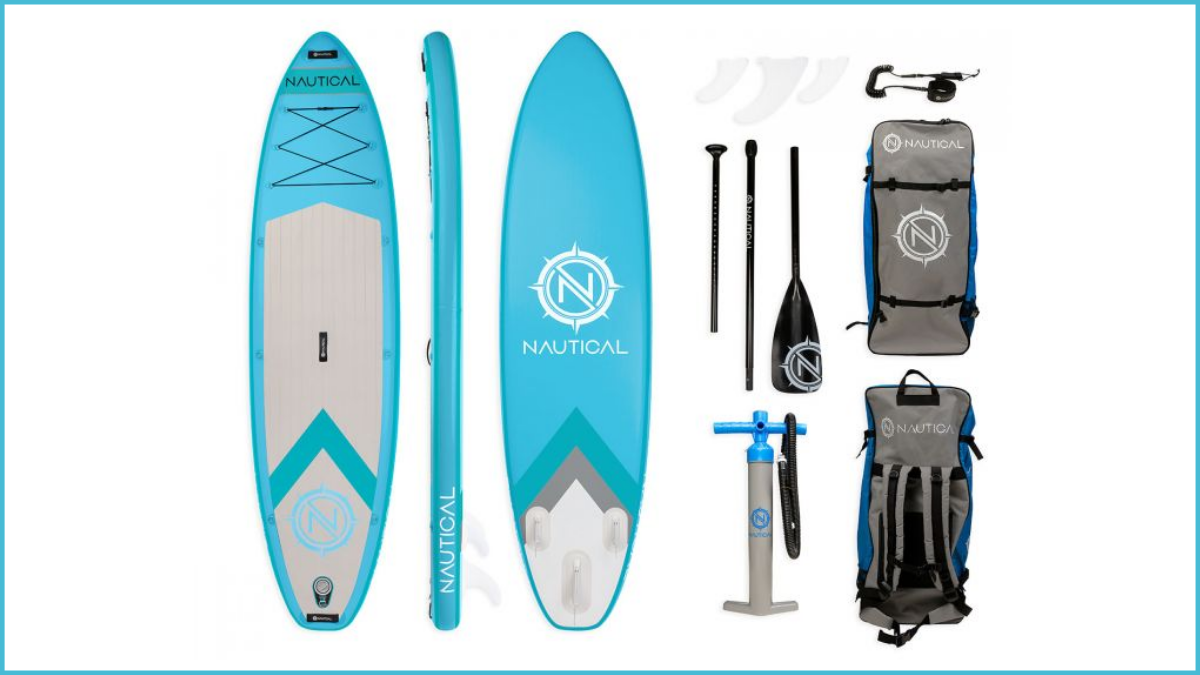 This board of the Nautical line can withstand a maximum weight of 240 lbs. Equipped with almost identical features- fiberglass travel paddle, single chamber dual action pump and detachable fins to name a few.
For an exhilarating ride, grab this $499 paddle board and get ready to jump into the water.
Blackfin Paddle Boards
The premium Blackfin line has the most versatile boards in the market. It makes traveling easier with its wheeled carry bag. With carbon rails, dual cargo areas, multi-use action mounts and 25 oz full carbon shaft paddle, they easily become the undisputed rulers in paddleboarding. Check out all the details in our honest iRocker review.
Blackfin Model V
With a length of 12'6" and weight of 30 lbs, Blackfin Model V is a new signature touring board. It has 32" width, 6" thickness and 17" tail width. It has a great performing quotient in both calm and moderate water conditions. This Blackfin model has a stability factor of 80 and consists of EVO deck pad making it compatible as a Yoga mat.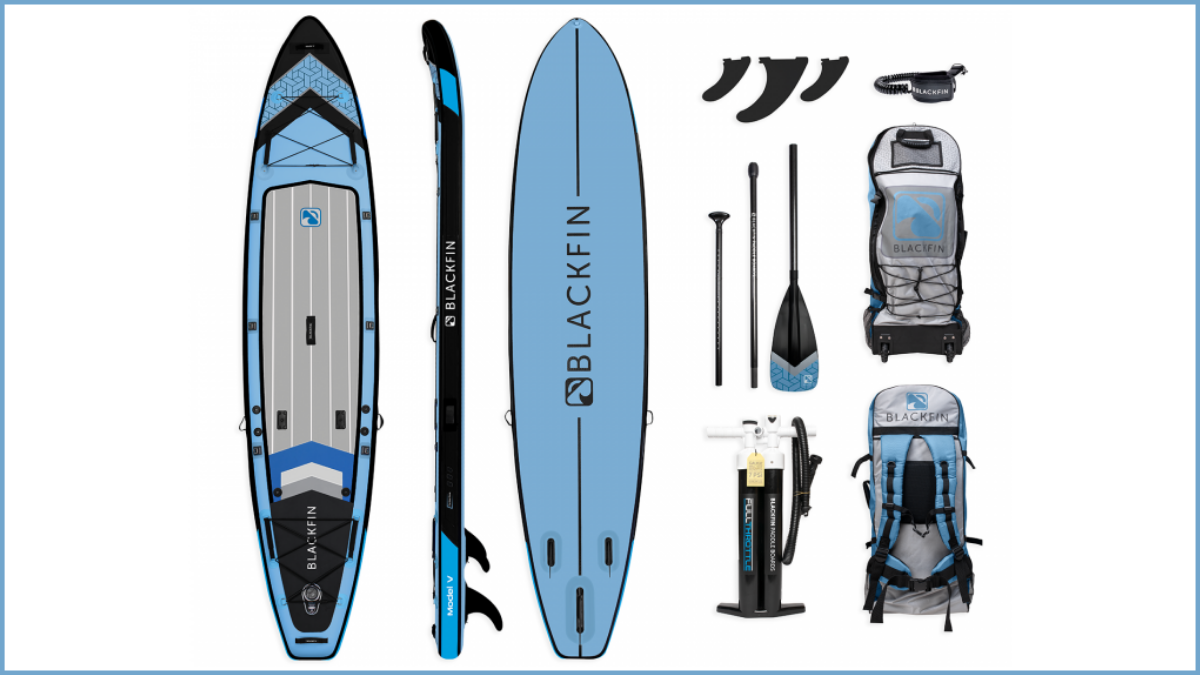 The Triple layer composite PVC construction makes it 20% lighter with the same durability. It is comfortable and portable. The presence of Carbon Rail helps in increasing stiffness and rigidity of the board.
It has fishing rack and sand spear arrangements. A fully inflated Blackfin Model V at 15 PSI can hold up to 485 lbs. It costs around $1,099.
Blackfin Model XL
iRocker review on the internet rate this premium category 5 stars. With a length of around 11′ 6" and a weight of 29 lbs, Blackfin Model XL is another design of the Blackfin premium line. It has 34" width, 6" thickness and tail width of 18". It can bear a weight capacity as high as 485 lbs.
The board is accessible to tall and sturdy riders and also enables multiple rider arrangements. Blackfin Model XL has all the features of Model V including Carbon Rail, Evo deck pad, sand spear and fishing rack facilities. It has a stability factor of 100.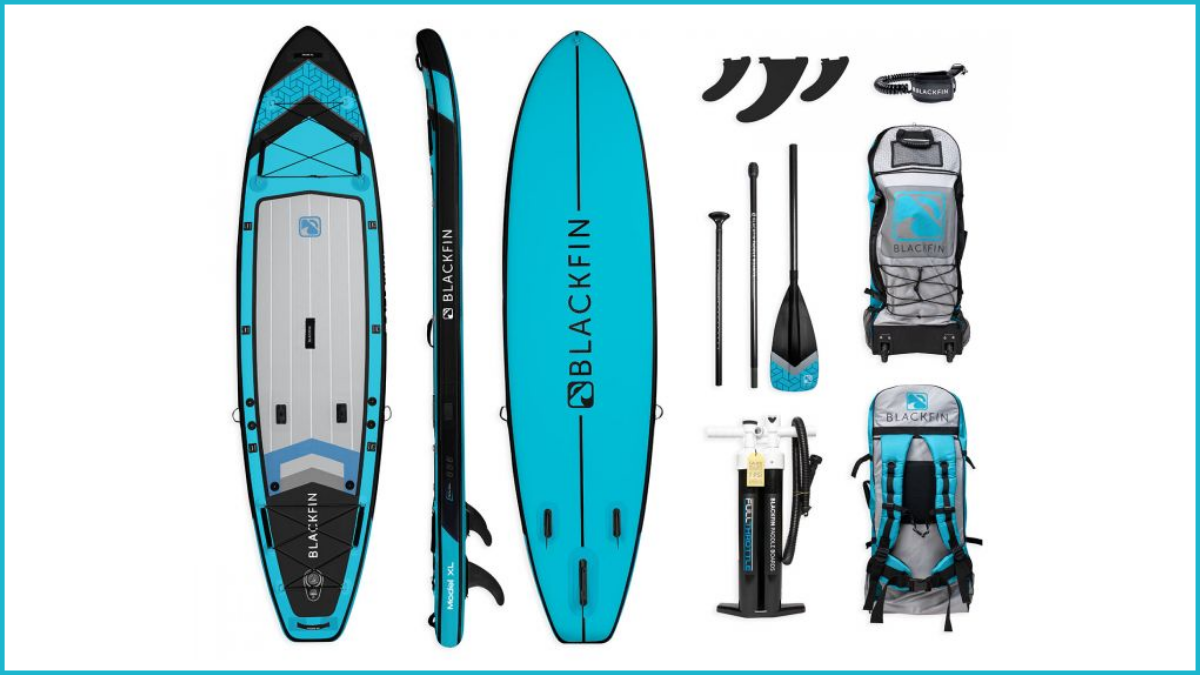 You can use it for long durations of camping, fishing and other exciting adventures. It comes at $1,019. It comes with the option of having additional gears at discounted prices.
Blackfin Model X
The Blackfin model X has a length of 10"6' and a weight of 27 lbs. It is suitable even for beginners. It has a width of 35", the thickness of 6" and tail width of 19".
With a stability factor of 100 and a speed quotient of 60, this paddle board gives the riders a satisfying experience. It comes with all the premium features of comfort, portability and durability. Be it the Twin chamber Hand pump or the Multi-use Action mounts, iRocker takes care of safety and luxury. It is great for fishing, touring and also practicing yoga.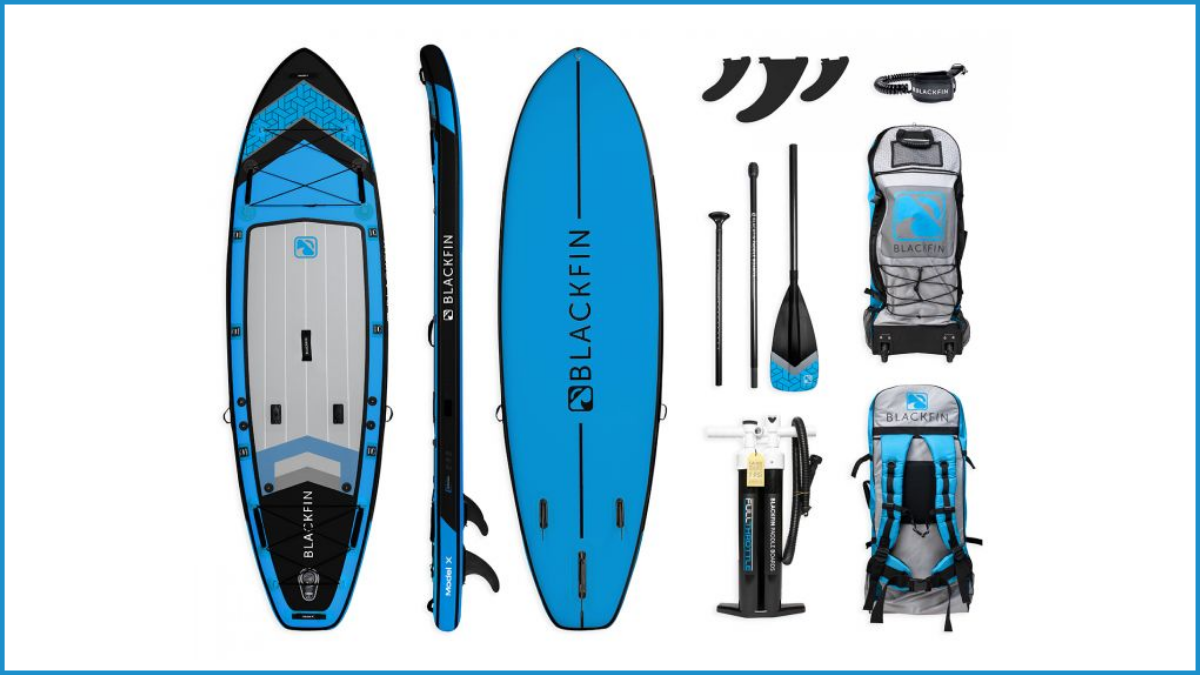 People can board their dogs while surfing. How fascinating! It is also capable of holding up to 450 lbs at 15 psi in an inflated condition. It costs around $949.
iRocker Gears for Paddle Boards
So, now that you have found the perfect board for your water adventure, let's browse through the gears.
Remember, with the fun comes safety. This iRocker review has taken well care of that. Below, we have mentioned the varieties of iRocker gears available for you to select the best fit for your paddle board.
iRocker Cooler Drinker Holder
This drink holder is available at a price of $29. It attaches to the rim of the cooler by placing it through the tie-down slots on either side of the cooler. This gear is cost effective and easy to use.
iRocker Leash
This $29 leash helps in attached yourself to the paddle for your riding time. It also aids in keeping your board away from other people in the water bodies. Keeping in mind the style, comfort and safety of your riding adventure, this gear is definitely worth spending for.
SUP to Kayak Conversion Kit
iRocker boards come pre-equipped with fittings to accommodate the Kayak seat attachment. In the iRocker site, you will find the video which will teach you how to convert SUP to Kayak.
The Kayak seats are made of thick cushion neoprene material and adjustable straps. You can purchase the total gear combination at $129.
iRocker Backpack
Adjustability, load lifters and percentage of rear stress limit are some of the most valid concerns while choosing a backpack. Worry not! These $129 backpacks are versatile, compatible and comfy. They are just handy and perfect for your paddle boarding tours.
iRocker Paddle
This is a carbon blend ultralight soft paddle adjustable for an optimal range. This is stronger and lighter than fiberglass,weighing just around 28 oz. This floats easily and is available at $125.
Onyx Life Belt Pack PFD
A really useful gear for paddleboarding, this $105 Onyx Life Belt PFD comes with U.S. Coast Guard approval. It has a protective envelope built with polyester fabric. There is an oral inflation tube which aids in providing additional buoyancy upto 26.5 lbs. Easy to buy and low profile design.
It is compatible with all the three types of iRocker paddle board.
iRocker SUP Anchor
This will definitely make your paddle adventures hassle-free.
At $39 you will get a SUP anchor with its own transport bag, rope and buoy. This is perfect for both smooth transport and safe mooring. So don't waste time and purchase it at your earliest.
iRocker 12 V Electric Pump
This $139 pump fits in all NAUTICAL, iROCKER & BLACKFIN boards. It is not bulky and has a 1-year warranty. It is a compact high-pressure piston pump that helps in inflating and deflating at a quick pace.
iRocker Paddle Boarding Tutorials
Get On The Water Today!
Want to improve your surfing experience? Still hesitant to join the paddleboarding craze?
Whether you are into this or just a beginner, iRocker site has it all covered in its section "Instructional". You can be a long-time surfer and still lack the basics. Brush up the fundamentals or be a skilled amateur.
Ranging from manuals covering all the three boards- Blackfin, iRocker and Nautical, anyone can make paddleboarding his/her forte. It also has an interesting tutorial on converting SUP into Kayak with the help of a Kayak Kit. Get access to multiple iRocker videos and clear your doubts regarding any particular topic.
FAQs
1. Can these paddle boards be bought offline in a store?
The short answer is no. iRocker is an online company and hence can only sell items via internet services. It provides free shipping facilities for 60-day return policies. It can be shipped to the UK, US, EU, Canada and Australia within an approx of 3-8 business days.
2. Are discounts available for multiple boards?
Yes. There is an amazing two-board discount policy on their official website. If a customer is interested in buying 5 or more boards, we recommend you to contact the site for fleet pricing.
3. Do iRocker Paddle Boards come with a warranty?
Yes. The iRocker & Blackfin paddle boards come with a 2-year warranty whereas the Nautical boards come with a 1-year warranty. The period of warranty starts from the purchasing date. Misuse and damage due to negligence are not covered under the given warranty. To learn more about this, you can look into the below-mentioned link: https://www.irockersup.com/warranty-information
4. Can someone travel with the board on top of his/her car?
Unfortunately, it cannot be done since it will void the warranty. The boards being extremely light, there is a possibility of the PVC getting damaged by the wind above.
5. Are rocks and sunken objects capable of damaging iRocker inflatable paddle boards?
The iRocker boards are built with Triple layer Military Grade PVC which allows them to bear tiny impacts to rocks and sunken objects. However, you should be cautious when it comes to major terrain like punctures and heavy rocks because they will not be covered under the given warranty.
6. Is a life jacket required?
US Coast guard norms require people on board to have a PFD as it is considered a vessel.
Follow the local water rules of USA.
Bottomline
There is no dearth of entertainment when it comes to paddleboarding. A fun-filled adventure with emphasis on body fitness and social distancing, nothing can give you more pleasure than a day in the blue waters surfing and gliding.
The above comprehensive iRocker review is the key to your treasure hunt. Presenting to you, one of the most trusted and premium brands. I hope you had your doubts cleared and your excitement level increased manifold.