Storm Proxies Review "The Best Proxy Provider In The Market"
Introduction to Storm Proxies
Storm Proxies are the best of the best in the market, they provide more than 10 types of proxies. They have three types of main proxies; Private Dedicated Proxies, Backconnect Rotating Proxies, and Residential Rotating Proxies. Let me give you a brief on each proxy. Let's get into storm proxies review without further due.
Expert Rating
Speed
Setup
Support
Performance
Response Time
Types of Proxies Offered By Storm Proxies
Storm Proxies Private Dedicated Proxies
Storm Proxies has a dedicated 1 GB server for the highest performance in the industry.
Premium members get dedicated 24*7 support.
You don't have to wait till you account activation, you get instant access to your bought proxies.
Unlimited bandwidth with 100% anonymous which will never reveal your real IP.
Last but not least, they have 2 hours of money-back guarantee with more than 8 types of bundles.
Storm Proxies Backconnect Rotating Proxies
You get a fresh IP whenever you request for new HTTP/s request from a pool of 70,000 proxies on the server.
There are two types of time changing proxies; these proxies change IP every 3 and 15 minutes, so there is no chance of your real IP revealing to anyone. You can use them to create some accounts and longer ones for extended sessions.
As they are part of dedicated proxies, you get premium support, private dedicated IPs, and unlimited bandwidth.
These proxies are fully optimized for several types of SEO tools, scraping websites, traffic bots, and bulk account registration or any kind of activity which requires continuous IP change and more numbers of IPs.
Storm Proxies Residential Rotating Proxies
Storm Proxies has the best multi-threaded tools which give users the optimum and fastest performance.
All the proxies rotation work on an automated way. Instant delivery allows users the flexibility to use them whenever they need.
As promised, get the unlimited bandwidth with no limit or no hidden cost.
Hidden Identity helps you do all your work easily. The unique technology gives users an edge over others, use all your proxies without any limit
These proxies are 100% risk-free and having 24 hours of a money-back guarantee.
Other Proxies
Storm Proxies is not limited to only the above-mentioned types of proxies, they have full-fledged in house proxy solution. Let me list them out for your reference:
General Proxies
Ticket Master & Ticket Sites Proxies
Social Media Proxies (Instagram, Facebook, Twitter, Tumblr, Pinterest, LinkedIn, and Snapchat)
PokemonGo
Sneaker Sites Proxies
Storm Proxies Pricing
Storm proxies offers many types of proxies and price differs based on the type and quantity of proxies you are buying. But don't worry, we have got you covered with 30% monthly and 5% lifetime discount. Use our storm proxies coupon and avail the discount.
Private Dedicated Proxies have 8 pricing options which start from $10 and goes to $400.
$010 – 5 private proxies with 3 guaranteed USA locations.
$020 – 10 private proxies with 3 guaranteed USA locations.
$040 – 20 private proxies with 3 guaranteed USA locations.
$054 – 30 private proxies with 3 guaranteed USA locations.
$080 – 50 private proxies with 3 guaranteed USA locations.
$140 – 100 private proxies with 3 guaranteed USA locations.
$240 – 200private proxies with 3 guaranteed USA locations.
$400 – 400 private proxies with 3 guaranteed USA locations.
Backconnect Rotating Proxies have 3 pricing options which start from $39 and goes to $97.
$39 – 40 threads simultaneously through Single Access IP.
$59 – 80 threads at a time via 2 Access IPs.
$97 – 150 threads together via 3 Access IPs.
Residential Rotating Proxies have 4 pricing options which start from $50 and goes to $300.
$50 – 5 ports having a pool of 40K IPs.
$90 – 10 ports having a pool of 40K IPs.
$160 – 20 ports having a pool of 40K IPs.
$300 – 50 ports having a pool of 40K IPs.
Storm Proxies Free Trial
Storm Proxies has different free trial for all three major types:
Private Dedicated Proxies have a minimum of 2 hours of a trial period based on your order. Bigger the order, the longer the trial period.
Backconnect Rotating Proxies have straight 48 hours of a trial period.
Residential Rotating Proxies have a range of trial period based on the order. It varies from 2 hours to 24 hours.
Most Popular Storm Proxies Plans
The Most popular Dedicated Storm Proxies Plan is $140. It gives you 100 proxies which cost $1.4 per day. The most popular plan for Backconnect Rotating Proxies is $97, which includes 100 threads. And last but not least, the best plan for Residential Rotating Proxies is $300, it has 50 ports which cost $6 per port.
If you use our storm proxies discount code "SEPT19", you will get an additional 30% discount.
FAQs
What does storm proxies do?
Once you buy it, you will receive the list of IPs. You will have to enter the IP details in any of the software that you run to make a proxy connection. Once you have set up the proxy connection, your IPs will be changed. Based on the type of proxies you have bought, you will receive new IP on each HTTP request or after 3 minutes, your original IP will not be revealed to anyone.
How are storm proxies different than other proxy sellers?
Storm Proxies have two types of proxies that are new and totally different in the market; Rotating Reverse Proxies and Residential IP proxies. Their Dedicated proxies are very powerful and all the technology is owned by the company. They are not the reseller but they are the owner of the proxies. Their proxies are hosted on their own servers and they have 100% full control of their technology. Storm Proxies is very genuine when it comes to refunds. They give 2 hours of money-back guarantee and instant proxies to use. If you don't like it, if it doesn't work, or simply you don't want to continue with them, no questions asked, you can raise a request for money back and they will return your money ASAP.
How to use storm proxies?
Login to your account on Stor Proxies official website. Enter the IP address of the PC where you will be using these proxies in "Authorized IPs" area and save the settings (wait up to 15 mins to propagate the proxies in the servers). Choose your proxies (3 minutes, 15 minutes, or main proxies). Copy Proxy Gateway IPs from your dashboard area and paste them in your software which you are using to make the proxy connection. You are all set to use proxies!!! You can find a detailed guide on how to setup and use storm proxies on your desktop & smartphone?
How to change storm proxies billing option or cancel the monthly subscription?
Contact Storm Proxies on their official mail or through their contact form and provide them with your PayPal address or email. They will look into your concern and respond back within 24 hours.
Summary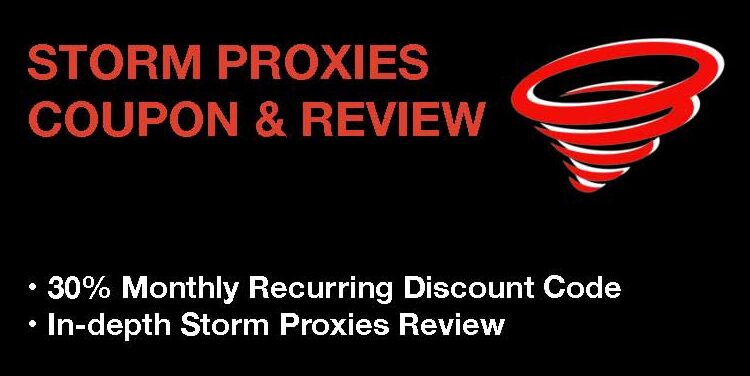 Article Name
Storm Proxies Review: Best Dedicated Reverse Rotating Proxies
Description
Read in-depth storm proxies review. Also get 30% Monthly recurring discount code for all types proxies. Read the latest review and use coupon.
Author
Publisher Name
Publisher Logo