SwellPro Splash Drone 3 Review: Best Waterproof Tech Drones
Drones have been very common among bloggers and vloggers who love to travel and capture breath-taking scenes. Over the last couple of years, the sale of drones has shot up and quite a few manufacturers are playing in this segment. However, not every waterproof drone in the market has uncompromised quality, and you have to be extra careful before buying.
Fortunately, there are a few drone manufacturers that promise quality and value and SwellPro is one of them. We barely found any differences in the quality output and usage experience of a SwellPro when compared to DJI Phantom, which is considered to be one of the best in the class. Instead, the sturdiness and ease of use really impressed us.
So, if you are here to find out more about the SwellPro Splash Drone 3, we will help you out. Read on to find a detailed review of this SwellPro waterproof drone that could help you make up your mind to buy it or not.
What Is SwellPro Splash Drone 3?
The SwellPro Splash Drone 3 is one of the many high-quality drones that boast of being water-resistant. However, it isn't an underwater drone by any means and the IP67 rating means it is good to be an all-weather machine and just up to 1-2 meter deep water shots.
The waterproof drone proves its worth as it packs a lot of features together, be it steady shots and clips with the help of a gimbal-mounted camera or various flight modes. The propellers are strong and can force way against winds of up to 30 mph.
The SwellPro Splash Drone 3 weighs around 4.5 lbs but has a takeoff weight of up to 6.6 lbs. This means it can carry an extra weight of up to 2.2 lbs. Well, this isn't very disappointing for a waterproof drone.
SwellPro Splash Drone 3 Features
The SwellPro Splash Drone 3 is quite rich in terms of the features that it offers and we are here to discuss them in detail. We barely had anything to complain about from the specifications. Here, take a glimpse at what you get with the waterproof drone.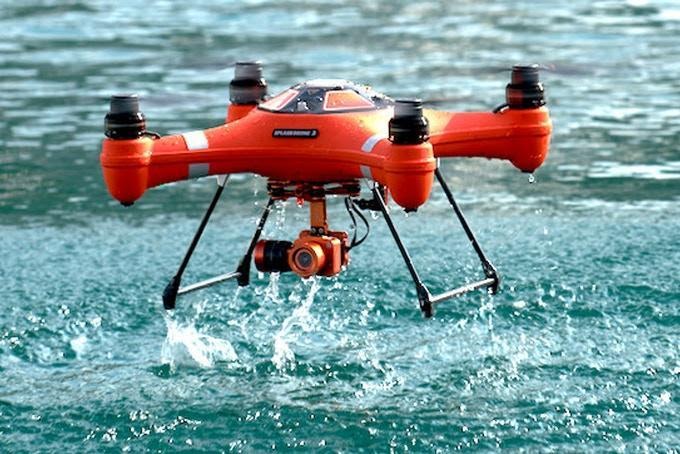 Camera
Unlike a lot of low-end drones, the SwellPro Splash Drone 3 is capable of shooting steady videos and still, thanks to the 3-axis gimbal attached to the camera. The camera itself can record 4k resolution videos with zero frame lags. The field of view is wide too.
Battery
The battery performance is decently impressive. And though it uses a 5,200mAh battery, the standard flight time that you can get is 20-25 minutes of flight time. This means, if you want to take landscape shots for a long time, you might need to keep an extra battery in stock.
However, it does impress in the charging department. We did review quite a few drones in the past that took over two hours to be completely charged. This one is different and you can charge it from nil to full in around 90 minutes or less.
Flight Tech
The SwellPro Splash Drone 3 review will be incomplete without talking about the flight features and the different modes you get. Now, besides just the camera, gimbal, and flight capacity, there are a few additional features that impressed us, might be the same for you as well.
It has a very interesting feature known as the water flips. This means it can do flips while floating on the water or even slightly submerged. However, when we tried to make the flip in a sea with a slightly higher current, it disappointed. The same could be possible in a more stable water body.
It even has the follow-me feature, with which it will hover around you or follow you when you have the return-to-home on. This can be done through the mobile app.
The drone even gets four different modes – GPS, Smart Cruise, Atti, and Smooth Mode.
SwellPro Splash Drone 3 Design
Assembling the SwellPro Splash Drone 3 is not very difficult, though we took a little time to get used to it. However, once you get used to it, it is fairly simple and secure.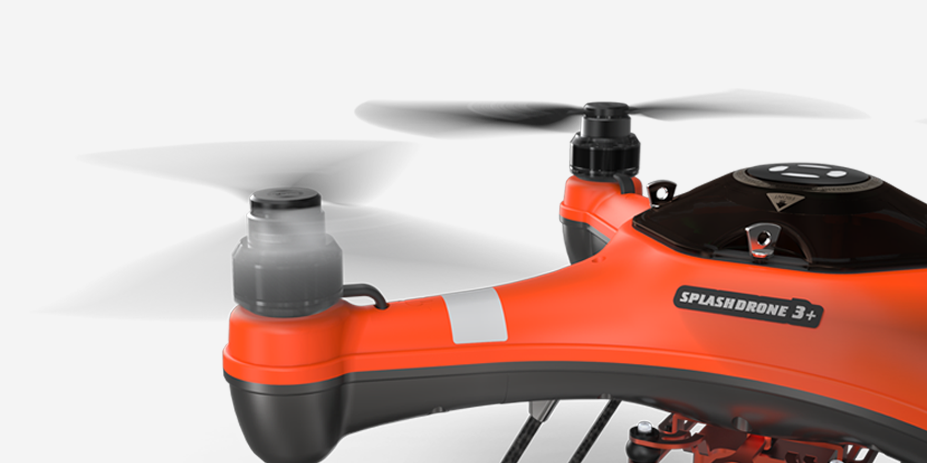 The drone weighs around 4.5 lbs and has strong propellers. The build quality is good and sturdy. However, it took us a lot of time to get it calibrated to the remote controller and had to wait for a little until the signaling green lights under all the wings were on.
Even the waterproof base addition is very significant if you are using it for fishing purposes. But since we mentioned fishing, we could not keep the drone floating for a long time due to the average battery backup.
How Does SwellPro Drone 3 Work?
Getting to the most interesting section of the SwellPro Splash drone review, the technology used is worth knowing. The first and foremost aspect of the drone that you should know about is the video transmitter that works well between the camera and the screen on the remote controller. The FPV display is bright enough to be visible under bright sunlight, though it isn't the best under extreme sunlight.
The 4X4 amphibious drone is very easy to mount and the only wired connections you will have to make are the camera to the body and the battery (which can be accessed by opening the cover on the top.
The drone is very powerful and once calibrated with the radio remote, the controls were very smooth. For example, you have to control the joystick-like button to control the drone. So, the drone is quick to respond to every command in less than a second.
SwellPro's Enhanced Waterproof Technology
We felt the SwellPro waterproof Splash Drone 3 is great as a waterproof device. It is not a submarine by any means and you cannot expect it to work well beyond a submerged point of 1 meter. However, if you keep it floating in the water, it can withstand the water pressure for around 30 minutes, which is great among other drones.
The manufacturer is taking every step to enhance the waterproof capabilities, like adding a base platform, bettering the battery, etc. It is still IP67 rated and the manufacturer has tried and tested it to perfection. We found no reason to complain, at least as far as the waterproof quality is concerned.
We could only complain about the underwater flip in a medium current water body, something that the manufacturer claims.
How Much Does SwellPro Splash Drone 3 Cost?
The SwellPro splash drone 3 is priced at $1,200 ($1,199 to be accurate). However, if you feel that this is slightly higher, check out a suitable swellpro coupon code for yourself and avail the product at a 10% discount.
Why Should You Buy SwellPro Waterproof Splash Drone 3?
We feel the SwellPro Splash Drone 3 is among the best waterproof drones you can buy. The features, build and operation is good for both beginners as well as experienced users. Let us explain!
Crash-landing
Most new users might have a problem with crash-landing (even in the water). For such buyers, nothing could be better than the waterproof SwellPro Splash Drone 3.
Follow-me-home
The smart follow-me-home feature uses GPS via the app. This means it overrides the return-to-home feature to reach your current location in case you have moved away from the original spot.
Strong Flight
Since the drone can withstand winds of up to 30 mph and rain and snow, you can use it anywhere, anytime. However, don't be greedy to take it out on a windy day.
FAQs
1. What flight modes does the SwellPro Splash Drone 3 have?
The SwellPro Splash Drone has four flight modes – GPS, Smart Cruise, Atti, and Smooth Mode.
2. How much water level can the SwellPro Splash Drone 3 withstand?
The SwellPro Splash Drone 3 is IP67 rated and can go up to 1 meter for up to 30 minutes. However, if it drowns deeper, you might have some trouble lurking over you.
3. How good is the video stabilization on the SwellPro Splash Drone 3?
We found the gimbal to work fine and there weren't unnecessary jerks on the video quality.
4. Is it difficult to assemble the SwellPro Splash Drone 3?
No, we did not have any problems assembling the SwellPro Splash Drone 3. It is easier to assemble than many others available in the market.
Final Words
Here comes the verdict for the SwellPro Splash Drone 3 review. We have been using it for a few days to test it inside out and we felt it is the best waterproof drone we have come across until now. It works just as well as any other expensive drones, but adds the waterproof feature and multiple flight modes to its hat.
So yes, it is surely the best drone for new buyers who might need a little time to get used to the controls. And needless to say, when it comes to taking cinematic shots of/on rivers, lakes and seas, nothing could beat this SwellPro Splash Drone 3.